Combining Budget Travel and Travel Hacking
{This post may contain affiliate links.  We'll use the mere pennies from your support to help us pay for our next hostel when not using points and miles to travel!}
The allure of luxury travel.
I get it.
I mean, who doesn't want to be greeted with champagne and warm towels as you buckle your airplane seat getting ready for the long haul flight ahead of you?  Or how cute is it when you return to your hotel room after a long day of exploring and the room is lit in a dim, warm glow and there are chocolates on your pillow?
And just like those highly addicting Oreos, once you get a taste for luxury travel, many find that it is hard to go back to anything else.
Well, those people clearly aren't cheap frugal like us.
As a budget traveler, I'll do just about anything to score a cheap deal when traveling.  We've even gone so far as to not get a Tuk-Tuk in Bangkok (I mean, seriously people, we are talking a few DOLLARS!) and walked in the 90 degree heat for over an hour just to save a few bucks (yeeah, in hind-sight that was pretty stupid).  And we all know that we kick ass and take names when travel hacking for flights, which is typically one of the most expensive parts of traveling.
But what about lodging?  Depending on where and how you travel, your wallet can take quite the hit on hotels and places to stay.
[Tweet "Expert TravelHack Tip:For free vacays start collecting BOTH airline AND hotel points from the start"]
Just like we looked at the difference between your typical Frequent Flyer Mile programs and what Travel Hacking is for flights, I want to now dive into what Hotel Loyalty Programs vs Travel Hacking may look like.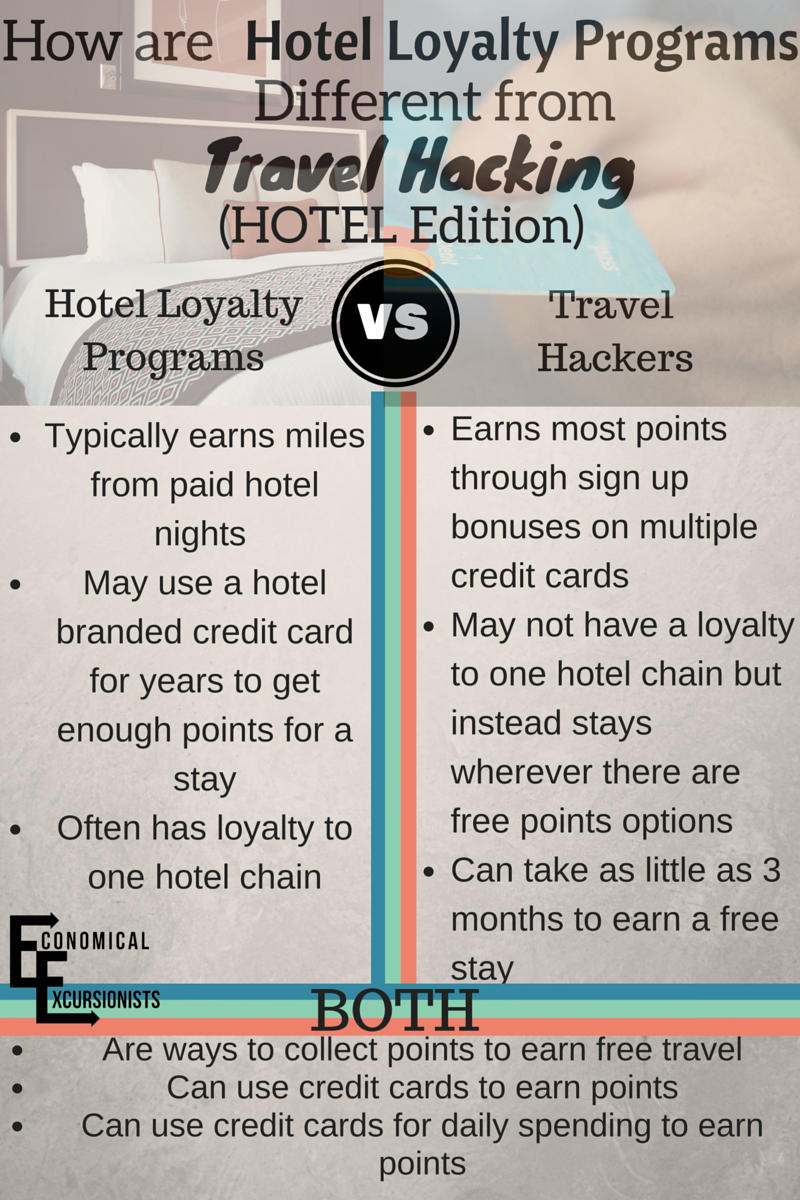 And then there is Budget Travel and Travel Hacking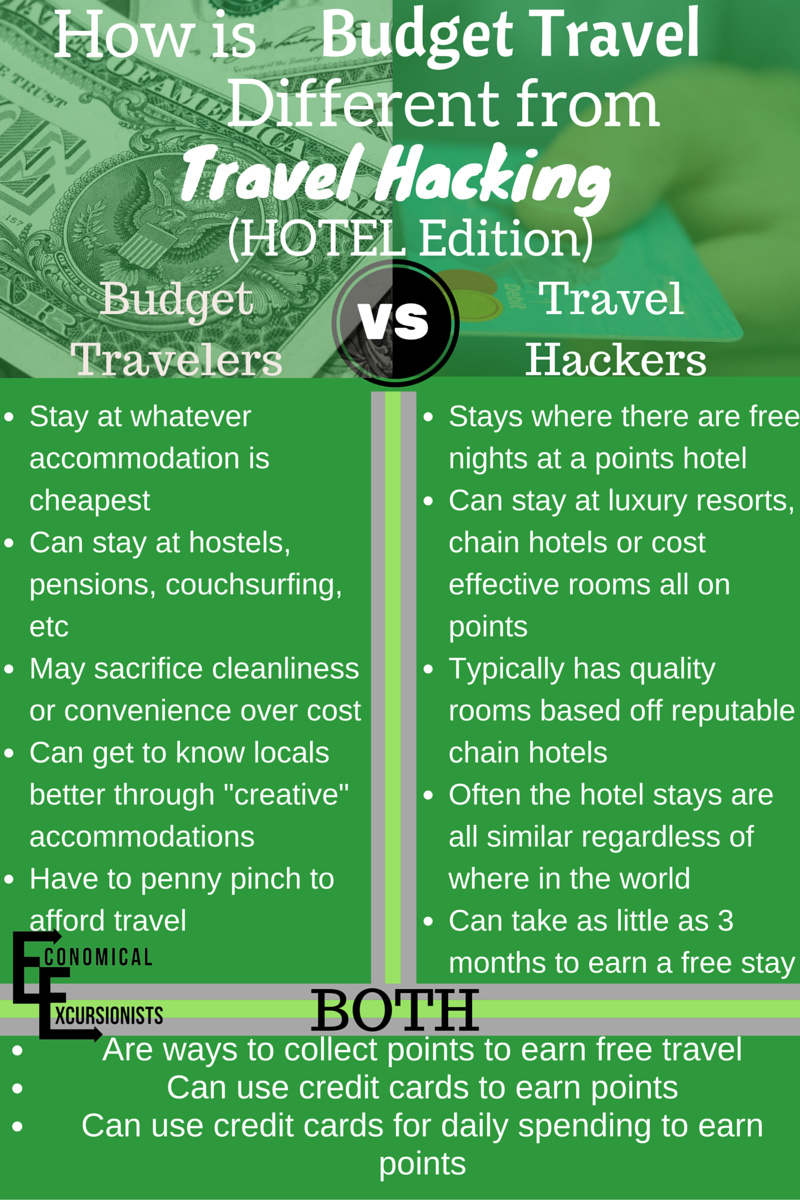 Want to learn to marry Budget Travel and Travel Hacking? Pin Me to your Travel Hacking Board!
Chances are, if you are on this site, you know how both of these work, right?
Well, let's take a REALLY quick recap of how budget travel and travel hacking pertain to lodging accommodations when traveling:
Travel Hacking Hotels: Using points from sign up bonuses and credit card spending, we obtain free hotel stays in major chains like Hyatt, Mariott, Starwood, Club Carlson and more.  Occasionally, we have to pay a small amount of points and cash together, but when you only have to pay less than the cost of a typical hotel room (and some of your easy to earn points) to stay at beautiful resorts and spas or in high-demand spots in town, when otherwise it would cost you upwards of $400 a night? YES PLEASE!!!!
Some examples of when we paid cash and points was to stay at:
The beautiful Le Meridiean Koh Samui resort= Only $60= 4,000 SPG points (old award chart)
The relaxing Sheraton Fuschlsee-Salzburg Spa= $55+3,500 SPG points
Budget Travel: Unless you have cash to spare, I'm betting that you almost always like to try to budget travel, am I right?  So, you know the drill with this one; scour the internet prices comparing hotels, pensions, homestays etc to find the best deal.  Depending on just how frugal of a traveler you are, you may be willing to take whatever is the flat-out cheapest option while others spend hours coming up with the perfect combination of cheap yet reliable, clean, centrally located and overall the perfect place to stay.
In order to travel as cheaply as we do, we often combine these two modes of travel to come up with the perfect, affordable trip every single time.
Let's start with a few travel hacking basics on hotels….
Travel Hacking Hotels:
Just like with airline points, we don't have one loyalty towards a particular hotel chain.  We collect across the board so that (almost) no matter where we go, we hope to be able to find points hotels to stay for free.  Most major cities have plenty of options, so finding a free night (or very cheap redemption on a points/cash combo) is almost never a problem.  Having airfare AND hotels covered has basically made extensive and even long-term travel a complete reality for us because we no longer are concerned about how to afford it.  And if you want to really up your game and continue to earn airline miles while you sleep, Anne from TravelTheGlobe4Less has some uber good tips.
How to Choose What Programs to Start With
Let's go back to your Travel Hacking 101 Basics: Setting a Travel Goal.    Just like with figuring out what program to start with for airline miles, there are a few ways you can decide on what award program to start with for hotels
1) Where Are You Going?
You may be like me and are a bit of a travel junkie; it's ok.  The first step is admitting it.   For the purpose of figuring out where to start, pick one place you know you'll be visiting or one epic trip that you plan on taking.  See what hotel chains have loyalty programs in that location and go from there.  Using a tool like AwardMapper, if you type in where you want to go, you'll see a list of hotels that you can stay at using points
2) Go Where the Points Take You
Again, just like with the airline miles, you may choose to simply just go where the points will take you.  For example, maybe you knew that you wanted to go to the Rivera Maya for a Caribbean getaway, but after a bit of research, you saw that there weren't any points hotels.  However, just a short way up the beach on Playa Del Carmen or Cancuun, there are several options.  So, you go where the points will take you.
3) Look Towards The Future
You have to start somewhere, which is why I suggest the above two options.  However, just like with airline miles, the more points you have across the board means the more options you will have for free accommodation when traveling.  So, consider where you might travel (The US? Europe? Asia?) the most and start to plan your points game around that.
For Example: Marriott is a fantastic hotel chain.  However,  before the Starwood-Marriott merge, while you could find some here and there throughout Europe, they didn't have as big of a presence as say, Hyatt and Club Carlson.  So, while we have racked up a good amount of Marriott points for our stash, we didn't hit that one real hard when looking for more points since we primarily travel in Europe currently.
Side Bar: Now that SPG has merged with Marriott, we'll obviously be re-evaluating the above game plan.  It's reasons like this merger though that is a good reminder that points values can change quickly.  You don't want to just sit on points, but instead use them before they devalue.
How to Find Points Hotels
You may think that you should start with finding a loyalty program first and then looking for hotels within that chain.  However, I think it's best to work backwards when figuring out the best options for choosing hotel reward programs.
So, you'll want to use a tool like AwardMapper.Com and see what points hotels have options there. Chances are, you are going to see a whole list of possible hotel chains that you can use points to redeem for a free (or close to it) hotel stay.  But remember how not all points are created equal with airline miles?
Same is true for hotel programs. 
So, just because one hotel may only be 36,000 and another is 50,0000 points, remember this is not a cash value so that doesn't necessarily mean that the lower one is actually cheaper.
Refresh your memory on how to value your points here.
Apply For the Card
Whichever hotel chain you decide to go with, your next stop is to apply for the best sign up offer card.  A simple google search for "Best Sign Up Bonus for (Hotel or Hotel Chain) Credit Card" will show you the current top picks.  You may find that the best choice is with a generic, but still great overall travel hacking card, such as the Chase Sapphire Preferred or one that is a co-branded card, such as the Marriott Visa.
Ways to Stretch Your Points
Gone our my beloved days of the Club Carlson pay for points one night, get a second free.  But that doesn't mean that you can't still stretch your points out to get the most out of every award redemption.
Higher Classes/Category Hotels= Use Free nights and certificates
Many cards that give you hotel points also may have free night vouchers or certificates as some of the credit card perks.  This is in addition to the points you've collected with them.  What is amazingly wonderful about these vouchers is that they often don't have a lot of stipulation on how you have to book it.  So, the absolute best way to get the biggest bang for your buck is to use these in locations that are notorious for being pricey destinations.  Locations such as NYC, London, Paris and Australia are all good examples of when you could easily use points, but using a voucher saves you even more.  For example, we were going to be in Sydney over the weekend.  Hotels (and just cost of living in general) down under are not cheap, so we knew we were going to travel hack.  We had been saving our Hyatt weekend redemption voucher for just a case like this.  That's right.  We stayed at the most expensive Hyatt in the world completely free. We didn't pay a single point.  We didn't even pay a single dollar.  Even though the cost of a room overlooking the Opera House was over $750 AUD when we were booking, we got two nights 100% free!!!  We used the weekend vouchers that came with the Chase Hyatt Credit Card and scored an amazing deal!
Weekends and Holidays and Special Events
What is really great is that even though hotels often cost more cash during weekends, holidays and special events, they don't typically go up on points!  So, this isn't a bad time to use your points if you get some cheap thrill (hey, don't judge me) out of looking at the cost of a hotel room with real money and then booking it free on points.  Aaaah, soooo sweet!
Bonus: Since many points hotel options are swanky business type hotels, there are actually often more rooms available on weekends since the businessmen have left, leaving you with better chances of free upgrades and awesome, free rooms!
Choose Your Transfer Programs Wisely
Jackie, over at GlobeTrottingTeacher talks a bit about how you don't want to transfer your high value points to a low value hotel program.  This is really important if you don't want to throw away some really good points on a cheaper hotel!
Moving Hotels
One of the things we strangely do when traveling is often make things a tad inconvenient for us just for the sake of saving money (or points).  We'll take the earliest possible flight if that was cheapest option even if it means waking up at 3 am.  We'll stay away from the city and take the metro in 45 minutes instead, etc.  Another thing that we have done in the past is move hotels in the middle of our stay.  If there was a good deal for two out of four nights or if we didn't have enough points to cover the cost of a hotel for all the nights, we'd switch hotels to save points or cash.
Elite Status: While it won't help you stretch out our points, by switching hotels (and therefore earning more "stay credits") you could possibly earn elite status depending on how much you travel and how often you stay at certain hotels.  Elite status is pretty dang awesome depending on the chain.  Some have great lounges where you can get meals and drinks, some include breakfast buffetts when not typically included in the cost of the room and others just give you early or late check ins.  All are fantastic perks, none the less.
When to Pay vs Use Points
Just like when flying, there are some exceptions to when using points for a hotel stay isn't quite worth it.
1) When the cost of travel is cheaper than what your points are worth
Again, just like when flying, we found that in many Asian cities, it was WAY cheaper to use cash to book stays rather than use our valuable points.  We'd rather pay $17 a night (that was with a $3 extra "splurge" to pay for hot water in the "Toilet Shower." What can I say? We like to live large!) in a beach bungalow in Thailand rather than use points when there are such cheap accommodations available for cash.  Another example is that we could have booked a points hotel in Kuta, Bali, but we didn't even want to go to Kuta and we were able to book a Homestay for $12/night up in Amed!  There were amazingly beautiful, luxurious hotels and resorts right along the beach that were going for closer to $100 a night, and if that is your cup of tea, then drink it.  But, for us, I'd rather save that $75 for something else (for example, longer vacays) and stay in lodging that's only purpose is to lay my head down at night.  While we did have to walk a whole street over to get to the beach, we somehow survived.
2) When there are no points options
Sometimes, you'll just find that where you want to go, there may be no (or no good) options to book on points.  This may because the cost of a points hotel is way more than what your points are worth or simply because there just aren't any points hotels where you are staying.  When we were in London, we found that even points hotels were not worth it because even those "cost" way more than what we considered the points were worth.  Also, often when you get more off the beaten path or into smaller towns and villages, you may find that there just aren't points hotels, so you are forced to go back to the good ol' Budget Traveling options.
Which brings us to….
How to Budget Travel When Travel Hacking Isn't Available
1) Don't Become a Luxury Hog
We often laugh at the complete bi-polar types of accommodations we may go to from one night to the next, all in the name of frugality.  On Monday we might be enjoying a Hilton Lounge in Iceland where we get free meals and booze all day long or be snoozing on a private beach of a Le Meridian in Mauritus and then on Tuesday we are sleeping on the airport floor in Kuala Lumpur or checking into a hostel in Stockholm.
I can see how it would be completely easy to get sucked into the luxurious life of travel hacking (after all, there are those travel hackers who, after flying business class for years, wouldn't even DARE being cramped in the back in economy with all those other commoners!)
But for us, we only choose those fancy options when it is only "economically" wise (aka, we are getting high value for our points) or on the occasional splurge for a special occasion.  For example, Andy being the amazing hubby that he is, got me a Valentine's gift of seeing our favorite band (Postal Service) in Paris one year, complete with a room (all on points) with a view of the Eiffel Tower.   Well done hubster….well done!
2) Best Rate Guarantee
This is an absolute brilliant budget hack, if not a bit time consuming.  Many hotels and travel search engines (like Expedia) have a Best Rate Guarantee, meaning that if you can find a cheaper rate for the same hotel on another site, you can get a credit (often around $50) and even sometimes, get comped your stay!  Drew and Carrie, over at TravelIsFree have created your one stop shop to explain in full detail exactly how to go about snagging your own Best Rate Guarantee (there are quite a few strings attached, but if done correctly, you can save BIG!)
3) AirB&B
AirB&B really isn't a secret anymore but it has pretty much become my absolute go to when needing a place to stay that doesn't have good points options.  They are in just about every city, town and village, usually WAY cheaper than a hotel and often more comfy and homey, too!  We recently booked a long weekend on the other side of Germany for just $40 a night for 3 adults in a beautiful, clean fully furnished two-bedroom apartment! When we were in London (a city that is just plain crazy expensive!), we had some AirB&B credit and were able to find a loft for just $30 a night! (Granted, it ended up there was no hot water and barely any heat but for that price in London? We'll just wait and shower at the airport lounge-another credit card perk!!!)
Plus, there are some pretty fun AirB&B options as well.  While in New Zealand, we stayed in an old mobile home.  It wasn't quite glamping, but again, was a place to sleep at night that was decently clean enough and cheaper than any hotels in the area.
An alternative to AirBnBs if you REALLY want to save some cash is to consider house-sitting while you travel.  Here's a great guide on how and why to do that. 
4) Hostels
Depending on where in the world you are, hostels aren't always some party place for college co-eds where the bathroom floor could be a pee-tree dish in a science laboratory.  Here in Europe, many hostels are really nice, quiet and a great alternative to hotels, especially in expensive cities.  Even if you have a family, hostels can still be a great alternative. Booking a 4-6 person room so that it's just you your family or small group can mean saving BIG.  Just make sure there isn't a disco tech or something loud and noisy underneath, read the reviews on sites like booking.com and Tripadvisor for cleanliness and you are good!  Many hostels even have private rooms available now.  We've done this several times and it's been great! We have a place to cook meals to save on eating out, have our own bed and room and even occasionally get our own bathroom as well…all in an affordable hostel!
—————————————————————————————————————————————–
Looking For Affordable Lodging?
Don't forget to check out  Booking.com
—————————————————————————————————————————————–
5) Book Last Minute and Negotiate
This works better with locally run hotels or homestays who have nothing to lose and most likely would rather fill up their vacant accommodation than let it go unused and unpaid for.  If you are booking a trip last minute, personally email the home away owner or facility directly and ask if they have any last minute deals or if they will make an exception to their usual cost in order to fill their vacancy.  The worst they can do is say no.
You can also negotiate long term stays with many of these accommodations as well.  Again, it never hurts to ask!
Expert Budget Traveler Tip: Regardless of what kind of accommodation you are going to book (hostel, home rental, hotel room, Bed and Breakfast, etc) cross reference on various sources (Booking.com, Tripadvisor, direct websites, etc) because accommodations often put their rooms up on several different sites.  Depending on the cost of the commission of a certain site, it may be more expensive on one website than on another.
If it is locally run establishment, I almost always find that if I just google them and find their direct website, it is cheaper than through the search engines.
So, the next time you tell me that you just can't afford to travel, don't mind me as I completely tune you out.  CAN travel be extremely hard on the wallet? Of course! Especially if you let it.  Even if you budget travel, sometimes seeing the world is just simply going to cost you.  However, that doesn't mean that you can't soften the blow in every single way possible by combining budget travel and travel hacking!  Use points for free flights and hotels! And when those aren't options, become an obsessive researcher (no? that's just me?) and find the cheapest possible options for both your transportation and your accommodations!
So, are you a thrifty traveler? Have you combined Budget Travel with Travel Hacking?
What else have you done to stretch both your pennies and your points?
The following two tabs change content below.
Author and Creator
at
Economical Excursionists
Former teacher turned blogger turned mom turned full time travel addict, LeAnna has never been one to live life by the rules. Whether she is moving to a farm in Switzerland to learn to make cheese (Yes, CHEESE), jumping off a mountain to paraglide over Cinderella castles, or taking her baby all over the world with nothing but a backpack on their backs, LeAnna designs and defines her OWN life. LeAnna, her husband Andy, and kiddo, "Lil B" love to live a minimal lifestyle, not only for the "thrill" of pinching pennies but in order to save for traveling the world. Considering over 40 countries and 90+ cities have been explored, we'd say they are doing something right!
Latest posts by LeAnna Brown (see all)