Travel Hacking for Beginners
Andy and I started Travel Hacking about five years ago.  I'll never forget him saying, "I want to start getting credit cards to earn miles to travel." And me saying "NO WAY!"
I (thought I) knew about credit cards, credit scores and debt and this had to be a recipe for disaster.
However, four years, almost 40 countries, countless cities and over 60 (yes, 60) credit cards later, our scores have never been better (Both over 800!) and we have had the most amazing and memorable experiences all over the world that we only once could dream about. (Read more on A Case Study Part I: How One Couple Went from Beginner Travel Hackers to Experts and Part II: How One Couple Manages Over 60 Cards to Travel the World for Free)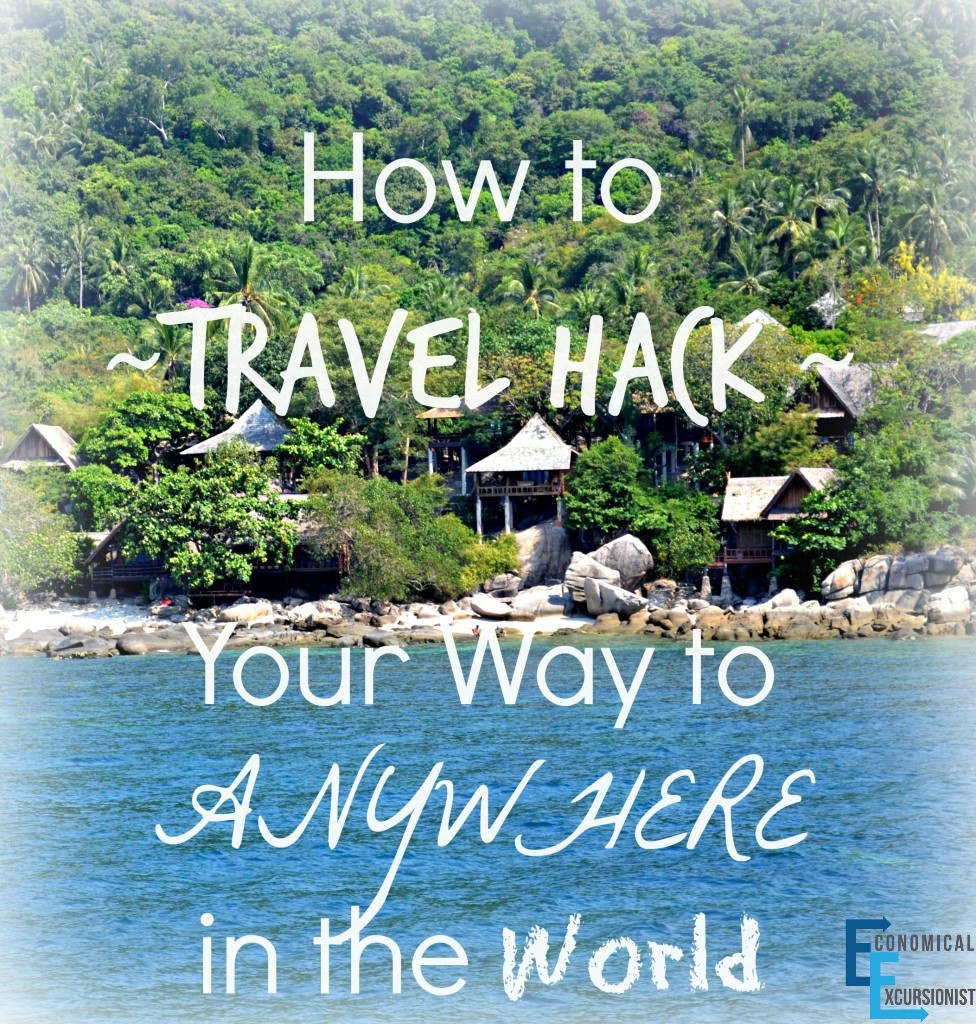 So, what is travel hacking?  It can get quite complex, so let's break it down to it's very basic core.  Here is your Ultimate Guide To Travel Hacking with Credit Cards
What Is Travel Hacking:
Hacking often has a negative connotation with it.  However, the original intent of "hacking" was any way to find a "workaround" to a problem.  In this situation, the problem is that I am frugal, yet want to travel.  Oh, what to do!??
Therefore, traveling hacking is really any way to find ways to travel cheaply that others may not know about.
The most common use of the phrase Travel Hacking is using award points from credit cards to book free travel.  The best way to utilize your earned points is to cash in for flights and hotels.
-Most people are well aware of frequent flyer mile or hotel loyalty programs and think that this is all there is to Travel Hacking.  However, Travel Hacking takes it up a notch (ok, takes it up a lot of notches!) by taking advantage of startup bonuses when applying for new cards. For example,  it could take you months to years to earn enough points for a free flight doing the typical frequent flyer mile program way of earning points on your daily spending habits.  On the other hand, Travel Hacking gets you massive amounts of points in a short time (3 months is typical) to travel more by earning tens of thousands of points at a time (sometimes much more!) on startup bonuses (the bonus you get when you first sign up for a credit card and meet a few requirements, such as minimum spending in a set period of time).
Who is Travel Hacking For?
There are many different styles of Travel Hacking and different types of Travel Hackers.  There are hardcore experts, like Andy and myself who have over 60 credit cards and have used points to fly to all but 2 continents and stay for free in countless hotels- many of them 5-Star luxury resorts.  Then there are the people who just want their one trip of a lifetime.  They open one to two cards, earn enough points to get them to their destination and are quite content with their one, almost-free, major trip.  You have the people who use their points to only fly business class and only stay at 5-Star Hotels or people like us, who like to fly economy to spread out our points to as many destinations as possible.  The beauty of Travel Hacking is that you get to decide what kind of hacker you want to be.
[Tweet "The beauty of #TravelHacking is that you get to decide what kind of hacker you want to be."]
The Caveat:
Before I even go into the details of how to Travel Hack, there are a few considerations before jumping in head first:
1)      ONLY consider travel hacking if you know how to manage your money.
2)      If you can't pay off your monthly credit card statement in full, this is NOT for you.  Every single penny should be paid each month; NO EXCEPTIONS!
3)      If wanting to be an expert travel hacker, you need to be organized (knowing when each monthly statement is due, when annual fees are approaching, where all your points are, etc).  If you want to be a one-timer, just solicit the help of an expert.
4)      If you are planning on getting a major loan (car, mortgage) in the next year, be careful.
(Note: there are many misconceptions about credit cards but, if done correctly, travel hacking will most likely INCREASE your credit score over time). Read my Top 10 Credit Myths to find out more.  While more credit to your name will most likely increase your score over time, it is possible to see a VERY slight dip in the immediate future, which could be problematic if wanting a major loan in the next year).
Side Bar: Travel Hacking has the most opportunities in the US, however other countries are starting to get on board.  For example, the UK might not be too far behind with their travel hacking programs as well.
Alright, so you are a responsible adult that knows how to pay your bills.  Let's get started.
I) Plan
Before going nuts and applying for 30 credit cards today, get a plan and figure out your travel goals
1)      Where do you want to go?
–  Are you wanting to do a domestic trip?  Want to spend a week in Europe?  Always envisioned backpacking Asia for a month?  Have dreamed of volunteering in Africa?
Figure out a rough idea of where you'd like your first major travel hacking trip to be.  If you are considering hacking your hotels, it's not a bad idea to take that into consideration as well as get a rough idea on how long of a trip you envision.
To help you figure out what miles and points you will need, use our handy FlyerMiler tool.  It will help you figure out what points you will need to get you to your travel goal as well as help you plan your routes….and more!! Check it out!
2)      What kind of travel do you want?  There are many different styles of travelers, especially in the Travel Hacking community.  Do you want to fly on one amazing business or first class long haul flight and spend the night in the most expensive Hyatt in the world?  Or, would you rather "penny pinch" your points and get numerous free flights and several nights at a "normal" chain hotel?
3)      Are you wanting to gain points for just a free flight (there are plenty of cheap hostel and couch options in the world!)? Or, do you want hotel stays to be apart of your travel hacking as well?
4)      Do you already have some points with an established airline or hotel chain?  Some airlines and hotels have better reward charts than others, but that doesn't mean you can't work with what you have.
Once you know these answers, you can start to look at all the different card options.  Not all cards are good and not all points are created equal, so knowing which ones will give you the best bang for your buck is essential (more on that later) yet sometimes one of the hardest parts to travel hacking.  Therefore, knowing that some cards are better for flights vs hotels or that even some cards lend themselves better to hotel chains in Europe rather than the US, etc can help you get to your goal a lot easier and faster.  Once again, the FlyerMiler will help you determine this.
II) Find the Correct Card(s) and Apply
This in and of itself can be an overwhelming decision.  While there are so many great options, and some cases are unique, I can still ultimately recommend the Chase Sapphire Preferred card to just about anyone starting.  The miles can be used for flights, hotels or cash back.  There are several transferable options so you aren't locked into one airline if free flights are one of your travel hacking goals.  Even after the bonus is acquired, it is a great card for earning miles on daily spending, especially for those not interested in becoming hard-core travel hackers.
III) Get Organized
Now that you know where your dream vacation is and have started racking up the points to get you there, you need to be organized.  Here is our handy-dandy guide to the Top 5 (FREE!) Organizational Resources for All Travel Hackers
1)      Excel is the simplest tool.  I poke fun of my computer programming husband all the time because he can't plan anything without an excel sheet, but in this case, it is really the most useful tool to stay organized.  Track your bill dates, fee dates, points earned, when annual fees apply and with what cards, etc all in one spot.
2)      Award Wallet is a Travel Hacker's dream come true.  It links all your different cards and accounts and automatically updates your earned points for you in one tidy site.
3)      Mint.com is not specific to Travel Hackers but is a great overall site to help consolidate and manage your finances.  It keeps track of paying bills, helps with keeping on a budget and more.
IV) Meet your Minimum Spending
The key to travel hacking is the sign up bonuses when getting a new credit card.  This is where most people start to freak out because they have no idea how they can "afford" to spend several thousand dollars in just a few months to meet the minimum spending requirements.
The key to this is that you NEVER spend money that you wouldn't have spent otherwise.  Don't think you spend $3,000 in three months? I bet you're actually not far off; it's just a matter of spending it correctly, or better yet; never actually spending some of that money at all:
1)      EVERYTHING from now on goes on that card.  Buying just a pack of gum?  Great, put it on the card!
2)      Pay bills.  Not all bills can be paid with a card, but many can (most cell phone bills, some utilities, internet, etc).  Even car payments are now often payable by credit cards as well as insurance bills.  If you are in college, all those classes and books will have you at your minimum spending in no time! (And college kids thought they were too poor to travel! Psh!)
3)      Gift Cards.  You know those "Visa Gift Cards" you can get at Walmart?  Buy yourself a few and save for later use.  You are actually never "spending" money at this point because you are basically just giving yourself money you already had.
4) There is no shortage of ways to meet your minimum spending.  Think outside the box and you'll be surprised.
V) Use your Points for Travel
Now for the part that you've been waiting for…the travel!!!
Knowing HOW to best use your points can be tricky.  This is ESPECIALLY when our FlyerMiler tool comes in handy.  We will also soon be offering services on how to teach you how to use your miles to help ease the stress of trip planning.  Feel free to contact us at [email protected] to see if these services have started yet.
VI) Enjoy!
It is now time to take that flight, spend the night  for free and enjoy your next trip!!!  Suddenly, that crying baby a few rows behind you on the plane doesn't seem so annoying, knowing that you are traveling for "free."
No matter how you decide to use your points, enjoy making memories, appreciate every adventurous moment and relish in the fact that you could do it all for next to nothing!
Want to continue to research and learn all there is to travel hacking? TheGlobeTrottingTeacher has one of my favorite Ultimate Guides.  Check it out!
Now it's your turn:
What is your best way for meeting minimum spending?  What questions do you have about travel hacking do you want to know before starting?  Most importantly, tell me WHERE you are going to go with your award points in the comments section below!!
The following two tabs change content below.
Author and Creator
at
Economical Excursionists
Former teacher turned blogger turned mom turned full time travel addict, LeAnna has never been one to live life by the rules. Whether she is moving to a farm in Switzerland to learn to make cheese (Yes, CHEESE), jumping off a mountain to paraglide over Cinderella castles, or taking her baby all over the world with nothing but a backpack on their backs, LeAnna designs and defines her OWN life. LeAnna, her husband Andy, and kiddo, "Lil B" love to live a minimal lifestyle, not only for the "thrill" of pinching pennies but in order to save for traveling the world. Considering over 40 countries and 90+ cities have been explored, we'd say they are doing something right!
Latest posts by LeAnna Brown (see all)