Understanding The Points Game in Travel Hacking
Ever wanted to fly halfway across the world on a once in a life-time trip but just "couldn't afford it?"  
You've tried saving for travel, but that only got you so far.  
Then you read my Travel Hackers for Beginners and your ears perked up.  You saw how Andy and I have been to almost 40 countries in the last four years living on less than a $35,000 annual budget (that includes housing, food, cars AND yes, travel!) and so you wanted to know more.
– What is this crazy scheme? (Travel Hacking)
– Is it legal? (Yes)  
– Will it ruin my credit? (No)
Ok, then! How do I get started???
We are going to continue to pick apart how travel hacking works so that you can start doing the same and get to traveling for only the costs of fees and taxes!
In general, there are countless ways to earn miles, but today we are going to just focus on how to earn points from credit cards.
So, you understand that travel hacking is basically Frequent Flyer Mile and other loyalty points programs taken to the extreme, but don't know much beyond that.  
When starting out, you really don't need more than one or two cards to gain enough points to travel for "free." But what are these points?  Are they equal to dollars?  Are all points the same?  
In order to understand how to travel hack, you have to understand the basics of how the points game works.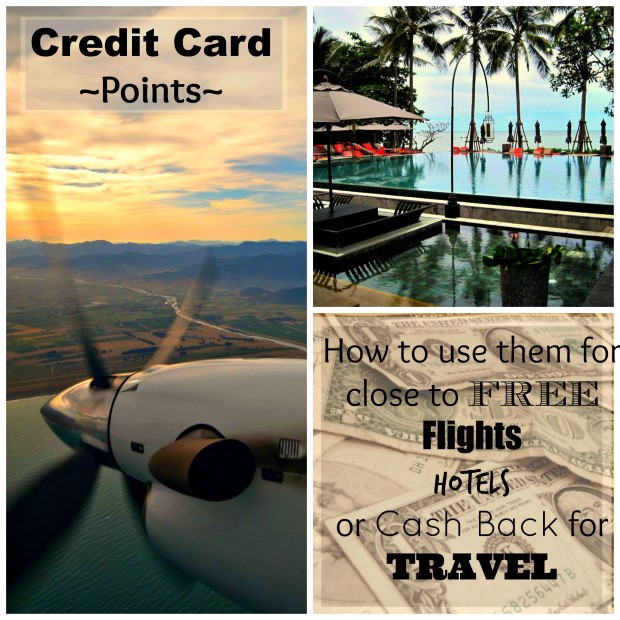 There are three major kinds of points you can earn from most credit cards:
I) Airline Points for Flights:
This is the most commonly known type of award points out there.  You can either slowly work your way to a free flight after several years of daily spending in a typical frequent flyer program or travel hack and use a credit card signup bonus to get you enough points for a "free" flight within about three months.  
Note: You still have to pay taxes and fees, which is why I say "free",  but hey, I'll pay around $100 instead of $1000+ for an international, business class flight around the world any day!
Also Note: Many people think that in order in order to get free flights, you have to lock yourself into one specific airline.  For example, many people think that the only way to fly with United is to pay for and fly specifically with United or only sign up for United specific credit cards.
While you can certainly do that, don't limit yourself to that.  In fact, many of the bank cards (Chase, Citi, American Express, etc) can sometimes have better rewards cards than the direct airline itself.  For example, you can get the United MileagePlus Explorer Card directly through United, which has a 50,000 signup bonus (which is great by the way).  However, you can also get the Chase Sapphire Preferred (40,000 signup points) which you can then transfer to United (or also use for hotel or cash back, which we'll talk about below).
Moral of the story?  You can get creative with your points, so don't think that you have to get the crummy, basic cards (with very little sign up bonuses) that some airlines offer.
We aren't going to go into it here (check back later for a future in-depth post), but know that once you really get into the Travel Hacking Game that you will find ways to work the system with points. For example, when booking a flight from Chicago to Toronto, you can either pay 25,000 American Airlines  Miles, or Transfer 9,000 Chase Ultimate Rewards Points to British Airways, then use only 9,000 Miles to book the same flight on American Airlines!  Sound complicated?  At first yes, which is why we'll touch base on that part of travel hacking later.  But just know that just because you have one airline's miles doesn't mean that that is who you are locked into flying with. Now, back to the basics:
[Tweet "Traveling for "free" just got a whole lot easier! #Travelhacking"]
II) Hotel Points:
Another common type of points is when you use a card that usually has an affiliation with a certain hotel chain.  Once again, through the sign up bonuses, you earn enough points for several nights worth in a great hotel for "free."
There are a few "flexible cards" out there (like the above mentioned Chase Sapphire Preferred or American Express Gold cards) that can actually be used for flights, hotels or cash back, but to get the best value, hotel points cards often will be separate cards that you will want to use for airline points.  In fact, you can get really good value for cards that are directly tied to a hotel or chain (example: Marriott, Hilton or Starwood) assuming there was also a great signup bonus.
III) Bank Points:
Some bank points are "Transferable" meaning that there is not one specific airline or hotel that the card is tied down to, but instead, you can transfer these points to a small list of approved airlines or hotels (or just choose to get cash back).  The kinds of cards that offer these points are great for people who aren't entirely sure of their travel goals or aren't picky on who they want to fly with, resulting in flexibility in where and how to use their points.
Bank points usually is more commonly referred to as the "Cash Back" reward.  Each card varies, but you'll usually see where you can choose to get a certain percentage of what you spend back in cash.  Sometimes, you can get more cash back for certain purchases, such as eating out.  For travel hackers, this usually (there are exceptions with certain cards) isn't the best use of your points, but it can be nice to have some cash back to offset the cost of items that aren't covered in a travel hack.  
However, with all that being said, there are also some points right now, like in my opinion, the Citi Thank You Premier Card, where their cash back is possibly better than their points. (Some will argue that these points are best used when transferring them to Singapore Airline Miles for the more advanced users, but once again, for the basics and beginners, the cash back in this situation is still a really good deal ) Therefore, in my opinion, it is actually better to book a flight in cash with the Thank You Points, then get the cash back from your points.
Alright, so now you know that you can get a new credit card, get a sign up bonus and then use those points to get close to free travel.  So, off you go to your bank ready to travel hack.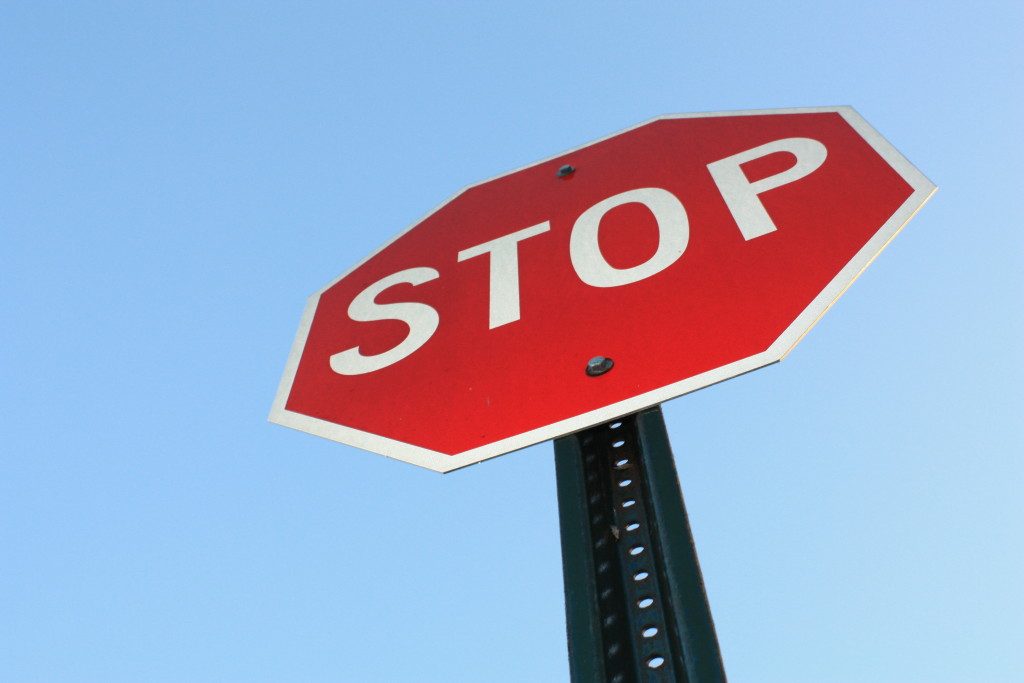 Points Values
I have said it before and I'll say it again; not all points are created equal!!!  Think of points like currency.  I sure as hell don't want to get paid 100 Pesos instead of 100 Dollars for a full day's work.  Why? Because they aren't worth much compared to the dollar!
Just the same, many credit cards tout how you'll get sooo many points and rewards with them, but the reality is that you'd have to get hundreds of thousands of hard to earn points just to have anything of value.
So, what are the best points out there?  Well, that is an EXTREMELY tricky question and honestly, it is going to depend on YOU and your travel goals.  So, go back to the Beginner's Guide and decide what your goals are (flights only? hotels as well? Business or economy flights? One trip or several?)  The points that might be great for you, living in the United States, could be useless for me stationed in Germany.  Everyone's personal value of points are going to vary, meaning there is no one right way, card or points to go with.
There are a few things that will ultimately determine the value of your points to decide which cards are best to get.
1) Math
Bleh.  Who likes doing math??  Even my husband, with a minor in math, isn't a big fan of assigning value to points, but if you really want to, there are a few ways.  One of the most common ways to give points a price value is to decide what the costs would have been in cash for the flight or hotel and then compare that to the points.
So, let's look at a hypothetical example.  Let's say I want to fly home from Germany.  
I know that I can get to Omaha round-trip for 60,000 American Airlines miles (I know this because I used the handy FlyerMiler tool)

I ask myself, "How much would I be willing to pay in cash to fly that route?"

 My answer is going to be around $700 (this is where it is totally a personal preference)

Divide what you are willing to pay by the total amount of points it takes.
$700/60,000 points= My personal value then  would be 1.16 cents per American Airlines mile.
But how do I know if 1.16 cents per mile is good?  Well, this is why I'm not a huge fan of using the math method.  Because TECHNICALLY, a google search will tell me that American Airlines will sell me a mile at 3 cents per mile (making my valuation not very good!).  Based off of this method, I may not think that American Airlines miles aren't good (which just simply isn't true!)
However, someone else may have personally valued the cost of that flight much differently, which is why you need to know what your travel goals and budget are in order to help determine your personal value.
2) Personal Preference
You can do all the math in the world to try to figure out the value of points, and some people do.  If you really want to know what people are valuing their points at (note: they will all be different based on personal variables), you can look at the resources at the bottom of this page.
However, the truth of the matter is, when Andy and I decide the value of a point, we personally ask:
Do I have the points to get me to the destination (ex: Do I have American Airlines or United? If the flight needs AA points, then those are valuable at that given time)

What is the availability on the flight?
What it boils down to is that it is often hard to find award availability on a flight.  So, if I can find the open seats and I have the points, guess what?  I think those points are valuable.
3) How easy are the points to earn?
I'm much more likely to use points that are also easy to earn.  This may mean that their value is lower than someone else's but if I can earn them fast and in bulk, that's fine.
Note: You might be able to earn a local bank's credit card points easily, but if you have to spend close to 200,000 points just for an economy flight, that is not good value!  
Think of it in terms of currency again.  You could have $100 or over 1500 pesos.  The numerical number of the pesos look better, but the $100 is actually worth the same amount.  If it is easier and faster to earn the $100, that's what I'm going to do!
4) How easy are the points to spend
This ties both #2 and #3 together.  Once again, if I have all these points but never see seat availability, what good are those points?
On the other hand, if I have what seems like a large number of points, but it takes close to 200,000 points just to fly in economy, then the value of those points are clearly very low.
Still Confused?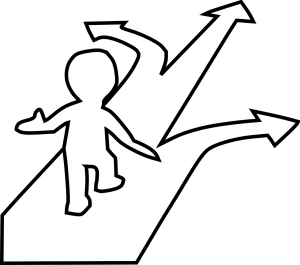 Don't worry.  I've boiled down the most valuable points on the market right now.  If you see a card that has these types of points and has a high sign up bonus (typically around 50,000 bonus sign up points), then you are probably in good hands.
Chase Ultimate Rewards
Card Examples: Sapphire Preferred or Ink Plus
American Express Membership Rewards
Card Examples: Gold and Platinum
Citi Thank You Points
Card Examples: Prestige or Premiere
American and United Airline Miles
Card Examples: Citi AA Executive or United Explorer
Starwood Preferred Guest Points
Card Examples: Starwood American Express (SPG doesn't typically have the incredibly high sign up bonus, but their points are extremely valuable)
*** IMPORTANT!
Don't just assume that if it is a Citi card that it is going to be the best kind of "Thank You" points (for example the Premier's Thank You points are better than the Preferred).  This is where it takes you looking into the card and ensuring that the value is good and that the points are actually usable.  However, if you go off the above mentioned cards for starters, you probably can't go wrong  
Now that you know the value of points in the scope of travel hacking, you are probably doing one of two things right now
Looking at the cards and points you personally have scattered throughout your own accounts wondering what the hell they are worth

Getting  ready to pick a credit card or two to get you earning enough points to start traveling for as close to free as travel can be
Check back for the next installation in our Travel Hacking Step by Step Guide which will tell you what to do if you already have a few cards open with points and which cards to go for once you are ready to truly travel hack
Resources:
When learning about travel hacking and points, there are plenty of great resources out there.  One of the best "investments" we've made in travel hacking was purchasing Chris Guillebeau's (one of the first travel hackers out there), guide.  If you are even seriously considering getting into the travel hacking game, I can't recommend it enough:
To Learn More On Points Values, here are several good sites to learn from as well:
http://onemileatatime.boardingarea.com/value-miles-points/
http://thepointsguy.com/2015/07/july-2015-monthly-valuations/
http://blog.credit.com/2013/08/credit-card-reward-point-worth/
The following two tabs change content below.
Author and Creator
at
Economical Excursionists
Former teacher turned blogger turned mom turned full time travel addict, LeAnna has never been one to live life by the rules. Whether she is moving to a farm in Switzerland to learn to make cheese (Yes, CHEESE), jumping off a mountain to paraglide over Cinderella castles, or taking her baby all over the world with nothing but a backpack on their backs, LeAnna designs and defines her OWN life. LeAnna, her husband Andy, and kiddo, "Lil B" love to live a minimal lifestyle, not only for the "thrill" of pinching pennies but in order to save for traveling the world. Considering over 40 countries and 90+ cities have been explored, we'd say they are doing something right!
Latest posts by LeAnna Brown (see all)