I'm convinced that in a past life I was a tropical fish and in another I was an alpine cow.  Yes, a cow.
The fish may make more sense considering I am at home in and near the water, but the cow part may take more explaining.
Ever since I can remember, I collected anything that was cow-like.  I had a flashlight that mooed when you pressed the button, pens in the shape of a cow head and door hangars that sounded off whenever you pressed it. If friends didn't know what to get me for my birthday, choosing something cow-themed was probably a safe bet.
So, when I found out that in the Bavarian Alps and over the border into Austria that they have a "Cows Coming Home" (the Alamabtrieb) festival every year for the cows that were grazing in the mountain fields, I knew I had to go to there.
You see, I have ALWAYS had a fascination and love for all things bovine!  Don't ask me why, because I can't tell you, except for that I now have a theory that in a past life I must have been an Alpine cow.  Not just any cow, but one that lived and roamed high in the mountain air; I love the sounds of cowbells, find the creatures themselves very peaceful and loving and then to add the mountain part in,I love to hike and camp in the mountains whenever I get a chance.  There is something rejuvenating, peaceful and calming about being high up in the mountains with just you, the view and nature at it's finest.
Surely that equates to a past life of being a cow, right?  There is just something rejuvenating, peaceful and calming about being high up in the #mountains with just you, the view and nature at it's finest.
In the States, Alpine cows aren't that common, but here in Europe, you can't channel your inner sound of music without encountering the sound of cow bells as they roam around grazing on an alpine feast.
The farmers of the towns below the steep mountains know the importance of feeding their livestock well, so each summer, they send the cows up for different varieties of plants and flowers to diversify their lunch menu. Then, in the fall, they gather up their herd and bring them down, usually before the first snowfall.  But what happens next is what makes these Bavarian Alpine cultures so unique and amazing; the
Almabtrieb
Festival!
Bringing the cows home is no simple and quiet event.  No, it is a huge fanfare where, traditionally, the entire town takes part in giving thanks for the success of a good summer season of livestock.  If there were no major pitfalls while the cows enjoyed their own mountainous hikes, they are decorated with wreaths and headdresses fit for a queen, or in this case, ein Kuh.
The Bavarian and Tirol regions, being a highly Catholic area, shows their praise and thanks to God with symbols of crosses and saints in thanks for the safe-keeping of their livelihood; the cows.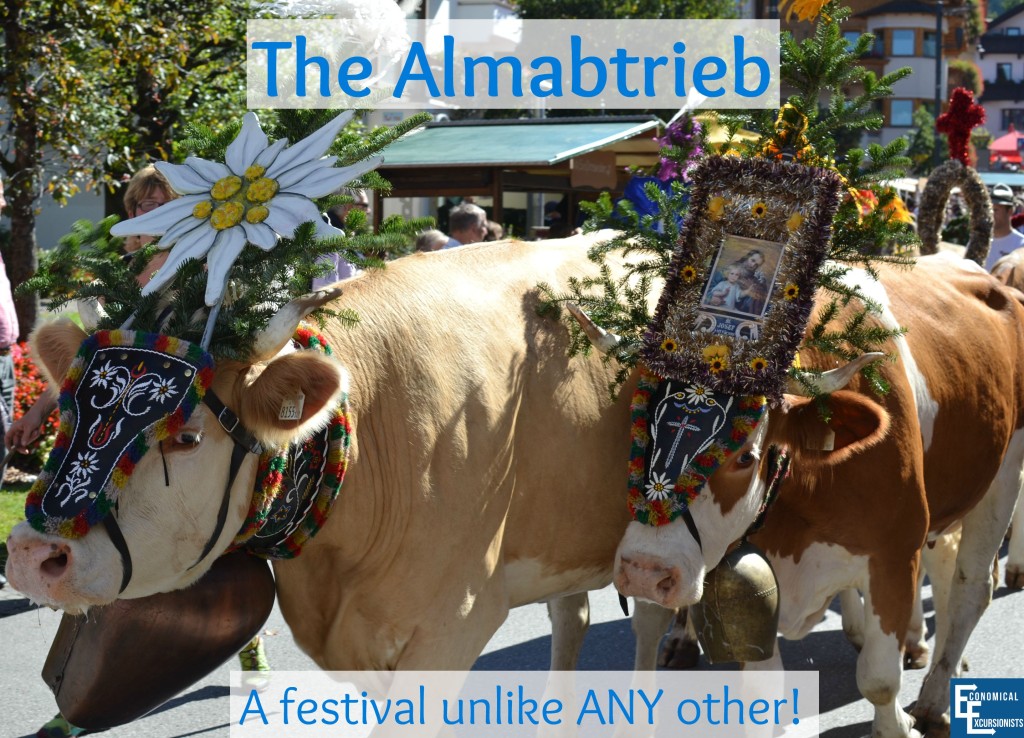 If seeing a parade of cows elaborately decorated isn't your thing, then maybe a group of whipping boys is?
Yes.  Whipping Boys.  Those men must get bored up in the mountains….
If you aren't that impressed with the fact that a group of men can dress in liederhosen and make music with their whips, then you just probably shouldn't be traveling.
Now, what blog post of mine that talks about a cultural experience would be complete without talking about the food!?
(Ok, I guess just in general what blog post of mine doesn't mention food at all??)
Just wander around any of the festivals and you will be delightfully treated with the local delicacies of the specific area you are in.
In some areas, you'll find the truly Bavarian meal; Rahmschwammerl.  After all, what is better than heavy cream, bread dumplings and fresh, in-season mushrooms cooked together to perfection?  Or, if dessert is more of your thing, then you have to give the Apfel Krapfen (think apple pie meets donut) a try!  Maybe you'll even be lucky enough to have someone make you a fresh Melchermuas over a fire and topped with fresh cranberries.
 If neither of those sound good, no worries; just walk around and you are sure to find foods special often to that town alone or local region that you just might not be able to find anywhere else.
After all that eating, you are going to be thirsty.  You are at a fest, afterall, so finding a liter of beer isn't going to be difficult.  However, another must at the
Almabtrieb
festivals is the Sturm (in Austria) or Federweißer (German).  This unfiltered, immature wine which is fermented and carbonated is a different alternative to your typical wines.  Get it now because you won't find Sturm any other time of year!  Once it is made, due to the fermentation and lack of preservatives, it will spoil within a few days, so drink up!
After you are all full on food and drink, take the time to walk around.  Most Almabtriebs will have amazing local craftsman at work.  You might find anything from an old lady at a spindle with her newly shaved wool from her own flock of sheep or a man using goose feather spines to elaborately decorate traditional Bavarian belts.  Even those husbands who you wouldn't dare to drag into a crafts boutique just may be impressed with the wood working booth, or at least the schnapps stand!
The Details
There are no shortages for Almabtriebs in the German and Austrian Alps and while they have become much more touristy over the years, you will still get a heavy dose of local culture and past-time traditions wherever you decide to go.
If a village sits at the bottom of a mountain, chances are, their will be an
Almabtrieb
.  However, not all "Cows Coming Home" festivals are created equal.  Some may be just a small procession and others an elaborate, several week ordeal.  Look into the town and make sure the festival is what you want so that you aren't disappointed if you were looking for more fanfare and instead just get a small herd of cows walking down the street.
My personal favorite is the Reith im Alpbachtal in Austria.  It has everything mentioned above and more.  It is an ongoing party with food, drink, music and a good Bavarian (or in this area, Zillertol) spirit.  This fest is often two weekends long and each weekend, the big day is usually on both Saturdays of the fest meaning you can have a full day at the festival and still have time to do other things if in the area for a full weekend.
We have paired the Reith im Alpbachtal fest with the nearby town, Kramsach's,
Almabtrieb
 (about a 10 minute drive from Reith im Alpbachta).  What makes this one unique is that it is actually held at an open air farmhouse museum, the Museum Tiroler Bauerh
ö
fe.
This is a great way to pair some history into a fun festival.  There are houses scattered across the large farmland, each with a specific time period.  You can see what farmers lived like in past generations and while during the festival, many of the homes have workers baking up delicious local goodies only to be found in the Zillertol region (Austria).  If you are there on a Sunday, you can even attend an outdoor Catholic mass while you enjoy a beer (no, seriously).
As you walk around, you can hear the yodelers with their alpine horns as you soak in the mountain fresh air around you.  Or, if oompah is more of your music style, you can follow the brass band along the paths as they play at various intervals and stops.
While this isn't as "festive" or lively as the some of the other 
Almabtriebs
, it is still a fantastic way to get a glimpse into the past and the way of life for farmers in the alpine regions while still enjoying the traditions of an
Almabtrieb
(and holy cow (no pun intended) is the food DELICIOUS here!)
If you have another day available, being in the mountains is always the perfect excuse to go for a hike and there are no shortages of paths for any level or time length in any of the areas that host the Almabtriebs.  Depending on where you are at, look into seeing if there are cable cars to take you to the top for absolutely stunning views over the area.
Where to Stay:
If you do decide to go the Reith im Alpbachta route, there are plenty of places to stay within the town itself.  However, if you are a penny pincher like me, chances are the 100Euro+ per night on average cost (often more during the festivals) doesn't sound appealing.  The plus side though is that if you plan on drinking, it is nice to be able to just walk right back to your room.
There are plenty of great rates on AirB&B (book early as most accommodation fills fast for these fests!) for nearby towns and villages.  Some are as low as $40/night and are great little stays with excellent hosts.
MittenWald is another very popular
Almabtrieb
.  If you are in the military, a short drive away is the Edelweiss Resort, where you can stay even cheaper at the Army Lodging.  If you aren't military, AirB&B is another great alternative as well for this area.
Where to Eat:
Don't even bother finding restaurants; just enjoy all the delicious fest foods and you are sure to have a culinary feast!
Cost:
Costs may vary depending on the fest.  Even if the site says that admission is free, still be prepared to pay even just a few Euros to enter.  At some locations you may pay per car (anywhere from 5-10 Euro) or per person (a few Euros, depending on the specific fest).
Costs are simply for entrance into the fests, this will NOT include any food, drink or souvenirs you may wish to purchase for the day.
Depending on the size of th town, I recommend just having Euros already on you prior to the festival so that you don't have to worry about finding an ATM and can just enjoy your time!
Resources and Links to Festivals
To find out more information on when  and where the Almabtriebs are going on for 2015, check out the following resources:
Have you ever been to an
Almabtrieb
?  Tell us in the comments where you went and what your most enjoyable experience was!
The following two tabs change content below.
Author and Creator
at
Economical Excursionists
Former teacher turned blogger turned mom turned full time travel addict, LeAnna has never been one to live life by the rules. Whether she is moving to a farm in Switzerland to learn to make cheese (Yes, CHEESE), jumping off a mountain to paraglide over Cinderella castles, or taking her baby all over the world with nothing but a backpack on their backs, LeAnna designs and defines her OWN life. LeAnna, her husband Andy, and kiddo, "Lil B" love to live a minimal lifestyle, not only for the "thrill" of pinching pennies but in order to save for traveling the world. Considering over 40 countries and 90+ cities have been explored, we'd say they are doing something right!
Latest posts by LeAnna Brown (see all)