School is wrapping up here at DoDEA (Department of Defense Dependents Schools) and the main question for polite conversation has been "So, do you have any summer plans?"  The looks and reactions I have been getting to my "I'm "moving" to Switzerland for a month to learn to make cheese!" response has been pretty fun to watch!  Then comes the usual questions of "Your doing WHAT!?"  "Why are you doing that?" and  "How did you come across this?" usually ending the conversation with "I can't wait to hear about this!"  So, let's start with the basics and hope that I have internet to continue to post about the meat of the trip (or should I say cheese) while I'm there!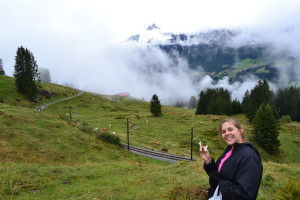 Why:  
WHY NOT!?  Ok, well, while that is honestly the best reason, there are several others.
1)  I am currently living in Germany.  When we moved here I had one goal: to travel and explore the world as much as possible.  One of my favorite parts about traveling is learning about different cultures and seeing how others live.
2) I have always loved to eat cheese (don't judge me).  This could actually be me.   As a half-joke, I told Andy that I would love to have my own goat or something that I could make my own cheese with when we move back to the states.  Why not learn from the best cheese makers in the world?
3) Meine Deutsch is nicht sehr gut.  I have lived in Germany for over 2 years now and my German is not where I would want it to be.  Now, Swiss German and High German (what most everyone can speak in Germany) are VERY different, however, it was better than nothing.  However, as luck would have it, the family I am going to be living with is actually from an area only an hour away from where I live, which means that I will actually be getting Bayerisch Deutch (what they speak where I live)!!!
4) Hiking in the Alps.  Enough said, right?
How:
I have heard of many peopling who have WWOOFed it (World Wide Opportunities on Organic Farms) and thought this would be a great way to go make cheese!  I paid the $20ish and received a book of all the participating farms in Switzerland.  I then narrowed it down by location and farms that said they produce their own cheese.  When Ruth responded back that they would love to have me, it was a done deal.
What and Where:
Cheese making….I hope.  Ok, so I honestly know very little more!  I know:
– The family/ farm lives in Bern.  This is the website for the farm

– Food and board will be exchanged for my work on the farm (since I have zero farming experience, I can just foresee the menial tasks I'll be given….like slinging cow poo)
– Bring my swim suit because there is a public bath (pool) nearby
Yup….that is it!!!!  I really have no idea what I am getting myself into, but that is part of the excitement and fun.  This should be interesting!
The following two tabs change content below.
Author and Creator
at
Economical Excursionists
Former teacher turned blogger turned mom turned full time travel addict, LeAnna has never been one to live life by the rules. Whether she is moving to a farm in Switzerland to learn to make cheese (Yes, CHEESE), jumping off a mountain to paraglide over Cinderella castles, or taking her baby all over the world with nothing but a backpack on their backs, LeAnna designs and defines her OWN life. LeAnna, her husband Andy, and kiddo, "Lil B" love to live a minimal lifestyle, not only for the "thrill" of pinching pennies but in order to save for traveling the world. Considering over 40 countries and 90+ cities have been explored, we'd say they are doing something right!
Latest posts by LeAnna Brown (see all)