With the holidays upon us, you may be wondering what to give to that special person.
Maybe it is your mother in law that has the perfectly manicured house with everything always in the right place.
Or possibly you are looking for that elegant and expensive looking gift to give your wife (Shh, we won't tell her you got it for free!)
On the other hand, maybe you love crystal yourself, are looking for a few special pieces and while giving gifts to others are nice, who doesn't love to TreatYoSelf!?
No matter who you are, you are bound to have a use in the coming months for this beautiful Bavarian Crystal Package!
Authentic Bavarian Crystal Package
So you are in luck! Your favorite travel blogger (Ahem…that's me, right??) lives in the region of Germany that produces the most stunning and beautiful crystal pieces.  There are still local artisans that continue to make their crystal pieces the same way as in past centuries: glass blowing and hand-etching.
And this is one valuable giveaway!  This month's giveaway of Bavarian Crystal comes from the world-famous Nachtmann Factory, where they have almost 180 years of experience in fine quality, local, Bavarian Crystal production.
Coming in with a whopping value of over $70 you are sure to wow your gift recipient (or yourself if that is your prerogative…once again, we won't tell if you want to hoard it all for yourself!)
What is Included in the Bavarian Crystal Package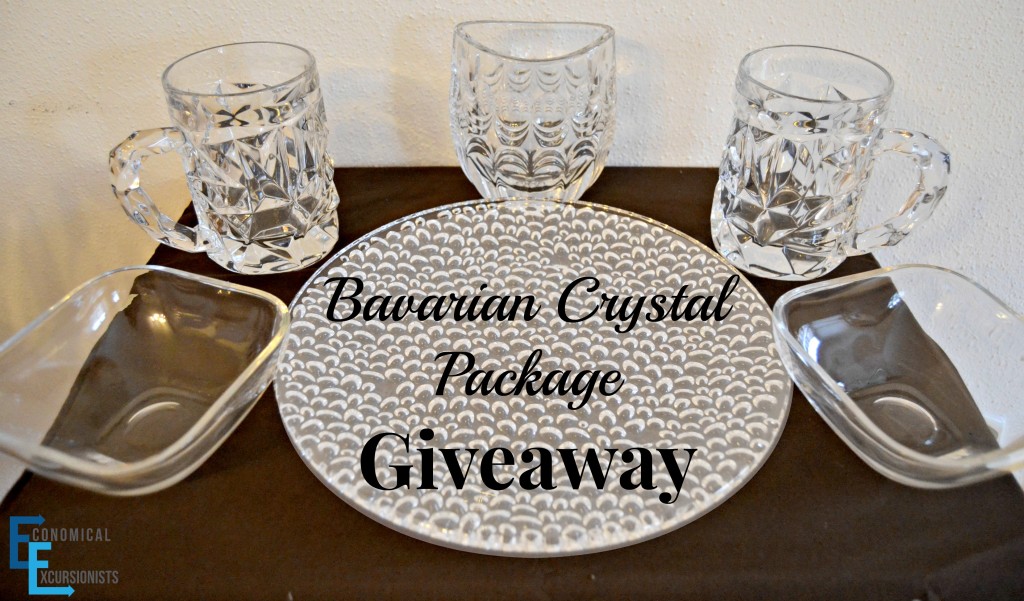 One (1) Flower Vase: Because who doesn't love fresh flowers out to brighten up a room?
Two (2) Etched Beer Steins: Drinking beer has never looked so classy!
Three (3) Candy or Nut Bowls: Fine dining at it's best (only two shown, but yes, you do indeed get THREE!)
One (1) Serving Platter: Be the talk of the potluck with this fancy schmancy platter!
ENTER NOW!
This giveaway will only last one week, so enter now! Share and Pin daily for multiple entries!
a Rafflecopter giveaway

Want to have a few day's head-start on our MONTHLY giveaways? (That's right, we do awesome giveaways EVERY.SINGLE.MONTH!) Don't forget to sign up for our Monthly EE Newsletter.  We promise: No Spam.  Only the good stuff. Only Once a month!
You'll know about the giveaway days before everyone else, meaning you can submit more entries to win.  Plus, you'll get other great tips, tricks and travel deals to help you achieve your next travel goal.
The following two tabs change content below.
Author and Creator
at
Economical Excursionists
Former teacher turned blogger turned mom turned full time travel addict, LeAnna has never been one to live life by the rules. Whether she is moving to a farm in Switzerland to learn to make cheese (Yes, CHEESE), jumping off a mountain to paraglide over Cinderella castles, or taking her baby all over the world with nothing but a backpack on their backs, LeAnna designs and defines her OWN life. LeAnna, her husband Andy, and kiddo, "Lil B" love to live a minimal lifestyle, not only for the "thrill" of pinching pennies but in order to save for traveling the world. Considering over 40 countries and 90+ cities have been explored, we'd say they are doing something right!
Latest posts by LeAnna Brown (see all)