January Giveaway
This time of year is perfect for cozying up on the couch and cuddling with a good read.  It's also the perfect time of year to start dreaming up the perfect summer vacay!  With all the snow and cold weather, I know I'm already dreaming up where I want to go in the warmer months.  (I'm thinking Cinque Terra, Italy or hiking in Lauterbrunnen, Switerland!)
Maybe you are in the US and wondering where to go on your next family trip.  Or maybe you are with me here in Europe and are thinking about how to budget for your next weekend getaway.  Either way, I want to hear from you.  Where are you looking at heading that you want some info on.  Alternatively, what do you need help with in your travel planning experiences?  Shout it out in the comments so that I can give you a hand!
No matter what kind of traveler you are, this month's giveaway is going to help you out!!!  We are doing it just a tad bit differently, but different is fun!
What You Need to Know
Most of you already know that I am SUPER pumped about my first E-book, So You Got Stationed Overseas: Why you NEED to make TRAVEL a part of your short PCS abroad that is in pre-sale right now until February 8th.  Yes, this is specifically for military members looking at an overseas PCS or already living in Europe.  There is tons of military- specific information, discounts resources.
Can anyone else looking to learn HOW to travel to Europe read it? SURE! You are still going to find loads of tips and tricks, ACTIONABLE advice for your next trip, my favorite resources, ideas and ways to learn HOW to plan a trip from start to finish, downloadable resources and more but just know that some of the information is geared towards a military audience living abroad.  That just means you can skim over a few sections here and there.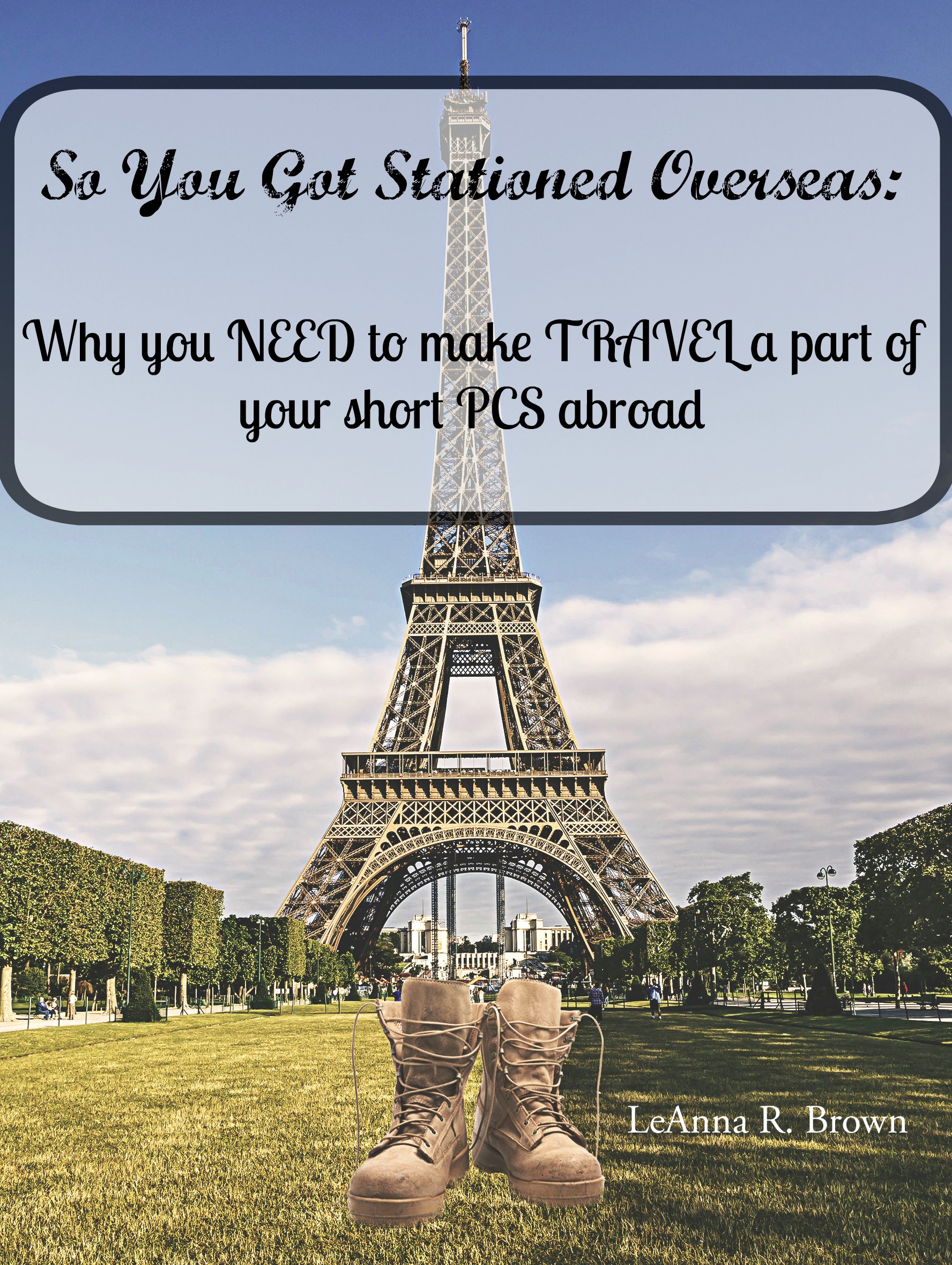 What you Get
Not only will you get 30% off the book price (as it will go up when it is officially launched Feb 8th) by pre-ordering now but you'll also be entered to win
One 30-minute travel consultation with yours truly ($50 value!)
Want to learn the basics of travel hacking? Sweet.
Want to get some ideas for where to go in Europe this summer? I got ya covered!
Want me to help get you STARTED on a planning process? No problem!
You'll receive a completely personalized 30 minute session of your topic of choice to help you with your travel needs.
Here is How It's Gonna Work
1) Using the Rafflecopter below, you must purchase the book in order to entered to win this giveaway.  Input your email so that I can confirm your purchase.
2) All other entries are optional AFTER purchasing the E-Book.  So, the more you want to participate in, the more chances you have of WINNING!  Don't want to do any of the other entries after purchasing the book? No problemo! You already give FIVE TIME ENTRIES just for purchasing (but who wouldn't want even more, right?)
a Rafflecopter giveaway

The following two tabs change content below.
Author and Creator
at
Economical Excursionists
Former teacher turned blogger turned mom turned full time travel addict, LeAnna has never been one to live life by the rules. Whether she is moving to a farm in Switzerland to learn to make cheese (Yes, CHEESE), jumping off a mountain to paraglide over Cinderella castles, or taking her baby all over the world with nothing but a backpack on their backs, LeAnna designs and defines her OWN life. LeAnna, her husband Andy, and kiddo, "Lil B" love to live a minimal lifestyle, not only for the "thrill" of pinching pennies but in order to save for traveling the world. Considering over 40 countries and 90+ cities have been explored, we'd say they are doing something right!
Latest posts by LeAnna Brown (see all)