{This post may contain affiliate links.  Hopefully, they may add up to enough $ to rent a left ski boot next time we are on the slopes. We can't thank you enough for your support of our site at no additional cost to you} 
Best Slopes in Germany for Skiers and Snowboarders
Coming from Nebraksa (aka: land of flatness and cornfields), you might be skeptical to take ski advice from me.  I actually don't blame you.
When we first moved to Germany, I somehow made friends almost exclusively with people that grew up skiing and snowboarding.  Really enjoying traveling with friends, we quickly realized that if we wanted to travel with them in the winter months that we better learn how to fly down the side of a mountain on what felt simply like a thin piece of plastic stuck to my feet.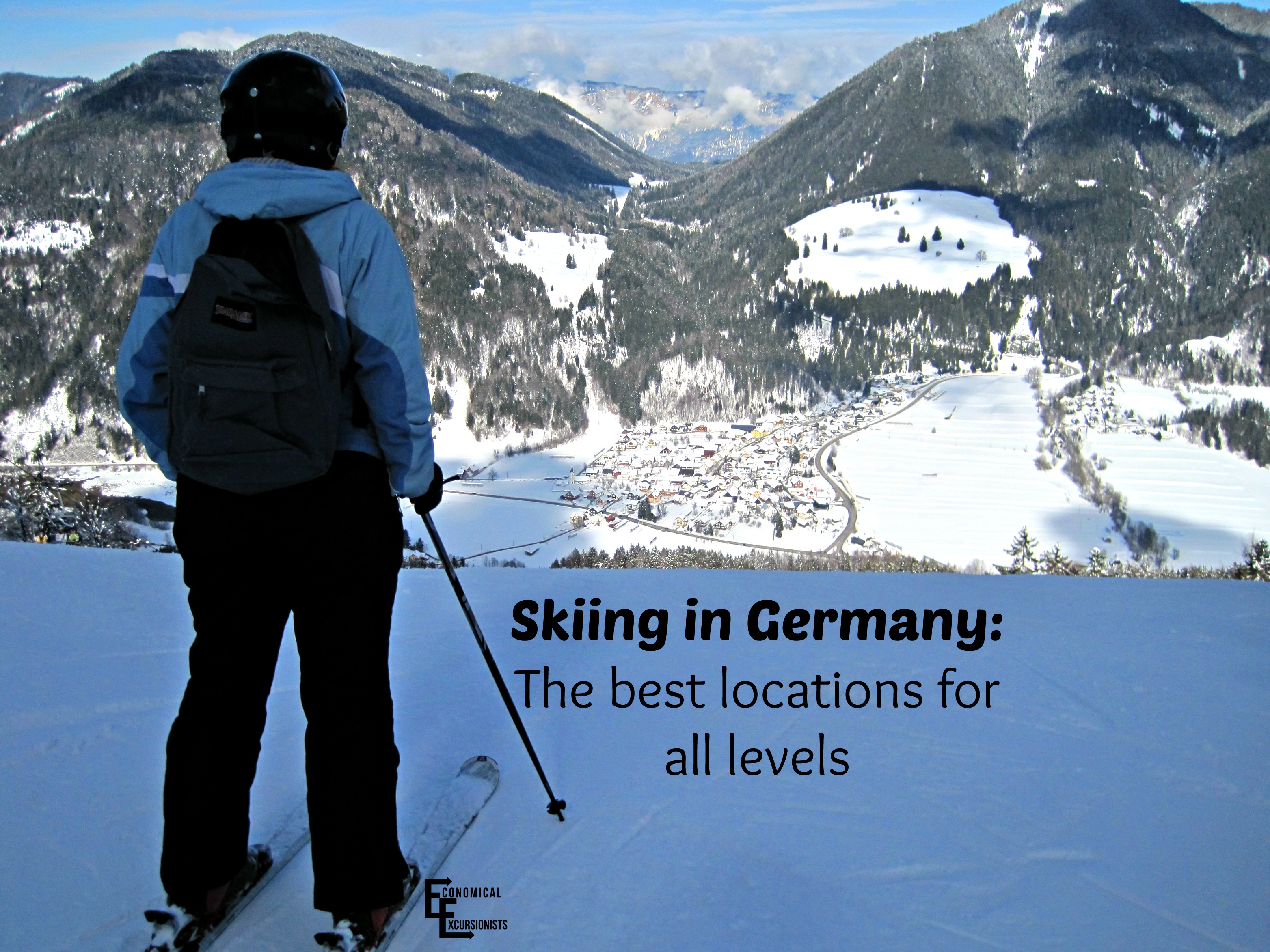 You would think that we started out slow, you know, on something like a bunny slope.  Nope…go big or go home, right?  We headed several hours south into the heart of the Swiss Alps, where I had more face plants and sore body parts than I knew were possible.  Besides the fact that the easiest slopes didn't seem easy in the slightest combined with the fact that Switzerland is EXPENSIVE, we decided to spend the following years enjoying places much more close by in and around Germany!  Here are some of our favorite places to ski in Germany.
Grosser Arbor
Because it is not a very tall mountain, it is ideal for beginners and snowboarders alike.  It has just enough slopes for experienced skiers as well to keep you busy for a day, but not enough to really stay interested for a full weekend.  It is also a great place for the kiddos to learn as well!
For current pricing and further information: http://www.arber.de/en/winter.html
Reit Im Winkl
Maybe it is just luck of the draw, but we've actually never had much luck at the Winklemoosalm- Steinplatte area.  Our first experience was in near white-out conditions and the second was already after a tiring weekend elsewhere in the Alps.  We found there to be a lot of cat tracks, making it extremely hard on the snowboarders in the group.  However, we know plenty of people that love to go to the area not only for the diverse slopes, but the close proximity to Munich.
However, we have enjoyed pairing a day at Reit im Winkle with a day just over the border into Austria at..
Sankt Johann
Just over the border into Austria (ok, ok, so not IN Germany anymore) is one of our favorite ski areas.  St. Johann is big enough for both newbies and experienced skiiers and snowboarders alike.  We were able to spend the day on these slopes without ever getting bored.  It was a great place to learn or start the year off but was also challenging enough for our advanced friends.
—————————————————————————————————————————————–
Skiing in The Alps Soon?
Don't forget to research cheap things to do on TripAdvisor and book affordable Hotels at Booking.com
—————————————————————————————————————————————-
Garmisch
Garmische-Partenkirchen is a favorite among military members because of it's Edelweiss Lodge (read here to learn how to stay at Garmisch on a budget for all you military members!).  Others like to be able to boast that they have skiied on the highest peak in Germany.  Because of all this, the Zugspitze and Garmische-Classic can often be pretty crowded, busy, and expensive but that doesn't mean it doesn't offer good slopes!
Oberramagau
Only about 20 minutes from Garmisch is the great beginner location of Oberramagau.  It is cheaper (and has less as well as easier slopes) than it's taller sibling, Garmisch/ Zugspitze.  For some, they may get bored after a day, so making a Bavarian weekend is fun to head over to Cinderella Castle, Neuschwanstein (stunningly beautiful in the winter as well as the warmer months!).
SkiWelt
Again, while not IN Germany, this huge resort is literally just across the border into the Tirol region of Austria and is worth noting if you are in the area.  We love the Tirol region for skiing for numerous reasons including good costs, great slopes, variety of ability levels and stunning views!  With it is being just a few minutes over the border, it is worth considering if you are in the nearby area and wanting a good place to ski and snowboard at.  You can choose which resort to start at and it is always easy enough to get back to your car or accomodation with good shuttles and chairlifts running between the mountains.  We've enjoyed starting out of Soll, Scheffau and Brixen just to name a few.
These suggestions are, by far, not the only places to ski at in Germany.  Another good place to start researching where a good place to ski in Germany for you is Tiscover.com.  You can filter your search by experience level, snowboarding, size of resorts and more.
Bonus Tip:
If you are wanting to ski in Germany, I highly recommend booking accommodation well in advance.  Hotels and pensions in the ski towns themselves fill up fast and then have a hefty price tag on them.  If you don't mind not being able to ski from your door, consider nearby towns and AirB&B for cheaper (and just as comfortable!) options.
Have you been skiing or snowboarding in Germany?  Tell us in the comments where your favorite locations have been and why!
The following two tabs change content below.
Author and Creator
at
Economical Excursionists
Former teacher turned blogger turned mom turned full time travel addict, LeAnna has never been one to live life by the rules. Whether she is moving to a farm in Switzerland to learn to make cheese (Yes, CHEESE), jumping off a mountain to paraglide over Cinderella castles, or taking her baby all over the world with nothing but a backpack on their backs, LeAnna designs and defines her OWN life. LeAnna, her husband Andy, and kiddo, "Lil B" love to live a minimal lifestyle, not only for the "thrill" of pinching pennies but in order to save for traveling the world. Considering over 40 countries and 90+ cities have been explored, we'd say they are doing something right!
Latest posts by LeAnna Brown (see all)