{This post may contain affiliate links.  We can't thank you enough for supporting this site at no extra cost to you}
AMSTERDAM
Marijuana
Prostitutes
Sex toy shops
Many people, especially parents, immediately think of these things when they imagine Amsterdam.  But by doing this, you are doing yourself a HUGE disservice to one of the most beautiful, most cultural cities, in my opinion, in all of Europe.  In fact, Amsterdam was actually rated the 5th safest city (in 2015), according to the Economist, so maybe….just maybe, they have something figured out!  Heading to the world's largest tulip festival in Keukenhof?  Here is more info on that gem right outside of Amsterdam as well!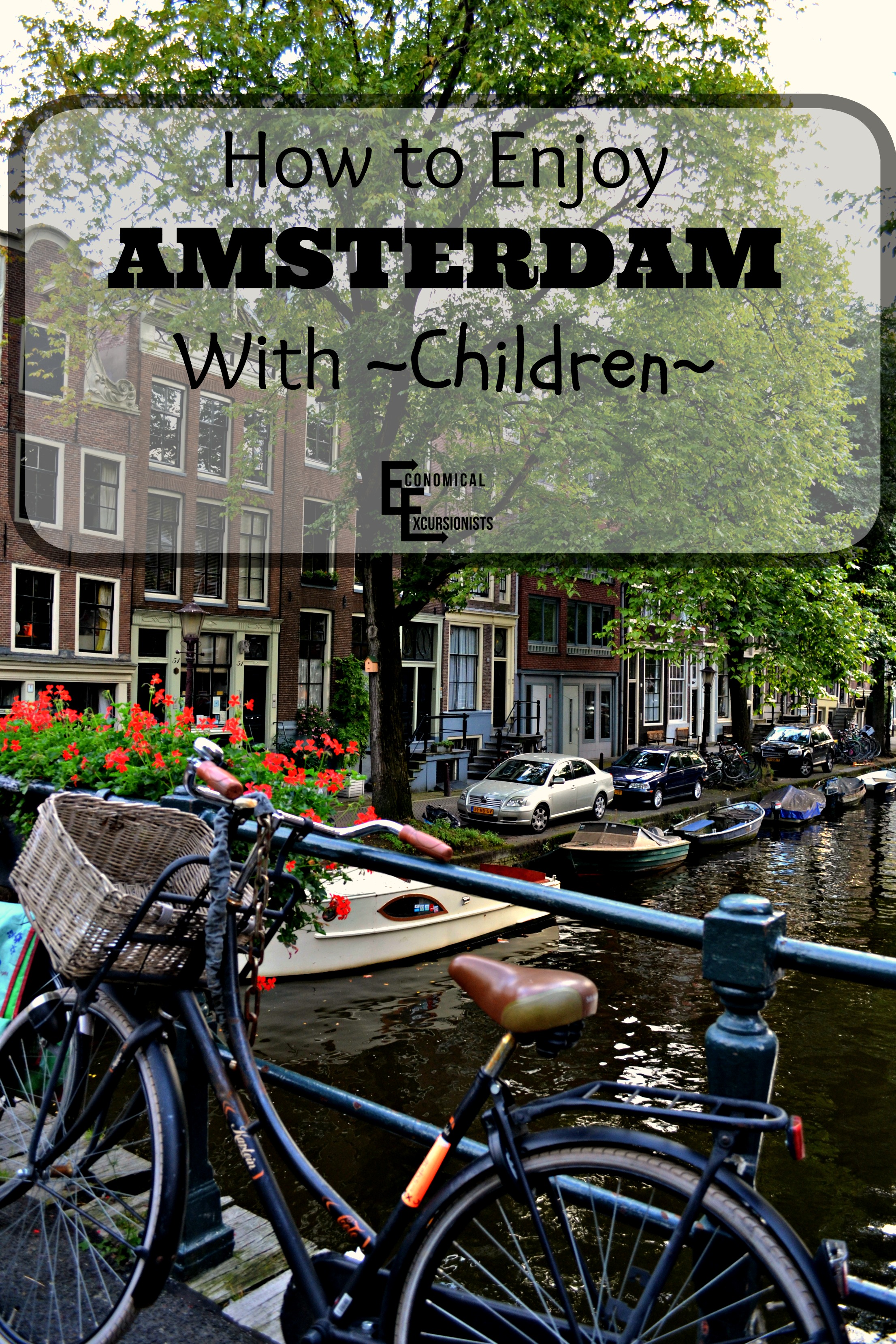 Sure, for those adults who are mature enough to handle of night of fun (and stereotypes), Amsterdam can be a blast.  But truthfully, Amsterdam holds so much more than just a few sketchy neighborhoods.  So, what is a parent to do?
Absolutely GO!
First and foremost, don't cross Amsterdam off your travel list just because you have children.  A quick Google search will have you sifting through the abundant amount of family friendly and child-oriented experiences to be had in Amsterdam.  For example, the official tourist Amsterdam site has a great family-friendly guide.  Amsterdam with kids can be an absolutely great trip!
Figure Out a Game Plan
I get it, not everyone is a planner, like me, when it comes to travel.  However, knowing what there is and where it is in Amsterdam can be a great tool to enjoying the city if you have a family.  There are about one million Amsterdam City Guides and Things to Do, so I am not going to lay them all out here.  However, here are my favorite resources for figuring out your days there:
Rick Steves Guidebook (Duh! What kind of trip planning resource would I give without my main travel man!?)This is, of course, my favorite planning tool to figure out some of the main sites for what to see.  What is great about Amsterdam is that there is something for everyone.  We are not huge museum go-ers, but there are top-notch museums to visit if that tickles your fancy.  However, I wasn't left in the dust, because there is so much else to choose from to do that we kept plenty busy.  Rick Steves Amsterdam & the Netherlands
gives plenty of options for all travel types.
Free City Walks: Another favorite activity that we always look up is if a city has a free city walk.  Sandeman's New Europe is all over popular European cities, including Amsterdam.  These free walking tours are ideal for your first day in the city to get your bearings on where things are, loads of historical information and local, insider tips on places to eat and things to do.  And did I mention it's FREE?  #WINNING!
Rick Steves Free Walking Tours:  Sorry to come back to him again, but I am pretty obsessed with his free walking tours in his Rick Steves Amsterdam & the Netherlands book (many of which can now be downloaded as well for free)
.  But his Amsterdam walking tours are some of his best. He has numerous neighborhood walks that get you a little off the tourist path and into more of a local life, which is a real treat in the Netherlands.
—————————————————————————————————————————————–
Ready to Explore Amsterdam?
Don't forget to research cheap things to do on TripAdvisor and book affordable Hotels at Booking.com
—————————————————————————————————————————————-
Learn about The Netherlands
The Dutch culture is actually incredibly fascinating and once you know some background information on it, the whole pot, hookers and hippy lifestyle that we often think of with Amsterdam actually ends up making a ton of sense.  If you are flying or driving to Amsterdam, I can't recommend downloading Rick Steves Podcasts on Amsterdam to listen to enroute.  (Here we go again.  I swear, I am NOT affiliated with Rick! Although…as I always say, if he ever wants to ein Bier next time he's in Germany, I would not say no!) He interviews some locals as well as gives incredible information about how the government believes that things like sex and drugs are going to happen whether they are legalized or not.  In fact, they have found that when they try to control it more, the worse the issues get.  They very much believe in a system of "As long as you are not hurting or harming others or putting others at risk of danger, it is your own life to live."
It can be quite an eye opener, especially for Americans and is just another reason why travelling to Holland is so important.  It helps to give us another perspective on life (and even government) that we may not have been exposed to other-wise.
Talk About It All
If you have children and are heading to Amsterdam, you have a few options on how to handle the open lifestyle that you may encounter.
1) Adjust according to age, but having a conversation about what might be seen and WHY it is there as well as why it's allowed can be a great way to teach your children (pending age and maturity) about other cultures around the world
2) Don't make a big deal out of it.  If you don't get all flustered and rush past a sex shop (bringing attention to it), then some kids may not even notice.  For those that do, have a talk ready to go on hand
3) Avoid Certain Areas: Sure, there are "coffeehouses" all over, but if you aren't going inside, your kids will have NO idea what they are.  If you don't want them to see prostitutes, simply stay away from the Red Light District! Of course somethings may be unavoidable, but again, by skipping the city entirely because of a few shops here and there you are doing your whole family a disservice
Change Your Focus
Amsterdam doesn't need to be all about taboo subjects!!!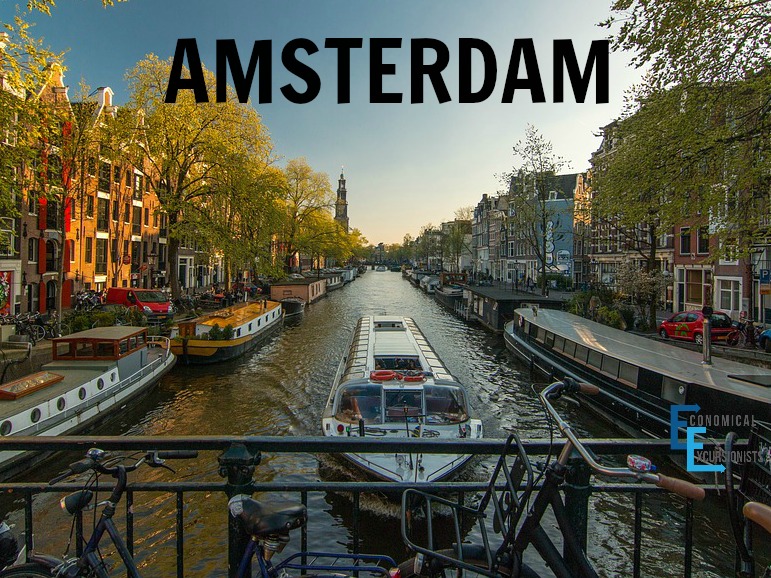 Enjoy a peaceful boat ride under the hundreds of flower draped overpasses.
Sip hot cocoa and cappuccinos at an outdoor cafe (Be sure to go to a KoffieHuis not a CoffeeHouse!) next to a canal and just people watch.
Go to the Anne Frank House and dive into the iconic history and story we all have read.
If it is the spring, head to the largest Tulip festival in the world in nearby Keukenhof.
Join the locals on a bike and see the city by wheels
Visit the museums
Eat some world famous french fries (They are seriously DE-LISH!)
Really, the possibilities are endless to have an absolutely amazing time while in Amsterdam without even encountering anything you don't want to.
If you are looking for a cost breakdown to help you budget your Amsterdam trip, here is a pretty nifty tool as well.
Have you traveled to Amsterdam with a family?  Tell us in the comments what your experiences were.
The following two tabs change content below.
Author and Creator
at
Economical Excursionists
Former teacher turned blogger turned mom turned full time travel addict, LeAnna has never been one to live life by the rules. Whether she is moving to a farm in Switzerland to learn to make cheese (Yes, CHEESE), jumping off a mountain to paraglide over Cinderella castles, or taking her baby all over the world with nothing but a backpack on their backs, LeAnna designs and defines her OWN life. LeAnna, her husband Andy, and kiddo, "Lil B" love to live a minimal lifestyle, not only for the "thrill" of pinching pennies but in order to save for traveling the world. Considering over 40 countries and 90+ cities have been explored, we'd say they are doing something right!
Latest posts by LeAnna Brown (see all)