While I have no affiliation with any of the tours mentioned and suggested in this post, there may be amazon  or affiliate links in this article.  Please support EconomicalExcursionists so that we can tip the fantastic guides on free walking tours generously!
All of the Free Tours in Sofia Combined
to create a full weekend itinerary
So, this site isn't titled "Economical Excursionists" for no reason, right?  We all know how Andy and I will do just about anything to save a buck, how ridiculously frugal we are and how the primary way that we travel so cheaply is via Travel Hacking on points and miles.
Which is really why it's no surprise that one of our favorite things to do while traveling is to find free walking tours.  When we first started traveling, organized free tours weren't really a thing yet, so I mostly just relied on my man, Rick Steves, who always had amazing self-guided tours in his books and even several free downloadable MP3 walks.   We loved this route because we could take a city at our own pace, see what we wanted, skip what we didn't and really get a context and history behind WHAT we were seeing.  The downside to this is that if you are stuck with your nose in a (travel) book, nothing screams TOURIST more.  And while us speaking English is often a dead giveaway already, we typically like to try to stay low key when traveling to practice situational awareness while traveling.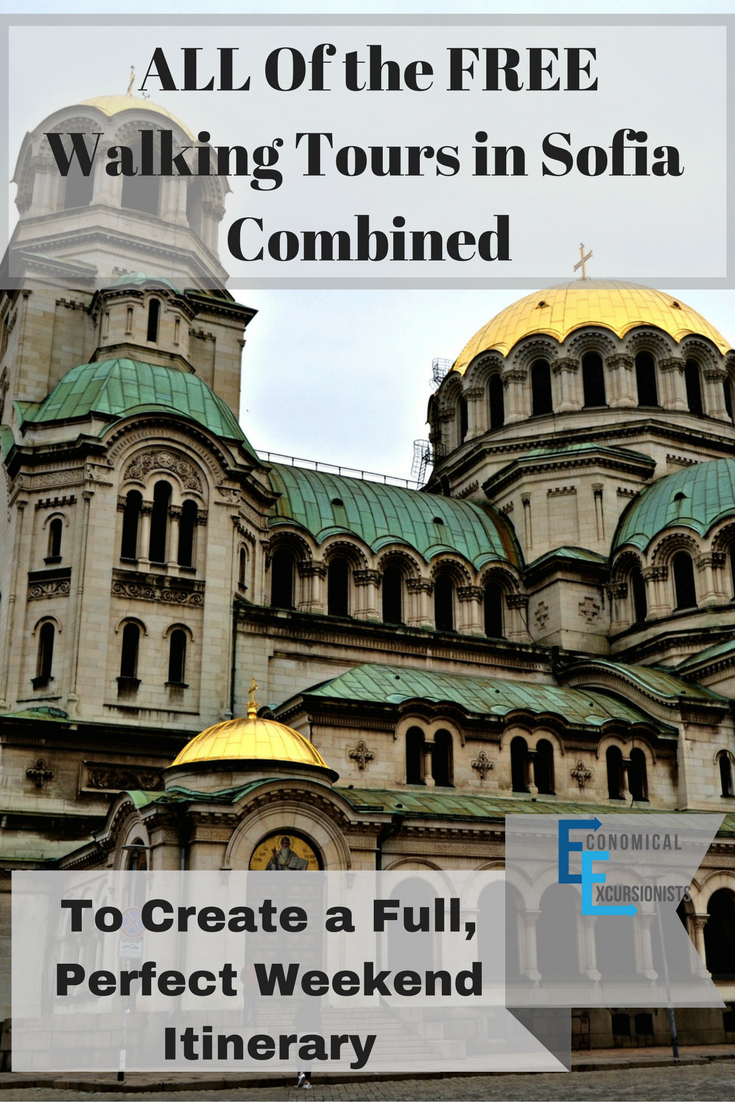 Heading to Sofia? Pin for later!
Then, about 3 years ago, I stumbled across Sandeman's New Europe tours.  The concept was unfamiliar to me at the time, but I LOVED the idea of it.  You join a group at a designated time and place.  No need for reservations, just show up a few minutes early with good walking shoes and weather proof clothes and let someone give you tidbits, facts and a free walking tour in the city you are visiting.  At the end of the tour, you pay what you thought the guide was worth.  The reason why this business plan works so great and that we have yet to be let down on a free walk is that
The guide has an incentive to be the best guide s/he can be, knowing that his paycheck will reflect the quality of the tour.  I was initially worried that the guide was just going to be some poor college student who needed a few bucks, but I was shocked and surprised that most guides on these kinds of tours are natives to the city, know A LOT about the location, often are history majors or just simply have a passion for their city and/or history in general.  And the best part is that (usually) they aren't just memorized and regurgitated Wiki facts.  They are facts and info that is actually really cool, often unknown and almost always has a flair of the guide's personality thrown into the mix.
You get to decide what the tour was worth to YOU.  I have been on some tours that were HOURS (like 4+!) long, magnificent, enlightening and just overall worth every second and therefore I've payed generously accordingly.  I've only been on a few that were just so-so (I've actually never been on a free walking tour that was just absolutely horrible!) and so while I still paid, I wasn't making it rain with the dollar bills.
You can take a free walking tour the first day visiting a new city, see most of the main sites and figure out which ones you want to return to and spend more time at.
You also get great local tips like places to eat and then can plan the rest of your stay accordingly.
In the 5 years we've lived in Europe, the concept of free walking tours has just absolutely exploded and now you can find a free tour company in just about any major city giving free walking tours.  This has actually become one of the first things (after lodging and transport) that I look into when travel planning.
So, naturally, at 9pm the night before leaving for Sofia, Bulgaria, I did my typical google search, "Free Walking Tours Sofia" and found quite a few options.  What was exciting was that the options weren't just several different tour organizations offering the same, basic overview of the city at varying times but instead, several different companies all offering different glimpses into the city that would basically complete a great "peak under the hood" kind of itinerary to Bulgaria, in particular Sofia.
—————————————————————————————————————————————–
On Your Way to Sofia?
Research and book affordable activities on TripAdvisor and Hotels at Booking.com
—————————————————————————————————————————————–
If your heading to Sofia, know that it's a pretty compact city.
Almost all of the main sites are within walking distance (ideal for walking tours) or a short public transportation ride away.  Even if you are going up to Vitosha mountain for some hiking or skiing all that is really needed to see the town itself is a few days, or a long weekend.
And the best part?  We pieced it all together with free walking tours!
A Weekend Seeing All of Sofia with Free Walking Tours
Saturday
11am Free City Walking Tour
Saturday morning, we walked from our AirB&B apartment to the Palace of Justice, where the free walking tour of a general overview of Sofia started.  Surprisingly, at the time, FreeSofiaTour seemed to be the only organization doing free walking tours of the town of Sofia like this.  Therefore, a huge chunk of tourists showed up ready to go for the day.  But the tour guides obviously knew what to do and had 4 guides on hand ready to split the crowd so that each group wasn't too big.
This was a great way to see just about all the "main" sites in Sofia.  They mentioned plenty of museums that you could return to, recommended a few places to try eating at and lasted about 2 hours.
2pm Free Food Tour
This was the first time I had ever heard about a free walking FOOD TOUR! Uuuum did you mention local foods….and free?
HELLS YEAH I'M THERE!!!
Balkan Bites claims they are the first free food tour created in the world.  Unlike most other free walking tours, I highly recommend reserving a spot for this one.  It doesn't cost anything but guarantees you a spot on the tour, as they have limited openings.  Same premise as the other free walking tours, but this time, you get to try local favorite foods!!! It. Was. Great!  We loved the little hole in the wall stop for Bonitsas (a delicious philo dough/ feta (Bulgarian Cheese) pastry), finally tried a cold cucumber soup that I'd been balking at for awhile, learned the history of their special sour milk and more.  Since this one was not only a bit of a cultural tour, but you actually go to try foods along the way, we were more than happy to tip much more generously.  We got done around 4:30 which could leave plenty of time for a full evening of other activities such as a…
Pub Crawl
The same company as the Balkan Bites also does a Pub Crawl.  So, if you enjoyed the free food tour and are up for a night of mingling with other tourists, while going to the local establishments, it's definitely something to consider.  Life and travel as we know it has changed w/ the baby, so I can't vouch for this one in particular, as we had to head back to the apartment in preparation for Lil B's party time at 4am :/
Sunday
10am Free Communist (Trabant) Walking Tour (Sat/Sun Only)
Yet another company in Sofia offering a unique free walking tour, the Sofia Communist Trabant Tour, gives you a glimpse behind the iron curtain.  I personally felt that this one could have done a better job of letting you into the past with stories of their way of life during communism or how the people of Sofia dealt with communism on a daily basis.  Instead this tour was a pretty factual, historical tour, which was still a different view into the city and therefore, still much appreciated.  Oh, and did I mention it was free? Yeah…it was free.  At the end of all the stops, they even offer a free drive in a classic Trabant (communism era) car.
This tour lasted about two hours and took you to locations different from the general city overview tour, so you not only learned something different, but also saw more of the city as well.
After getting such an in depth look into Sofia in such a short amount of time, you now have the rest of the day to return to any locations or restaurants that you want to dive into deeper, spend some time at any of the numerous museums that Sofia has to offer or just kick back and relax at any of the outdoor cafes!
Sofia (and Bulgaria) aren't expensive locations to visit, but that doesn't mean that we don't love and appreciate "FREE" when we can get it! While most cities have free walking tours now-a-days, I felt like Sofia really kicked it up a notch for us frugal travelers.  Hopefully, it's a trend that takes off in more places.
Have you ever done a free walking tour?  In what city and what was your favorite part about it (besides that it was free, bc…well, Duh! Again, who doesn't love free??)
The following two tabs change content below.
Author and Creator
at
Economical Excursionists
Former teacher turned blogger turned mom turned full time travel addict, LeAnna has never been one to live life by the rules. Whether she is moving to a farm in Switzerland to learn to make cheese (Yes, CHEESE), jumping off a mountain to paraglide over Cinderella castles, or taking her baby all over the world with nothing but a backpack on their backs, LeAnna designs and defines her OWN life. LeAnna, her husband Andy, and kiddo, "Lil B" love to live a minimal lifestyle, not only for the "thrill" of pinching pennies but in order to save for traveling the world. Considering over 40 countries and 90+ cities have been explored, we'd say they are doing something right!
Latest posts by LeAnna Brown (see all)