2017 Free Park Access
[There may be affiliate links in this post.  We can't thank you enough for helping to support the maintenance of the EE site so we can continue to give you awesome budget travel info and tips!]
Everyone has different ways of tracking their travels.  Some just post on their Facebook timelines, others painstakingly make photobooks while others scrapbook it all.
We personally keep a pin-map up on our wall and every time we spend the night in a location, it gets a pin.  However, after over 5 years of almost continuous travel around Europe and also a lot of Asia, people almost always would comment on the lack of pins in the US.
It was actually embarrassing!
I mean, here we are, born and bred 'Muricans and we had only a handful of pins across the vast country, where you could barely fit another pin into the Europe continent!  Here's a photo from my IG account of our European section!  Feel free to follow us for other great travel motivation 🙂
The severe lack of pins to show of American adventures was actually one of the reasons for moving back over the pond to our beautiful country of the U.S of A.  So often, Americans are enamored by far away lands (rightfully so) but then forget about the amazing gems we have in our own backyard.  Sure, you could fit all of (European countries) into just the state of Texas alone, resulting in longer travel times needed.
And no, there are not drastically different ethnic and cultural differences just hours within reach from your home-state unlike country hopping within Europe.  But that doesn't mean that different parts of the country don't have their own flare for life! And it certainly doesn't mean that there aren't just as stunning, intriguing and "culturally" different regions right here in the US.
Making a List
And Checking it Twice Constantly Adding to It
When we moved to Europe, I created a spreadsheet (yup, I'm THAT person!) of all the places I wanted to go.  Before we moved, I would daydream of all the foreign towns we could go and sit at outdoor cafes while sipping lattes, skiing (something we'd never done before) in the Alps, exploring cities I'd only once dreamt about visiting like Paris, Rome, Budapest and….and…the list went on.
So as soon as we got there, we pulled up the spreadsheet and before long, we were proudly crossing off place after place.  However, it felt like each time we could cross off a location that I ended up actually adding another, resulting in my "list" never getting shorter!
After all, that is the beauty of travel, it opens you up to places, ideas and concepts that you didn't realize were there before.
[Tweet "The beauty of travel is that it opens you up to places, ideas and concepts that you didn't realize were there before."]
—————————————————————————————————————————————–
Planning a US Adventure?
Research and book affordable activities on TripAdvisor and Hotels at Booking.com
—————————————————————————————————————————————–
And now, it's already started with the US!!  While places like New York and San Francisco are high on the list, I have found that a wide majority of my dream destinations are actually nature based.  I know not everyone is ready to strap their baby onto their backs and go hike a mountain or that everyone loves camping under the stars, but I do.  So, after making my list, I realized so many of my top places I wanted to visit were actually National or State parks.
I can't wait to (attempt, and obviously fail) at hugging a Sequioa, hike the Grand Canyon, camp under the stars in Moab, ski in the Rockies, watch a geyser at Yellowstone, or snorkel at Dry Tortugas.
And since we aren't named "Economical" Excursionists for nothing, you KNOW that the next thing I had to do was look up discounts on national parks.   Which actually led me to finding out that there were FREE days at parks all across the US!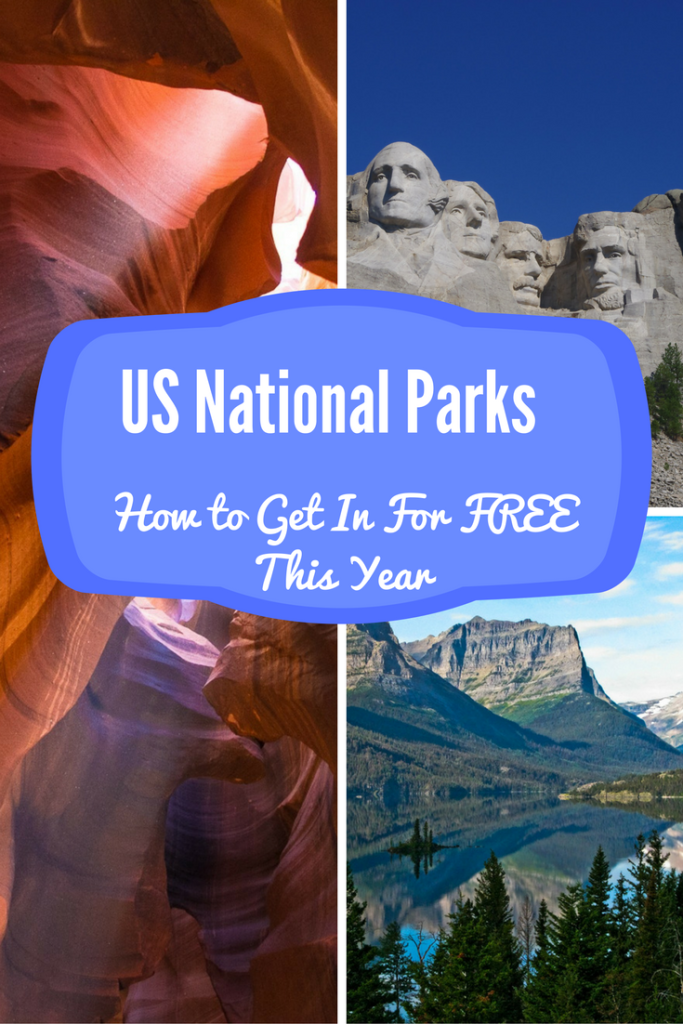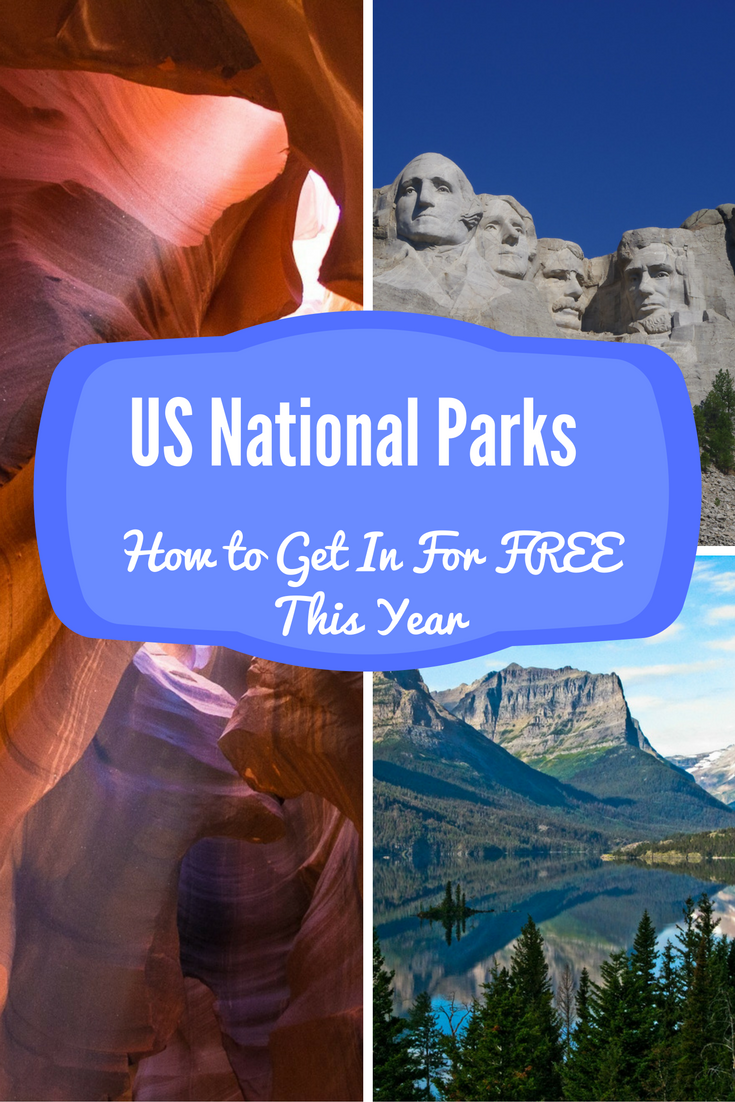 Pin It To Remember The Dates!
But, just like the spreadsheet of places I want to visit, this too, became a wormhole. I clicked on the map that showed me that there are actually over 400 national parks in the US.  Once I started clicking on one, it led me to another that I'd actually never really known about and woops, before I knew it, another was added to the list! But….there could be worse problems in the world other than wanting to travel too much!
[Tweet "There could be worse problems in the world other than wanting to travel too much!"]
2017 Free National Park Days
January 16: Martin Luther King Jr. Day
February 20: Presidents' Day
April 15-16 and 22-23: Weekends of National Park Week
August 25: National Park Service Birthday
September 30: National Public Lands Day
November 11-12: Veterans Day Weekend
* The entrance fees for the above dates are waived, however please note that activities, camping, food, etc is still charged unless otherwise stated.
Other National Park Discounts
Military: Free. Active US Military and dependents as well as Coast and National Guard
4th Graders: Free. Good for the full school year through the summer
Senior Citizens: $10 Lifetime Pass
Disability Access: Free for those with permanent disabilities
Further details, national park passes and discounts can be found here.
Traveling to National Parks With Kids
Another fantastic way to get your kids involved with travel is to do the Ranger Program.  Not only is it the perfect budget-friendly family activity, but kids 5-13 will love it!
Tip: Heading to a National Park with your Pooch?  Here is your ultimate guide! 
There are over 400 national parks and actually 276 don't ever charge a fee.  SO, in true Economical fashion, I have more homework.  My next mission is to do some research on the cost of the parks.  To get the biggest bang for my buck, I am going to find the most expensive parks (that are on the list for free days) and make those my top priority.  My next task is to make a list of all the free ones and see which ones tickle my fancy so that I can hit up as many as possible with as little money as possible!
Which national parks have you been to that I just simply HAVE to put at the top of my list? Let me know in the comments below so I can start my planning!
The following two tabs change content below.
Author and Creator
at
Economical Excursionists
Former teacher turned blogger turned mom turned full time travel addict, LeAnna has never been one to live life by the rules. Whether she is moving to a farm in Switzerland to learn to make cheese (Yes, CHEESE), jumping off a mountain to paraglide over Cinderella castles, or taking her baby all over the world with nothing but a backpack on their backs, LeAnna designs and defines her OWN life. LeAnna, her husband Andy, and kiddo, "Lil B" love to live a minimal lifestyle, not only for the "thrill" of pinching pennies but in order to save for traveling the world. Considering over 40 countries and 90+ cities have been explored, we'd say they are doing something right!
Latest posts by LeAnna Brown (see all)