Europe has plenty of amazing and beautiful beaches.  After all, why do people long to go to Greece, Malta and the French Riveria?  However, given the latitude of Europe, even the beautiful Spanish Canary Islands aren't "hot" unless it is a lucky hot streak in August.  Therefore, many Europeans (especially the English and Russians) look even farther South.  Why not pair it with a location that is cheap, has great food and decent beaches?  They look no further than Goa: a Gateway to India.
Personally, I'd continue to look further (like as in magical and paradise, Thailand), but Goa can be a great budget vacation with plenty of other ex-pats.  Plus, considering it is India, you are always up for some sort of adventure, whether it is trying to not get ripped off, trying a new delicious cuisine or swerving to miss a cow in the potholed road.
So, what is there to do for three days in Goa?  BEACHES!!!
Most people who come to Goa are looking for a beach get-away.  There are plenty of beaches that stretch as far as the eye can see and most all will be lines with shack and shack, each begging you to try their drinks or use their sun beds.  They are all generally the same (you can find a few that have higher ratings w/ ex-pats on Tripadvisor), but like anything, you can always find the gems that aren't even being advertised.  We often just chose the ones that had the least annoying touts, quietest music (both extremely hard to find!) and a bathroom that had toilet paper (also a hot commodity in India).
Some of the best beaches in Goa are:
Mandrem: A quiet secluded beach in North Goa
Agonda: Supposedly less populated (as "less populated" in India as you can get?)
Baga: Known for beach parties (those Russians sure know how to party into the night!)
Candolim: Known for it's beauty.
–        Candolim is where we spent out three beach days since our hotel was a 5 minute walk to the beach.  It had plenty of places to grab a cocktail, a good vindaloo or naan and there were no shortages of sunbeds.  Some stretches were much more populated than others and plenty of people selling things from sunglasses to foot massages.  If you had headphones and book, most could be easily ignored.
After you are done hitting the beaches, you could find other things to do for three days in Goa.  The best way to get around is by Tuk Tuk (in Old Goa) or Taxi.  As always, NEGOTIATE!  You should pay about ½- 1/3 of what they are asking.  Be firm and know that there are plenty of other taxis around the corner.  We found it best to settle one a price for a set amount of time (he parked and waited as we saw the sights and was ready to take us to the next location when we wanted)
Old Goa:
Old Goa does not need more than 1/2 of a day.  Most highlights and sites are old Portuguese churches, all within walking distance.  Grab a map at the small TI center and spend the next few hours wandering the few streets that make up Old Goa.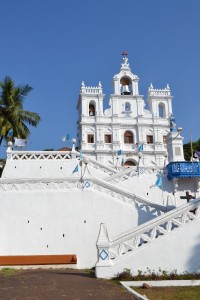 The other half of the day can be spent in "North Goa" or "Panaji."  Here, you will find a few more churches, some decent views of the city and some nice shopping if you like.  Ask the taxi driver to take you to the main sights (but be VERY clear that you don't want to go to his cousin's friend's uncle's rug shop!)
Markets in Goa:
Goa is known for it's many multi-colored and extravagant markets.  You could spend hours in these markets and can find just about anything you want in from spices to trinkets to incense to rugs.  Be ready to haggle and barter (we were told by our taxi driver to start your negotiating at ¼ the original price being asked).  Just like the taxis, know that there will be about another 20 shops exactly as the same you are in now, so you can always move on to one of those if that shop keeper isn't in a bargaining mood.
One of the things you'll find at the markets are SO many spices! But, if you'd like to actually visit a spice plantation, you'll be in for a treat!
Best Markets in Goa:
Saturday Night Market: While we were not there over the weekend, we have heard nothing but fun and crazy stories of the Night Market.  It is a mix of shows, concerts and shopping vendors.  You get the typical market stalls but with a touch of extra odd characters wandering and a dash of local food.
Wednesday Anjuna Market:  Avoid the heat and crowds by getting there early.  This huge market runs only on Wednesdays and has all the market stalls you could find combined into one location.
Calangute Bazaar: If you want more of the local produce, meat and fish this more centrally located bazaar is a good find if you have a place to cook up your own goodies.  As always, be careful what you buy and make sure the food is fresh.
Best travel tip sources we used for Goa: Trip Advisor and Lonely Planet
Where we stayed on points:
As Club Carlson members, we are able to get a buy one night (in points) get one night free (**Only good until May 2015) therefore, we chose Phoenix Park Inn Resort for 4,500 Club Carlson Points/night.  Normally, $60 per night.
*I would not highly recommend this location (especially considering there are many other good points hotel options nearby) unless you request a room in the newer section (even then, it wasn't what we were expecting, but for next to nothing in cost, it met our needs)
The following two tabs change content below.
Author and Creator
at
Economical Excursionists
Former teacher turned blogger turned mom turned full time travel addict, LeAnna has never been one to live life by the rules. Whether she is moving to a farm in Switzerland to learn to make cheese (Yes, CHEESE), jumping off a mountain to paraglide over Cinderella castles, or taking her baby all over the world with nothing but a backpack on their backs, LeAnna designs and defines her OWN life. LeAnna, her husband Andy, and kiddo, "Lil B" love to live a minimal lifestyle, not only for the "thrill" of pinching pennies but in order to save for traveling the world. Considering over 40 countries and 90+ cities have been explored, we'd say they are doing something right!
Latest posts by LeAnna Brown (see all)