I like to say that I go with the flow and am footloose and fancy free, but the truth of the matter is that when it comes to trip planning, I like things to be figured out beforehand.  Now, I don't tend to be TOO anal and have every minute of every day planned, but when I know the general things that I would like to do in a city for the day and approximately how to get there, I just feel like things go way more smooth.
Which is exactly why Jaipur in 2 days was unlike the other stops in our 2 month backpacking trip throughout Asia.  However, it was the second to last city of our 22 city jaunt and I just had gotten too burnt out on trip planning and overwhelmed with all that was India that we were just going to have to figure it out when we got there.  And you know what?  I don't feel like we were any worse for the wear, still saw Jaipur somewhat easily (is doing anything in India EVER easy??) and actually ended up having experiencing one of the best activities from our entire time in India..
Surprisingly, Andy's hatred towards Taxi drivers doesn't spill over to Tuk Tuk drivers.  I think it has to do with the fact that you never get into a tuk-tuk without negotiating a set price.  Now, we are REALLY bad hagglers and to make it worse, super cheap (seriously, who cares about a $2 difference!? We apparently do) but we will go tuk-tuk to tuk-tuk just to get a slightly cheaper ride.  Most of the time, the drivers flat out laugh in our face, but we usually find at least one willing to take our price!  So, after talking down a tuk-tuk on our first morning in Jaipur, we took off for the day.
Jaipur City Palace
We started at the City Palace.  It is clear to see why the "Pink City" first got it's name here from it's beautiful pink stucco building.
Inside you'll find several temples, mahals, buildings and museums; none that are complete show stoppers, but still worth your time while in Jaipur.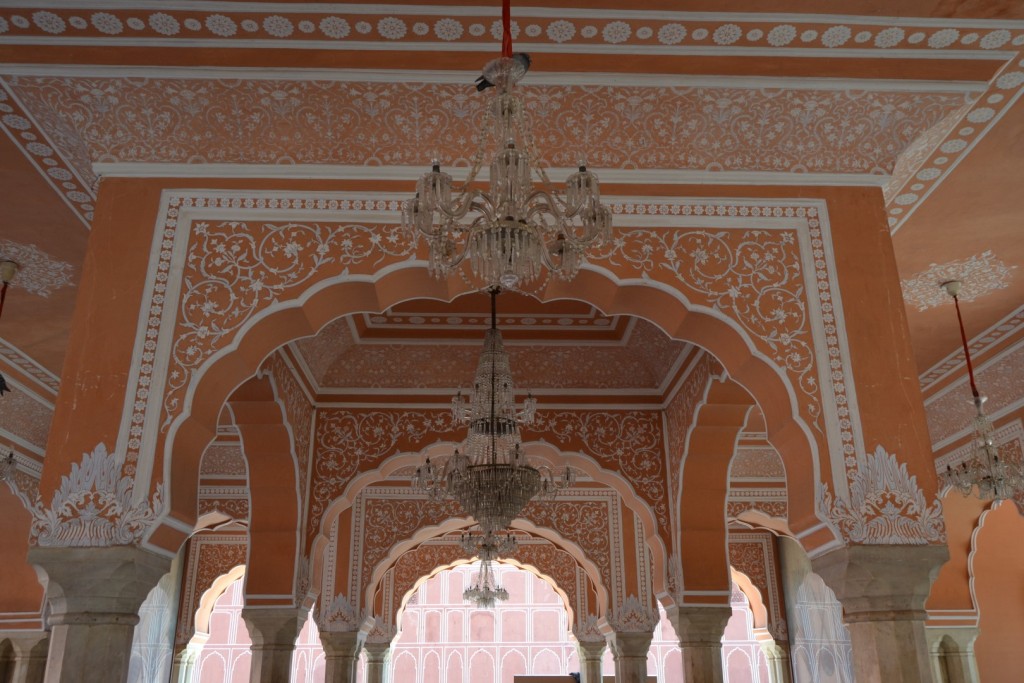 Open: 9:30-5pm
Cost: Rs 150
If you haven't seen the Jantar Mantar in New Dehli, then going across the street and seeing the one in Jaipur could be interesting.  However, if you already saw one, this particular one is skippable.
Hawa Mahal (Palace of the Winds)
Next, we walked to the Hawa Mahal, also known as the Palace of Winds, one of the most iconic buildings in Jaipur and arguably, the Rajasthan area of India.  Pay the few bucks for the audio guide inside, as it is well worth getting the background and history of this beautiful palace.  In a traditional Islamic culture, women were not allowed to be seen.  This stunning building was built for royal woman as a way to unwind and watch the streets in comfort without having to remove her hijab or burqa and on a warm day, the breeze inside is said to feel like natural air conditioning!
Open: 9am-4:30pm
Cost: Rs 50
Galtaji (Monkey Temple)
After the Hawa Mahal, we took another tuk-tuk to the absolutely stunning Galtaji, or Monkey Temple.  This isn't on many people's list of things to do in Jaipur, but it is an absolute must.  It is technically about 10 kilometers out of the city, but considering how everything in India runs together, we never even knew we left Jaipur for the town of Khania-Balaji.
We arrived a few hours before sunset.  After walking past a few small buildings and a temple we continued to follow the path (and monkey sounds) which led down into a valley that opened up into a gorgeous temple  complex filled with more monkeys than a zoo, water springs where pilgrims can bathe and where very few other tourists were.
The best part was there were no honking horns and no touts trying to sell us some junk.  It was just us, the monkeys, a few locals, some birds and temples.  Although this is not a huge tourist spot, it was the absolute perfect area to people and monkey watch like he locals.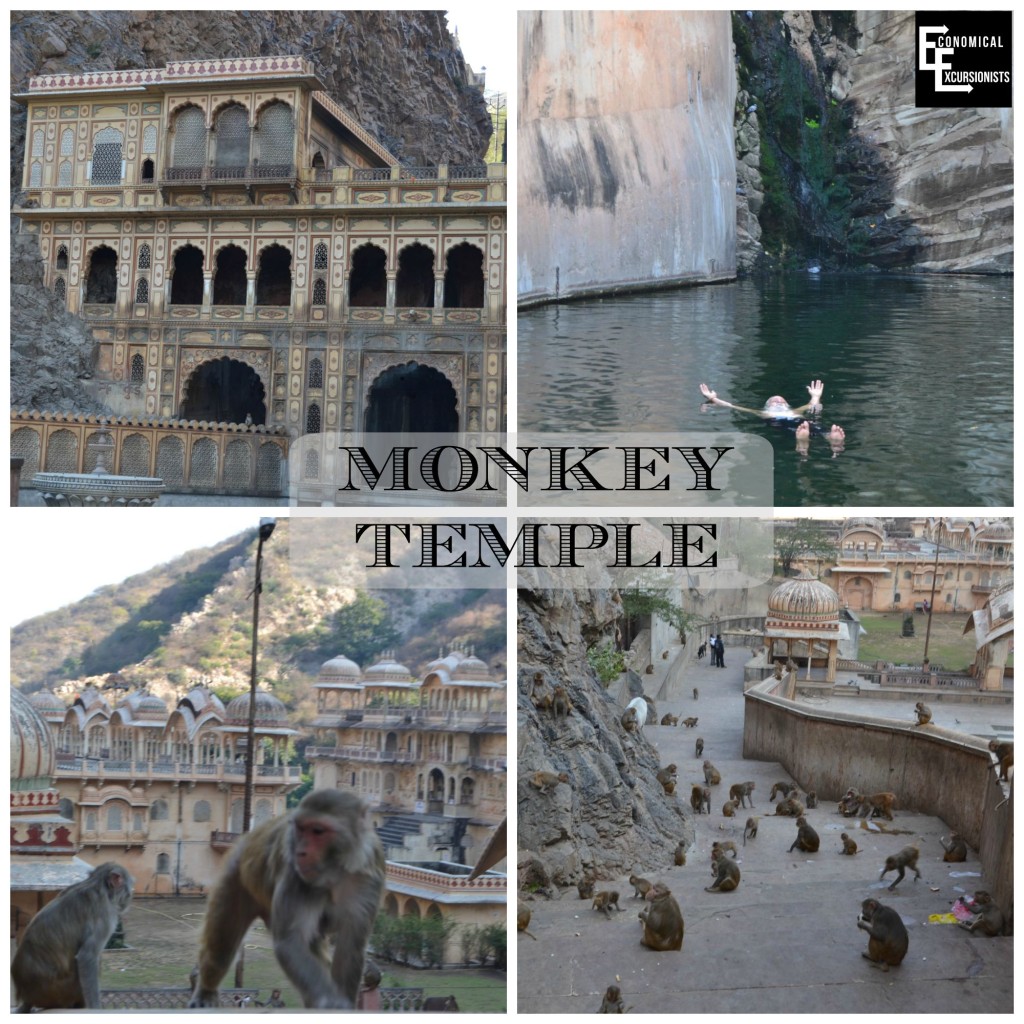 As we made our way back, we stopped at the first temple overlooking the city.  It was as if it sprawled forever and never stopped.  It was the perfect way to watch the sun begin to set and where you could almost forget about the millions of people gathered in a dirty, overcrowded city.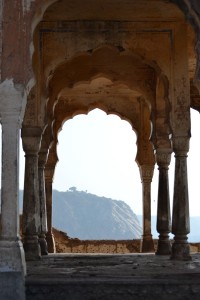 Tip: A man at the front tried to convince us that we had to pay him to take our camera inside.  This is just a scam and you are free to take photo inside.
Day II:
Amer Fort
We started the day early with a tuk-tuk ride to the Amer fort.
Tip: Ask your driver to stop at the Jal Mahal. This "floating palace" can't be reached by tourists, but is a great photo stop and only takes a few extra minutes.
Once at the Amer Fort, once again, pay the few extra dollars for the audio guide, as it is well worth the information and gives you plenty of context to what you are seeing.
For as many castles as we have seen through Europe, it was fun to see the cultural differences between the Middle East and European palaces at the time as well as admire the stunning architecture of the fort.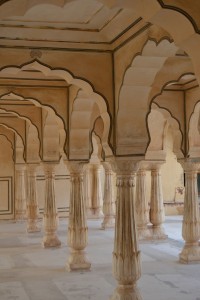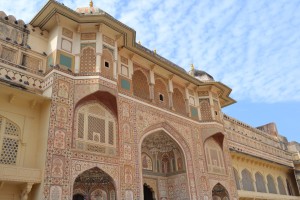 Open: 8am-6pm (look into the light show if you are visiting in the evening)
Cost: Rs 200
While taking an elephant ride is extremely popular at the Amer Fort, after doing some research, I wasn't comfortable paying for something that I was unsure if the animals were treated properly.  Luckily, it does seem as if they are doing a better job of protecting the animals, as they are only allowed so many runs up and down the fort now.  Therefore, that means that if you want to do this, you need to get there as early as possible.  As we left the Fort around noon, the elephants were already being taken back home for the day, as they had met their quotas.
Luckily, I found…
Elefantastic
Let me start by saying that I am in no way affiliated with this company, but that is not going to stop me from giving it glowing reviews.  In fact, it was SO good, I wrote an entire post on it.  Read it here: http://www.economicalexcursionists.com/elefantastic/ 
So, we spent the rest of our second day playing, feeding and riding elephants at Elefantastic, something that I had wanted to do in our many travels through Asia.  However, despite my wants, I could never get over the mistreatment and cruelty towards the gentle giants.  That is, until I researched Elefantastic.
Our experience for the afternoon was what traveling is all about; doing new things, sharing in special moments with your partner and learning about something completely new and foreign to you.
While Jaipur is still a crowded, dirty and overpopulated city, it held some beautiful gems that let you glimpse into the Rajasthan region of India, a culture with vibrancy and color that can be seen in its buildings, food, clothing people and  way of life.
Other things to do in Jaipur if you have more time:
Jaigarh Fort (can easily combined with the Amber Fort)
Nahargarh Fort
Bazaars: Go shopping at any of the bazaars in town such as: Johari bazaar, Tripolia bazaar, Bapu bazaar, Chaura Rasta, Char Diwari, and Sanganer
There are plenty of activities and things to do in Jaipur.  What did you do that we missed?
The following two tabs change content below.
Author and Creator
at
Economical Excursionists
Former teacher turned blogger turned mom turned full time travel addict, LeAnna has never been one to live life by the rules. Whether she is moving to a farm in Switzerland to learn to make cheese (Yes, CHEESE), jumping off a mountain to paraglide over Cinderella castles, or taking her baby all over the world with nothing but a backpack on their backs, LeAnna designs and defines her OWN life. LeAnna, her husband Andy, and kiddo, "Lil B" love to live a minimal lifestyle, not only for the "thrill" of pinching pennies but in order to save for traveling the world. Considering over 40 countries and 90+ cities have been explored, we'd say they are doing something right!
Latest posts by LeAnna Brown (see all)