I had always had this vision of riding an elephant through an Asian jungle.  Why? I don't know, but I'm clearly not the only one.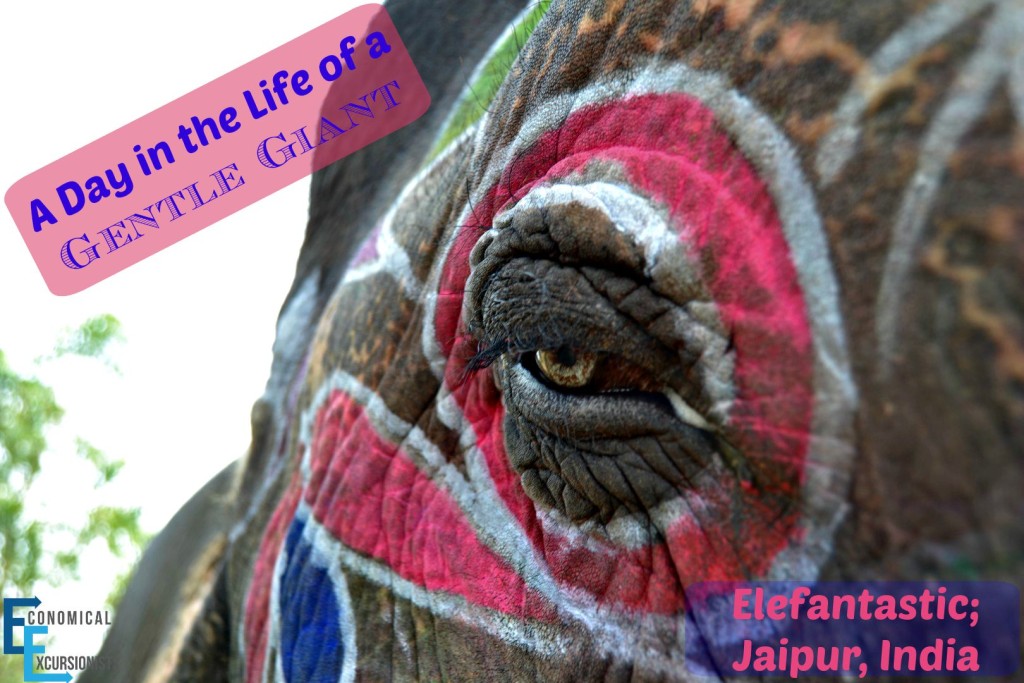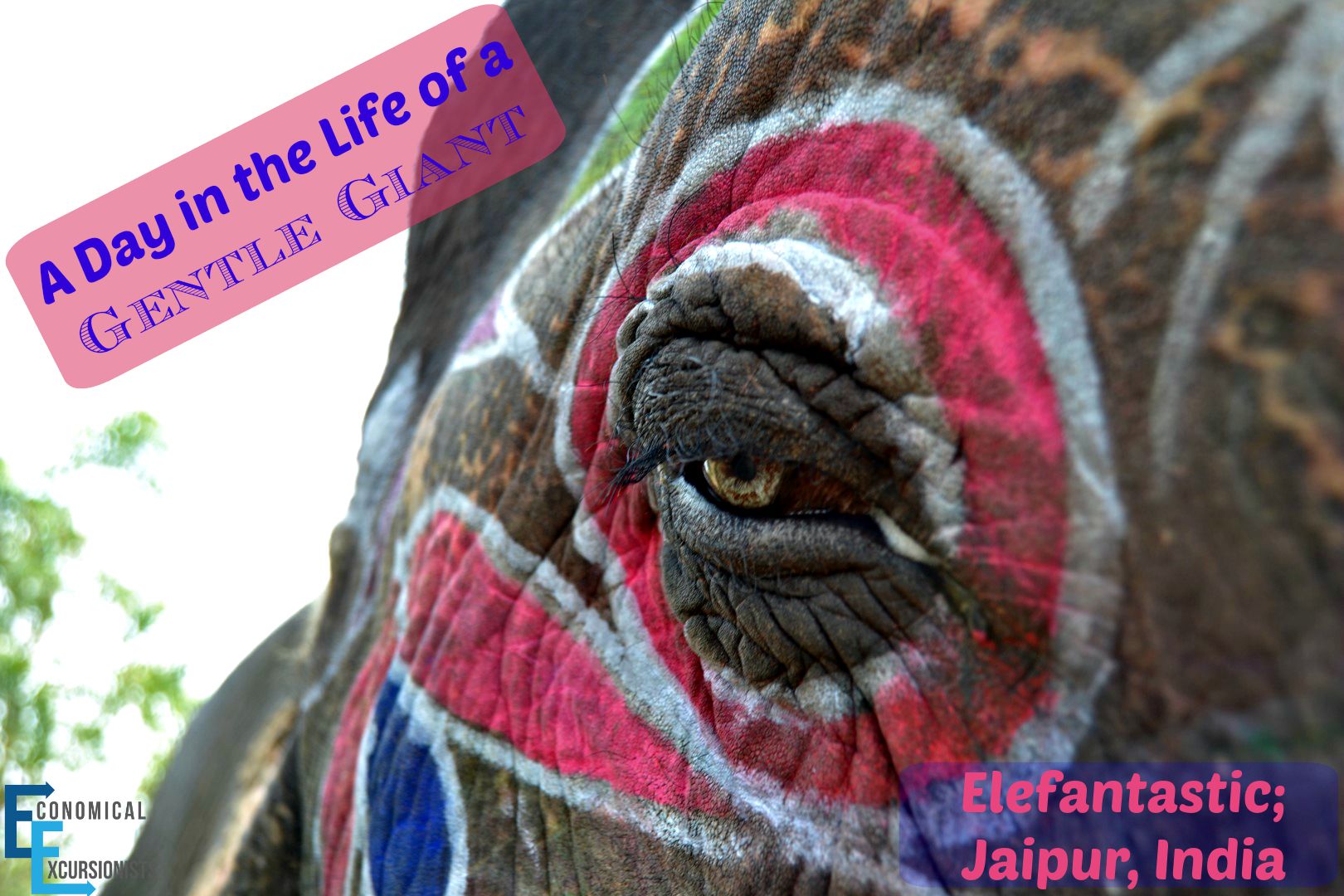 There are hundreds of tourist attractions throughout Asia that advertise spending time with the gentle giants, helping to care for them and learning about their majestic ways.
However, as you read the reviews on them, it is more common than not to see that the animals are being SEVERELY mistreated.  They often have no room to roam, are chained, will be beat by their handlers and overall just have a report of looking sad and depressed.
No matter how much I wanted to get up close and personal with these beautiful creatures, I refused to support an organization that abuses or mistreats them.  Despite the many opportunities that we had had (Thailand, Cambodia  and other locations in India) to work with elephants, I always did my homework on the company and ultimately always concluded that it was not a business I wanted to help fund.
So, when I saw that Elefantastic was one of the top rated activities in Jaipur, I was hesitant and skeptical.  I started digging only to find raving reviews on the treatment of the animals from the owner, Rahul, and the amazing experience he offers to tourists.
So, I sent an inquiry (the day before wanting to go) and Rahul quickly replied and was able to make time for us the following afternoon.  I'm not sure if the callousness of the many Indians we'd encountered had started to wear on me, or if his response was truly as genuine as I believed it to be, but even his email reply was thoughtful and sincere.
Before making any sales pitch, he goes into the detailed history of how handling elephants stretched for generations in his family, including him as an elephant rider at the Amer Fort.  He further gives inspiration for starting his business and there was no doubt that his elephants came first, then the tourists.
You can research for yourself on the treatment of the animals on their website, tripadvisor and other sources to help you decide if it is something you would want to support yourself, but I had never felt better about doing an animal activity.
Normally, we don't like to do these "touristy" activities and instead see how the locals live and REALLY feel and see the culture of the land we are visiting.  However, this was something I had always wanted to do and little did I know, how cultural and educational of an experience it would actually end up being.
We were picked up by one of Rahul's employees (transportation is included in the cost) and taken to his facility where each elephant had it's own separate enclosure that s/he shared only with his or her personal handler.  The elephant and handler (and often the handler's family) lived together and form bonds so that abuse and beatings were not necessary when working together, but instead, used mutual respect and understanding to complete tasks.
We were first shown our Elephant, a beautifully towering female name Tamanna.  The importance of first contact was stressed, so we let her catch our scent and then eventually could start touching her head and letting her feel our presence, letting her know we were not harmful.
All the while, Rahul and his workers offered us tea and other refreshments whenever we wanted or needed them, ensuring that everyone, including the animals were comfortable and relaxed.
During this time, Rahul would walk around giving us facts and tidbits about elephants not only in the area and the Amer Fort but in general on their behaviors.  We learned about their communication with one another (they "talk" through their feet!!!), what different ear movements ment and experienced first hand how gentle and peaceful they truly are.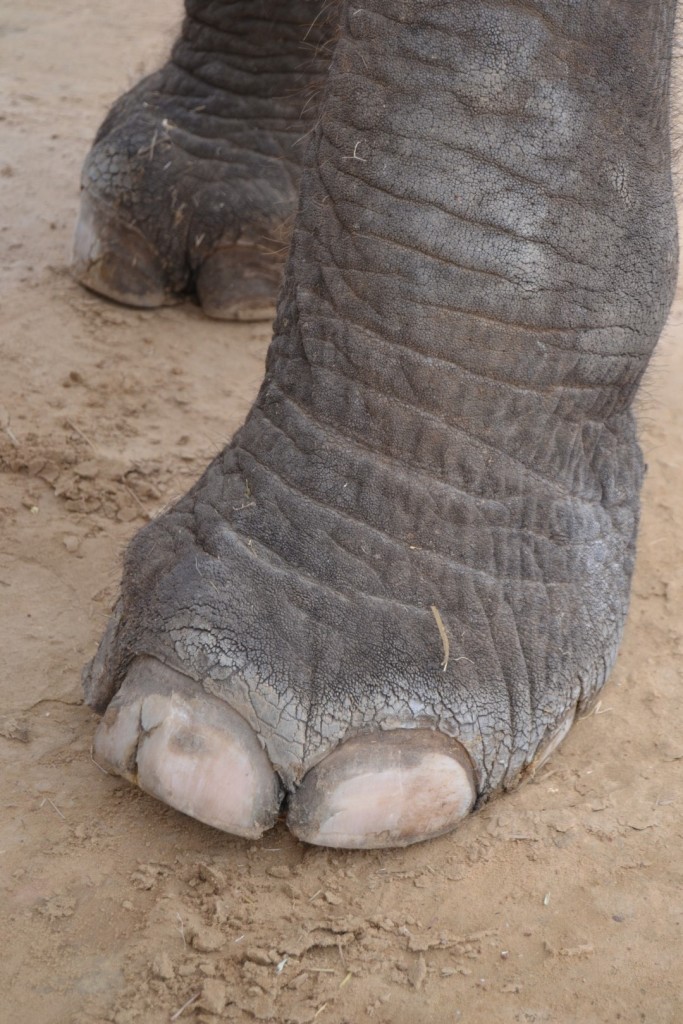 Next, we spent some time feeding Tamanna.  This is just another way to gain her trust (after all, I know if someone feeds me a good meal, I'm more likely to like them, too!)  The handler would wrap up the bundle of leaves and other goodies, hand it to us no sooner than she would grab it from our hands and start munching away.
Tamanna wasn't the only one to have worked up an appetite.  As she finished the last of the vegetation in the pile, Rahul told us about his mother's home, not far from the complex, where she had prepared us a traditional Indian thali meal for lunch.  He assured us it was cooked to "western" standards with only clean water and food.  With the care and thought that he had already taken thus far, I had no doubt that this meal was not only going to be safe, but just the thing for our hungry tummies!
We were greeted at her home by an adorable toddler and dog playing together outside.  Despite not being able to use communication to communicate with her, it was fun to interact with the little one and see that she didn't need technology, ipads or the newest gadget to keep her occupied and happy.  His mother then showed us to her own family room, where we shared our delicious meal with the few other guests from the complex in a true, Indian fashion.
We enjoyed our time speaking with the other travelers, hearing their experiences of India and world traveling and, of course, enjoyed the excellent home-cooked meal!
After having plenty of time for lunch, we were taken back to the facility where we were taught about traditional Indian paintings on the animals.  We were told that the paints have always been made from plant based materials and completely safe for the elephants.  Rahul showed us a few traditional designs and even helped us out a bit by giving us some outlines, since I am artistically impaired!
Once Tamanna was all made up and beautiful (poor thing looked like a 5-year old painted on her!) she took us for a bareback ride.
Now, riding an elephant isn't exactly the most comfortable thing, and the scenery wasn't on parr with my dream of an Asian jungle, but it was fascinating feeling Tamanna move beneath us and feel her rumble to communicate with her friends and family back at the complex.
The truth is, while it wasn't the most scenic of routes, it was nice to know that the animals weren't just paraded in a small, dirty circle, but instead got to actually go outside and into the open for daily walks.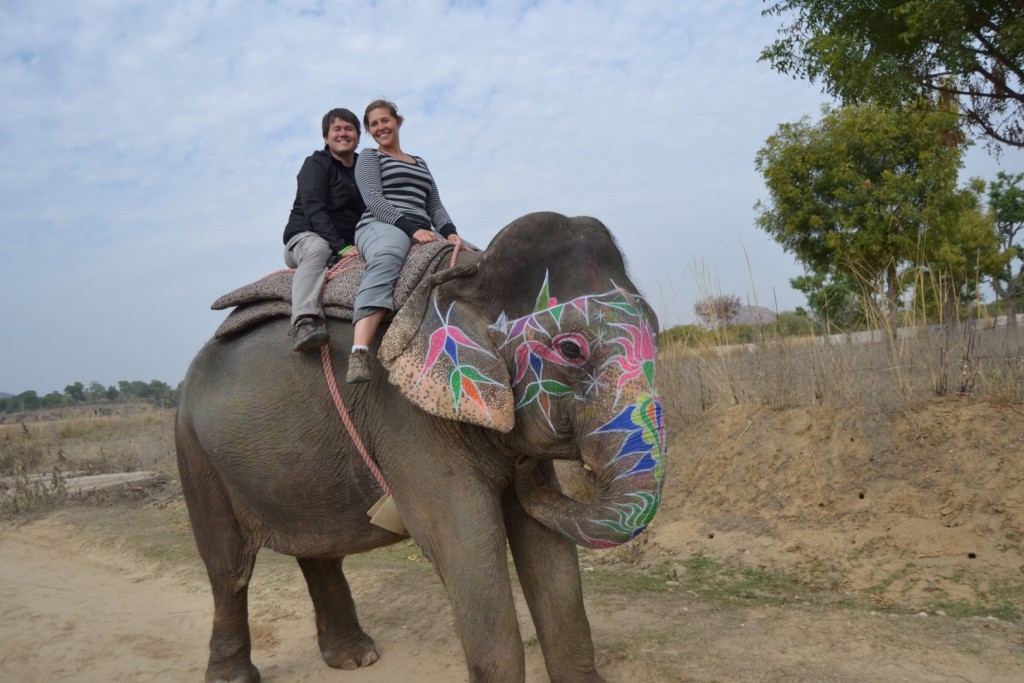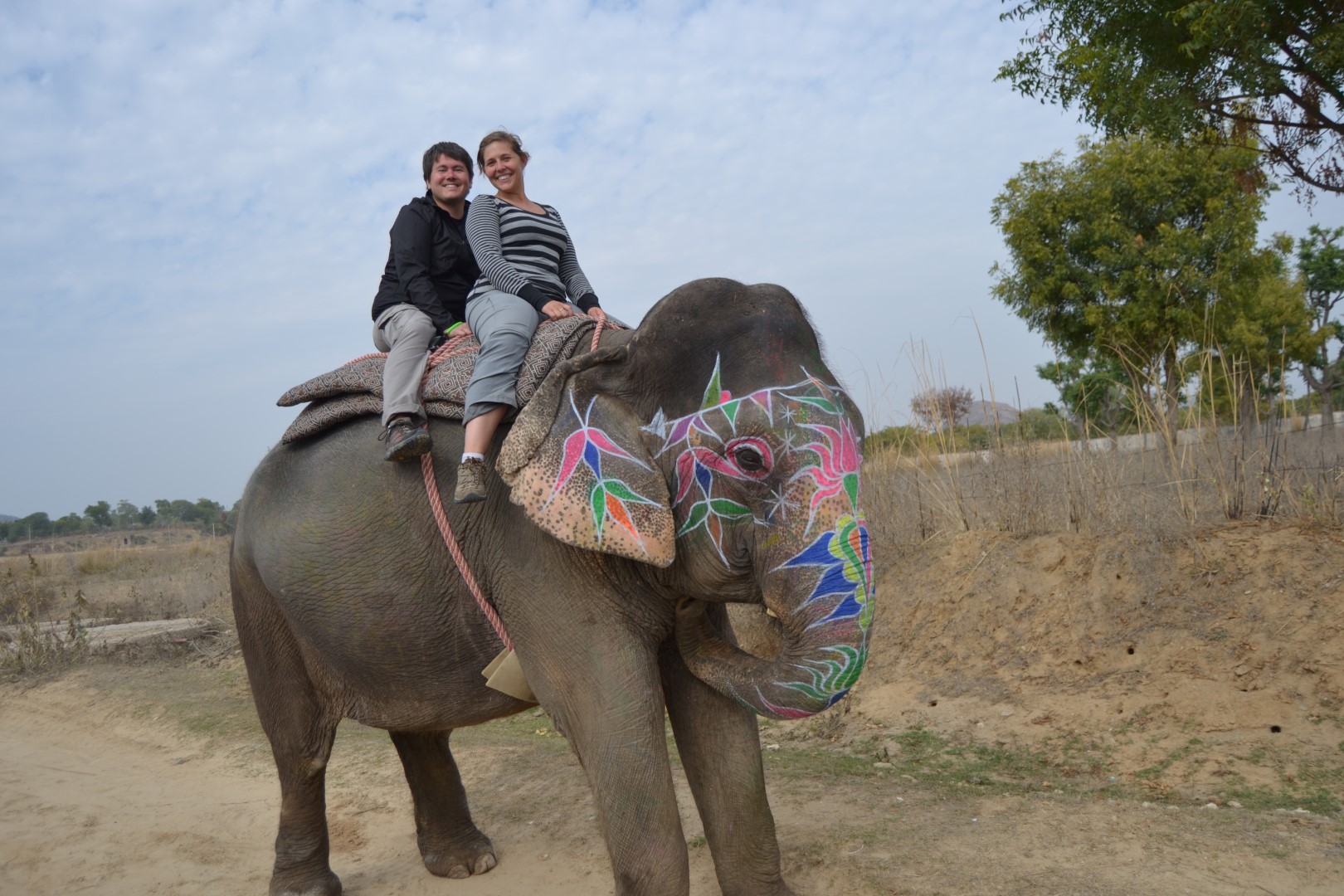 All that exercise makes one thirsty!  In the summer, you can actually bathe with the elephants in a lake, but being February, Rahul's safety for the elephants (and his guests) came first.  Instead of a dip in the pond, we still got to "water" Tamanna.  It was a blast watching her trunk follow the hose, fill it all the way up for several minutes and then spray the water into her mouth for a cool, refreshing drink.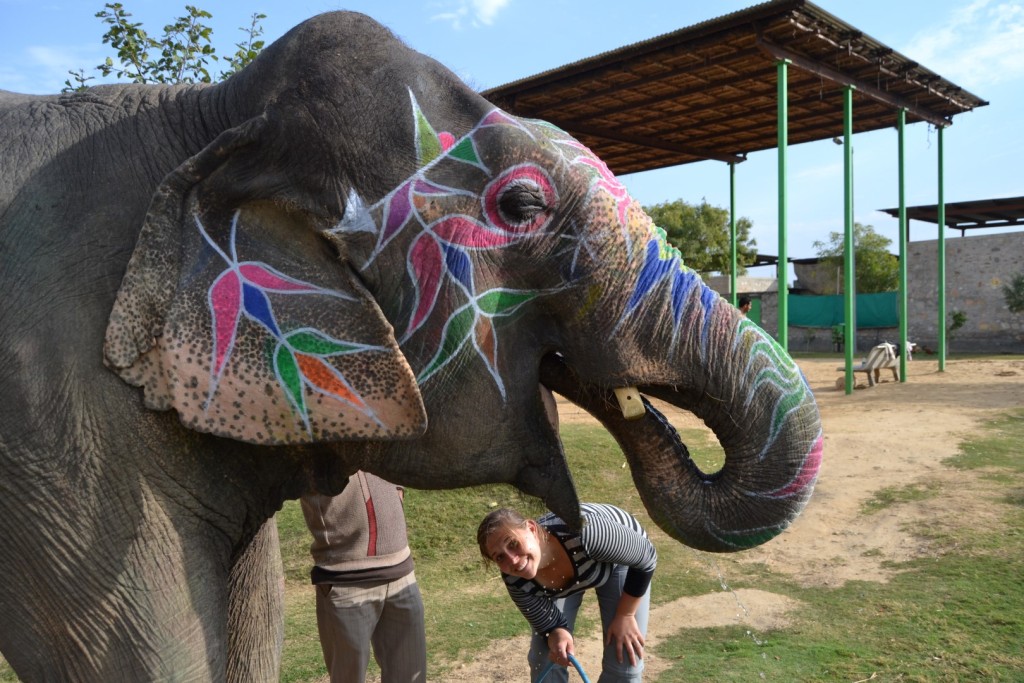 Before the day started, I was hesitant to pay the Rs 4000 ($60) per person, a cost I thought was pretty steep for India.
However, considering that all transportation was included, drinks, a delicious meal and, of course, getting to touch, play and work with a 10 foot elephant, it was well worth the cost.  Plus, knowing that those costs also go into the excellent care (elephants can eat several hundred POUNDS of vegetation in one day alone!), I didn't mind paying more.
While this is still a very touristy destination and attraction,, Rahul could not have made it a more personable, enjoyable and memorable afternoon. I would rather give my money to a man who is genuinely interested in his business and patrons rather than the many scammers and touts we encountered in India, just needing to make a few more bucks off the tourists.
I have been to zoos where elephants are right in front of you and we have been fortunate enough to have been on an African safari and see wild elephants within feet of us, but nothing prepared me for the gentleness and compassion that these beautiful creatures shared with us on that afternoon.
Sure, travel can be about bucket list items, such as riding an elephant in Asia, but it is also about the experiences of those moments.  It is about connecting with other living things and encountering something that you would never get to do from the comfort of your own couch and television set.
Note: I have no monetary affiliation with Elefantastic.  I only recommend to my readers experiences that I have thoroughly enjoyed and feel they would benefit from knowing about
The following two tabs change content below.
Author and Creator
at
Economical Excursionists
Former teacher turned blogger turned mom turned full time travel addict, LeAnna has never been one to live life by the rules. Whether she is moving to a farm in Switzerland to learn to make cheese (Yes, CHEESE), jumping off a mountain to paraglide over Cinderella castles, or taking her baby all over the world with nothing but a backpack on their backs, LeAnna designs and defines her OWN life. LeAnna, her husband Andy, and kiddo, "Lil B" love to live a minimal lifestyle, not only for the "thrill" of pinching pennies but in order to save for traveling the world. Considering over 40 countries and 90+ cities have been explored, we'd say they are doing something right!
Latest posts by LeAnna Brown (see all)