I have always had a strange infatuation for fireworks.  I love the sound and smell as well as the overall feeling that you get when seeing such big, bright colors illuminate the sky.
Therefore, we purposefully planned New Years Eve in Hong Kong.  We had read about the magnificent firework display at midnight so I was prepared for one of the most outlandish and celebratory New Years Eves of my life!
The reports of the masses of people to Victoria Harbor was intimidating, especially after a long flight that day.  Knowing it would be well after midnight before we returned to our room after the fireworks, we decided to use 35,000 IHG points to stay at the Holiday Inn just minutes away from the river.  Because the of the crowds, we were advised to head down and claim a concrete spot no later than 6pm.  By the time we arrived, there were already hoards of people camped out along the sidewalk of the Avenue of the Stars but with just the two of us, we were able to finagle ourselves into a prime viewing location right on the river's edge.
And that's when things got weird…..
Despite the hundreds of people surrounding us, it was eerily quiet, especially for a New Year's Eve "party."  Most people just sat silently, many took naps and a few whispered to their neighbors.  There were no food stands, there was no drinking;  Toto, we aren't in Manhattan on NYE, that's for sure.
As Andy and I busted out our deck of cards to help pass the time (playing the game, "Up and Down the River" seemed quite fitting), a few locals tried to catch on to the concept.  After several failed attempts to communicate via outlandish hand gestures and confused looks trying to explain the game, we eventually gave up.  However, one couple was determined to befriend us and join in the next round.  We were first offered mini shots of soy milk, followed by a very strange looking pork rind type of snack.  By this time, though, the crowd was tightening and we were forced to put away the card game and our tiny plot of declared land diminished around us.
Suddenly, the countdown began!!! But wait…..it's 9pm???  What the heck?
False Alarm.
And then it happened, again….and again.   Once each hour to be exact.  Talk about anti-climactic
This seemed like an ok time to try to use the bathroom.  One thing that I never was able to comprehend about Hong Kong was their lines.  It did not matter WHERE you were, but there was always a line to something! Therefore, it really should not have been a surprise that despite several outhouses, the lines to the bathroom took no shorter than an hour to get through.  This may have been the most people were up and moving during the whole New Year's Eve night!
Finally, just before midnight, the countdown began (and no, it was no different from the 3 other countdowns shown previously).  I'm not sure if it was the fact that we were celebrating the Western New Year, or that the words and numbers on the display were in English, or what; but when the numbers were shouted out in Chinese, Andy and I were at a loss for what to do; so we do what we do best in those situations; look around, taking in the situation and just laughed.  At "0" the six hours of waiting quietly paid off as the fireworks lit up the sky over the towering skyscrapers and reflected in the river.  For a good fifteen minutes, everyone watched, photographed and recorded the beautiful and mesmerizing show.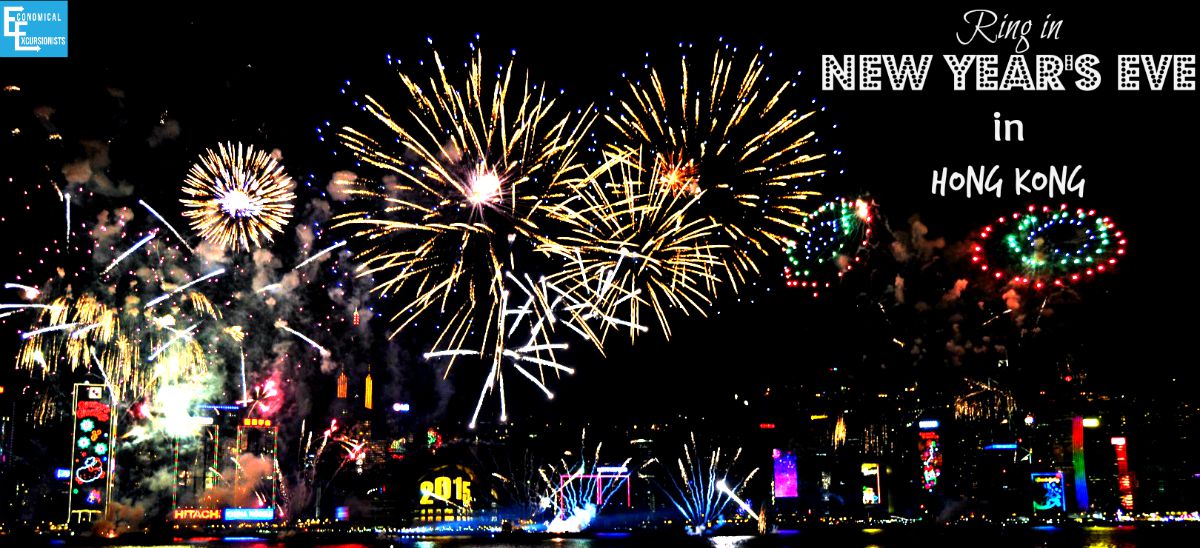 As the finale began wrapping up, people had already started moving out.  Within seconds of the last explosion, the sidewalk was already clearing out in (of course) quickly moving lines.  Andy and I looked at each other with confusion.  Where was the New Year's Party?  Where was the celebration?  Yeah, the fireworks were spectacular, but surely that wasn't the extent of the festivities.
But, apparently they were.  So, we did what everyone else was doing and joined in the lines to head back to the hotel at 12:15 am on New Years.
The following two tabs change content below.
Author and Creator
at
Economical Excursionists
Former teacher turned blogger turned mom turned full time travel addict, LeAnna has never been one to live life by the rules. Whether she is moving to a farm in Switzerland to learn to make cheese (Yes, CHEESE), jumping off a mountain to paraglide over Cinderella castles, or taking her baby all over the world with nothing but a backpack on their backs, LeAnna designs and defines her OWN life. LeAnna, her husband Andy, and kiddo, "Lil B" love to live a minimal lifestyle, not only for the "thrill" of pinching pennies but in order to save for traveling the world. Considering over 40 countries and 90+ cities have been explored, we'd say they are doing something right!
Latest posts by LeAnna Brown (see all)