GOA INDIA
Our two month whirlwind Asia and Pacific tour would start and end in India.  First stop: Goa.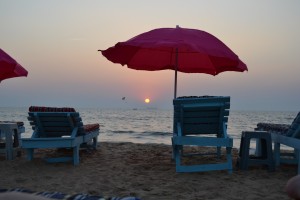 Goa is known in India as THE premier beach location.  There are long stretches of warm sand, beach shacks to take a break from the sun for a quick bite or refreshing sip and it is party central.  We were looking forward to Goa for a few reasons.  1) Beaches.  Need I say more?  2) We knew India was going to be intense, but Goa is basically a resort town, so we knew it would be a "watered down" version of the true India.  It was a great gateway and stepping stone before jumping head first into full-blown, overwhelming India.  Check out my itinerary suggestions for Three Days in Goa
Our flight got in around 3am and being the cheapskates that we are, we didn't book a hotel for the rest of the morning.  We were redeeming the remaining nights off of our points, and we were "gold" members at this particular chain.  We had emailed prior to leaving to explain and were hoping that they would check us in early and that all would be good.
Well, given our experience with our visas, we should have known that this would not be possible and that the staff would not even bother to try to help. No, not because it really truly isn't possible, but we quickly learned that in India, if it is not black or white then they won't even give a problem a second glance.
Being way more exhausted than we thought we would be, and seeing that their outdoor lobby was an invitation for all mosquitos in the area to come over for a midnight snack, we realized we could not just sit on this bench for the next 12 hours (they wouldn't even consider a noon check in!). After much begging, they finally gave us a sketchy room to at least shower in.  We cheated and also stole a quick nap to at least get us to breakfast time.
After several more hours of attempting more sleep on the pool lounge chairs, we were finally able to check in and let's just say that it was clear that we did not get any Gold Member upgrades.  Forget the complimentary waters or room upgrades that come with being gold members.  Instead; Enter: the Shower Toilet.  This would only be the first in a long line of many bathrooms on this trip that consists of a small room with a toilet, a bucket (to be used for toilet matters) and immediately next to it a shower head.  Even after half a dozen shower toilets, I still hadn't been able to master the art of taking a shower without drenching everything else in the bathroom.
When it was finally time to get to the beach, I was ready to say the least!  We started the 5 minute walk to the sand and before long, we were making friends left and right!  I didn't realize I knew so many Indians!
"Hello, my friends!!!" became the mantra of Goa.  You could not go two steps without a shop owner, taxi driver or beach shack haggler to start proclaiming their friendship to you, "Just for a look!"  If they were really our friends, they'd know we are cheap and don't buy much, let alone crappy souvenirs.  Our friendships were short lived.
The following day was spent in Old Goa.  Goa is an interesting town in term of history within India.  While many countries vied for the country, the British eventually won out.  However, the Portuguese held on strongly to Goa and you can see the Catholic, European influence everywhere.
Once in Old Goa, it was easy to walk around; although there really wasn't a whole lot to do besides see a few Churches and old European gates.  However, we were there on one of the most celebrated festivals of the year in Goa; St. Francis Xavier's Feast.  Each year, the body of the city's patron saint is put on display, so we followed the crowd to the church to see what all the fuss was about.  After standing in a line that resembled a line you would wait in for a roller coaster and walking through a giant tent that resembled one at a state fair (dust and straw included) for an hour, we were shoved along into the church.  You were to keep the line moving and could not stop to see the rest of the church.  So, we literally shuffled past a decaying body over 460 years old for a good 2.5 seconds and kept on moving.  It's safe to say it was not worth my time.  There were a few other "sites" around Goa, but nothing that stood out or was that impressionable.  After all, the draw to Goa India is their beaches.  Which is exactly what we did the remainder of our stay in town!
The following two tabs change content below.
Author and Creator
at
Economical Excursionists
Former teacher turned blogger turned mom turned full time travel addict, LeAnna has never been one to live life by the rules. Whether she is moving to a farm in Switzerland to learn to make cheese (Yes, CHEESE), jumping off a mountain to paraglide over Cinderella castles, or taking her baby all over the world with nothing but a backpack on their backs, LeAnna designs and defines her OWN life. LeAnna, her husband Andy, and kiddo, "Lil B" love to live a minimal lifestyle, not only for the "thrill" of pinching pennies but in order to save for traveling the world. Considering over 40 countries and 90+ cities have been explored, we'd say they are doing something right!
Latest posts by LeAnna Brown (see all)