Awe-Inspiring Amed Bali Tips
Before arriving in Bali, we had already arranged for a rental car and within only a short amount of time we were used to driving on the other side of the road.  We quickly learned that honking was not an aggressive or rude gesture, but a simple way of letting people know you were near them.  Let's just say it was also a short amount of time before we got used to the sound of a lot of car horns.
What google maps said would be a two hour drive turned into 4 hours.  We knew to plan a good amount of cushion time into driving due to road conditions in Bali, but we were not expecting the need to double it.
After a few wrong turns, we made it to the upper right hand corner of Bali; Amed.  We had heard about Amed from fellow Travel Hackers and friends, Drew and Carrie and were excited to go to a beach side town known more for seeing the local's way of life rather than a touristy party place.  We eventually found our tiny hole in the wall homestay and settled into our room; home to a myriad of other creatures in addition to us.
Scuba
One of the draws to the North East side of Bali is its diving.  Along the several towns that made up Amed Bali you could swim a few meters off the black, volcanic beach and be amidst beautiful coral.  Not far from Amed is Tulamben, where the U.S.S Liberty Shipwreck is one of the most famous dive sites in all of Bali, due the rich nutrients from volcanic matter attracting a plethora of marine life on the sunken US Navy ship.
If you are looking for other great dive sites in Bali here's are some of the best ones.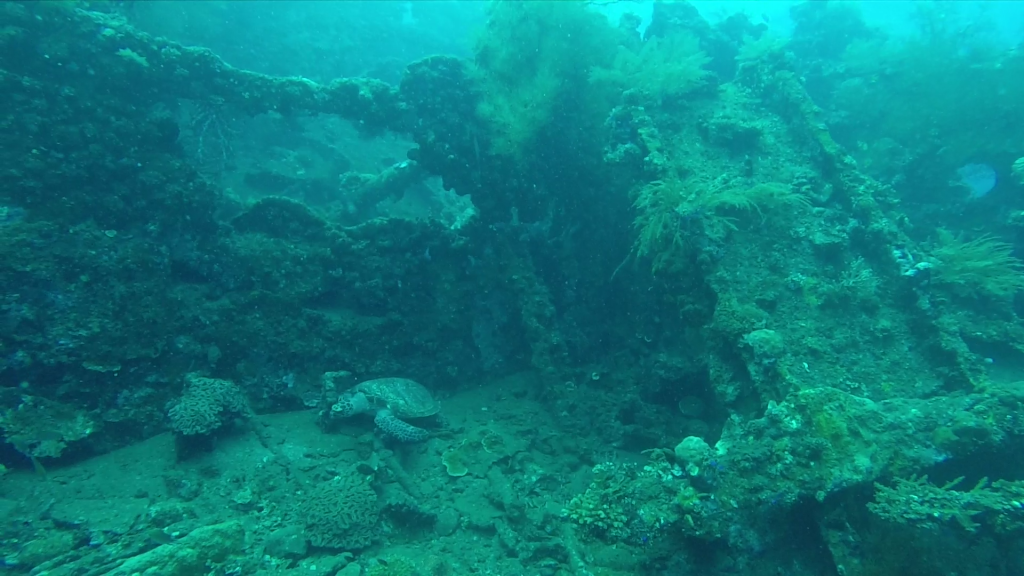 Being our first wreck dive, we had no idea what to expect.  I had no idea if I was going to be going into a deep, dark enclosed space that would take me back in time or if there would just be a pile of rubble that the sea had claimed over the last 50 years.  What we found was a magnificent underwater world.  The entire ship had slowly turned into coral and a haven for fish.  We swam alongside two gentle sea turtles, a GIANT grupper, garden eels and obtained a completely different perspective to seeing this giant sea vessel.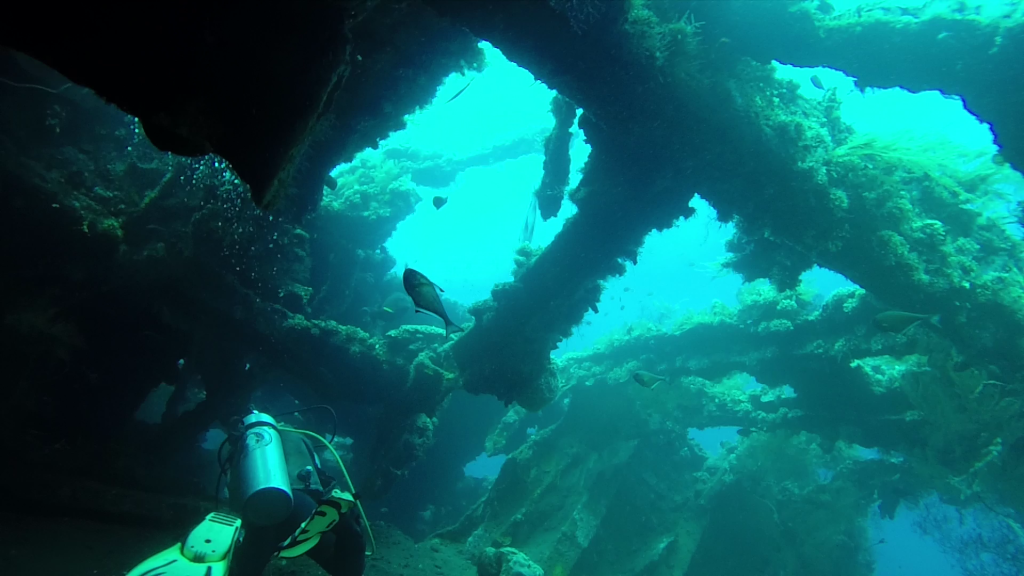 FISHING
One of the things that we were constantly pleasantly taken by surprise with was the generosity and sincerity of the Balinese people.  They were always wanting to make conversation and no matter who you talked to, always seemed to manage the same questions in the same order; Where are you from? Where are you staying (town and hotel)? Are you married?  Do you have kids? There were always smiles on their faces and small children yelling, "Hello!!" to any westerners.  After only a few days in India, where it seemed like any smile came with a cost, it was a welcome relief to realize a simple conversation was not a solicitation for a sale, but just good people being genuine.
A perfect example of this was the homestay we had a room with.  For small additional fees to the room (enough to simply cover costs), you could do a wide variety of activities; we chose to go traditional fishing with the owner, Made, who was a local fisherman by trade.
The morning started early with us leaving by 4:45 am.  In the dark, we approached the black ocean, the only light guiding our way was from the bright, full moon and the only sounds being gentle waves along the beach. In front of us stood a line of small catamaran/ canoe type boats, each belonging to a local fisherman, silently getting ready to earn his catch of the day.
Within only a few minutes, they were all helping one another push their boats into the surf and soon we were up next.  The width of the boat was no more than 2 ½ feet with three slabs of wood to be used as seats.  The hum of the motor drowned out the sounds of the waves and we started our ride out to the fishing site.  Peering over the side of the boat, as the stern sliced the water, bright diamond looking objects flew past our sight. I stuck my hand in to create more friction for the multitude of beautiful phytoplankton to glow against the black water.  In the 30 minutes that it took to reach our first destination, the world around us slowly changed as night gave way to dawn gave way to morning.
The pitch dark sky slowly began to lighten, but only enough to give a teasing outline of the volcano in the distance.  Eventually the shadow could be seen as the sun and moon both shared the morning sky until finally, the sun won out and pinks and oranges coated the horizon and illuminated both the Bali and neighboring Loki island.
When we reached a suitable distance, the coast was far in the distance and I wondered how this tiny little boat could go so far out.  Made didn't waste any time as he quietly grabbed a line with what seemed to be a million little hooks.  At first glance, you wouldn't even think anything was on the hooks; no lure or bait, but if you looked real closely, a tiny flash of silver could occasionally be seen.  He immediately started to release the line, which we realized was in a massive circle, into the water and began pulling so the there was a constant cycle of line.  After what seemed to be only a minute or two, he was catching mackerel left and right and dropping them into his green bucket.  After maybe only a half an hour, the bucket was overflowing with enough mackerel to last at least several days.
He then reached into the bucket, grabbed a fish, sliced it into a few pieces and started to bait another line.  He flung it out to sea, handed it to Andy and in gestures, showed him to start releasing it.  After enough line was out, he showed how to gently pull at the line to attract the Mahi Mahi.  It was at this moment that I realized there were no fancy poles, gps trackers of schools of fish or any other "technology."  Made was fishing the same way that generations before him had done.
Made saw the line tug and ordered some hard to understand directions to real in the line only to find a good chunk of the mackerel had become someone's appetizer.  Andy, never being much of a fisher, handed the line to me to give it a try.  After re-baiting and throwing it out, it didn't take long to feel a nudge in the line.  I yanked and began to pull in.  Eventually, about 20 feet out from the boat, we could see a bright yellow fish straining against the line.  I pulled and pulled until it was right up next to the boat.  I yanked one last time to bring it over the edge and just as it lifted out of the water, it yanked free and swam off!  I felt horrible!  This could have been Made's main earnings for the day.  I profusely apologized as he just shrugged it off and said that it happens to the best of fishermen.
I decided it was time to hand the lines back over to the pro and much to my relief we were able to catch and actually pull in one beautifully colored, yellow and blue 3 ft Mahi Mahi.  After several other mis-attempts and no other luck, Made decided it was time to head back in.
That evening as we sat down for dinner at our homestay, we were treated to our fresh catch, on the house!  Talk about fresh from the sea!
Many people head straight for Kuta and Ubud, but Amed Bali hasn't quite been overrun with tourists, making it the perfect escape into Balinese life.
The following two tabs change content below.
Author and Creator
at
Economical Excursionists
Former teacher turned blogger turned mom turned full time travel addict, LeAnna has never been one to live life by the rules. Whether she is moving to a farm in Switzerland to learn to make cheese (Yes, CHEESE), jumping off a mountain to paraglide over Cinderella castles, or taking her baby all over the world with nothing but a backpack on their backs, LeAnna designs and defines her OWN life. LeAnna, her husband Andy, and kiddo, "Lil B" love to live a minimal lifestyle, not only for the "thrill" of pinching pennies but in order to save for traveling the world. Considering over 40 countries and 90+ cities have been explored, we'd say they are doing something right!
Latest posts by LeAnna Brown (see all)