After five days of walking the numerous temples of Angkor Wat, we decided to head down to the premiere beach location of Cambodia; Sihanoukville.
There are many different locations you can choose to stay at, anything from beach and party central, to quiet secluded.  Considering we aren't party-goers, we opted for the peaceful seclusion of a quiet beach-front hotel.
We found the Sunset Lounge like we find many of our bargain hotels, through google searching, booking.com and tripadvisor, which means that it could be hit or miss on quality.  While we may have paid a few more dollars than some surrounding places (literally, we are talking MAYBE $5-$10 more dollars a night), and while the lodging was VERY basic (shower toilet, no AirCon, basic bed, etc) we were absolutely DELIGHTED with our find!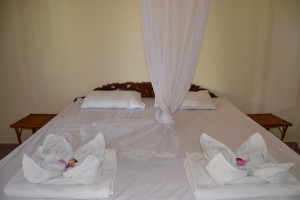 To our surprise, the owners were from Germany (we were currently living in Germany at the time), so we had a great time getting to know each other through various Deutche stories.  They even had several German dishes on their menu, which was a welcome difference from the Asian food we had had for the last four weeks traveling!
Right across the street from the lodging was their own private beach, which was located at the very end of the stretch of beach before a bay(?), meaning that we shared the sand with very few people!  They had set out beach chairs and umbrellas just for their guests and even had a staff member come by frequently asking if we needed anything to eat or drink.
Just a short 20-30 minute walk along the beach would take you to the main drag of town.  There were plenty of beach shacks each with their own specials and drinks.  This is where more of the partiers like to stay, and it was easy to see why as it was quite a lively and fun section of town.
Needless to say though, we didn't stray too far from our little dwelling for the three days there!  The food was excellent, the beach perfect and the sunsets absolutely breathtaking!  After several weeks of exploring hectic Asia, a few days at this serene beach was just what we needed!
The following two tabs change content below.
Author and Creator
at
Economical Excursionists
Former teacher turned blogger turned mom turned full time travel addict, LeAnna has never been one to live life by the rules. Whether she is moving to a farm in Switzerland to learn to make cheese (Yes, CHEESE), jumping off a mountain to paraglide over Cinderella castles, or taking her baby all over the world with nothing but a backpack on their backs, LeAnna designs and defines her OWN life. LeAnna, her husband Andy, and kiddo, "Lil B" love to live a minimal lifestyle, not only for the "thrill" of pinching pennies but in order to save for traveling the world. Considering over 40 countries and 90+ cities have been explored, we'd say they are doing something right!
Latest posts by LeAnna Brown (see all)