The Taj Mahal has to be one of the most iconic images in all of India, and one of the most popular in the world.  It's grandeur and beauty alone is stunning and the love story behind it touching.
However, there are more things to do in Agra city than  just the Taj.  Some people jet in and out of Agra in a day trip to and from Delhi, only seeing the one site leaving many people are unimpressed and disappointed.  However, with even just one full day (spending the night in Agra), you can see so much more than just the Taj Mahal, giving you a lasting impression of Agra and all it's beauties, not just the most famous one.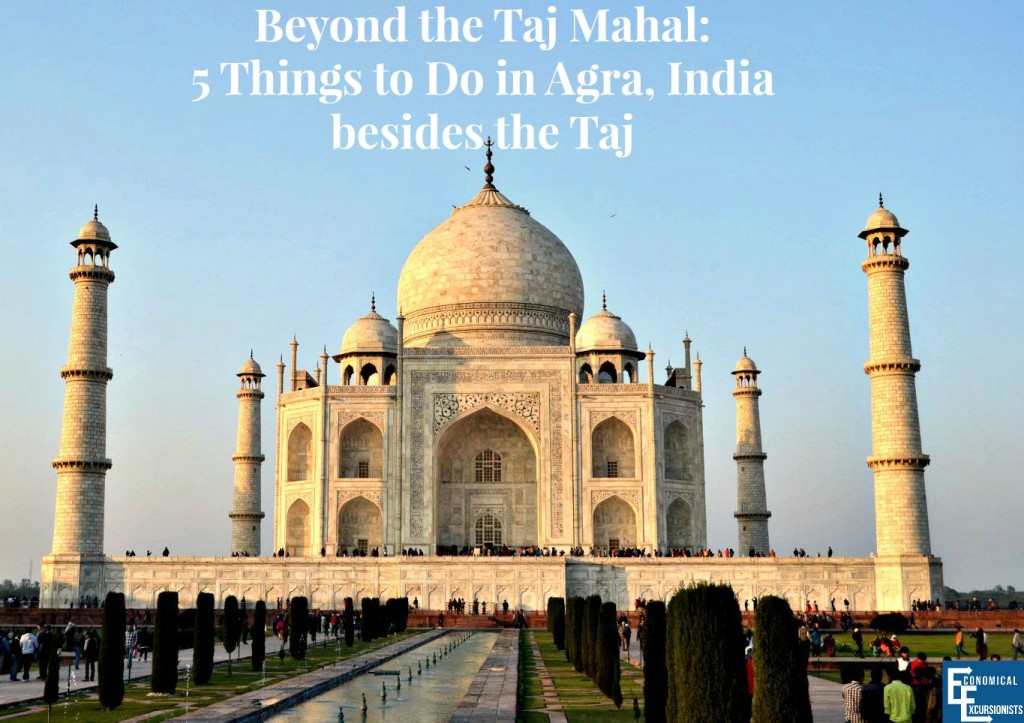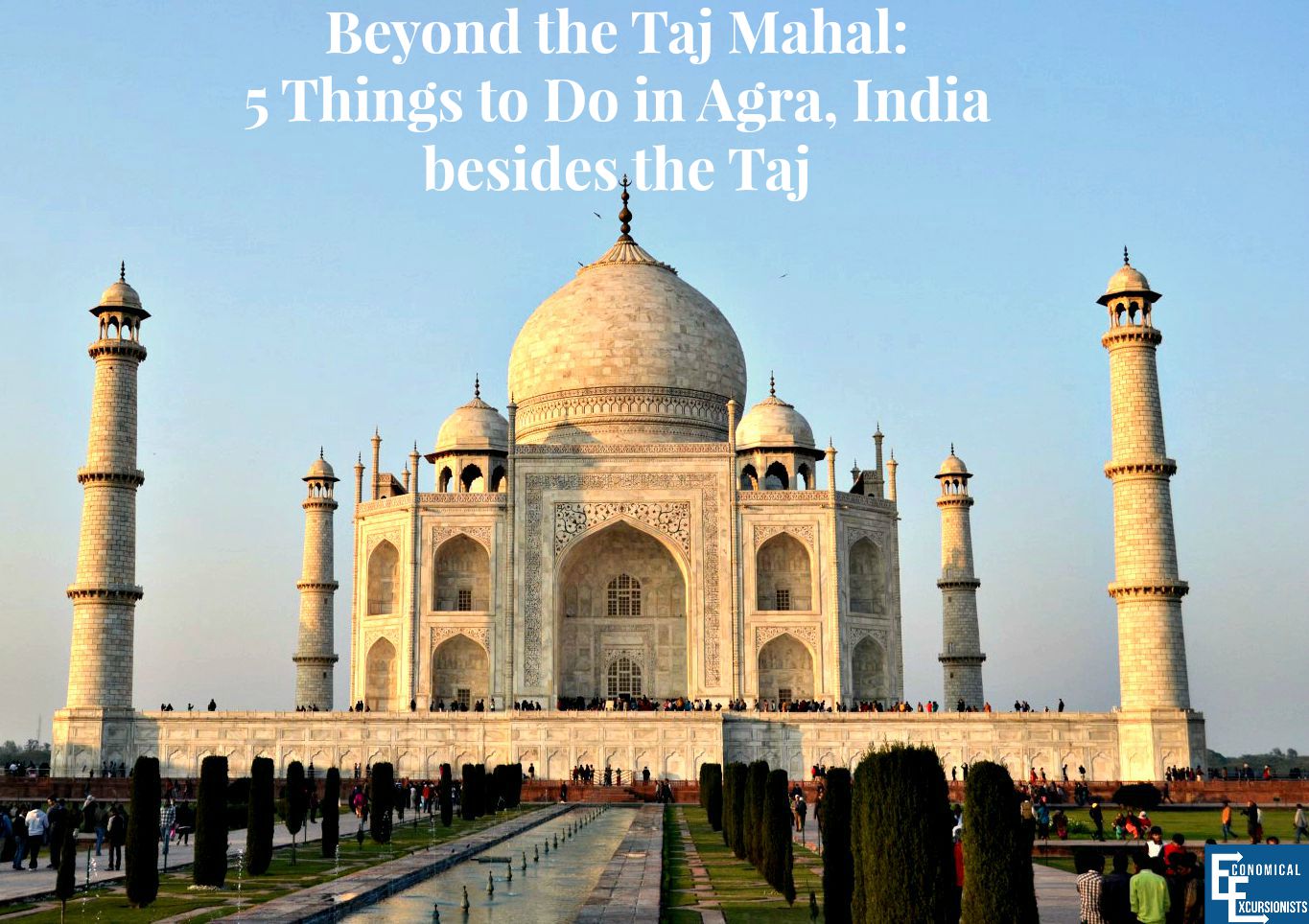 Getting to Agra
The trains in India are incredibly easy to use and surprisingly on time and safe.  It took less than three hours and only $12 each to get from Delhi to Agra!
You can book your tickets online at http://www.cleartrip.com/trains.  Like most things in India, it is quite the hassle even to buy online and you should do it well in advance.  For a perfect step-step directions on how to book, go to http://www.seat61.com/India.htm#book – from outside   (You can only use the official Indian Railway site if you have an Indian phone number, this is a third party reservation system)
Getting Around Agra
Taxis
Taxis are probably the best way to see Agra.  A tuk tuk is an option, but many won't go to all the sites due to the distances.
In much of India, if you are getting a Taxi, look or ask for the government sponsored, pre-paid taxis.  In this case, it was right outside the train station in a clearly marked booth.  They have set prices so there is no haggling and supposedly no scamming.  Not sure where to go?  Don't worry, you will be surrounded by a swarm of taxi drivers like bees to honey.  Even though each driver is just simply "the best," walk right past them and out to the parking lot to the booth (many will catch on that that is where you are heading and will lead you there in hopes you'll go with them).
The driver that put his sights on us claimed he was apart of the stand and when we got there, he in fact was able to make an order with the booth worker.  Not sure if it was a legit transaction, but the price for the taxi is what we expected and that's what we cared about.
Note: If you pay for an air conditioned car and it looks sketchy, ask to see if the air is on.  Many drivers will try to take the tourists who paid for aircon and put them in one that has none then claim it will start to work (guess what? It wont'!).  It's hard in India, but be insistent with the stand until you get what you paid for.
Tip: Many taxi drivers are going to be offering you "deals" to see Agra for the day with varying packages.  If you know what price you want and exactly what you want to see, you can try to see if the driver will accept that (you'll probably need to haggle).  We weren't sure and wanted to ask the hotel for proper prices before agreeing.  We told our taxi driver that we would call him in the morning (he was NOT happy that we wouldn't confirm with him right then) so we said too bad.  He finally gave us his number and swore it was the best price.  Shockingly. when we asked the hotel, they confirmed that the cost for taking us to all the major sites for the day was a great deal.  They were willing to call the driver and reserve the car for the following day.
My point?  Don't feel pressured into anything.  Get their phone numbers and take your time deciding.
Cost for 8 Hour Full Day Agra Taxi Tour
At the taxi stand at the railway, the sign says that for 8 hours in Agra, it will be 850 for non aircon or 1075 if you want to stay cool.  Before agreeing with the driver, ensure that everything you want to do will be covered.  Be insistent on this and if you don't want to go to his brother's, cousin's, half sister's shop, do NOT back down.  Our driver went from being a cheery, great guide to down right cold when he realized there was no way we were going to the shop. (They get a commission/ kickbacks for each customer they bring).  To have avoided those arguments and his sour mood, I wish we would have told him from the beginning that we would NOT be going to a shop, but we will make up for it in a good tip if he provided us with a quality tour and day.  It was amazing how when we finally mentioned this (even though we were pissed off by this point by the personality change) things went back to being cheery and helpful.  Once again, just do this from the very beginning to avoid any hassle and frustrations.
Agra in Day
There is so much more to see in Agra than just the Taj Mahal.  Here is the following itinerary we took for the day
We started the day with breakfast at the hotel and had Ali Baba (yes, he actually said this was his name) pick us up by 8am.  While we wanted to start the day with the Taj Mahal, Ali Baba suggested that if we did this, then all the other sites would seem simple and small in comparison.  This made sense and we were actually glad that we went ahead with his suggestion to see the Taj last.  However, many people recommend and suggest getting there right at 6am when it opens.  There may be less people at this time, but lighting may not be the best for photos, so you need to make that call.
Tomb of Itimad-ud-Daulah
Known as the "Jewel Box" and even the "Baby Taj" this is another beautiful mausoleum and is supposedly the first to be built entirely of marble.  The grounds and buildings at the tomb are beautifully manicured and the details on the mausoleum are stunning and intricate.
Cost: Rs 110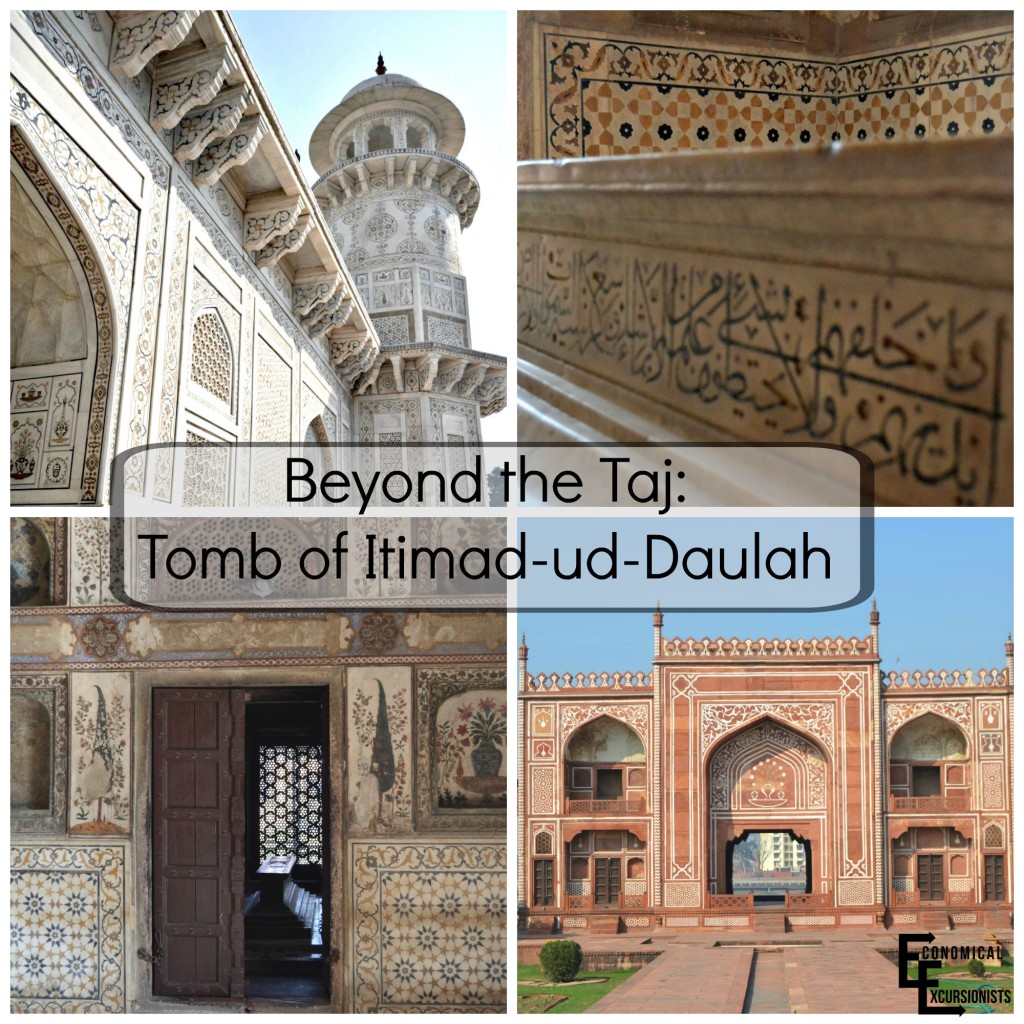 Hint: When taking pictures of these beautiful, marbled buildings, overexpose by at least one stop.  If you don't, it won't look as white and bright as it does in real life.
Mehtab Bagh: The Moon Garden
If your driver has not suggested to stop here, you absolutely have to request it.  The garden itself was quite lacking (wasn't sure I saw one single flower?) but the point is that you have the opposite view of the Taj over the Yamuna river.  This little gem, not known by many other tourists, was completely empty, besides the armed guards watching the barbed wire fence and river (possibly preventing people from swimming to the Taj? Although who would want to swim in one of the the most polluted rivers in the world is beyond me?)  At the Moon Garden, it can just be you, the Taj Mahal and the haze.
Cost: Rs 100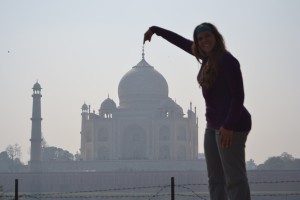 Agra Fort: Musamman Burj
Next up was the Agra Fort.  Once again, the details and lattice workings of buildings in India are stunning and the Musamman Burj is no exception.  Not to mention, you can get yet another wonderful vantage point on the Taj Mahal overlooking the river.
Cost: Rs 300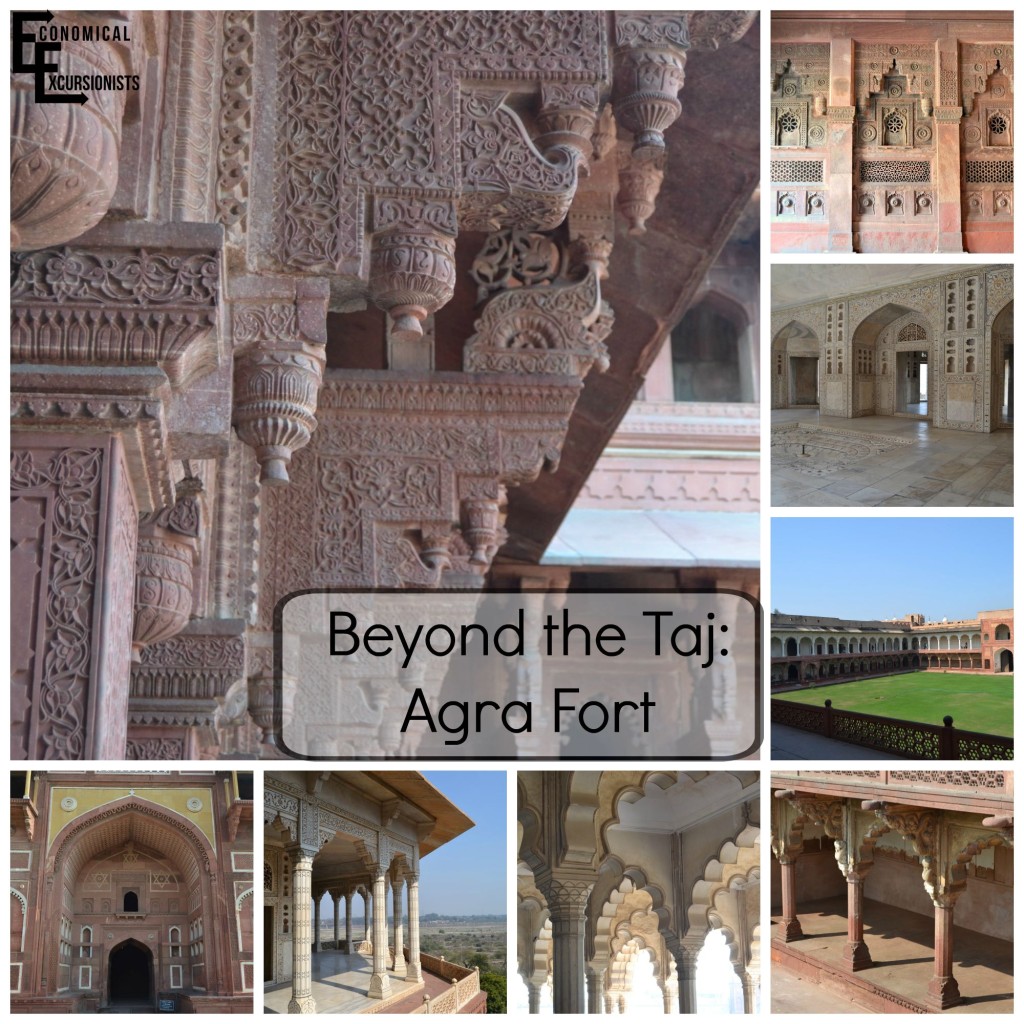 Break/ Snack or Lunch
By this time, it was time for a break from standing, sightseeing and arguing with the driver that we did NOT want to go to his shop!  Plus, we wanted to get to the Taj when lighting was best, meaning we needed to burn a little time.  Sipping chai tea and munching on naan is the perfect way to spend time in India.
Surely, your driver will know "the best place in town."  Go for it if you want, but we already had scouted out a few rooftop restaurants prior to leaving for the day.  Yet again, it took some hard convincing, but we were finally able to get Ali Baba to take us to Saniya Palace Hotel, which supposedly would have some of the best views..  Even if you go with what your driver says, don't miss the wonderful rooftop restaurants overlooking the Taj.
At the Saniya Palace, the view was amazing over not only the Taj but a great glimpse into the local's village as well.  Not to mention the food; it was so good that we actually went back after the day was done for dinner!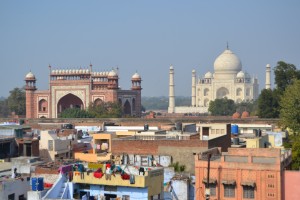 The main event: The Taj Mahal
After a day of waiting, we were finally able to go to the Taj.  It was as beautiful inside as I had expected.  However, if you are looking for that PERFECT shot, good luck to you.  No matter what time you go, you are going to have people in your photos, there is no way around it.  While we originally wanted to go both at sunrise and sunset, the ticket was only good for one visit.  I do recommend going for one of these times if possible though.  The way the light glowed off the white marble in the late afternoon glow was gorgeous.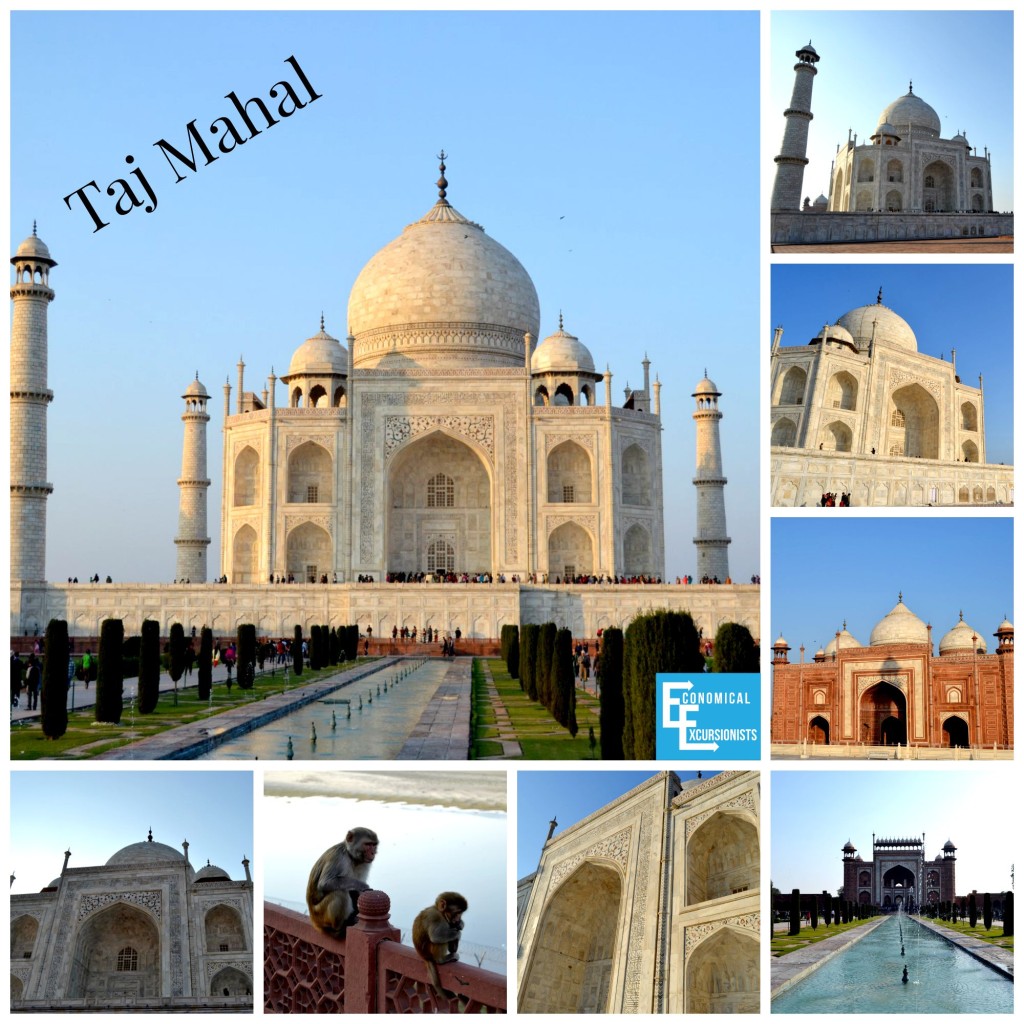 There are so many tips and things to see or do while at the Taj Mahal but Rachel from Hippie in Heels sums it up perfectly that there is no need for me to re-cap. http://hippie-inheels.com/13-tips-for-taj-mahal-visit/
Cost: Rs 750
Audio Guide: Rs 105 (you can get this audio guide inside the Taj Mahal (just follow the audio guide signs) or you can download it and listen on your own advice through "Audio Compass"
Family Tip: If traveling to the Taj Mahal, take your kids to watch the sunrise over the Taj for an unforgettable memory.  Here are 10 Things to do in India with Kids. 
Finishing the Evening
Our eight hours pre-paid taxi was coming to a close, but we were hungry and wanted one last stunning view of the Taj Mahal.  We chose to pay a few more Rupees for an extra hour. We headed back to the rooftop restaurant and enjoyed delicious butter chicken and naan as the Taj glowed in the moonlit nighttime.  Sipping on chai tea under a blanket next to a fire pit overlooking one of the most world-renowned and beautiful sites under the night's sky was just about the perfect way to finish our day in Agra.
The following two tabs change content below.
Author and Creator
at
Economical Excursionists
Former teacher turned blogger turned mom turned full time travel addict, LeAnna has never been one to live life by the rules. Whether she is moving to a farm in Switzerland to learn to make cheese (Yes, CHEESE), jumping off a mountain to paraglide over Cinderella castles, or taking her baby all over the world with nothing but a backpack on their backs, LeAnna designs and defines her OWN life. LeAnna, her husband Andy, and kiddo, "Lil B" love to live a minimal lifestyle, not only for the "thrill" of pinching pennies but in order to save for traveling the world. Considering over 40 countries and 90+ cities have been explored, we'd say they are doing something right!
Latest posts by LeAnna Brown (see all)