We've all heard stories about credit card fraud and there are plenty of ways thieves can steal your information without you even knowing it.  Most people know of someone that has been jipped at a gas station in one way or another or some have just blatantly gotten their cards stolen from their back pocket on a subway.
But now, there is an electronic way of pick pocketing that could be as simple as bumping into you; something not uncommon in busy, crowded cities.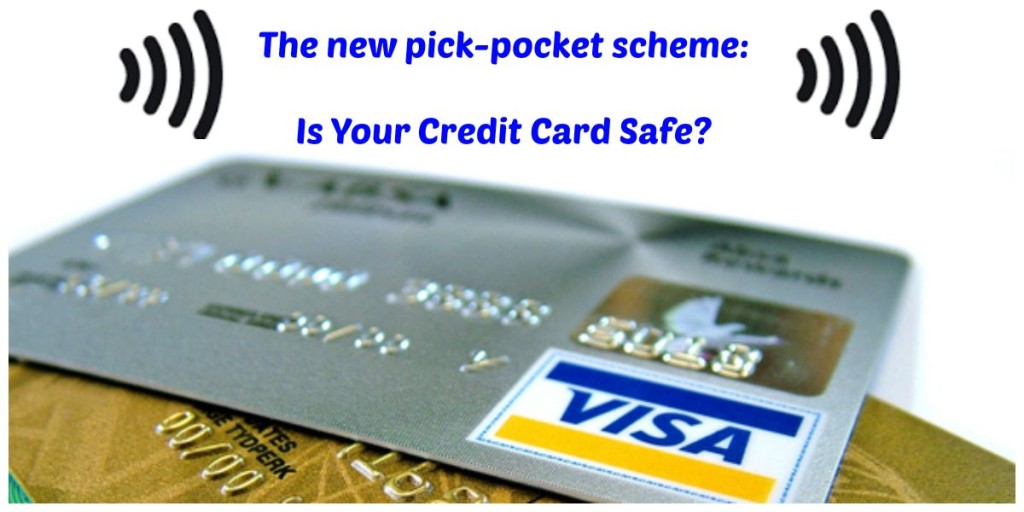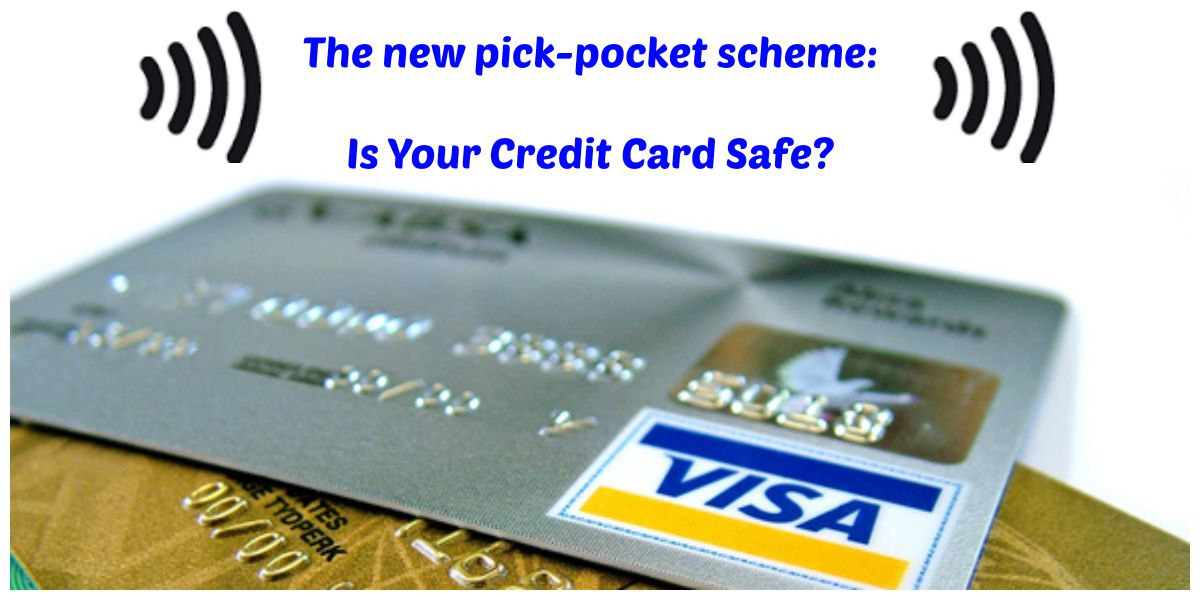 This new technology is known as RFID (radio frequency identification) that basically transmits your information onto a reader… And we aren't even talking about the pick-pocketing yet!
Many stores now will have a "Tap and Go" type technology where all you have to do is place your card next to a reader and it will quickly make the transaction.  This is great for fast, on the go purchases, right?
Wrong.  The problem is that the technology that the stores use is easily obtained by anyone for around $50!  With your own reader, it's incredibly easy to wirelessly read anyone's card number, expiration date, and CVV number; all the things needed to make an online purchase.  Or, they could go a step further and with a slightly more pricey (but still not outrageous) card magnetizing tool, which can be bought for just a few hundred dollars, the crook can then encode all of your card's information onto a blank card, making it look like their own to use in person.
This all sounds horrific and terrifying.  However, there are really easy ways to protect yourself from RFID Credit Card Fraud.
Does your card have RFID?
Not everyone even has a contactless card.  However, many cards have RFID and you may not even know it, making you vulnerable to stolen information.  Simply flip over your card and look for the contactless card symbol.  It will probably look something like a "wave."  If you don't have that symbol, you probably don't have that feature, but just to be sure, simply call and ask your credit card company
One time CVV Code:
Traditional credit cards have the 3-digit CVV code on the back.  However, the contactless cards, has an automated embedded CVV code.  What is actually nice about the RFID credit cards is that this code can only be used once.  Once a transaction is made, a new code is generated.  What does this mean for your pick pocket?
If you use it before the criminal has a chance to, it will lock him/her out of your card preventing him/her from ever being able to use it
If they get to it before you do they are only able to use your card once due to the code changing, unlike traditional credit card fraud, where they can continuously use your information.
Fraud Alert:
Today, most credit card companies are extremely good at monitoring your purchases and alerting you of any suspicious activity.  Some will even freeze you out until you can verify a purchase, making it even harder for thieves.
Monitoring your statements:
Some frauders are extremely clever.  They will make purchases that go undetected by either you or the credit card company.  This is why it is extremely important to view each credit card statement thoroughly to ensure all purchases were, in fact, made by you.
Don't Use Credit Cards:
Ok, this is an incredibly over-simplified solution to the problem, but then if we went this route, how would we be able to travel hack and see the world for close to free???
Credit Card Pocket Protectors
One of the easiest ways to protect your card from getting read is to wrap it in protection (no, this is not a secret safe-sex ad!).  One way to do this is by wrapping it in foil.  But then again, who wants to go through the hassle of wrapping and unwrapping your card for each purchase (let alone the fact that you will look a little crazy and paranoid)
The simpler (and less obtrusive) solution is to by a credit card pocket protector
.  You can get these for varying prices online from a few bucks to more expensive, depending on your personal style.
Wallet Protectors
For us travel hackers, we usually have more than just one credit card on us at a time.  Plus, for anyone traveling, it is important to have a backup just in case.  So, having a wallet
protector isn't a bad idea either.  Once again, online there are varying prices for wallet protectors that will surely to fit your price point and style.
New Cards
If you are applying for a new credit card, check to see if it has the contactless feature.  It will often state that it is "Tap and Go"  or "Wave and Go" (pretty much anything that says, "go").  Many cards have a non RFID version of the same card available.
What to do if your credit card information was stolen?
If your card information was stolen, credit card companies are extremely helpful.  The general timeframe is that you can call within 60 days of a fraudulent purchase and you will be covered with a full refund as well as a new card and number.
Technology is an amazing thing, but it can be extremely frightening when there are safety concerns that we may not even be aware of regarding to the fast paced, technological world we live in.  Don't let naivety hit you where it hurts; your wallet.  Let your friends and family know how to protect them from the newest way of credit card fraud and pickpocketing.
The following two tabs change content below.
Author and Creator
at
Economical Excursionists
Former teacher turned blogger turned mom turned full time travel addict, LeAnna has never been one to live life by the rules. Whether she is moving to a farm in Switzerland to learn to make cheese (Yes, CHEESE), jumping off a mountain to paraglide over Cinderella castles, or taking her baby all over the world with nothing but a backpack on their backs, LeAnna designs and defines her OWN life. LeAnna, her husband Andy, and kiddo, "Lil B" love to live a minimal lifestyle, not only for the "thrill" of pinching pennies but in order to save for traveling the world. Considering over 40 countries and 90+ cities have been explored, we'd say they are doing something right!
Latest posts by LeAnna Brown (see all)