{This post may contain affiliate links.  We'll put the mere pennies earned towards a scoop of gelato next time we are in Italia.  We can't thank you enough for your support of the EE site at no extra cost to you}
How to See Rome in 3 Days
When in Rome….
When in Rome what do you do?  There are countless sights to see, plenty of cobble-stoned streets to wander and, of course, a plethora of Gelato stands just waiting to be tasted.
Rome is a beautiful old city mixed with a current metropolitan.  What this means is that you will have all the comforts of a big city, such as easy transportation, numerous restaurant options and more.  At the same time though, everywhere you go, you can glimpse into an ancient past that we have all learned about; the Roman Empire.
Like most trips, you can easily draw Rome out into as many days as you want, and as our B&B host explained, you could be in Rome for years and still have more to explore!  But, most people only allot for a a few days to spend in the Eternal City.
Here is a three day itinerary suggestion for what to see while in Rome.  Click on the titles for stories and information on each location.
Day I: The Vatican
Get started early at the Vatican and make your way to the smallest country in the world.
Vatican Tips:
Timing: There are countless theories on the best time of day to get in line for the Vatican.  We didn't get into line until about 10:45, and only had a minimal wait.  I actually think this was a great time because you miss the people coming right as it opens.  Afternoons and weekdays can be considered ok times.
Sundays: The Vatican is closed on Sundays, except for the last Sunday of every month.  This is also a "Free Day," but everyone else wants a free-bee, too, so these can be some of the most crowded days.
Tickets
: You can
purchase a ticket online
.  While some people say this will allow you to skip lines,  this is not true.  You'll have to wait in the line for everyone else that has tickets.
*It could vary day to day, but when we were there, the line to buy tickets the day of was actually shorter than the pre-bought lines.
Tours
: There are several tour options.  However, we opted to just buy the Rick Steves Rome book, which included a self-guided walk through the Vatican Museums.  This allowed us to see what WE wanted and to skip over what we didn't.  There is so much to be seen that we wanted the option of going at our own pace. (The
Rick Book
was invaluable during our Italy trip! So many free self-guided walking tours, history info and more)
What to See: You could spend DAYS in the Vatican museum and still not see it all!  Don't make the mistake of going straight to the Sistine Chapel, though.  While you don't need to stop at every statue and bust you see, it's still worth it to meander your way through.  And it's not just religion.  The Vatican Museum is a great historical museum, too (Well, the Church did pillage and plunder lots of places to get the artifacts, afterall!)
The other main sight is St. Peter's Basilica.  Once again, I recommend the Rick Steve's free audio guide to help you better appreciate the church.
Pack Accordingly: You'll have to check your bag if you have a big one, so considering you'll probably be spending most of your day in Vatican City, it might be a day to just skip the backpack.  With that being said, it is also going to be a long day, so have snacks and water ready.
Dress Appropriately: Vatican City is considered a Holy Place and especially in locations like the Sistine Chapel and St. Peter's, you will have to be dressed appropriately.  This means shoulders and knees covered.  Shawls and cardigans are great alternatives for hot days when you don't want to be fully covered all day.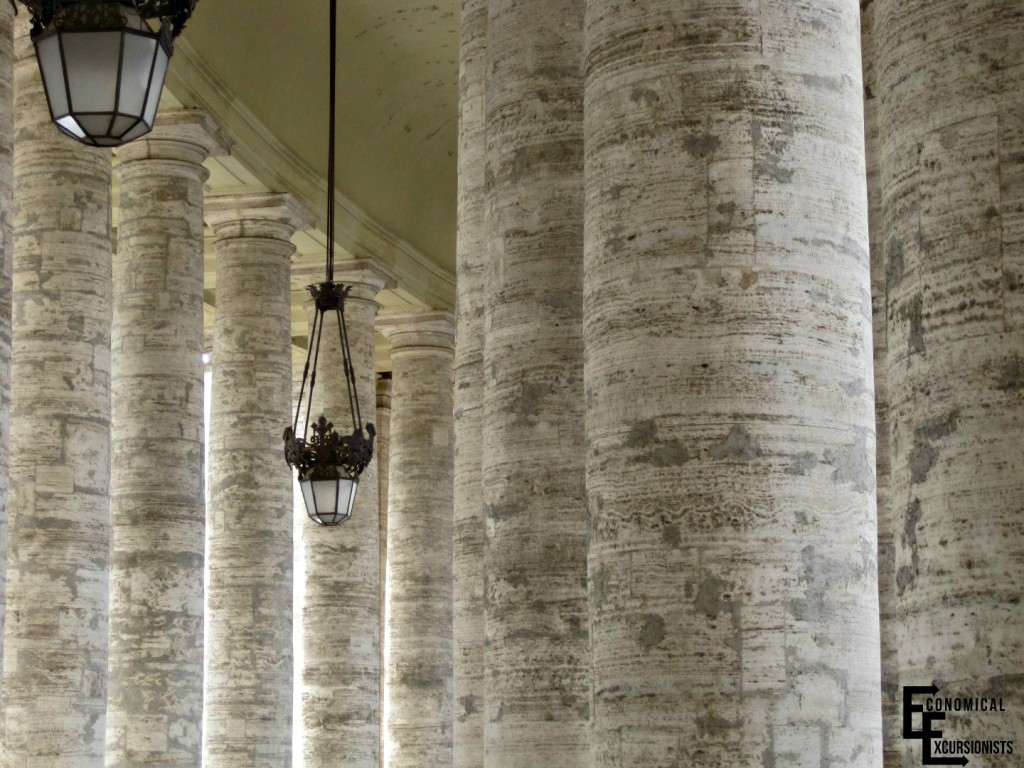 Day II:  Old Roman Ruins, Ancient Temples and a Romantic Evening
Figuring out what places are near one another is key to maximizing time while in Rome.  While this is a full and packed day (and can easily be spread out over more time), all of these are must-see sights while in town.  Once you get to the starting point of the day, everything is within relative walking distance.  However, it is A LOT of walking, but is cheaper than and actually faster than dealing with public transport or taxi.
The Roman Forum & Colosseum
Start with the Roman Forum in the morning and then walk to the Colosseum, which is basically across the street.  As always, the
free Rick Steve's Audio Guides
are literally priceless and can save you a fortune instead of having to buy tours or audio guides, especially if traveling with a family!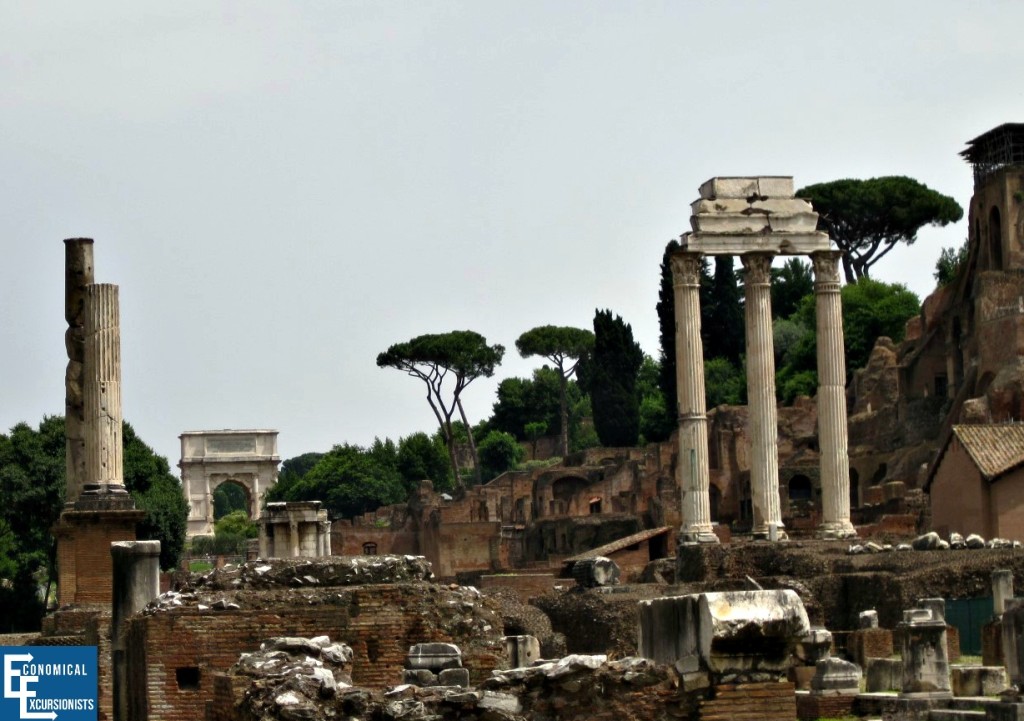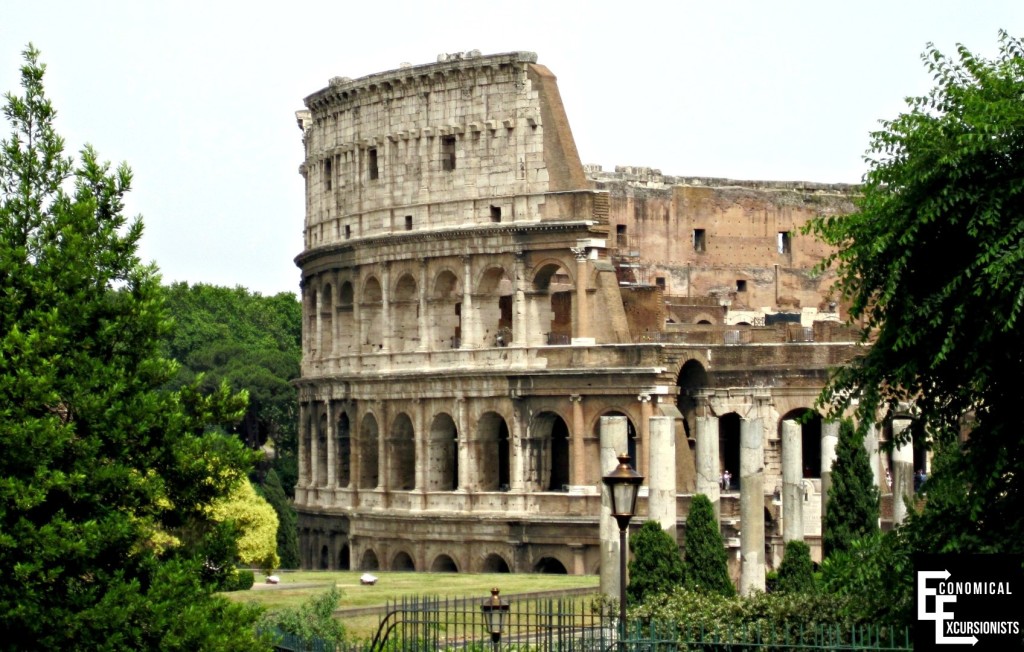 We made the mistake of thinking we would get lunch after the Colosseum, not knowing that many places shut down for Siesta.
Insider Tip:Luckily, we were able to grab some snacks to tide us over, but plan meal times out accordingly so you aren't stuck with any Hangry travelers and then walk about 20 minutes to the
—————————————————————————————————————————————–
Planning a Trip To Rome?
Don't forget to research cheap things to do on TripAdvisor and book affordable Hotels at Booking.com
—————————————————————————————————————————————-
Insider Tip: Don't be bummed when you are in cities like Rome and you find your dream building covered in scaffolding.  After all, these are ancient and historical buildings, even they need some live (but man, do they get in the way for us photo-holics!)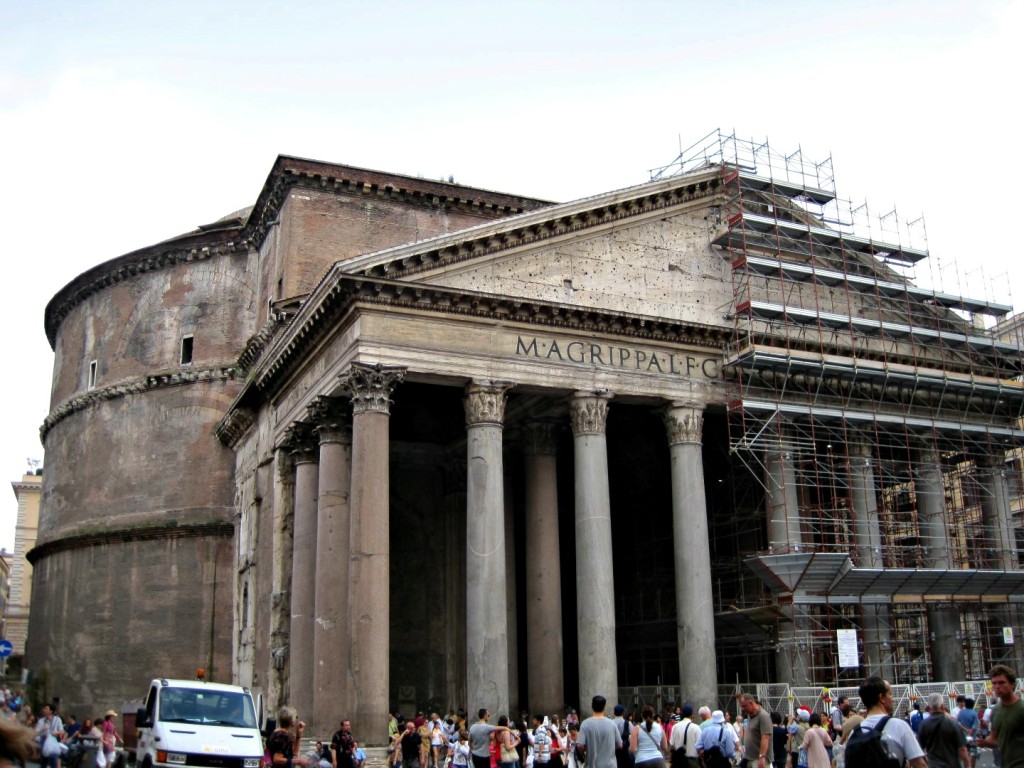 By now, you should be able to grab some dinner, if not some delicious gellato, as you make your 10 minute walk towards the
Trevi Fountain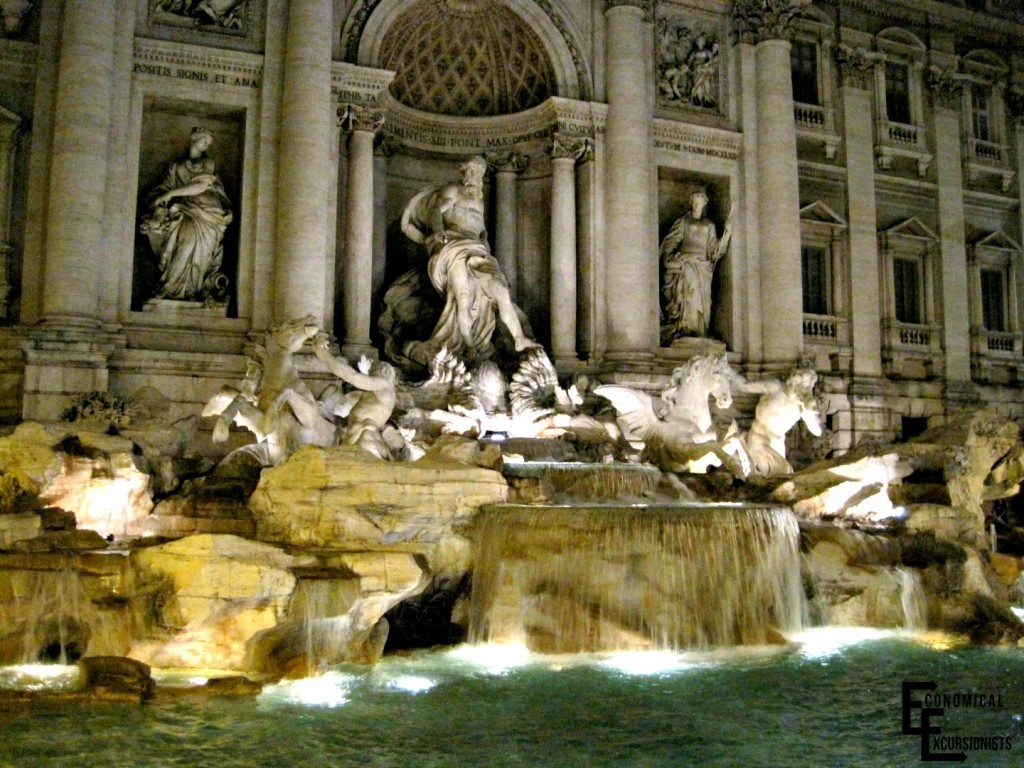 You can go to the Trevi Fountain any time of the day, but if in Rome with a loved one, it can be especially romantic in the evenings.  Just be aware of all the touts and scams (be weary of anyone offering you a red rose, bracelet or anything else that just seems sketchy).  Just another 10 minutes walk is the
Spanish Steps
Once again, a stop that can be made any time of the day, but is better at night.  Realistically, it is just a bunch of steps and isn't that impressive.  However, there is often a fun atmosphere at night with locals and tourists alike.
After the exhausting day of sight seeing and walking, you'll be ready to head back and call it a night!
Day 3: Ostia Antica
Many people want to make a trip out to Pompeii but often can't justify the time and costs associated with it.  Which is why it's so surprising that
Ostia Antica
 is such a hidden gem, right outside of Rome.
This ancient city, much like Pompeii, is a perfectly preserved glimpse into ancient Roman times dating back to the 4th century!  Once again, Rick has a fantastic free self- guided walking tour.
Only being less than an hour outside of Rome and accessible by public transit, it is the perfect opportunity to get out of the crowded city and see an amazing archaeological site!  If you want to add a beach stop, Antica is a habour city with great places to hop into the ocean as well.
To get to Ostia Antica, you just need a normal metro ticket.
On the B Metro Line, you'll go to the Piramide station where you will then exit and transfer (upstairs) to the Roma-Lido Beach trains.  The stop will be the "Ostia Antica" stop.  If you want to go to the beaches, just ride the train to the end stop and you'll be right at the Mediterranean sea!
Where to Stay
While Rome can be quite pricey, AirB&B is a great option.  If going this route, make sure there is access to public transportation for easy access to the city.
Giorgio (the owner) speaks just enough English to have to strain sometimes to understand but can hold great conversations with. The B&B is in an apartment, which we shared with two other couples (whom we did not know). One night (after getting lost AGAIN) Giorgio was waiting for us with HOME-MAID lemoncello!
This apartment was not in the middle of the city, but there was public transport within short walking distance and it was great to be in a real Roman neighborhood and see the locals live their lives (especially at night!) Of course, it didn't hurt that the price was right as well!
One of the best parts about traveling is hearing other people's stories. I enjoyed listening to Giorgios European adventures and take on life. Meanwhile, the balcony caddy-corner to us was having a party and began a harmonious "Aquarius!!!"  rendition. They were very good and provided great background ambiance. They proceeded to sing an eclectic assortment of songs the rest of the late night. It was a nice lullaby as we drifted off to sleep on our last evening in Rome.
The reality is that 3 days in Rome probably isn't long enough but it is just enough time to see the top sights and get a glimpse into the ancient meets current Italian culture.
Have you been to Rome?  What else did you do that is a MUST for fellow budget travelers?
The following two tabs change content below.
Author and Creator
at
Economical Excursionists
Former teacher turned blogger turned mom turned full time travel addict, LeAnna has never been one to live life by the rules. Whether she is moving to a farm in Switzerland to learn to make cheese (Yes, CHEESE), jumping off a mountain to paraglide over Cinderella castles, or taking her baby all over the world with nothing but a backpack on their backs, LeAnna designs and defines her OWN life. LeAnna, her husband Andy, and kiddo, "Lil B" love to live a minimal lifestyle, not only for the "thrill" of pinching pennies but in order to save for traveling the world. Considering over 40 countries and 90+ cities have been explored, we'd say they are doing something right!
Latest posts by LeAnna Brown (see all)