In light of recent events in our world, it is understandable to want to throw in the towel and take the stance that evil is lurking around every corner.
It is not difficult to just assume that someone of a different color than your own has ill-intentions.
It is easy to accept anything that pops up on your social media as "fact" and be convinced that every Muslim person has it out for Westerners.
But, what about those living abroad or the people who want to see the world.  Should we be afraid of travel and terrorism?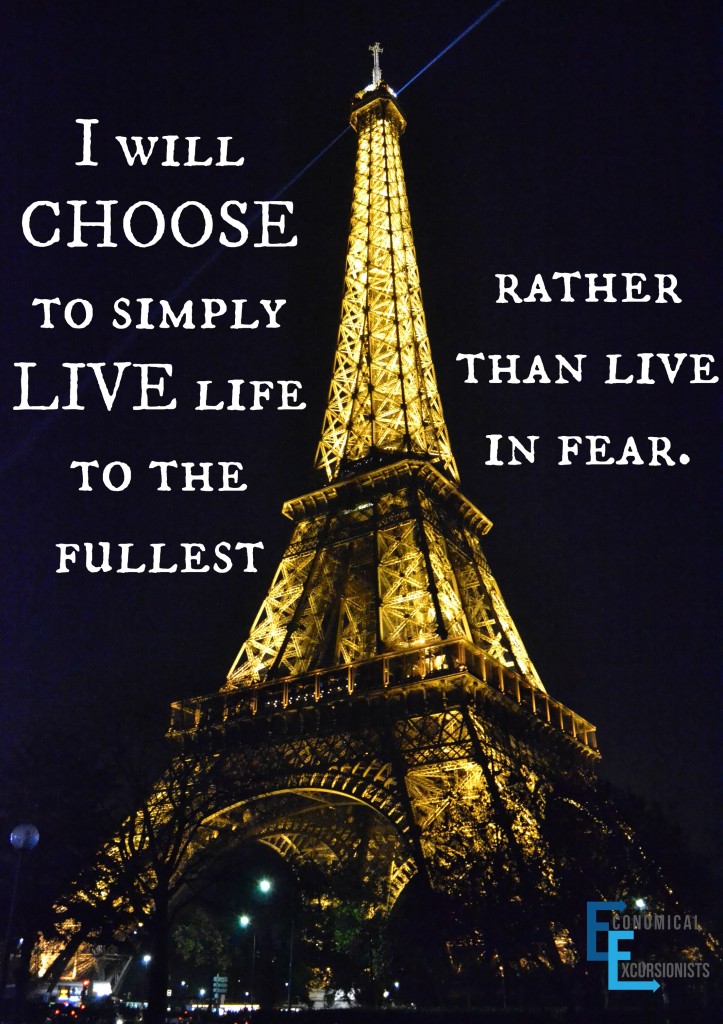 After the Paris Attacks, I shared my man-crush, Rick Steves', photo with a Travel Group I am in on Facebook because I just loved his message- as usual!  (You can see the original Rick Post Below).
Here is a beautiful excerpt from my man, Rick:
"About safety, I believe this is an isolated incident. Tomorrow Paris will be no more dangerous than it was the day before that terrible Friday the 13th. I also believe that security in Paris and throughout Europe will be heightened in response to this attack. Remember: There's an important difference between fear and risk…."
He continues to say,
"I'm sure that many Americans will cancel their trips to Paris (a city of 2 million people) or the rest of Europe (a continent of 500 million people), because of an event that killed about 150. As a result, ironically, they'll be staying home in a country of 320 million people that loses over 30,000 people a year (close to 100 people a day) to gun violence."
Not that I can do better than Rick, but I had a few words of advice of my own for my fellow travel-mates.  There was an overwhelming response of relief that someone was bringing up these topics and many people said "Thank You!" for easing their own worries about traveling.  Not surprisingly, there were also a few that decided that holing themselves up in their homes was the best course of action from here on out (no, I'm not joking….they were quite serious).
So, I wanted to re-cap and then elaborate with my readers some of that discussion because I feel VERY strongly about this topic and message.
Fear and Risk
Rick put it perfectly.  There is a difference between Fear and Risk.  As you all know, Lil Baby B will be here in March.  I had a person comment that, "Once that baby is here you are going to think very differently about this topic"
Well, I can't say how I am going to feel once I have a little one in my arms.  Will my whole world change? Yes!  Am I going to be protective? YES!
But I'm also going to continue be smart.
I can't control the unknowns but I also can't let those unknowns control me.  What kind of life is one where I never leave the house because I'm afraid "something" might happen.
[Tweet "I can't control the unknowns but I also can't let those unknowns control me."]
And I don't want my children to live in that kind of environment either!
I hope that I can instill a love and wonder for this world in my children.
I hope that they grow up wanting to explore what this amazing Earth has to offer them.
I hope that they yearn to learn about different cultures, people and lands the same way I do.
Honestly, if I raise them to be afraid of the unknowns, I wonder if I will have greatly failed myself and them.
The Concern of Safety
Even today as a traveler, there is a difference between stupidity and adventure.  I am not going to willingly go to a place that is more likely to have political unrest and safety concerns.  For example, while I LOVED Turkey, I probably wouldn't put that at the top of my travel list right now.  Would I go on holiday to Iraq currently?  Well, that's not a hard one.
Several months ago, Andy wanted to go to Tunisia.  There were no travel warnings, but in looking at where to travel, we do consider the political environment.  I felt "off" about the situation and surely enough a few months later, a terror attack happened at a resort.
My point to all of this is that just as you are not going to choose to go to a bad neighborhood in your city because of known gang violence, there are certain locations in the world where you should also be weary of traveling to (today).
However, just in the same scenario, while you might not venture into certain neighborhoods in your own city at night, that doesn't mean you aren't not going to go to the grocery store down the street from your home!
This is true for traveling.
I am not going to willingly put myself, or my child's safety, and life at a known risk! But, I am also going to continue to travel just like you are going to get in your car and drive (which there are more deaths in car accidents than terror attacks, by the way) almost every single day because I still believe it is safe.
If Terror is What they Want
Since the Paris attacks, I have heard everything from "Go, travel and explore still!!!" to "I'm afraid to order take-out because I don't know who is bringing me my food."
The one part that I don't agree with Rick on (GASP!) is that these are no longer becoming "isolated" incidents.  It is sad to say that this is now the world we live in.  However, statistically speaking, you are still more likely to be in a car accident or die from heart disease than be caught in a terrorist activity.
Therefore, by living in fear, aren't the bad guys winning?
By turning on the Muslims who have nothing to do with terror, isn't that what ISIS wants?
By teaching our children to not trust anyone, isn't that feeding into the fire?
But here is the cold, hard (and sad) truth….
We don't know when and where the next attack will be.
It could be right here in Europe again.  Or maybe it is in our own backyard of the USA.
Nobody wants to admit it, but the terrorists aren't just in Iraq.  But, does that mean that you shouldn't leave your house?  What about your town?  Is that safe?
WE.DON'T. KNOW.
But what we DO know is that we can't let them win.  Living in fear and terror is doing exactly that.
Instead of being to afraid to travel, instead learn what it means to be a vigilant traveler.  Learn to trust your gut and be smart about your surroundings.  Sure, you can't prevent anything, but you can learn to make smart, reactive decisions in a time of need and yet still travel, explore and grow as a person because of that travel.
So, while I fully intend on traveling smart in the coming years, I don't intend on slowing down.  I have glimpsed into what this world has to offer and have personally experienced how different cultures, ethnicity and groups of people live.  I have learned that different does not mean bad, or evil.  I have learned that if we open our minds and hearts in a smart and responsible way, we can become better, stronger people.
So, I will choose to not let ISIS win me over with their threat of fear.  I will CHOOSE to teach my children to look for the good in everyone before assuming bad.  I will CHOOSE to continue to travel wisely and see what other beauties and cultures this world has to offer.
I will CHOOSE to simply LIVE life to the fullest rather than live in fear.
To see Rick Steve's Original Facebook Post, visit his page here
In the comments below, tell me how you are going to CHOOSE to live your life.
The following two tabs change content below.
Author and Creator
at
Economical Excursionists
Former teacher turned blogger turned mom turned full time travel addict, LeAnna has never been one to live life by the rules. Whether she is moving to a farm in Switzerland to learn to make cheese (Yes, CHEESE), jumping off a mountain to paraglide over Cinderella castles, or taking her baby all over the world with nothing but a backpack on their backs, LeAnna designs and defines her OWN life. LeAnna, her husband Andy, and kiddo, "Lil B" love to live a minimal lifestyle, not only for the "thrill" of pinching pennies but in order to save for traveling the world. Considering over 40 countries and 90+ cities have been explored, we'd say they are doing something right!
Latest posts by LeAnna Brown (see all)