[This post may contain affiliate links.  We can't thank you enough for supporting the EE site! We'll put the mere pennies we make towards a delicious Bratwurst on our next Alpine hike!]
Whether you are looking for the classics of what to do in Garmisch, going skiing in Germany, planning some gorgeous hikes to the tallest mountain in Deutschland or are planning a side trip to the famous Neuschwanstein Castle, some say that Garmisch is one of the most beautiful places in all of Germany.
Many (US Military) people just assume that the Edelweiss Resort and Lodge is the way to go.  While it is a beautiful respite from our every day lives, things like all the restaurants, breakfast and spa services are still extra charges. I personally like to shop around for lodging wherever I go that gives me value for money, a great atmosphere and/or unique experiences.  Therefore, it wasn't surprising when I found all sorts of great alternatives to Edelweiss Resort!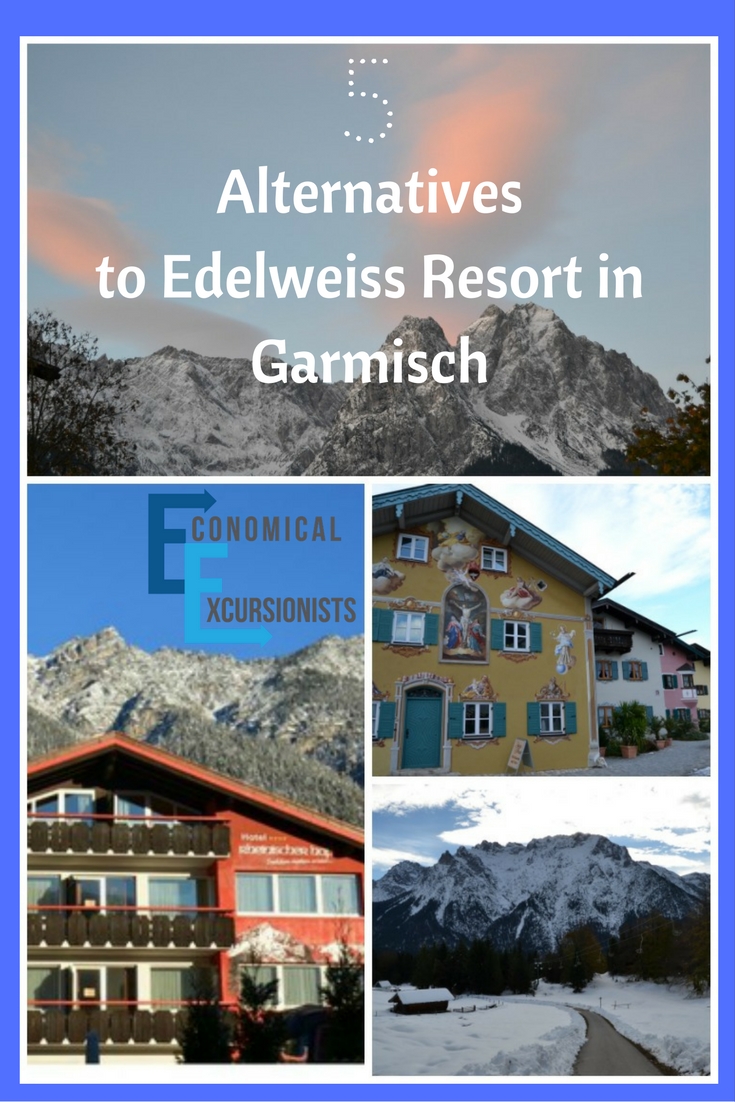 Heading to Garmisch? Don't forget to Pin!
1. Army Lodging On Post
I've already talked about the super frugal way to travel to Garmisch if you are affiliated with the military and want to get the Edelweiss Lodge and Resort experience without the price tag.  If you are US Military, this is one of my favorite budget alternatives to Edelweiss Resort.   You seriously get the best of both worlds: a cheap hotel in an expensive area AND all the amenities of the luxurious resort!  Win-Win!
2. Hotel Rheinischer Hof
I get that one of the main reasons why Americans stay at Edelweiss is because they long for an American feel, but many others either can't use Edelweiss or simply just want a more true German Guesthouse experience and Hotel Rheinischer Hof is just that!  One a recent trip to Garmisch, we stayed here and for comparable prices (if not cheaper depending on what rooms you choose), you get a true German feel, warm hospitality, beautiful views of the Zugspitze and mountains, included saunas and a pool!!!
And then there is the restaurant.  (Even if you stay at Edelweiss, you still have to pay extra for the food)  Now, I'm not new to German food.  But our meals were some of the best I've had! It also didn't hurt to be looking out into the German Alps as I sipped German Riesling during our 4 course meal! (Only 24 Euro!)
Economical Excursionists Exclusive Deal:
Now, you should know by now that I ONLY recommend things that I have personally used and love! After staying at Hotel Rheinischer Hof, they generously offered an amazing deal for my readers. No, I don't get a kickback…I just love knowing you get the best bang for your buck while traveling! (that's why you're at my site at all, right!?)
How to Get 5% Off: Go to this link and makre sure you use the promo code "EconExcursion" and voila! You're done!
Note: promo does not work on sites such as booking or expedia
—————————————————————————————————————————————–
Planning an Escape to Edelweiss?
Research and book affordable activities on TripAdvisor and Hotels at Booking.com
—————————————————————————————————————————————–
3. Ferienwohnungs
A Ferienwohnung is a "Holiday Apartment." (Think somewhere along the lines of "Condo Rental.")  You pretty much can't drive anywhere in Garmisch-Partenkirschen without seeing a sign for a Ferienwohnung every few blocks.  You an either take your chance and just shop around when you get there or use a trusted site, like Booking.com to find one that fits your particular needs.  These are great alternatives to hotels if you want something more private, typically with a kitchen for use, and potentially severally bedrooms.  These are great options if going skiing with a group and you want a place to kick back together after a long day on the slopes.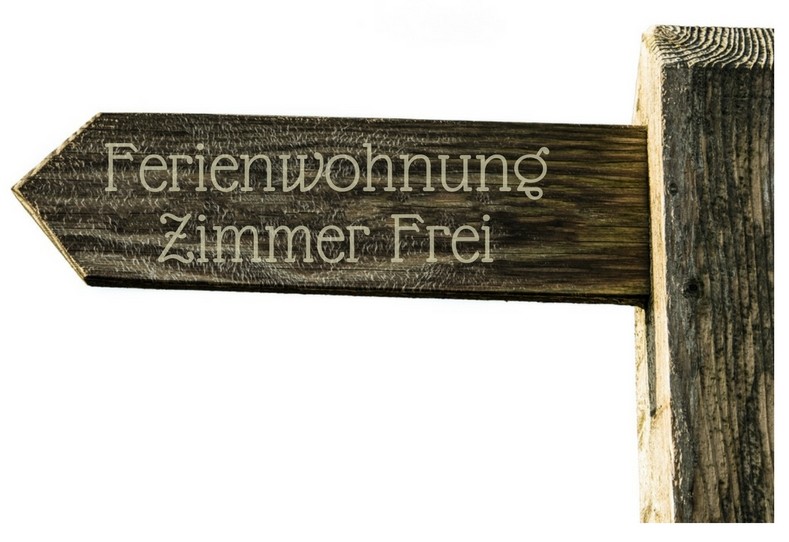 4. Camping
There are camping options in and near Garmisch.  Now, if you are new to camping in Germany (and most of Europe), there are a few things you need to note that are different from the US
It is not cheap!
You do not pay $10 for a plot and call it good to pitch your tent.
You will pay per included service
For example, you'll first pay for the spot for your tent.  You then pay per person, per car, per pet, etc.  This can start to add up, but depending on how many people you have, it may still be cheaper than some of the local hotels
No bonfires
To me, nothing says camping out like a good bonfire! You won't find bonfires in Germany, though, due to strict foresting laws.  We take a mini camping grill, like this one,
with us and even sometimes that gets shifty side eye looks.  However, if we offer a German some S'mores (you know the scene from Sandlot? "S'more of what?"  Yeah….that exact conversation has actually happened here! They have no idea what a smore is and LOVE to try something so new!) we can make some friends real fast
You can stay at the "Camping Resort Zugspitze", Alpencamp am Wank, or Camping Erlebnis Zugspitze
Whether you are going to Garmisch-Partenkirschen in the winter for some powder, the fall or spring to stand on the tallest mountain in Germany, the Zugspitze, heading to the Alps for some pristine hiking or just wanting a relaxing weekend away in nature, there are great options for lodging and alternatives to Edelweiss Resort.  You can find anything from cheap to expensive or simple to luxurious.
Where to Stay in Garmisch
Read reviews to find the perfect place to stay in Garmisch here.
Compare to find the current cheapest accommodation in Garmisch.
Stay at your own personal apartment or home while in Garmisch.
Have you been to Garmisch?  This is one of the most talked about themes locally and everyone is always looking for great places to stay.  Can you contribute and suggest a great hotel, lodge or apartment for others to get the most out of their stay?
The following two tabs change content below.
Author and Creator
at
Economical Excursionists
Former teacher turned blogger turned mom turned full time travel addict, LeAnna has never been one to live life by the rules. Whether she is moving to a farm in Switzerland to learn to make cheese (Yes, CHEESE), jumping off a mountain to paraglide over Cinderella castles, or taking her baby all over the world with nothing but a backpack on their backs, LeAnna designs and defines her OWN life. LeAnna, her husband Andy, and kiddo, "Lil B" love to live a minimal lifestyle, not only for the "thrill" of pinching pennies but in order to save for traveling the world. Considering over 40 countries and 90+ cities have been explored, we'd say they are doing something right!
Latest posts by LeAnna Brown (see all)