and no, we're not preggo!
Have you ever had to make a decision so massive in life that the outcome will indefinitely have a huge impact on the rest of your life?  And that kind of uncertainty of the outcome scares the shit out of you???
For me, there were some major decisions in life that were "easy" to make.  I never doubted the day I would walk down the aisle to say "I Do" to Andy; I knew he was the one.  While I went through about 5 different majors in college, when I finally landed on "Elemtentary Education" I felt confident on my new path.
Even when we moved to Germany, I was slightly apprehensive about leaving the comforts of home, family and friends behind, but (at the time), moving to Germany was supposed to just be a "2, 3 year tops, gig" where we were going to travel to our hearts' content and then come back to Omaha, settle down and have a family.  So moving was actually pretty easy for me, thinking it was only temporary.
Well, 5 years later, here we are still in Germany.  And I kinda don't ever want to leave.
I knew life would change moving to Europe, but I had no idea what kind of impact it would have on shaping and defining who I am today.
I had NO idea that it would instill a fierce independence in my soul.  I never imagined that it would create a life-long addiction to travel that I just can't seem to shake.  I wasn't expecting it to teach me how to be a kinder, more open-minded individual to all human beings.  I didn't know that it would basically influence the person the I am today, and the person I want to be for the rest of my life.
Which is exactly why it has been a gut wrenching decision that "it is time."  We are leaving Germany.
It is time to move back Stateside. But this wasn't one of those "easy" decisions to make.  In fact, every day I fear that I am making the wrong decision.  I wonder if it really is the right thing to do and I get scared that we are walking away from something so utterly amazing that it turns my stomach into knots and anxiety creeps into my throat just thinking about it.
But here's the deal: Andy and I are so fortunate that it's not even fair to some.  We have a "home."  I mean, yes, we literally have a house that we own in Omaha, but that is not what I mean.
We both were born and raised in "The Good Life" state.  Both of our families, including all of our parents and the majority of our siblings are still in town and we still have close friends that have laid down their own roots in Omaha.  So, we have our village. We have a tribe.
Don't get me wrong, I have made some of the most amazing,  life-long friendships here in Deutschland.  But there is nothing quite like dropping the kiddo off at Gramma's for an hour "just because I need a freaking break!" or stopping by unannounced to my sister's house frazzled and on the verge of a mental breakdown because I just gave my kid a binky while we were trying to break him of it so I need someone to tell me I didn't just fail at being a parent (yes, in hindsight, I KNOW I did not just fail- but 2 am scream fests have you wondering otherwise!).  It's having Sunday dinner at my parents' house every single weekend and having their real, physical support, not just cyper support via Skype.
But the truth is, we actually aren't moving for us.  You see, even though "The Plan" was to stay in Germany for 2 years, then move back to the US, have a family and finally become real adults instead of wandering nomads, we just couldn't tear ourselves away from Germany quite yet after two, then three and even after four years.
That, and I LOVE the health care system here!  So, four years in, we decided Lil B would actually be born here, in Europe.
The cold, hard truth is that if we hadn't had Lil B, we would not be moving back.  We love Europe waaaay to much (not that we don't love our family!).  But when we decided to become parents, we also knew that in that decision, would occasionally come sacrifices for the betterment of our little one(s).  And that sometimes, those decisions might not be what I want whole-heartedly.  But that's the thing- it's no longer just about me.  I've had a few people tell me that this is a bad decision because I will be bitter towards Lil B because we will have altered and uprooted our lives just for him, leaving something behind we absolutely love.
But honestly, I've seen the world.  I've fulfilled most of my wildest dreams, all thanks to living in Europe, travel hacking and backpacking the world. While there is still plenty more to explore, it's my son's turn to be fulfilled.  And at his age, that means surrounding him with the most loving and supportive community we can find and have, which right now, is his and our families.
Yes, it breaks my heart to know that Lil B will not hear the melodic tones of the church bells behind our apartment every fifteen minutes.  It stings my soul to realize that he won't know just how delectable a real schnitzel is, or Rahmschwammerl or gelato or Svíčková, Frikadellen, or Flammkuchen or Pommes mit mayo or…..ok, ok you get the point- Europe rocks when it comes to food.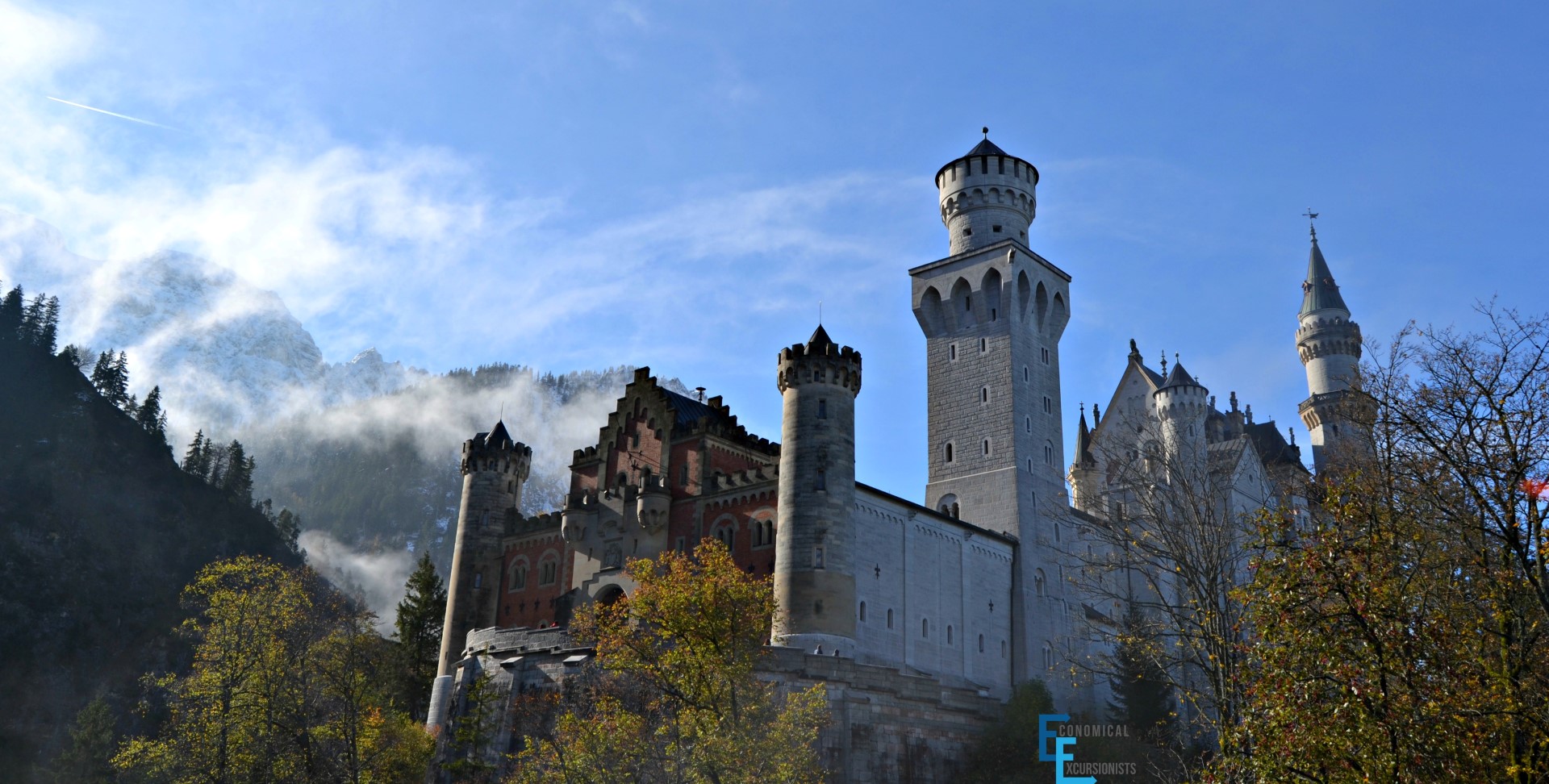 He won't be able to experience the pure enchantment of meandering through a Christmas Market as the snow drifts down on him or the delight in coming across cows feasting on flowers in the Alps….and then stopping for FRESH Alpkase (cheese) just a few more kilometers from those same exact cows!
His playgrounds won't be ancient castle ruins.  He'll most likely long for the days (ok, probably not) of cobblestoned bumpy stroller rides that lull him to sleep like magic.  He will miss out on the convenience of what is the German trains and therefore miss the beautiful Bavarian countryside rolling passed him in the train car.  He won't know the calmness and serenity of sitting in a Biergarten overlooking a river winding past pastel buildings hundreds of years old.
And this is painfully hard for me to know.  But mostly because I am going to miss these things for my sake as well.
But he WILL get so many other things that simply can't be had here in Europe.
Instead of European cuisine, he'll get to have Sunday dinners at Oma and Papas! Instead of Christmas markets, he will get to actually open his gift sitting on Gramma's lap.  While he may not climb castle walls, he'll play on jungle gyms with his cousins.  For every train ride or short flight to somewhere new and exciting to explore within Europe, it will instead only take a short drive across town to make memories with his cousins, aunts and uncles.
It is my son knowing, like REALLY knowing his Oma and Papa.  It is my son not having to only see Grandma on a computer screen.  It is my son getting showered with REAL kisses and feeling the physical warmth and love on his cheek from his aunts and uncles instead of having to blow them kisses in a Google Hangout.  It is my son making life long friends in his cousins, instead of remaining distant strangers.
And ultimately-I have no fear that Lil B will grow up knowing and loving travel.  After all, it is a bug that bit Andy and I hard and is a life-long infection.  With more points and miles than we can count accumulated from Travel Hacking, we already have numerous trips back to Europe planned to give Lil B glimpses into what we now consider our second home.  He may not be able to LIVE it, but who knows, maybe it will be just enough to ignite his passion for travel as well.  We are also in the works of buying an RV to explore the US to show him that travel doesn't need to be international to be amazing.
And just like his parents, if he ever wants to go to Europe (or anywhere else in the world) when he grows up, we will be the first ones cheering him on to make that leap.
My life has changed immensely since moving to Europe and then it morphed again when I became a mother.  As a parent, sometimes we have to make decisions that aren't just about us.
There will always be a piece of my heart left in Bavaria.  But, just as moving here had so many memories, moments and life changes that we weren't expecting, I trust in my heart that the move back Stateside will hold just as many joys for this new stage of life we are now in.
Update
Well, we have now been living in Nebraska for over a year now.  Life surely is not the same, but it is FANTASTIC being so close to family again.
And while we are doing a fine job of traveling the US already, I have to say, I'm shocked at how many Nebraskans don't get out an explore.  SO, I have started another passion project, WellTraveledNebraskan.Com, where I will be inspiring Nebraskans to travel within our own backyards!  Sure, it may not be the corners of Europe, but I'm loving the experiences so far!
The following two tabs change content below.
Author and Creator
at
Economical Excursionists
Former teacher turned blogger turned mom turned full time travel addict, LeAnna has never been one to live life by the rules. Whether she is moving to a farm in Switzerland to learn to make cheese (Yes, CHEESE), jumping off a mountain to paraglide over Cinderella castles, or taking her baby all over the world with nothing but a backpack on their backs, LeAnna designs and defines her OWN life. LeAnna, her husband Andy, and kiddo, "Lil B" love to live a minimal lifestyle, not only for the "thrill" of pinching pennies but in order to save for traveling the world. Considering over 40 countries and 90+ cities have been explored, we'd say they are doing something right!
Latest posts by LeAnna Brown (see all)