[This post may contain affiliate links.  We can't thank you enough for helping to support the EE site at no additional cost to you]
Garmisch, Germany
You really can't go wrong with a getaway in any Apline village.  You have stunning views of the Alps, great food and plenty of things to do.  Garmisch-Partenkirchen is no acceptation and with the location of the Edelweiss Lodge for service members, it is a hit for Americans while still maintaining a true Bavarian atmosphere.
Some people go to Garmisch for a weekend of seclusion and spa time at the Edelweiss Lodge.  But if you are willing to step out of the resort, you can see and do so much in the area.  Here are just a few ideas of things to do in Garmisch to make for an amazing trip while in Bavaria:
1)  Top of the World Mountain Peaks: Probably the most sought after activity to do is go to the Zugspitze, the highest mountain peak in Germany.  While this is a great bragging right in and of itself, it is extremely pricey.  For us travelhackers, we know that there are dozens of other amazing pistes that you get equally amazing views for less money.  Check out other peaks such the Alpspitze, Acherkogel, Hochplattig(Austria) for other alternatives.
2)  Hike or Ski: Depending on the season, head up into the mountains; whether it is to zoom down on skis or trek up on a hike.  Skiing at the Garmisch-Partenkirchen ski resort has plenty of options for all ski/snowboarding levels.  There are some fantastic trails for hiking at Mittenwald, a short 10 minute drive from the Garmisch town as well.
3)  Partnach Gorge: This stunning natural canyon is located near the Olympic Stadium and only costs 3.50 Euro (Adult)/ 2 Euro (Child) to enter.  Despite being in a deep valley, you can choose very easy routes, making this site very accessible to all fitness levels and ages.  You can easily spend half a day depending on different trails you take in/out of the gorge.
*Opening hours change depending on the season, so check their website for the most up-to-date information. http://www.gapa.de/Garmisch-Partenkirchen_Sights_Partnach_Gorge
4) Olympic Stadium/ Sommerrodelbahn: Walk around the 1936 Winter Olympic Stadium and imagine the thrill of the skiiers making their jumps (or actually watch them in the winter!)
While at the Stadium, take a ride on the Sommerrodelbahn; a toboggan type ride great for kids (and adults) of all ages.
5) Wander Up and Down the Cobblestoned Streets: Garmisch-Partenkirchen is actually two towns (basically combined into one).  While both are beautiful, the Partenkirchen side is particularly "Bavarian."  Enjoy just strolling through the town, taking in the culture and atmosphere.
6) Lake Eibsee: Picnic, walk or just relax on this beautiful lake at the bottom of the Zugspitze
7) Neuschwanstein: Only an hour away from Garmisch, Newschwanstein castle  can be a great day trip or stop on the way to/from Garmisch (depending on your original location).  This fairy tale, Cinderella's castle is an absolute must while in Bavaria, whether on your trip to Garmisch or on a separate adventure; just don't miss out on this gem!  Here is my post on Everything You Need to Know for Neuschwanstein!  Or, you can get really adventurous and go paragliding over the castle itself like I did.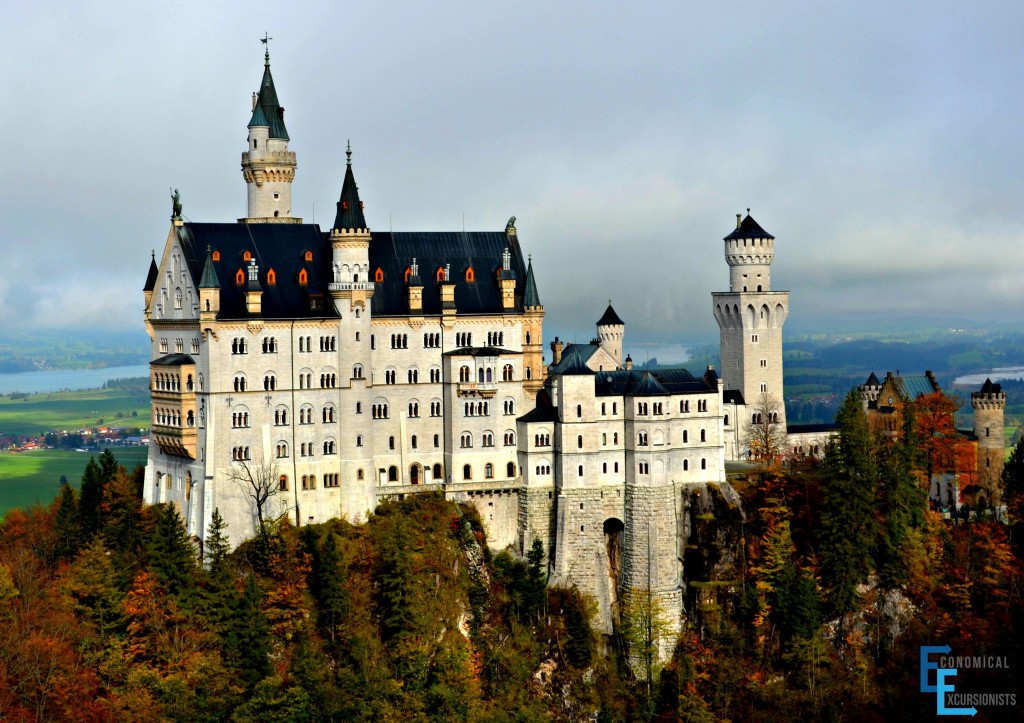 Where to Stay in Garmisch
Read reviews to find the perfect place to stay in Garmisch here.
Compare to find the current cheapest accommodation in Garmisch.
Stay at your own personal apartment or home while in Garmisch.
Have you been to Garmisch, Germany?  What have you done to make your trip memorable?
The following two tabs change content below.
Author and Creator
at
Economical Excursionists
Former teacher turned blogger turned mom turned full time travel addict, LeAnna has never been one to live life by the rules. Whether she is moving to a farm in Switzerland to learn to make cheese (Yes, CHEESE), jumping off a mountain to paraglide over Cinderella castles, or taking her baby all over the world with nothing but a backpack on their backs, LeAnna designs and defines her OWN life. LeAnna, her husband Andy, and kiddo, "Lil B" love to live a minimal lifestyle, not only for the "thrill" of pinching pennies but in order to save for traveling the world. Considering over 40 countries and 90+ cities have been explored, we'd say they are doing something right!
Latest posts by LeAnna Brown (see all)