Memorial Day:  All too often the day that Americans see as the beginning of summer.  School has just let out and it's the perfect day to have a BBQ and kick off the beginning of a fun and hot summer, right?
It is truly saddening just how many Americans forget what Memorial Day REALLY is; a day to remember all those who have given their lives for the freedoms we have.  It is a day to remember those that fought in the bloodiest, deadliest conflict of US history.  It is to honor the men and women who gave the ultimate sacrifice in WWI or those that never returned from the Second World War.  It is to commemorate the heroes from the Gulf, Vietman and Korean Wars.  It is a day to remember those that volunteered after 9/11 and gave their lives to the belief that nobody could bully our great nation.
It is a day to pay our respects to all those who selflessly believed that our country's freedom could not be taken from us and died for that freedom.
So, instead of lighting up the grill this Memorial Day, I decided to take advantage of my geographical location and pay my respects to the men and women who never returned from France after The Great War.  This would not be a weekend getaway where I snacked on croissants and macaroons as Parisian life rushed passed, but instead a few days to attempt to do my part as an American citizen.
One could easily spend weeks, if not months in Europe visiting WWI and WWII sites.  France alone was a valuable piece of land during both world wars, which resulted in years of conflict throughout the region.  Our weekend would focus on the Verdun area; where fierce fighting between the French and Germans occurred, and finally the Americans arriving to support their allies.
The following is a short, but thorough suggestion on how to spend the weekend; Memorial Day or any other day of the year.
Along the gorgeous drives through the French fields, there are countless small memorials, cemeteries and other commemorative sites from WWI.  This is just a suggestion for some of the more major sites.  Most of the following sites are quick stops and very close to one another making it an easy tour.
Day 1:
Verdun: Check into your lodging in Verdun and then head into the city to walk around.  The Corps of Engineer's insignia is modeled after the gate and bridge over the Muese River in town.  There are plenty of shops and streets, cafes and bakeries to take in French life by the river.  (Note: many restaurants do not open until 7pm, so plan dinner accordingly)
Fleury-Devant Douamont ("The Village that Died for France") is nothing more today than a cratered area in the woods, however it was once a small agricultural village in North-Eastern France.  You can walk around and read markers placed throughout the woods pointing out what once was at that spot, such as the baker's shop, a farm, etc.
Douaumont ossuary is a beautiful memorial overlooking just one of the many cemeteries dotting the French countryside that commemorates the Battle of Verdun.  The Ossuary holds  the remains of the French and German soldiers who never left the battlefield and can be seen through small windows on the outside of the building.
Trench of Bayonets is a memorial to a French unit who were poised for a battle with their bayonets ready.  When the Germans began bombing their post, the men were buried alive, leaving just their bayonets poking out of the ground.  While this is just one of the theories for this mass grave, it is still a worthwhile short stop.
Fort Douaumont was actually built well before WWI broke out, but by 1915, the French realized that even their best fortifications would not stand against the bombings from the Germans
Day 2:
*If you have the opportunity to be in the area for Memorial Day, contact the cemetery prior to arrival to set up a time to help  lay flags for the Memorial Day service, it is just one more way to help pay our respects.  We were able to do this in the morning while the locals and cemetery attendants worked as well.
Butte De Vauquois was the site of a fierce battleground between the French and German where both sides utilized extensive underground tunnel systems for mining warfare.  Tunnels can still be seen (but only entered with a guide) and the cratered land gives you a new perspective on the damage of the bombings that occurred during the war.
Stop for lunch in the tiny village of Romagne-sous-Montfaucon at the 14-18 Cafe and Museum.  This tiny little restaurant serves mostly freshly made sandwiches (made on those delicious French baguettes of course!).  After grabbing a bite to eat, stop into their small museum (donation only) and see items that were all gathered from only the nearby area and have not been altered or conserved, in an effort to keep them "as-is."
Montfaucon D'Argonne is a 200 foot monument overlooking the former village of it's namesake.  This monument is in memorandum of the American victory that helped finish the war.  You can climb to the top as well to have a beautiful view out over the fields and valleys that were once ravished with war and battles.
Meuse-Argonne American Cemetery is a beautifully done cemetery holding the remains of 14,246 fallen plus 954 commemorated solders; which results in the largest American Cemetery in Europe.  Full information from the American Battle Monuments Commision can be found at: http://www.abmc.gov/cemeteries-memorials/europe/meuse-argonne-american-cemetery#.VWLks_mqpBc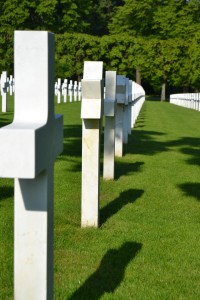 Verdun Citiadel was used basically as an underground living quarters for soldiers.  An underground network of tunnels show the daily lives of those that worked and lived in the fortification.  Note: if going during High Season, it is best to book your tour.
(If staying in Verdun, this is a great way to end the day.  If not, the Citadel may be better off on day one; check this site for opening days and times, as it changes on the season)
Day 3:
For us, we were fortunate enough to be at the Cemetery for Memorial Day.  At 11am, there is a touching ceremony in memory of not only the Americans who lost their lives during WWI, but also the French, who we collaborated with in order to end the war.  While mostly in French, it was absolutely touching to see that most of the people in attendance of the ceremony were local French villagers.  Their gratitude for America and what our country did for theirs was overwhelming.  In the windows of the homes and lining the streets were both American and French flags.  It was a an emotional reminder that the French in this small town were so thankful for their American comrades who helped keep their freedom
(Note: The Ceremony is only about an hour long.  It is mostly in French and is standing room only)
I have never served for our country, which is why I give my eternal gratitude for those that have; especially those that have given their lives for my freedoms.  While putting a few flags on some headstones and walking in the same paths that the soldiers did throughout battlefields will never due my country justice, I was still glad that I was able to do so. To anyone in the Armed Services: I thank you for your service, your sacrifice and willingness to fight and even die for your fellow Americans.


Other suggestions and resources:
Verdun:  My suggestion is to stay in the town of Verdun, as this is a great "middle point" to many nearby sites.  This is a bigger town, so there are restaurants, lodging options, grocery stores, etc compared to some of the tiny villages that may not have the amenities.  (We stayed at http://www.campinglesbreuils.com/camping.php?PHPSESSID=a892ed69afe3024a21284e8a4d45e370; which I would highly recommend!)
WWI Sites List in the Argone Region: http://en.wikipedia.org/wiki/List_of_World_War_I_memorials_and_cemeteries_in_the_Argonne#The_Monument_at_the_Butte_de_Vauquois
American Cemetery: contact the American Battle Monuments Commission for further information on the American Cemetery or helping with putting out flags for Memorial Day: http://www.abmc.gov/contact-us?id=43
WWI Site Trip Planning Help to other regions: : http://www.historvius.com/ww1-battlefields-in-france/fr97
The map and route that we took: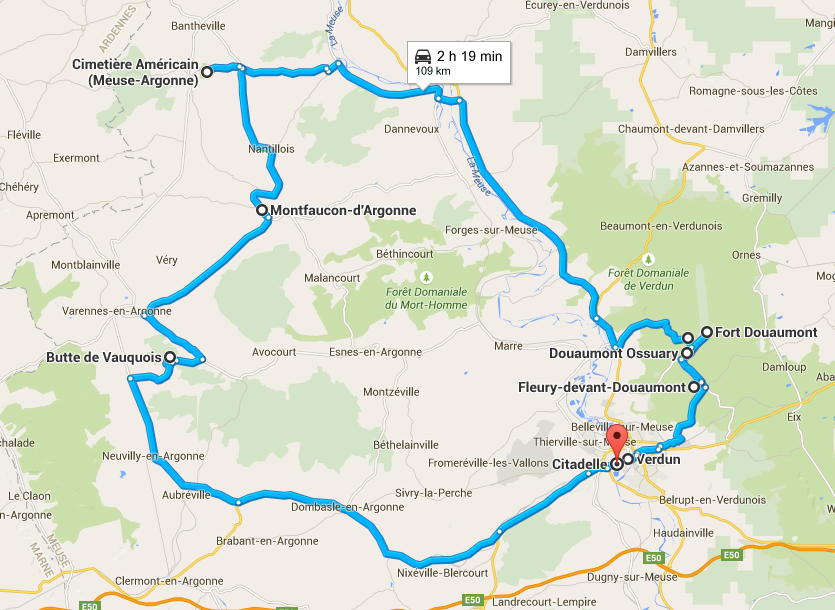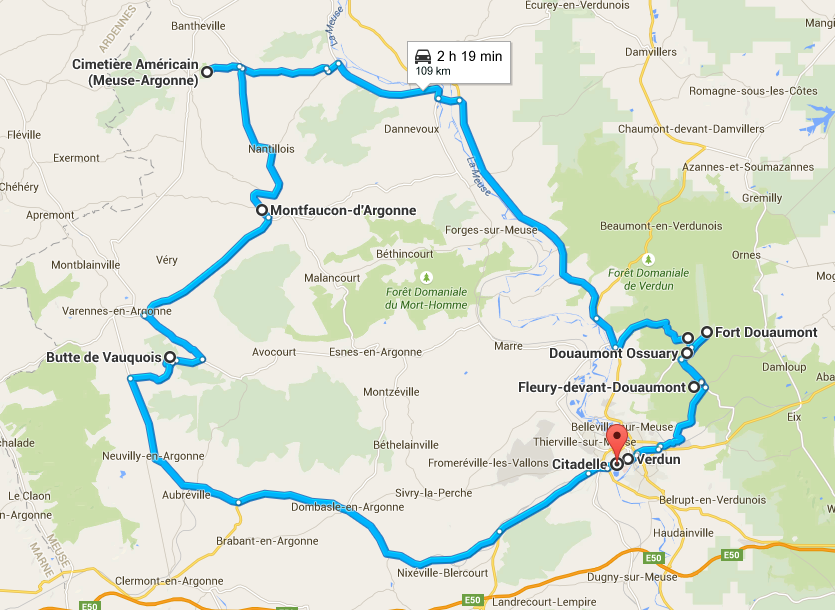 The following two tabs change content below.
Author and Creator
at
Economical Excursionists
Former teacher turned blogger turned mom turned full time travel addict, LeAnna has never been one to live life by the rules. Whether she is moving to a farm in Switzerland to learn to make cheese (Yes, CHEESE), jumping off a mountain to paraglide over Cinderella castles, or taking her baby all over the world with nothing but a backpack on their backs, LeAnna designs and defines her OWN life. LeAnna, her husband Andy, and kiddo, "Lil B" love to live a minimal lifestyle, not only for the "thrill" of pinching pennies but in order to save for traveling the world. Considering over 40 countries and 90+ cities have been explored, we'd say they are doing something right!
Latest posts by LeAnna Brown (see all)