🎶 Clocks with cute swirley patterns and coffee mugs with attached spoons
Pitchers with roses and Children's cute stools
Beautiful plate sets that remind me of spring
These are a few of my favorite POLISH POTTERY things!!! 🎶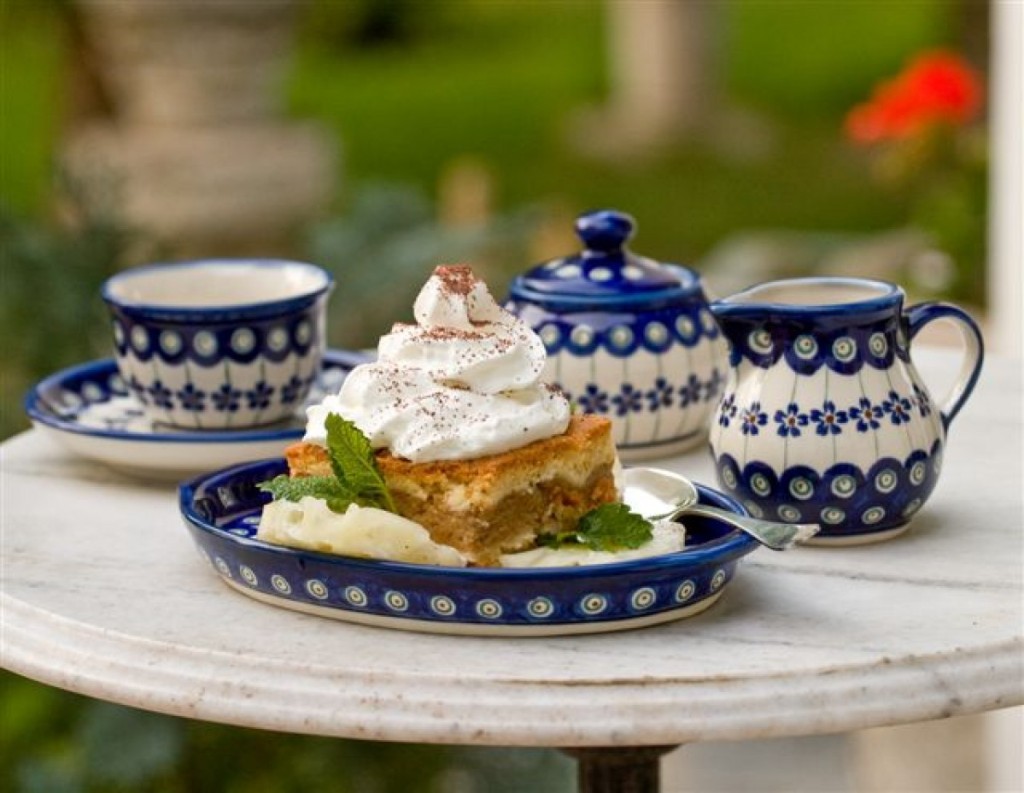 You've got that right…It's time for another Economical Excursionist Giveaway!!!!!
After my Polish Pottery Shopping in Boleslawiec post went viral among the military communities in Europe (seriously guys, you'll want to Pin that one for later!), there was only one thing to do; repay my readers with an amazing opportunity and giveaway.
As you've read in the original post, Polish Pottery Shopping in Boleslawiec; the ins outs and everything in between, I recommended the Hotel Garden when staying overnight in Boleslawiec.
You see, I have no affiliation with this hotel, don't get a kickback for referrals and have never gotten a discount while staying there.  I just love passing along great information to my readers because, hey, you deserve an unbiased opinion!
And then something awesome happened.
A few months ago, Hotel Garden reached out to me to thank me for such a kind recommendation in my blog to their hotel.  They would like to thank me by giving me a free night's stay plus a free breakfast in their delicious restaurant hotel.
There were just a few problems with this:
1) My husband would probably kill me if I made a FOURTH trip back to Poland and brought back even more pottery!
2) At 5 months pregnant and a calendar already full until Lil B arrives, I didn't know when I could squeeze in a Polish Pottery run.
3) The blog post was only successful because of my amazing readers!
The solution?
I pass it along to YOU, the people who made the article go viral to begin with!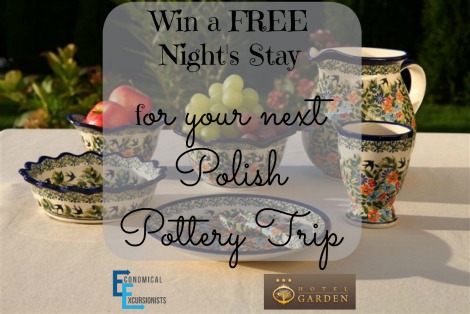 So, grab a friend and plan a girls weekend and get ready for a trip of fun, beautiful patterns and delicious food!
Are these seriously not the cutest hotel rooms!?
Simply participate in the Giveaway and be on your way to Poland for a free stay at Hotel Garden!!!
Note: Each Step is an entry (some are worth more entry points than others).  You can do as many steps as you want…but the more you complete, the more entries you receive!
a Rafflecopter giveaway

Note: You must book your room by the end of March, 2016; Christmas and New Years Eve excluded
Have you liked us on Facebook yet?  Get your daily dose of travel tips, tricks and motivation to see and experience this world!
Want to increase your chances of getting a free hotel night in Poland?  Share this giveaway on your Facebook with a friend and create a pact that you will take each other with if one of you wins!
Fine Print and Details of Giveaway:
Who can enter – All readers who reside within the US or hold a US address, such as APO, PO Box, etc are eligible to enter
Duration – Raffle will be held October 27thst-31st, 2015.  Winner will be randomly chosen on November 1, 2015
How to enter – Each reader can enter as many times as the Rafflecopter will allow per account
How Winner Is Chosen – Winner will be chosen randomly through the Rafflecopter application
The following two tabs change content below.
Author and Creator
at
Economical Excursionists
Former teacher turned blogger turned mom turned full time travel addict, LeAnna has never been one to live life by the rules. Whether she is moving to a farm in Switzerland to learn to make cheese (Yes, CHEESE), jumping off a mountain to paraglide over Cinderella castles, or taking her baby all over the world with nothing but a backpack on their backs, LeAnna designs and defines her OWN life. LeAnna, her husband Andy, and kiddo, "Lil B" love to live a minimal lifestyle, not only for the "thrill" of pinching pennies but in order to save for traveling the world. Considering over 40 countries and 90+ cities have been explored, we'd say they are doing something right!
Latest posts by LeAnna Brown (see all)