[This site may contain affiliate links.  We at EE thank you for supporting our site so that the mere pennies we make from these links can go towards maybe having enough to buy a polish pottery spoon or other tiny and cheap pottery]
I'm not going to lie; before moving to Germany, I never really knew that "Polish Pottery" was a thing or that woman in the States would pay upwards of 100+ dollars for something you eat off of.
I also had no clue that there were people who flew to Poland to pick out pieces, somehow paid the astronomical fees to ship the heavy duty dishes back and then jacked up the prices in little quaint boutique shops for middle aged woman to flock to and pay whatever was being charged.
If You Live in the US
Did you know that you can actually get Polish Pottery on here on Amazon!? I mean, yeah, I had to laugh when a coffee mug was over $20 and I paid maybe $2 in Boleslawiec buuut I will admit, it is nice to know that if I need a replacement piece or a really really awesome gift to someone that there are options.
[Tweet "The Complete Guide to #PolishPottery…and more!"]
But that all could be due to the fact that I have never really been one to claim that I am either 1) a decent cook or 2) a decent "homemaker" or 3) the fact that I have no decorating sense whatsoever.
However, I joined in the bandwagon and took my first trip across the border and bought a few pieces.  Suddenly, the food I prepared looked so much fancier, if not at least cuter and the coffee in my mug somehow immediately tasted better!
It also didn't hurt that I could be lazy and throw the dishes in the microwave, dishwasher AND oven!!!  Also, when I would take food to a group event in a dish, it was raved about, making me look like I actually gave a damn.  Win-Win!  Thus began my small collection of Polish Pottery.
To make everything better, the prices to buy the pottery IN Poland is a fraction of the cost to the States.  So, make that a Win-Win-Win!!!  So, if you've ever thought about buying a piece, head straight for the home and Polish Pottery Capital; polish pottery shopping in Boleslawiec, Poland to save big instead of buying it at jacked up prices of bazaars and boutiques.  Even after the cost of driving and staying in a hotel, I would argue that it is still cheaper to go polish pottery shopping in Boleslawiec and buy there.  Plus, who could argue with a girls weekend getaway of shopping!?
So, you are ready to pack your bags and head to Poland for some shopping? Here is everything you need to know and more about polish pottery shopping in Boleslawiec.
Getting There:
The best, easiest and most stress free way of getting to Bolesławiec is by driving.  The drive is easy and this will allow you to hop around to all the shops on your own time schedule.  No vignettes are needed.  Depending on where you are starting from, some tolls may be encountered (Note: For the short jaunt from over the German border, there are no tolls).
Staying in Bolesławiec:
Hotel Garden
There are plenty of great accommodations right within Bolesławiec.  Most of them are extremely affordable, offer fantastic restaurant and breakfast selections and are cozy and cute.
The three times I have been Polish Pottery Shopping in Boleslawiec , I always stayed at the Hotel Garden.  I can't recommend this place enough.  There are large rooms for 3-4 woman to split (something often unseen in Europe!) and the food is some of the best I've had in Europe.  (Note: I do NOT earn commission through this hotel, but since I was a frequent guest and I will only recommend what I have personally tried/done/ love, they were so kind as to give my readers a sweet deal!)
Another all-time favorite in the military wife's community is the Blue Beetroot.  Once again, from personal friends who have stayed here, they rave about the food, rooms, service and hotel in general.  There are plenty of other options and a quick TripAdvisor or Booking.com search will help you see if any others fit your needs better.
Read Other Reviews of Top Rated Hotels here or shop around for the lowest prices here.
Eating in Bolesławiec:
Poland's traditional foods are some of the best and underrated in Europe.  Menus will be in English, but don't hesitate to try their local delicacies.
Pierogis:  Wherever you go, don't forget about the stereotypical, yet delicious Polish Pierogi.  No matter the filling, you just can't go wrong!
Zurek Soup: This surprising pairing of sausage and boiled egg (and sometimes potatoes) in a soup is oddly delicious!
Kopytka: These tiny little potato dumplings are out of this world.  Be sure you get the ones that are fried to perfection.
Where to Eat in Bolesławiec
The hotels mentioned above (Garden Hotel and Blue Beetroot) have amazing food and are never missed by those "in the know."  Some other favorites are the adorably cute Opalkowa Chata and the cozy Elric Restauracja.  All offer fantastic Polish food at great prices.
Alright, so now you've gotten to Bolesławiec, checked into your hotel, eaten some life changing fried dumplings and now are ready to shop!
Language:
Bolesławiec's main money comes from the pottery industry.  Therefore, the town as a whole is very conscious of the tourists' effects on their economy which means you will find English almost everywhere as well as some German in most places.
What to Buy:
Just a warning: you will be very overwhelmed!!!  Don't worry.  If you ever feel too stressed from the million and half different pottery pieces, styles and designs, just take a pierogi break and all will be fine.   Look at some pictures online first to get an idea for pieces that you might want to keep an eye out for.
What to Look For:
Not all Polish Pottery is created equal.  However, they make it extremely easy on you and divide the pottery into different categories (Gat) of quality.  Look at the bottom of the piece and you will either see it painted with a number or often on a barcoded sticker
Gat1: This is the best quality; no imperfections and can be used in the microwave, oven and dishwasher
Gat2: Can be used in microwave, oven and dishwasher but may have a stray brush stroke (oh the horror! They obviously haven't seen my painting skills).
Gat3: May have a crack in the glaze.
Gat4: May have a chip.
Gat5: Should not be used for the oven.  Best as decorative pieces only.
How to Pay for your Pottery
A HUGE question that most women ask is what and how to pay.  You have several options.  Most shops will accept dollars, euros and zloty (polish currency).  With the exchange rate, it is absolutely foolish to pay in anything but the zloty.
So, how do you get zloty?  Since I am a travel hacker, I buy EVERYTHING with a card (note: it should be one that has no foreign transaction fee).  When they go to charge you, ask for it to be in zloty.
Your other option is to pay in cash.  There are plenty of ATMs (Bankomaty) that you can either google for your nearest location or ask your hotel where you can find one.
Where to SHOP in Bolesławiec:
There is no shortage of shops to choose from in town.  While many are in a generally similar price range, some can be much cheaper while others can be quite a bit more expensive.  Here are just a few of my favorites:
Andy Ceramika:
Andy's is one of the more expensive shops, but has some of the most unique designs both in their painting designs and actual dishes themselves.  I am always willing to pay just a little bit extra for these adorable patterns
Hours: Mon-Sat 7am-6pm
Address: Tomaszów Bolesławiecki 110, 59-720 Raciborowice Górne, Poland
Manukfaktura Outlet
Manufaktura's has many shops and locations, but at this discounted warehouse, you can find pottery up to 70% off!  So, naturally, this is one of my favorites!  Many of the highly discounted items have small imperfections, but many are hardly noticeable at all.  Make sure that the issue is not in a spot that could cause breakage, and you should be fine (ie: a crack that could expand in the oven).  This is also a fantastic location if you are just wanting decorative pieces and don't need a piece that wouldn't function in the oven or microwave.
Address: ul Zgorzelecka 22b
Hours: Mon-Sat 9 am-5 pm and Sun 9 am-3 pm
Other Manufaktura shops:
Manufaktura Potter: ul. Gdańska 30 Mon- Fri 7am- 4pm, Sat: 7am-3 pm
Manufaktura Shop: ul. Kościuszki 24b Mon-Fri:9am-5pm, Sat 8am-4pm &
Sun 10am- 2 pm
Henry's
Right next to the outlet warehouse of Manufaktura is Henry's making it an easy one stop for several shops.  The prices are a little higher here than other locations, but there is a great selection of christmas ornaments and children's stools.  There are also a few other shops right in this area.  So, park once and shop multiple places.
Zakłady Ceramiczne
Very large selection with some unique pieces.  Often can find great discounted items.
Address: Kościuszki 11
Hours: Mon-Fri 7am-6pm (Dec-April only open until 5pm) & Sat 7am-3pm
http://www.ceramicboleslawiec.com.pl/en/
-The following four shops are all right next to each other:
Ceramika Artystyczna: One of the original and oldest stores.  This is a little higher priced but some of the best quality.  Look at their website for information on taking a free tour
Address: ul. Kościuszki 23
Hours: Mon-Fri 9am–5pm & Sat 8am-2 pm
http://www.ceramika-artystyczna.pl/
Ceramika Wiza: Pottery from the the Wiza factory (which you will find at several locations).  Also has other items for sale such as aprons, jewelry and polish pottery patterned table cloths.
Hours: Mon-Fri 9am-5pm Sat: 9am-3pm (Also has another location at Masarska1)
http://www.ceramikawiza.com/en
Factory Store Vena: Small but worth stopping into while already at the location
Sklep Firmowy: Small but worth stopping into while already at the location
Cer Far:
Decent discounts with pottery from various stores and manufacturers
Address: ul. Kosciuszki 17
Hours: Mon-Fri 8am-6pm & Sat 8am-3pm
http://www.cerfar.pl/index.php
Millena
15 minutes outside of Bolesławiec, you can find this great store where they make everything themselves.  The prices are good and you can even have a custom made dish.
Address: Parzyce 108 59-730 Nowogrodziec
Hours: Mon- Sun 10am-6pm
http://www.ceramikamillena.pl/
Ceramika Kalich
A few minutes past Millena, continue on the main road to the "P" shop or "Blue Shop" where
they create their own pottery as well and can do free tours.
Address: GPS Coordinates N 51° 13.371′ E 015° 21.305′
Hours: Mon-Fri 8am-7pm & Sat 5am-6pm & Sun 8am-1pm
http://www.ceramikakalich.pl/EN/index.php
If you want a break from pottery, there are several other artisan shops within Boleslawiec such as:
Borowski's Art Glass Blowing Studio.  Address: Tomaszów Bolesławiecki 87
Stan's Antique Shop: Specializes in antiques and WWII artifacts .Address: Kościuszki 24
This is by no means a complete list of all of the shops in town.  The above mentioned shops are some of the bigger ones with larger selections or discounts. Just driving down any given street, you are bound to come across any number of artisan shops selling beautiful pottery.
What about you? Send me a picture in the comments with your favorite piece of polish pottery or tell me what part of polish pottery shopping you loved the most.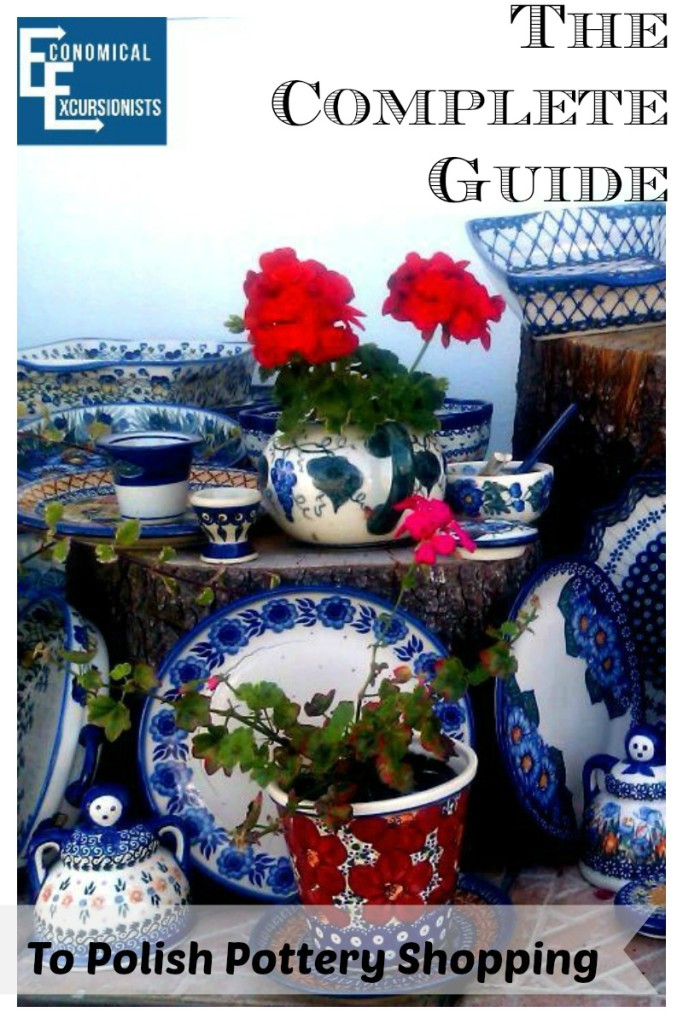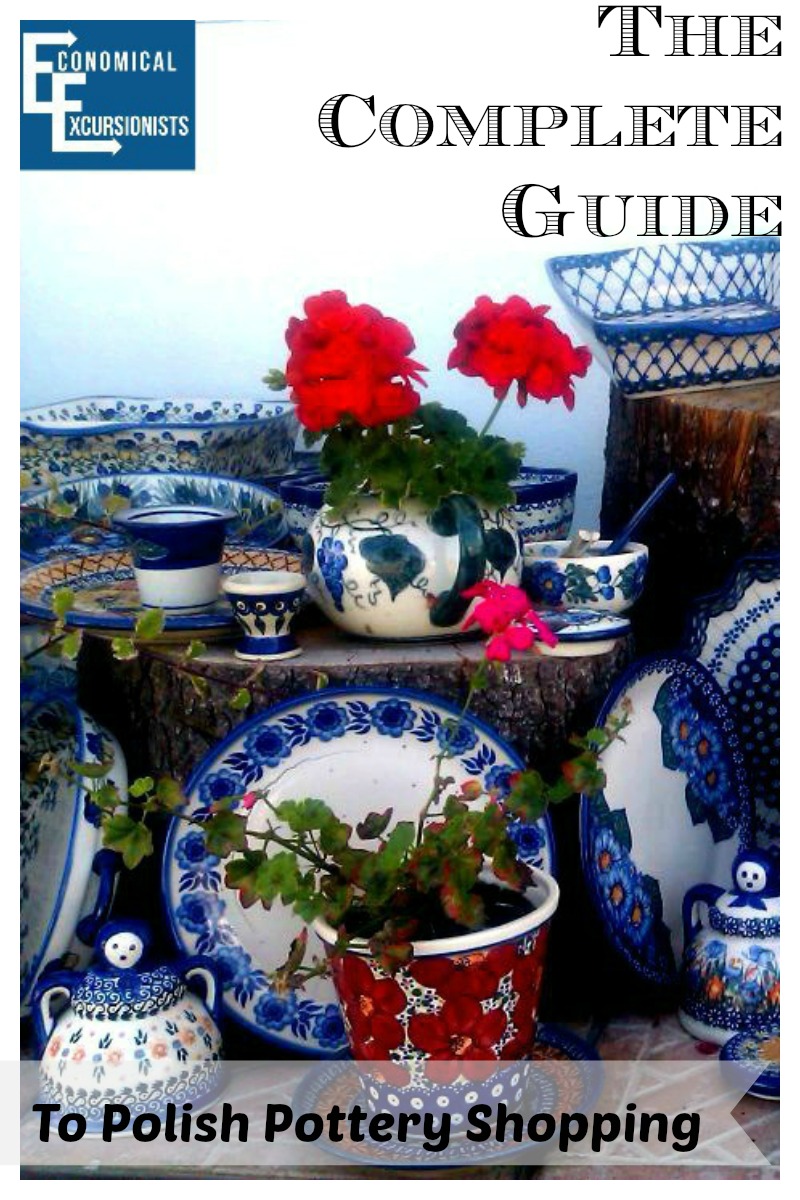 The following two tabs change content below.
Author and Creator
at
Economical Excursionists
Former teacher turned blogger turned mom turned full time travel addict, LeAnna has never been one to live life by the rules. Whether she is moving to a farm in Switzerland to learn to make cheese (Yes, CHEESE), jumping off a mountain to paraglide over Cinderella castles, or taking her baby all over the world with nothing but a backpack on their backs, LeAnna designs and defines her OWN life. LeAnna, her husband Andy, and kiddo, "Lil B" love to live a minimal lifestyle, not only for the "thrill" of pinching pennies but in order to save for traveling the world. Considering over 40 countries and 90+ cities have been explored, we'd say they are doing something right!
Latest posts by LeAnna Brown (see all)