So, you decided to become a Travel Hacker? Congrats!
You also probably get the basics of travel hacking, right? I mean, all you have to do is get a few credit cards, earn some miles and BAM! Free flights and hotels! Right??  Well….kinda
In order to be a very successful travel hacker, it is important to get organized as soon as possible after beginning.  After all, even if you just open one or two credit cards and that is all you ever do, you are still going to have bill due dates, loyalty program numbers, points to track and more.  Just imagine all the organization that needs to be done if you start doing multiple credit card rounds and eventually have, say…over 60 credit cards to manage! (Yes, it's true.  Andy and I have opened and managed over 60 cards combined!!! Check out the story in our Managing Credit Cards Case Study: Part II).
So, needless to say, we have become experts on learning how to stay organized and on top of the points and travel hacking game.
 Here are the Top 5 (and free!) Resources That All Travel Hackers Should Use To Stay Organized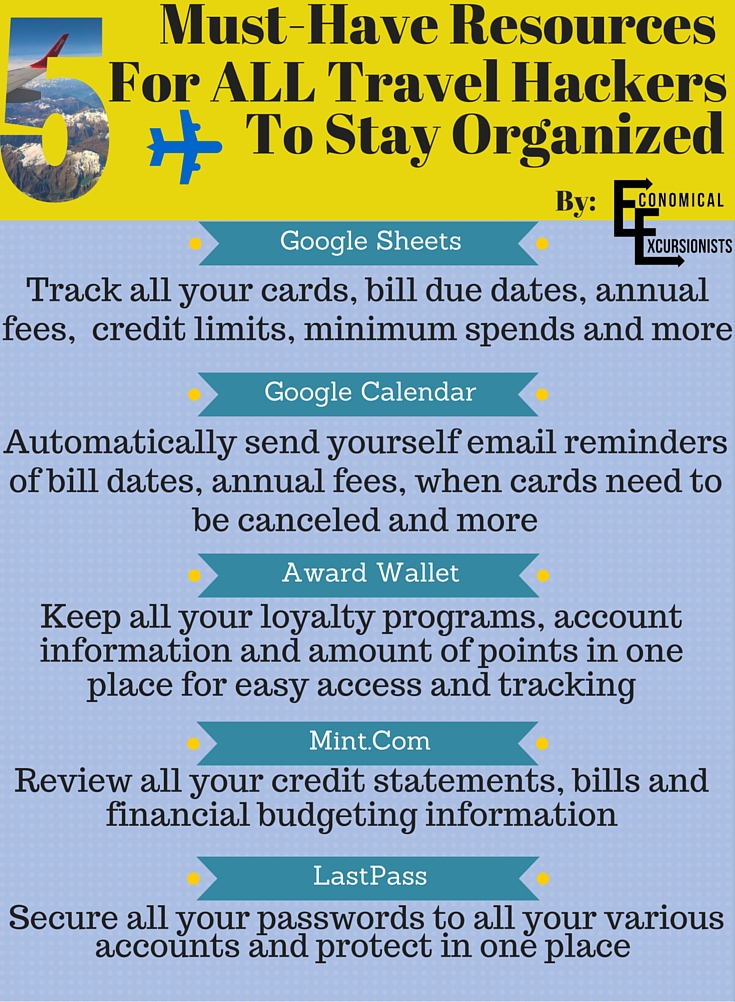 (Don't forget to Pin so you remember all these awesome tid-bits!)
1) Google Sheets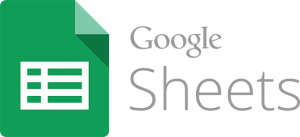 You can really use any sort of spreadsheet, but I love Google's because I can use it anywhere, on the go, and share between Andy and I easily for us both to track and update.
You can geek out as much as you want with spreadsheets and include as much or as little information as you want.
Some of the information that we include is:
Name of Card (and who it's been issued to, since there are two of us on the same sheet)
Card Number
Date Applied and Date Opened
Expiration Date
Annual Fee Amount and Date Due
Bill Due Date
Sign Up Bonus
Other Notes to Consider
Jackie over at TheGlobeTrottingTeacher also uses spreadsheets.  Check out how she utilizes them to stay organized here.
2) Google Calendar

For the same reason that I like GoogleSheets, I like GoogleCalender.  I can use it on the go, edit from anywhere and share with anyone that the topic of the calendar pertains to.
For travel hacking, there are plenty of dates that you'll need to remember to act on.  For example, if there is an annual fee that you don't want to pay, you'll have to remember to cancel your card several days before you get hit with the outrageous expense.  When you get your card, simply put in a reminder in your calendar to email you shortly before your fee is due.
Apply the same email reminder technique with any other bill dates, points expiration dates or really just anything that is in the future but will need action to be taken.
3) AwardWallet

AwardWallet is a Travel Hacker's dream come true for organizing all your points and award/loyalty programs!
✓ Need to quickly remember an account or loyalty program ID number? No problem.
✓ Not sure how many miles you have with a certain airline? Simple
✓ Collect both hotel and airlines miles? Maintain them all in one easy place.
✓ Have multiple family members that collect points and needs tracking? Manage them all with one account.
✓ Forgot when your points expire? (Tsk Tsk…why aren't you using the previous two resources!?) AwardWallet's got your back.
4) Mint.Com

Part of travel hacking is that above and beyond everything else, you MUST be financially responsible!!! NO ifs, ands or buts! If you can't manage to pay off each and every monthly credit card statement, you should not be playing this game.  Luckily, Mint.com is great for managing all of your finances, whether you are a travel hacker or not.  However, you can use it to your travel hacking advantage for sure.  You can create different budgets (travel, dining, every day spending, etc.) and track your minimum spending on each credit card.  One of my favorite features is that I can review all my statements in one place.  Since we have multiple cards open at a time (for example, we currently have 15 open!) I want a quick way to make sure that all the charges look correct or that I'm getting the bonus points deserved for specific spending habits.
5) LastPass

This resource and tool actually has nothing to do specifically with Travel Hacking.  However, we have all been in the same boat where we can't remember user names and passwords.  Just from this resource guide alone, you are looking at potentially 4 separate user names and passwords.   I personally don't feel comfortable just adding these to a column in a spreadsheet because those passwords are extremely important and vulnerable, considering my banking and credit information is tied to some of those accounts!
LastPass keeps all of your passwords and user names in one, safe and secure spot.  It also will generate uber complex passwords for you for your most important accounts that you need to keep safe (and then securely remembers them for you so you don't have to!)
*(I was hesitant about having ALL of my passwords in just one spot.  I mean, that is an identity theft's goldmine right there!  But, Andy, who is not just a travel hacker, but also an actual (legal and certified) computer hacker by profession, assured me that this is one of the safest, most highly encrypted and secure apps available.  Ok, fine, I guess I'll trust someone who has a degree in computer security!)
So, your homework today is to go and get yo' self organized! If you are just beginning, do this immediately so that you aren't scrambling in the future.
If you have been travel hacking for some time, what are your favorite resources to help you stay organized?
The following two tabs change content below.
Author and Creator
at
Economical Excursionists
Former teacher turned blogger turned mom turned full time travel addict, LeAnna has never been one to live life by the rules. Whether she is moving to a farm in Switzerland to learn to make cheese (Yes, CHEESE), jumping off a mountain to paraglide over Cinderella castles, or taking her baby all over the world with nothing but a backpack on their backs, LeAnna designs and defines her OWN life. LeAnna, her husband Andy, and kiddo, "Lil B" love to live a minimal lifestyle, not only for the "thrill" of pinching pennies but in order to save for traveling the world. Considering over 40 countries and 90+ cities have been explored, we'd say they are doing something right!
Latest posts by LeAnna Brown (see all)