Living Life Like a Bucket List; Maya Bay Sleep Aboard
Have you ever crossed a milestone in a new career that you have just been so stoked about!?  When starting this blog a few months ago, I set a few "career" goals, one of them to start guest blogging for fellow bloggers.
This week, I got to accomplish the start of that goal as I had my first guest post published with the amazing TwoCanTravel team, Jen and Stevo.  They are a wealth of information and laughs on their travels throughout Asia and were so great to work and collaborate with!!
Please take the time to stop on over, check out the amazing story of our magical night at the Maya Bay Sleep Aboard on the beach in Thailand.  If you ever even thought for a split second about visiting Thailand this will solidify that to a need!!!
If you liked the story, don't forget to share, tweet and/or comment on it!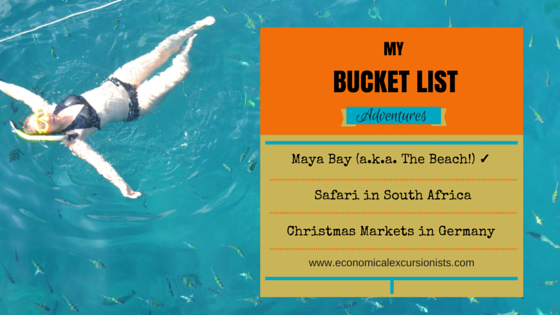 The following two tabs change content below.
Author and Creator
at
Economical Excursionists
Former teacher turned blogger turned mom turned full time travel addict, LeAnna has never been one to live life by the rules. Whether she is moving to a farm in Switzerland to learn to make cheese (Yes, CHEESE), jumping off a mountain to paraglide over Cinderella castles, or taking her baby all over the world with nothing but a backpack on their backs, LeAnna designs and defines her OWN life. LeAnna, her husband Andy, and kiddo, "Lil B" love to live a minimal lifestyle, not only for the "thrill" of pinching pennies but in order to save for traveling the world. Considering over 40 countries and 90+ cities have been explored, we'd say they are doing something right!
Latest posts by LeAnna Brown (see all)