Oktoberfest Tips and Tricks
[This page may contain amazon affiliate links. We at EE thank you for supporting our site so that the mere pennies we make off of such links can eventually add up to buy a beer Maß one day for ourselves at Oktoberfest 🙂 ]
Heading to Oktoberfest? Don't forget to Pin!
With Oktoberfest being the largest beer festival in the world luring in over 6 million people a year, I'm assuming you already know some of the basics of the fest.
For example, I am going to go out on a limb here and say that you already know that Oktoberfest is in Munich, Germany and that there will be lots of beer drinking and pretzel eating involved.
If you know that, you know the most important parts!
Just kidding!  Many people leave Oktoberfest feeling frustrated that they didn't get into a tent or that it was too packed and crowded to fully enjoy the atmosphere.
To get the most out of your trip to Munich there are some very important Oktoberfest tips and secrets to know so that you have an easy and stress free festive ol' time.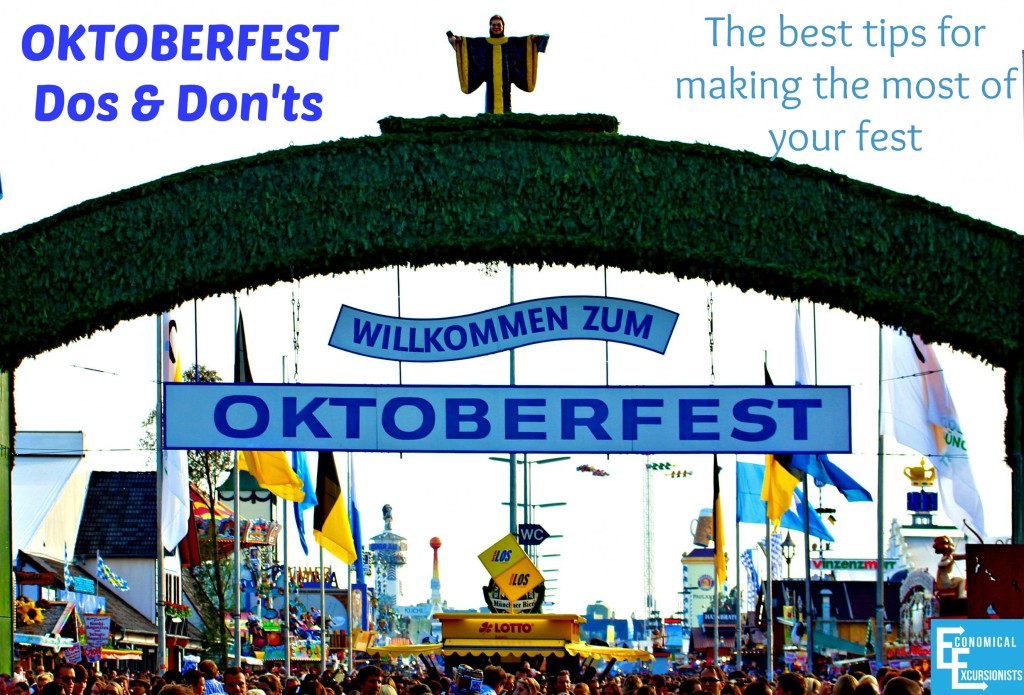 Dates
Don't be confused with the word OKTOBER.  The fest actually starts in September and will then end in October.  To get the full story of the original Oktoberfest starting as a wedding celebration as well as the original traditions of Oktoberfest, you can check out the wiki link
here
.
Here are the dates for the upcoming years:
2016: September 17 – October 3
2017: September 16 – October 3
Times
Tents open from:
Monday-Friday: 10 am to 10:30 pm
Saturdays, Sundays and Holidays: 9 am to 10:30 pm (Note: Oct 3rd is the German Unity day. Avoid this day and it's crowds if at all possible)
Opening Day: Beer starts being served at noon
—————————————————————————————————————————————–
Planning An Epic Trip for Oktoberfest?
Don't forget to research cheap things to do on TripAdvisor and book affordable Hotels at Booking.com in Munich
—————————————————————————————————————————————-
Tent Sessions:
Most tents will have a morning session and an evening session.  The morning session lasts from the time they open to anywhere between 3-6pm.  Some tents will often clear everyone out and clean before the evening session.  Even in the ones that don't temporarily close, most tables are reserved during the evening session, so chances of you being booted out eventually is just as high as hearing a polka band during your time at the fest.
If you want to try your luck at getting a spot during the evening, go to the tent early and find out what time their evening session is.  Be there about an hour before that time to get in line, but know that you still may not find a spot (especially if there is more than 2-3 in your group).
Tip: As soon as you enter, ask a worker where a non-reserved table is and head straight for them!
Strategies to Getting a Seat
1) Best Timing
Some people will argue that the second week of the Oktoberfest is the best.  You are missing the people in for the opening and those scrambling to get a day in at the end.  However, this is also during what some Europeans know as "Italian Vacation" so truthfully, there is probably no better week to go in comparison.
HOWEVER, there is most definitely a right and wrong way to go about figuring out when you want to go.
Weekday Mornings
The best time to go if at all possible is during a weekday and as early as possible in the day.  

By doing this, you should have no problem getting a few seats, if not a table (any other time and you'll be lucky to squeeze a cheek down on a bench)

If you are going with a family, this is also the time to go to avoid all those drunkards (well, many of them) and still enjoy the carnival and festive atmosphere
Don't worry about day drinking, you'll be joined by tens of thousands of people doing the same on any given weekday!
2) Avoid Rainy and Cold Days
On a good, sunny day, people will be more likely to sit at any of the outdoor BierGartens, just want to walk around or will be finding thrills on the rides.  However, on rainy and cold days, everyone flocks to the tents, making it much harder to find any open seats.  We have made the mistake of going on opening weekend and to make matters worse, it was a very rainy and cold day.  Even on a Sunday morning at 10am, we struggled to find seats for 4.  We eventually did and even though it was pretty tight quarters, we still had a great time.
3) Ask for the Non-Reserved Tables
Chances are, you are going to see plenty of reserved signs.  You'll most likely see the words, "Reservierung" or "Reserviert"  They will usually have the reserved time and how many people are to be expected.  If you think the number of people could tolerate a person or two more at the table, it's worth trying to sit down and see what they say when they arrive.
If you see a reserved table that is 30 min passed the time it says on the sign with nobody there?  It's yours! Snatch up those seats!
However, the best plan of attack is to simply just ask a worker or find the map on the walls of where the reserved seats are.  They are sometimes scattered throughout though and are not in a designated section.  However, finding a non-reserved tabled will save you from getting Das Boot later.
I'm usually all about exploring and seeing what else is out there in the world.  But in the case of Oktoberfest, if you find an open seat for you and your pals, I will tell you that the grass is NOT greener in another tent (Nor is the beer colder or food better)!  Don't leave thinking you want to see what the other tents have to offer.  Be happy you got a spot, start drinking, enjoy your time and you can always walk through the other ones in passing later.
4) Asking to Sit Down
In many parts of Europe, including Germany, sharing a table with strangers is no big deal.  If you see a table that has people on it but think you can squeeze in, just ask if those spots are free.  If they are, you are in luck!  Pop a squat, order a beer and start chatting it up with your fellow table mates!  Most people at Oktoberfest will be able to speak English, but if the people at a potentially free table are clearly German speaking, just ask, "Ist das frie?"  It isn't the best German, but is easy to remember and will be understood!
But What if Another Tent is Better?
[Tweet "#Oktoberfest: All tents have the same basic principals: #Beer, Beer and more Beer. "]
All tents have the same basic principals:  Beer, Beer and more Beer. 
Each will have different decorations and possibly a slightly different atmosphere but they are all fun, all have beer and all will have memories made in them.
Don't ask me why, but if you can get a spot in the Hacker-Pschor, this one always seems to be my favorite.  I think it's the light and airy decorations because, quite honestly, the beer is pretty similar in all the tents (don't hate me all your beer fanatics!).
Costs
All the tents are free to enter (despite what people will have you believe).
However, be ready to pay a pretty penny (well, in this case, an enticing Euro) for food, drink and rides.
On average, expect to pay around 
€10 per Maß (1 liter of beer)
€8-15 per chicken

€5 for a large pretzel

€0.50 to use the bathroom (per time)
Rides will vary, but they can run anywhere from about €3-5 per ride
Do I need a Tent Reservation?
There are 14 tents at Oktoberfest, several holding upwards of 10,000 seats each!!! While you'd think that that is more than enough room, you'd be surprised how quickly they get packed.
However, getting a reservation is extremely hard to do.  Many tents will start reserving tables for corporations and large groups as early as January! Many only start by taking reservations from prior patrons, making it even harder for the average tourist to get a reservation. If you are able to get a reservation through a specific tent, it will most likely be based on a minimum amount of consumption (typically, 2 beers and a chicken per person).
But even with a handful of people, you probably don't need a reservation.  Use the above tips for times and then just learn to get real cozy with some other tourists and Germans as you pile onto the tiny benches.
During the busiest times (rainy days, holidays, weekends, etc) a tent may close once they are at capacity and will not re-open until the evening session despite the amount of people you see leaving.  If this happens, the only way to enter is with a reservation with that particular tent.  If you know you are going to only be at Oktoberfest during these busiest times, it might be worth attempting a reservation.  If you fail to get one though, don't be too concerned about finding a few spare spots.
To reserve a table, you'll need to contact each individual beer tent.  It is best to contact as many tents as possible.  Money is only required once you've been accepted for a reservation.  You can find the contact information here:
http://www.oktoberfest.de/en/navitem/Beer+Tents/
Food Vouchers
Many people hear and wonder about the vouchers.  If you have a reservation, this is when you will be given a food voucher.  Typically, the voucher will cover two beers and a chicken but will be good only for the tent you made the reservation with.  These vouchers aren't coupons or discounts.  Instead, it is the vendors' way of securing their money in case you don't show.  
If you do not have a voucher, just order your food and drinks from the many workers bustling around. 
Food
While most people obsess about the beers at a fest, this is ME we are talking about.  
Let's talk food!  Fests are some of my favorite places to get food at in Germany!  Here are some of my go-tos no matter what fest we are partying at.
Hendl.  A rotisserie chicken baked to absolute crispy and seasoned perfection!  You can order a half (halb) or whole chicken.
Brezel or Brez'n: A giant, soft and deliciously salted pretzel.  You won't find any nacho cheese here, but that's because the Emmentaller cheese (Käse) with some salt and pepper on it is WAY better (order separately).
Steckerl Fisch: While I'm not a huge fish fan, some people just love these skewered whole fish grilled over open coals.
Haxn: Nothing like a big, fatty pork knuckle to sop up that liqueur in your tummy.  Be ready to get your cave-man on! 
Semmel:  A semmel is a sandwich.  You can't go wrong with a classic schnitzle semmel or a good steak semmel is perfect for on-the-go as you walk around the fair grounds.
CurryWurst und Pommes: Think giant hotdog smothered in a curry ketchup with fries on the side.  This is german fast food at it's finest!
Wiesnkoks: Not a food, but you will no doubt be shocked when you see the first German take a hit of what appears to be cocaine.  However, it is just merely sugar and menthol.  While the sugar is supposed to give you an extra rush alongside the beer, it is not illegal.  However, this is not stopped the tents from wanting to ban it.  Rumor has it that starting in 2015, Wiesnkoks will no longer be sold in tents, but I have a feeling you will still be seeing it around.
What if I Don't Drink?
As much as I've joked that Oktoberfest is all about the beer, there is still plenty to do and see at the fest if you aren't a big beer fan.
You can always order waters (Stilles if you want "normal" or else you'll get sparkling, mineral water).
Coke/ Pepsi products are common in tents as well as walking around.
If you haven't tried a Spezi yet, see if they make fresh ones in the tents.  This half cola, half orange soda is a diabetic coma ready to happen but is a delicious German drink non-the-less.  You can also get the not-as-good versions, but still a worthwhile purchase of Mezzo Mix, which is the same principal but bottled in mass production.
Even if you are not drinking, you can still have a grand ol' time in the fests singing along with the oompah band or just chatting with your fellow table mates.
Of course, there is plenty to do and see around the fair grounds as well that doesn't involve drinking.  Just walk around, go on some rides, play some games or just people watch!
If you still like to drink (just not beer), try a Radler.  This combo is half beer half Sprite (known as a Shandy in other locations) and is a good "starter" for non-beer drinkers.  Sounds odd, but it is crisp and refreshing and I highly recommend it!  There is also wine if that is more of your thing, although it will be pricey and really only the "old" people go that route.  Depending on how crazy you want to get, you'll also see schnapps being sold.  While yummy, remember those beers are quite strong and things can go downhill real fast if you aren't careful.
How Much Time is Needed
Living in Germany, we usually just do a day trip.  The crowds and drunks are more than we can handle for one day and there is no point in paying the inflated hotel prices when I can be back in my own bed in several hours via train.
If you are coming in just for Oktoberfest, then going at least twice could be worth it.  Try going at different times of the day to get different experiences.
Kids
Despite the 
copious amounts of alcohol being consumed, Oktoberfest is still a great place to take the kiddos!!! There are rides, treats and the fest itself is a site to behold. However, there are some "rules" when it comes to the little ones.
Under 6: Kids must leave the beer tents by 8pm (this is strictly enforced)
6-15 years old: An adult must be present at all times 
16 years old: Legal drinking age for Beer. (No hard liquors)
17+: No limitations
 Security Concerns and Planning Your Time
Starting this year, 2016, there will be very strict security in place at Oktoberfest.  In addition to always knowing how to be a vigilant traveler, there will be specific safety concerns taking into consideration at Oktoberfest.  Pack and plan accordingly.  Here is the whole list of what security measures will be in place at Oktoberfest, but here are a few quick and major points:
No backpacks will be allowed (only small bags, ie purses).  If you are taking in a bag, all personal items will be subject to search
Security checks at every entrance
Heightened security on public transportation, particularly the Theresienwiese U-Bahn (subway) stop
A security fence will be in place on the open sides of the fest to prevent unchecked persons coming in
***While bag checks are not new at the individual tents, this is the first year that security checks to enter into the Festplatz will be mandatory.  Germans are known for efficiency, but plan for longer wait times to enter into the fest (hey, the good news is that there are no open container laws here, so bring a beer for the wait and start the party early!)
What to Wear
No doubt,a lot of the people you see are going to be wearing a traditional Bavarian Trachten outfit; a Lederhosen for men and a Dirndle for woman.  Since we live in Bavaria and attend many fests, we invested in these costumes several years ago.  However, they are NOT cheap (100-200 Euro per person) and for a one day thing, while it sure looks cool, if you are a true penny pincher, skip the outfit.  On the other hand, how awesome do they look!? You can actually really easily order your Lederhosen here and your Dirndles here if you want.
If you do want to go full on Bayerish, there are no shortages of Trachten stores throughout Munich.  If you don't want the full on garb, some people will just opt for a checkered shirt that doubles as a nice souvenir as well.
No worries if you aren't in a traditional Tracthen outfit.  You will not stand out considering that just as many people are wearing "normal" clothes as well.  If you choose this route, still plan your clothing accordingly.  Even on the chilly days, it can get VERY hot inside the tents, so be prepared with layers.
Do I Need To Speak German?
Being one of the biggest tourist events in Germany, you might even find more foreigners than locals at Oktoberfest.  English is widely accepted and spoken in most of Germany, especially at a fest like this.  They will even have menus in English if you need it, just ask for "Ein Speise Karte in Englisch, bitte" if it's not already on the table.
How to Coordinate or Find Friends
With tens of thousands of people at the fest each day, finding your drinking buddy can be tough and cell phones jamming from the amount of people makes it even harder.  Countless people (children and adults alike) are separated from their pack each day.
If you are with children, at the very start of the day, find an easy to locate spot to assemble to if you get separated.  (This is actually not a bad idea for those adults who will start to act like children after several beers as well).  Make it a very tall object so they can find it no matter where you go.
Good meeting points for adults:
The official entrance of the tent
The bathroom entrance of the tent
General Tips for Oktoberfest
Have fun! Dance on the benches but don't even THINK about hopping onto the tables!

Learn some of the songs!  No doubt there will be a band playing at some point in the tent.  Whether it is a tradtional oompah, polka band or a rock band at night, you WILL hear the song, "Ein Prosit!" Lucky for you, the lyrics are incredibly simple.  Learn them in the description of this video
Don't be a jerk; Tip about 10-15% when the beer wenches bring you food and drink.  The easiest way is to just round up or to just throw in a 2 Euro coin.

Bring Bathroom Money (typically 

€0.50-€1 per use).  Even with 18,000 toilets and urinals, lines can get long.  If you need to go, DO NOT wait!  During busier times, be prepared to wait in a line for 20 minutes or more (something not good if you've already broken the seal!)

No smoking inside tents but you can smoke just about anywhere else outside

Don't steal a 

Maß.  They will often check bags as you leave.

Pace yourself.  

German beer is stronger (and bigger) than American beer!
Tradition has it that if you Prost (cheers), you must look into the eyes of the person you are Prosting with
Hotels
If you are planning on staying overnight, remember that Oktoberfest is the busiest tourist time of the year for Munich.  Expect hotels to be booked far in advance and prices to be jacked up.  Book as soon as you know your dates.
– You don't need to stay close to the fest, but I do recommend staying near a public transport option.  Munich has a great subway, bus and tram system making it easy to get around without a car and safe after a day of drinking.
Trains to/from Munich
If you are coming in for the day, I suggest taking a train.  You'll be coming and going from the Munich Hauptbahnhof.  The easiest and fastest way to get to the Theresienweise Festplatz (where Oktoberfest is located) is to take the U-Bahn.  In the main station, follow the signs for the U-4 or U-5 down into the subway.  These lines will both take you straight to the FestPlatz (but be prepared for them to be VERY packed, as everyone else is going to the same location!)   
Depending on your original train ticket, your Munich transportation for the day may be covered.
     – For example, the Bayern Ticket covers ALL public transportation within Bavaria.  This is also good for a group of people, making it cost efficient to go with a few friends  
     – If traveling from outside of Bavaria, but within Germany, the 
Schönes-Wochenende-Ticket" (special weekend train ticket), is not a bad option as well, especially with a small group.  This covers all regional trains as well as the MVV  system within Munich.
If your original ticket does not cover public transportation within Munich, you will need to purchase a separate ticket, which can be done in the train station.
DUIs are no joke in Germany and there is just no reason to be driving drunk.  However, everyone else is going to have this same idea and therefore the trains will be PACKED, even on weekdays.  We've had to sit on the floor before as drunk people stumbled over us to the bathroom on our train ride home.  While this particular journey ended up being humorous to watch as the locals continued on with their festivities, including entire rail cars singing along with one another.  Granted, there have been other times when the sites of jolly party goers was replaced with the smells of sick over-partiers. This can be hit or miss, but once again, the earlier the train home and on weekdays, the better.
Getting to the Fest in Munich
There are several ways to get around Munich with it's easy-to-use public transportation.  If you have data on a mobile device, download the free App, MVV Munchen Navigator.  This is a great app that will tell you all the fastest routes to get you where you need to go within Munich
If you can't access the internet, here are all the other ways you can get to the Theresienweise Festplatz:
The easiest and straightest route is the U-Bahn (Subway).  However, this may also be the most crowded and packed
U4 and U5 will be the most straight forward route and will take you straight to Theresienweise.  From here, just follow the hoards of people.

U3 or U6 to Goetheplatz or Poccistraße
The S-Bahn is a train that can go both above and underground
S1 – S8 to Hackerbrücke
S7, S20 and S27 to Heimeranplatz, and then U4 or U5 to station Theresienwiese or Schwanthalerhöhe
You can also take a bus to the following stops.  Once again, just follow the masses of people to the fest.
MetroBus-Line 53 to Schwanthalerhöhe
MetroBus-Line 58 to Georg-Hirth-Platz or Goetheplatz
StadtBus-Line 131 or 132 to Hans-Fischer-Straße
StadtBus-Line 134 to Schwanthalerhöhe
S-Bahn
The Straßenbahn are the streetcars in Germany
Line 18 or 19 to Holzapfelstraße or Hermann-Lingg-Straße
With plenty of things to do, beers to drink, food to eat and fun times to be had, Oktoberfest is surely a "bucket list" item for many.  If you are in Europe during this time, it is, no doubt, something to seriously consider for your itinerary!  Just use these Oktoberfest tips to help you plan and enjoy your time.
Have you been to Oktoberfest?  What tips or suggestions do you have for first-timers?
Want to go to Oktoberfest?  What other questions do you have about the worlds largest beer festival?
The following two tabs change content below.
Author and Creator
at
Economical Excursionists
Former teacher turned blogger turned mom turned full time travel addict, LeAnna has never been one to live life by the rules. Whether she is moving to a farm in Switzerland to learn to make cheese (Yes, CHEESE), jumping off a mountain to paraglide over Cinderella castles, or taking her baby all over the world with nothing but a backpack on their backs, LeAnna designs and defines her OWN life. LeAnna, her husband Andy, and kiddo, "Lil B" love to live a minimal lifestyle, not only for the "thrill" of pinching pennies but in order to save for traveling the world. Considering over 40 countries and 90+ cities have been explored, we'd say they are doing something right!
Latest posts by LeAnna Brown (see all)