[This post may contain affiliate links.  We'll use the mere pennies we earn from these links to help maintain the EE site so that we can continue to bring you awesome travel tips and info]
After racking up over 4 million points and miles between Mr. EE and I, we've been able to travel to over 40 countries in the world, often in luxury.  We get asked all the time how we could possibly afford to travel so much and the answer is simple: Travel Hacking.  In fact, we often combine budget travel with travel hacking to ensure the cheapest trips possible each trip, every trip.
Since we had lived in Europe for the past 5 1/2 years, we chose to utilize that side of the world as much as possible.  We traveled all over the EU and Europe, went to Africa and even hopped over to the Middle East and Asia multiple times.  But as soon as we knew that we were going to be heading back over the pond and settling back into life in the good ol' U.S. of A, we had one travel goal in mind for our travel hacking: Get the Southwest Companion Pass.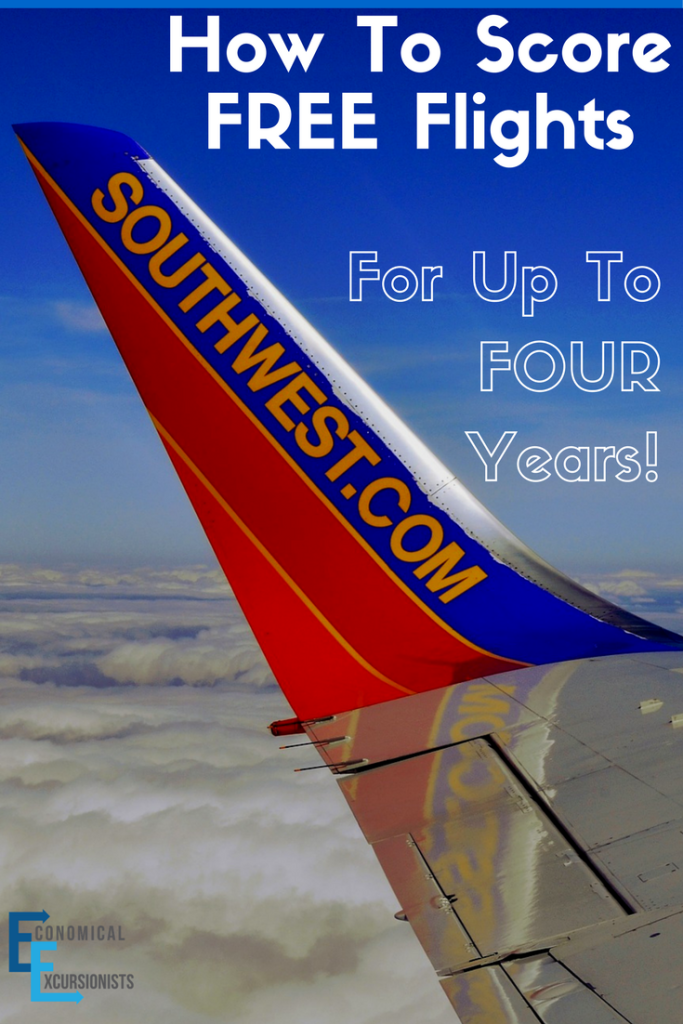 Some travel hackers claim that it is actually the best credit card travel hack available.
Now them are some fightin' words considering there are some pretty crazy and amazing ways to get free flights, hotels and travel.
What is the Southwest Companion Pass
If you earn 110,000 miles with Southwest (I'll cover how that is easy to do below…and yes, without ever even stepping on a planeo) within one year, you get the Southwest Companion pass.  In short, it's a "buy one, get one" type of deal.  Meaning, if you buy a ticketed flight (in points OR cash!), you can bring a companion on FOR FREE.  As always, Drew and Carrie over at TravelIsFree actually explain it way better than me.
Who Should Get the Companion Pass
If you travel frequently in the US and also have access to a US mailing address for a credit card, the Southwest Companion Pass is the perfect option to help you travel for FREE.  One of best parts is that your "companion" doesn't even have to be the same person throughout the extent of the pass.  You can change your companion twice after naming your first companion.  This means that one weekend, you and your best friend can go skiing outside of Denver and the next month you can take your mom on a trip for her birthday.  Alternatively, my husband is my companion to start with.  Maybe my sister and I go on a girl's getaway in a few months.  I can now change my companion back to Andy one last time.  Suddenly, you might be making some new travel buddies.
How to (EASILY) Earn 110,000 Southwest Miles
Whether you are a hardcore travel hacker or if this is the first time you've ever even heard of the concept, you might think that 110,000 miles is really hard to get, ESPECIALLY in only one year!!! You might even be thinking that it would be damn near impossible to earn 110,000 miles in a frequent flyer mile program that you don't fly often with.  But, that is the beauty of travel hacking, my friends! With travel hacking, you get the majority of your points from credit card sign up bonuses.
If you are hesitant about this, I totally get it…so was I.  But read about some common myths and misconceptions about travel hacking with credit cards before completely writing it off or claiming that you absolutely can't or shouldn't get a card.
So, if you are ready to get traveling, the easiest way to earn the companion pass is to get, apply for and meet the minimum spending with the
1) Southwest Personal Card
2) Southwest Business Card  (Don't have a business, check out this post from ExtraPackofPeanuts that helps you get around that)
Each of those cards will get you 50,000 points.  Sorry to bring out the past teacher in me, but let' start doing some simple math here.
2 cards at 50,000 bonus points each= 100,000 points total
But in order to meet your minimum spending (in order to receive the above bonus points) you have to spend $2,000 per card in the first few months.which gives you 2,000 more points PER CARD. (we'll chat about easy ways to "spend" that $2,000 below)
2,000 points xs 2 cards= 4,000 additional points
100,000 + 4,000= 104,000 points total so far
Yeehaw! Almost there.  Now, what oh what to do in order to get those extra 6,000 points?
Well, you can do some elaborate buy and sell schemes on Ebay, but that seems like a lot of work.  Jackie, TheGlobeTrottingTeacher, is a shopping portal guru and explains how to meet the 6k with those. But honestly, the easiest way to get 6,000 more points is to just spend more $6,000.
$6,000!?!? That's a lot of moolah right there!  (Remember from above that I swore we weren't rich, snobby millionaires? I think $6,000 is a lot of cash to drop in a few months time as well).
But alas, the Travel Hacking Game saves us yet again.
Do you buy a lot of stuff on amazon? Get some gift cards and then just use those in the future.
Do you have something coming up that would have required a large purchase anyway? Time it to get the pass.
Can you pay any bills (cell phone, internet, etc) with a card? Charge it!!!
Pay your taxes with your card (hey, you would have had to have spent that money regardless)
Here is MillionMileSecrets 40 other ways to meet minimum spend requirements, without ACTUALLY spending money that you weren't going to spend anyway.
Now this next part is pretty big, so I need you to help me with as many dramatics as possible.  As you read this next line, take a drink of your favorite beverage.  I'll be sipping on a margarita, thank you very much.

VOILA!!!!! You now have enough miles to book free flights for YOU plus now have the companion pass to bring a friend along FOR.FREE! (well, minus the taxes and fees for both)
FREE I SAID! FREEEEEE!!!!!!
(Did you spit out that drink from pure shock? No??? Well, then let me up the ante.  Go ahead and take another sip…)
FOR TWO YEARS!!!!!!!!!!!!!!
Ok, Ok, enough of the exaggerations.  But, it's all freaking true, however crazy two years of free flights for two people seems.  However, not everyone actually gets the two years because they weren't ready to play the game.
How To Get The Southwest Companion Pass For Two Years
The Southwest Companion Pass is good for the remainder of the year that you earn it in, PLUS the entire following year.  Have you done the math yet again?  Yup, you guessed it.  The best way to get the absolute most out of your pass is to get your credit cards in November or December-ish (pending your spending habits).  That way, you meet the 110,000 points as soon as possible into the next new year.  That means that you then get the pass for that whole year, plus the following whole year, which yes, you math whiz, equals two years.
And it just keeps getting better
(Sorry, I've always wanted to be on a cheesy infomercial, I guess this is the closest I get)
There are no blackout dates and no restrictions.
Yup, I can totally see why people LOOOVE the Southwest Companion Pass!!!  TravelIsFree also talks about even more great features of the companion pass and how to maximize it to the most potential.
Now, you probably just re-read the title, then re-read the post thinking, "Wait, what kind of clickbait is this!? She said I could fly for free for four years, and she only explained how to do it for TWO!"  Well, my friends, this next part is pretty darn simple.
How To Fly For Free For FOUR Years (And Bring a friend FOR FREE)
You personally applied for the two credit cards, earned the points and were then able to get the companion pass.  This means that someone else can now do the same. You typically see this working beautifully for spouses.  So, for example, I was the one to apply for the cards this time around.  That means that in a year and half, when we know our pass is going to expire, my husband can now do the whole thing over again.  He'll get the 110,000 points giving him free flights and I can be the companion.  TA-DA! Two more years of free travel!!!
If you are reading this and weeping into your wine as you secretly curse me as I rub salt in the wound that you don't have a "companion" all is not lost.  Talk to a friend that loves to travel as much as you do and work out a deal.  You can get the cards and points and add them as your companion now.  In two years, s/he can then do the same.  S/he will apply for, get the cards, meet the minimum spending, earn the companion pass, and count you as said companion.  Sure, that's a lot of trust that you each will follow through on the deal, but it's something to consider, especially if your a travel junky, like me.
BUT WAIT, THERE'S MORE
(Channel your inner infomercial voice there)
So one of my favorite parts about travel hacking is that it looks for ways on how to maximize systems that are already in place.  Typically, for travel hacking, that is seen most with points and miles programs.  But to make this whole deal even sweeter (as if that was necessary), our baby is under two.  According to Southwest Policy, a lap baby under two years old is completely free (taxes and fees only apply on international lap baby tickets).  SO, let's re-do some math here:
110,000 Southwest miles earned from money we were going to spend regardless, giving me numerous "free" (*minus taxes and fees ) flights
1 Companion Pass giving Mr. EE free flights with me anytime I book a ticket with my already free points
1 Under 2 Lap Baby allowing Lil B to fly free of charge
BAM!!! Three people.  Two Years.  COUNTLESS FREE FLIGHTS!!!! How you like them apples!?
How WE Got the Southwest Companion Pass
Typically, I only recommend tips that I have personally done myself.  So, it may come as a shock that we didn't apply for our cards in November, like I suggested above. It wasn't that we didn't know about this little trick, but instead, we knew that in December, we were going to be moving from Germany to the US.  AKA: A lot of money was going to be spent! So, still taking my own advice from above, we actually waited until we knew we would have a lot of large purchases, bills or other payments that would need to be paid.  The way I see it is if I am going to have to spend money for something anyway, I might as get free travel out of it, am I right!?
Within about two months, we met the minimum spend on both cards.  We were able transfer 6,000 Hyatt points that we already had instead of paying an additional $6,000.  I didn't mention the option of transferring other points in earlier, because that rule is going away as of March 2017. We are now just waiting for the points to post into our account so that we can get the Companion Pass!
Update: We met our minumum spend literally just a few days before the statement closed.  Usually this isn't a problem, but for whatever reasons, the points did not post on our credit card statement.  Even after a phone call, they said it coud take 1-2 billing cycles.  This royally stinks because we were waiting to book flights for a trip next month because we knew we were going to meet the minimum spend and therefore get the pass, buuut alas, even though we met the spend, we will have to wait one more month for the pass.  Wah. Wah.
The Takeaway: Just to be safe, try to meet the minimum spend more than just a few days before the statement closes


Where Will We Head First?
Puerto Vallarta, Mexico, here we come!!!! One of the reasons we decided to move back to the US was to be closer to home, so that Lil B could grow up around family.  But if that also means that we are also close enough to drop the babe off for a much needed "Adults Only" vacation for the first time, then so be it!
I still may not have a post-baby beach bod ready, but I can already feel the sand under my toes, taste the margarita on my tongue and am ready for some rest and relaxation after a long (and yes, wonderful!) year with my baby and after an international move!
The following two tabs change content below.
Author and Creator
at
Economical Excursionists
Former teacher turned blogger turned mom turned full time travel addict, LeAnna has never been one to live life by the rules. Whether she is moving to a farm in Switzerland to learn to make cheese (Yes, CHEESE), jumping off a mountain to paraglide over Cinderella castles, or taking her baby all over the world with nothing but a backpack on their backs, LeAnna designs and defines her OWN life. LeAnna, her husband Andy, and kiddo, "Lil B" love to live a minimal lifestyle, not only for the "thrill" of pinching pennies but in order to save for traveling the world. Considering over 40 countries and 90+ cities have been explored, we'd say they are doing something right!
Latest posts by LeAnna Brown (see all)