"May I turn down your bed for you, Mrs. Brown and bring you a nightcap?"
Sounds like a fancy-schmancy hotel room, right?  
Nope.  We were actually on an airplane.  

An airplane complete with a full, layout bed, turn down service and included pajamas!
It was our first time flying in First Class and were on a long-haul Etihad flight home after 2 months of backpacking Southeast Asia and totally living in pure luxury for the next several hours.  Forget the cramped seats where the fat guy next to you is crowding your space and ditch the questionably edible microwave food that makes you queasy just looking at it.
Instead, opt for the bed…yes, full blown, BED, eat the steak and sip on champagne as you get pampered thousands of miles high in the sky.
Sounds pretty amaze-balls doesn't it?  That's because it is.  
However, most people will never be able to even consider a flight like this because of it's outrageous price tag. I mean, who wouldn't pay just a mere $6,000 for an international flight?
Oh, you?  Yeah…me neither.  And we didn't!

We actually only paid $19 (plus 40,000 points) via Travel Hacking to fly in FIRST CLASS!  No, that wasn't a typo.  For less than the cost of a good steak dinner out on the town and less points than some airlines require for an international long haul flight in economy, we flew from Abu Dhabi to Munich in First Class and it was GLORIOUS!
I would say that the biggest travel hacking perk is that you get free flights around the world.  But when you can pay just a few more points and upgrade to Business or First Class, traveling takes on a whole new world!  
But, after telling people about the luxuries that actually exist on an aircraft, I often have two basic responses.
1. Wait, what is Business Class?  Is this the same as First?  What do I typically fly on and how are they all different??
or
2. I love to travel hack, but never know when it is best to pay the points for an upgrade to Business or First Class
Today we are going to cover point number one and then return next week for all you travel hackers on point number 2.
Economy, Business and First Class Differences
(In regards to International and/or Long Haul Flights)
Economy (Also known as Coach)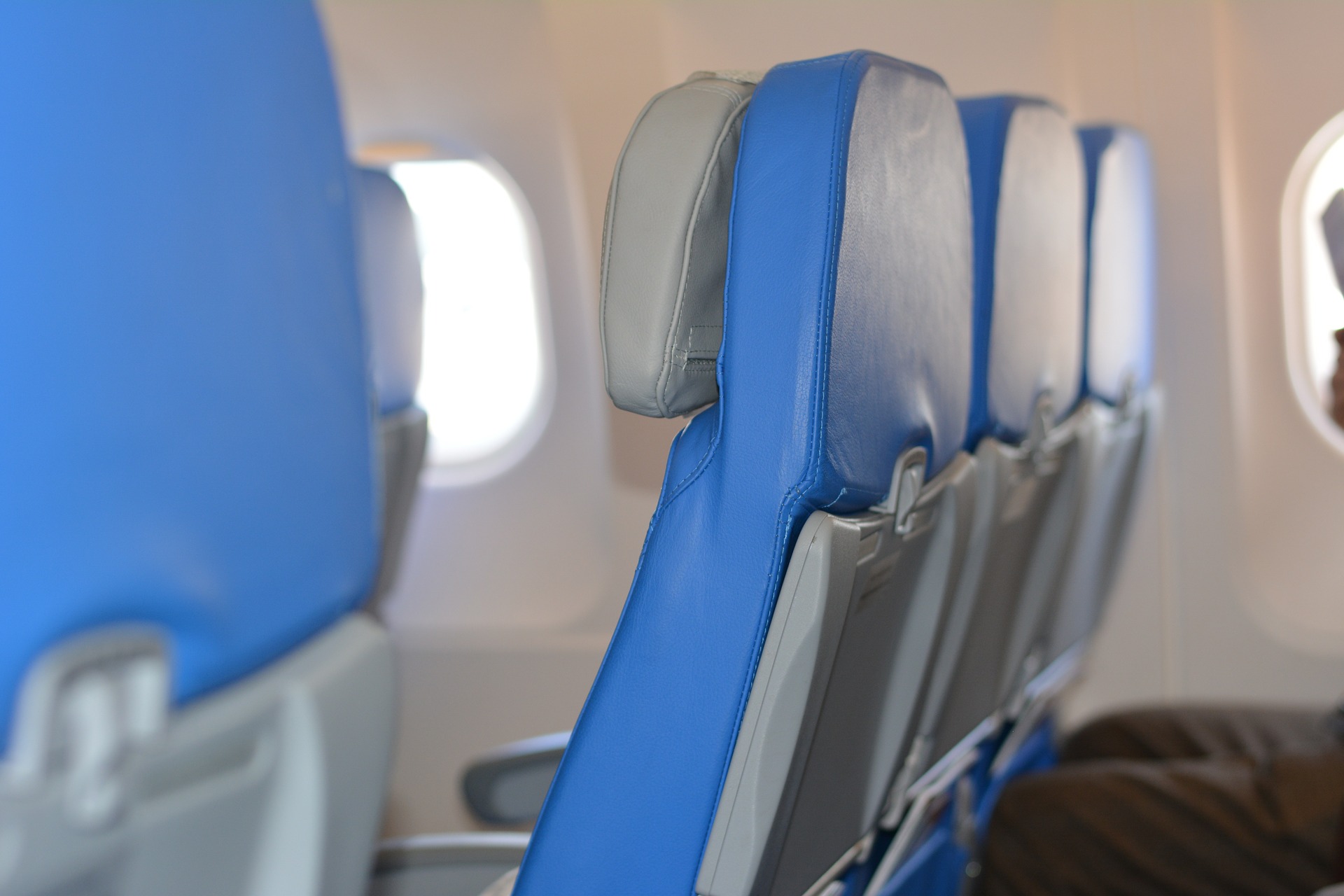 This is where us poor peons are cramped into.  Most likely, unless you are rich or a travel hacker, you exclusively fly in the economy section.  You know the drill here folks:
Small seats with limited legroom and arm rests being invaded by the snoring guy next to you

Meals that resemble those cheap frozen dinners you used to buy in college

Peering over 5 aisles of heads just to watch a movie that isn't even any good
Economy Plus
A step up from Economy you'll find Economy Plus seating still in the Economy section of the plane (Economy + is not on all aircrafts).  Arguably, for way more money and/or points than it's worth, you can get:
Occasionally seats left empty between passengers allowing for more elbow room

Often free alcohol included

Sometimes better meals provided
Business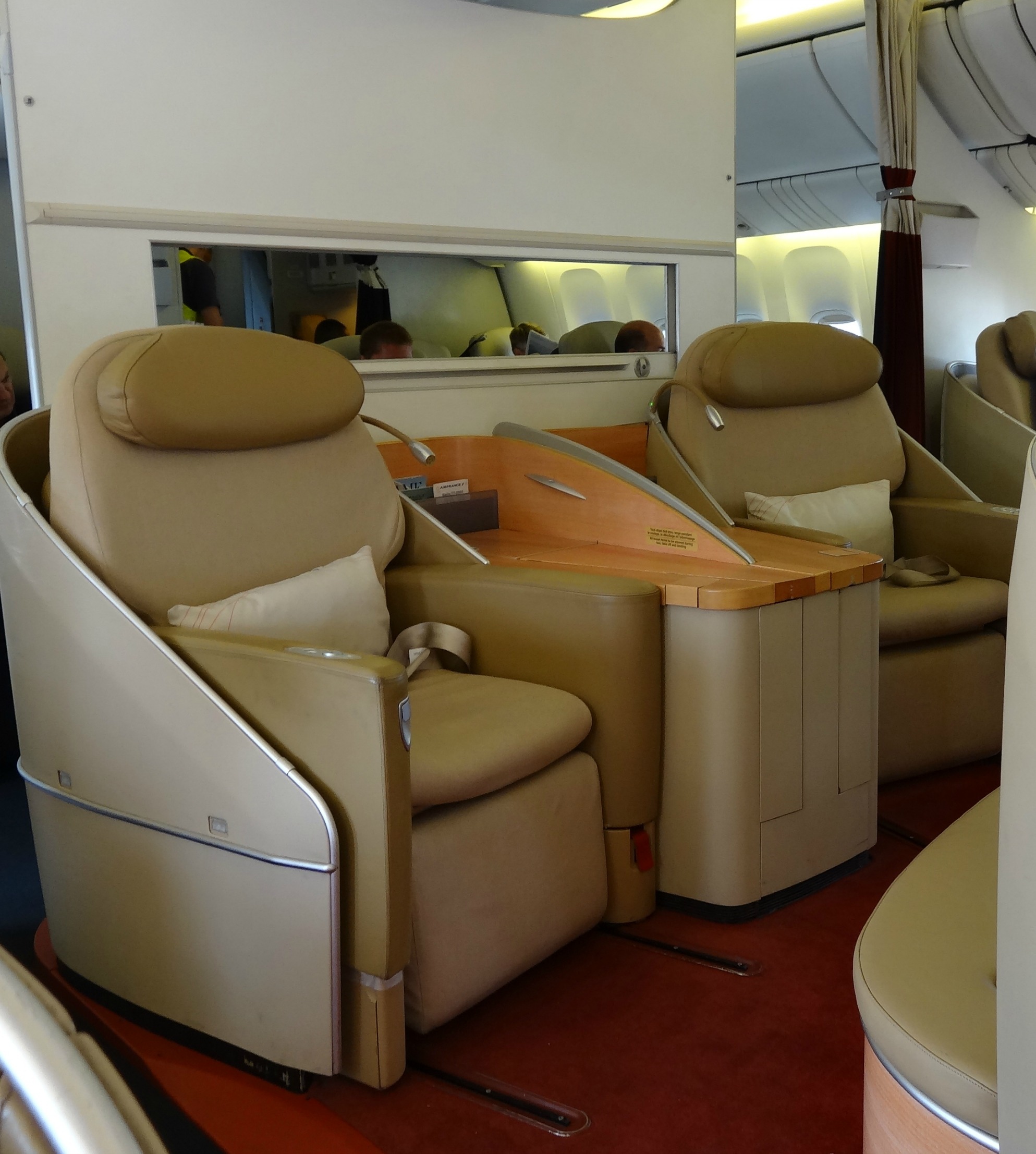 Many people ask "What is Business Class on a plane?" thinking that there is only Economy vs First Class.  However, Business Class is actually the most common upgrade seating on planes today.
THIS is where you start living in luxury folks.  On many aircrafts today, this is the highest accommodation available due to budget cuts.  Pending the airline and type of aircraft you can expect things like:
Large, lie down seats

Three course meals with a menu to select from

Quality, thick blankets and comfy pillows to help you go into dreamland

Amenity kits with goodies such as socks, lotions, eye masks and earplugs

Individual entertainment systems for movies, music and games with noise canceling headphones

Airport Lounge Access where you are often treated to full meals and a wide range of beverage options, including complimentary wine and beer
First Class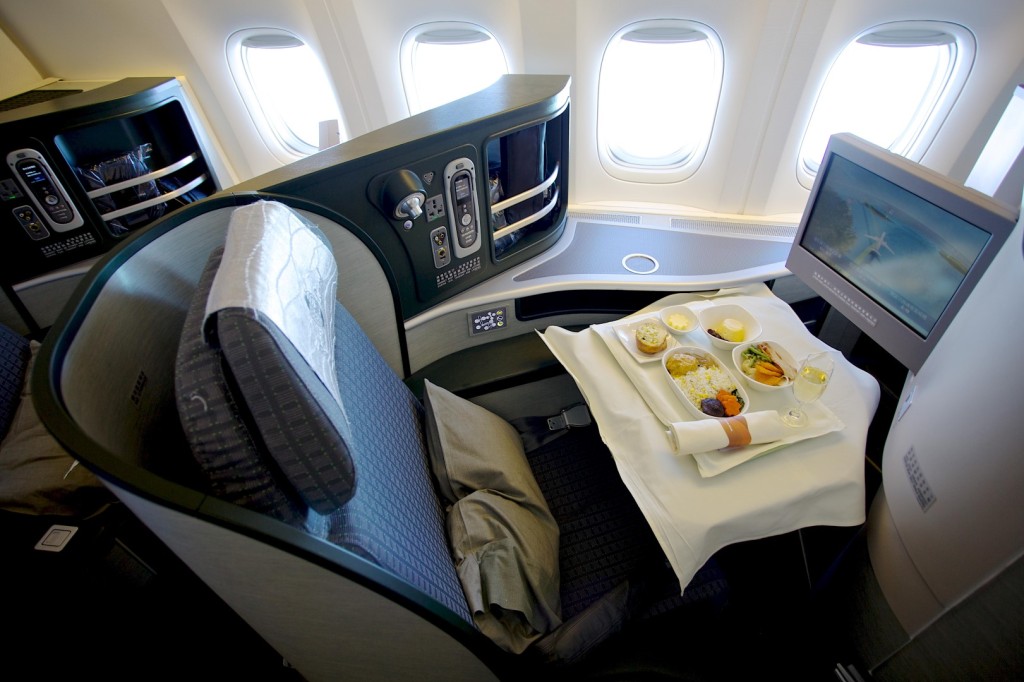 As many airlines try to cut down on costs, First Class is slowly becoming a dying trend and will most likely only be found on international, long haul flights.  Flying First Class pretty much means your a Balla!!!  Basically, you don't fly in First class if you are not wealthy or the elite (or a hard core Travel Hacker)
You'll have all the perks of Business class (lounge access, extra room and spacious, lie down seats, 3 course meals, etc) in addition to some even more pampered services such as:
Seats that turn into full beds

Often "cabins" that give you complete privacy from your fellow flyers

Top notch food and beverages including dishes like quality steak, lamb and expensive champagnes and wines

Kushy comforters and pillows

Occassionaly a signature cocktail from the airliner

Spa services at an airport lounge, such as free massages, haircuts and more when applicable

Plush pajama set to relax in

Airport car service in a range of luxury vehicles such as BMW, Mercedes and other top of the line cars
We are fortunate to live in a world where we can board a giant vehicle of steel and have it transport us to faraway lands.  For most of us, this alone is a luxury in and of itself.  But, for those who get to experience a moment of extravagance, there is nothing quite like being pampered as you travel the world!
Are you a travel hacker? Be sure to check back next week to find out the best deals on using your points to upgrade to Business and First Classes.
Are you just an average traveler? What kind of airfare class do you typically fly in?
The following two tabs change content below.
Author and Creator
at
Economical Excursionists
Former teacher turned blogger turned mom turned full time travel addict, LeAnna has never been one to live life by the rules. Whether she is moving to a farm in Switzerland to learn to make cheese (Yes, CHEESE), jumping off a mountain to paraglide over Cinderella castles, or taking her baby all over the world with nothing but a backpack on their backs, LeAnna designs and defines her OWN life. LeAnna, her husband Andy, and kiddo, "Lil B" love to live a minimal lifestyle, not only for the "thrill" of pinching pennies but in order to save for traveling the world. Considering over 40 countries and 90+ cities have been explored, we'd say they are doing something right!
Latest posts by LeAnna Brown (see all)