Redeeming Miles for an Award Ticket in Business or First Class:
Is it Worth the Points?
"How would you like your steak cooked, Mrs. Brown"
"Medium, thank you" I replied hesitantly.
"Wonderful, and what time would you like for me to bring you your pajamas and in what size"
If you thought I was at some high-class restaurant  (that strangely passed out PJs??) you'd be wrong.  (Although, the more I think of it, the more that a steak and Pajama-only wearing restaurant sounds pretty awesome.  Someone go do that and get back to me, I'll be your first customer!)
But alas, no magical comfy steakhouses like that exist.  Instead, we were flying our last leg of a 2 month journey around Southeast Asia from India back to Germany.
You are probably wondering how the hell I get champagne and a turn down service on a plane while all the flights you've ever taken, you've been crammed in between a crying baby and a snoring old man.
If you frequent this blog, you know that I am not some humble millionaire and that we rarely ever actually pay for flights around the world, let alone in First Class.
In other words, we redeem points for award tickets on airfare.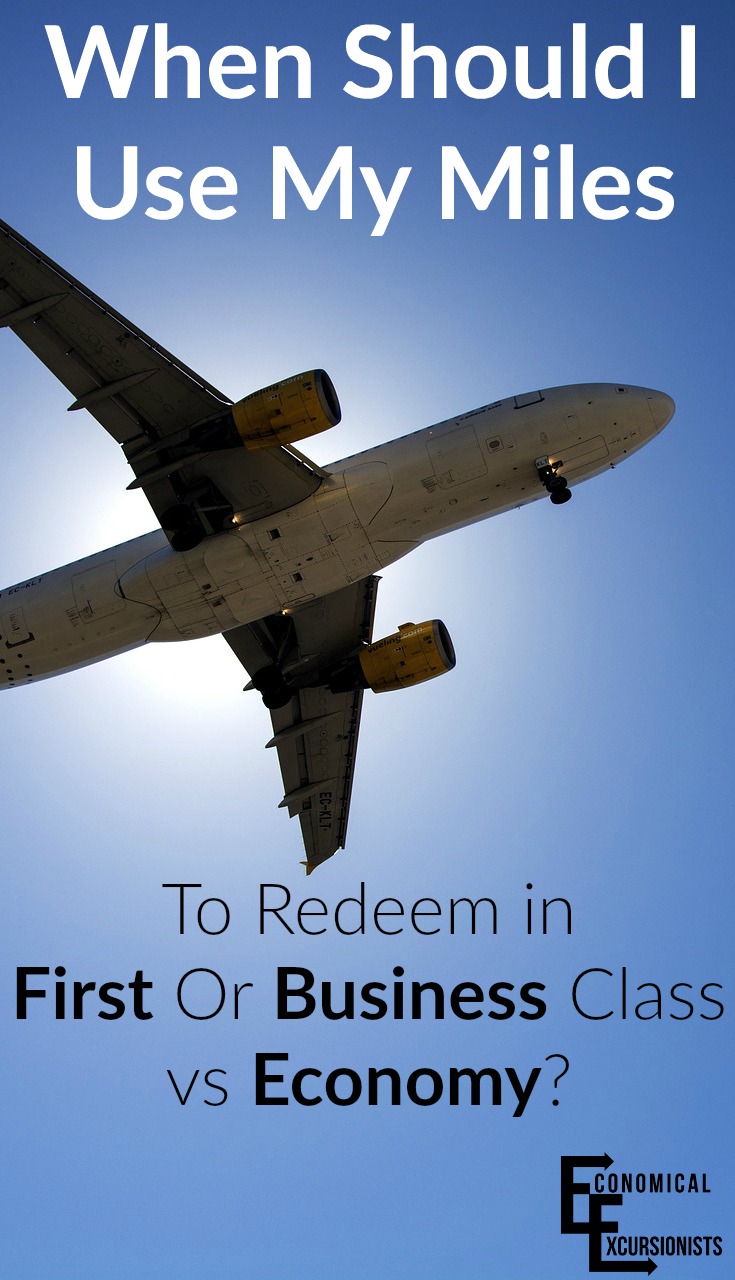 And now that you've read the differences on Airline Seats and Classes, and if you are a travel hacker, you may be thinking,
"Dang, LeAnna….I might as well just always fly for free in business and first class…why bother with those poor old middle class losers in coach!?"
Well, now I'll let you in a little secret: Some travel hackers really do travel this way and only this way.  They think flying in economy is for the birds.  They can't be bothered with plastic cups for their soda.  It's champagne glasses or bust!
However, there are also the travel hackers, like Andy and I, who like to treat their points like their cash and spread them out as much as possible.  What does that mean? Well, the less points I can spend for a free flight, then the more free points flights (and therefore, the more free travel around the world) I get!!!
With that being said, there are a few times that it is totally worth it to get pampered and spoiled on your next flight.  So you might be wondering when to use points for Economy vs Business Class or even First Class.  Here are some general rules of thumb to consider when figuring out the best usage of your miles.
1. Points Values Change
The value of miles can change quickly, therefore while we do like spread them out for multiple flights and not burn through them all in one extravagant long-haul, this does not mean we horde and save them like we do real money.  You'll hear the phrase "Earn 'em and Burn 'em!" in travel hacking, because points aren't like money where the longer you hold on to them, the more value they hopefully gain.  Instead, it is often the exact opposite with points values.
Insider Tip:  Always use FlyerMiler.com to figure out current points costs for different routings on most of the major airlines.  This alone can save you HOURS of scouring award charts and is a fast snapshot of what your points cost options are for Economy, Business and First Classes.
2) Consider Where You Are Going
You will find as you use FlyerMiler that often times the cost of an award ticket is double, if not more when considering a Business Class ticket in comparison to an Economy fare.  Think of your money.  Would you pay double in cash just for a few great perks for a few short hours and some nice (but not necessary) amenities?
Doubtful.  So, view your points the same way!
Business Class Within the US?
While there may be an exception to this rule, generally speaking, unless you are the type of travel hacker who is now too good to sit with us other commoners, then using your points to book a Business class ticket within the US is a complete waste (In my own humble opinion).  Business class seats on a domestic flight MIGHT get you a bigger seat and possibly a better meal, but no promises on even that.
What About to Europe?
Booking a First or Business class ticket to/from Europe compared to Economy is typically a substantial difference in the cost of points on these routes, regardless of the airline.  Do you really want to spend the amount of points that could get you a whole, additional free flight just on an upgrade?
Anything Worth While In Asia?
Interestingly enough, you are more likely to find good deals on using your points in First or Business class on a few routes and airline to/from and within Asia.  Again, this is not true in all, or even most cases.  However, there are definitely trends suggesting you should at least look twice and research the cost of points-flights in different airfare classes when considering Asia air travel.
Insider Tip: Like Europe, there are several budget Asia airliners.  If traveling short distances within Asia, consider these airliners (such as AirAsia, Air India Express and Jetstar, just to name a few) first to see if you can nab a cheap flight instead of paying precious points.
Get the Most Bang For Your Buck…er, Points
Sadly, there is no hard rule, insider trick or hack to getting super cheap points tickets in Economy vs Business or First Class.  However, we have personally come up with our own rules that helps us to determine if it is "financially" worth it to use our points to fly in style.
The 30% Rule
For those of you who know Mr. Economical Excursionist, you know that Andy is all about the math, equations and spreadsheets! Lucky for you, this one isn't too difficult!
If the cost in points is less than a 30% increase, we will consider booking in Business or First class seats.
Distance Vs Cost Rule
Depending on the distance we are going, it is often worth it to pay just a LITTLE bit more in points.  "A little bit" is often subjective.  Sometimes, on long-haul flights it may only be a 10,000 points increase from Economy to First Class, which may technically put us above the typical "30% Rule."   However, if it is, for example, a 15 hour flight, then the cost to distance ratio just could be worth it!
Your A Millionaire!
Ok, well, maybe not a millionaire with cash in your account, but a millionaire (or even a fraction of a millionaire) in miles.  Yes, it is true that we often and typically do Economy fares more than Business or First Class so that we can get more and more flights out the miles we've earned.  However, once you reach a certain level of travel hacking you might find yourself with more miles and points than you ever imagined (not a shabby place to be in!) Once we hit over 500,000 points, we decided it wouldn't be so bad to spend a few more points on some luxury.
Alternatively, if you know that you are limited on vacation days or are planning one epic and grand adventure, then spending those miles in high class could make that trip that much more memorable!  TravelTheGlobe4Less gives another great example of a dream anniversary trip and a couple who is ready to live it up on their way to Vegas, baby!
Here are some of the flights where we decided if it was or was not worth paying the extra points.
For example:
Munich to India (AA Miles + $38 USD): YES
When we flew to India, it would have cost us 20,000 points to fly in coach.  Or, we could have paid just 10,000 extra points to fly in Business. For those of your keeping me honest, yes this is a 33% increase in points, putting me over my "30% rule" just slightly.  But hey, to fly on one of the best Business Class flights in the world (Quatar) and stay in one of the fanciest airport lounges during our stopover (Doha), and drink the most expensive champagne made? Yeeaah…..I'll "splurge" on those extra 10,000 points!
Hong Kong to Australia (via Bangkok)  (United Miles + $77): YES
Australia pretty much feels like it is in the middle of nowhere when you are flying to get there.  Even from Asia, it is still a long-haul flight taking over 9 hours, not including the connecting flights! So, to pay only 45,000 United Miles in Business Class compared to the 30k in Economy made the long journey not seem so terrible.
Frankfurt to Omaha on United (57,000 United miles+ taxes and fees): Heck NO!
We often fly back home from Germany and almost NEVER redeem points to fly anything higher than economy!  Sure, it is a long haul flight where we are squished into small seats eating bland marinara pasta, but it just isn't worth our points to book anything higher than coach. On a typical United flight, it would cost us almost double in points (30k vs 57,500 one way).  That is almost an entire extra flight right there! No thank you!  I'll stay cramped in the back if it means I can use the points saved for a whole other trip back home in the near future!
Examples of Good Routes to Redeem Miles for Business Class
Obviously the above examples are just simply ones that Andy and I have personally taken. What about some other routes?  Using the
Flyermiler database, we found several long-haul routes and airlines worthy of noting for being under (or very close to!) our 30% rule.

These, by no means, are the only good options when considering if you should fly economy or business, but if you are wanting the best value for Economy Vs Business when booking a points flight, you can't go wrong with these!
When to Use Points to Redeem First Class Seats
We have only flown in First Class once and while it was luxurious, pampering and fun to say we've done it, I will be 100% honest and say that while I'd never had a bed turned down for me in a plane before, I don't know it I would have considered First Class THAT much more worth it than Business.  BUUUT, considering I only paid 30k and a whole whopping $19, why not live a little!?
Here are some pretty good deals if you've ever wanted escort service in a Benz to and from the airport, a haircut while waiting in the airport lounge or your own little private "cabin-room" in the plane.  In the following examples, these are the difference if you decided to choose First Class over Business.  Therefore, if you are going to pay the points for Business, consider to pay just a teeny bit more and go all out in First!  This is just the first ten options of over 300 ways to use the 30% rule when considering booking First Class vs Business that our FlyerMiler database pulled up!

Do you want all 380 examples of when it would be a good chance to book in First Class instead of in Business?  
For every type and style of traveler, there is also that kind of travel hacker.  You have your luxury, elitists and then your penny pinching budget travelers.  When paying with my own cash, you better believe I am stretching every single dollar as far as it will go.  You'll find me in hostels and cheap bungalows with any other backpacker. On the other hand, if there is an option where I can pay for my travel using points.  If it just so happens that I can "pay" a tiny bit extra in points and live in luxury, well…who am I to say no???
Do you ever pay in point for business or first class?  What has been your favorite flight experience?
The following two tabs change content below.
Author and Creator
at
Economical Excursionists
Former teacher turned blogger turned mom turned full time travel addict, LeAnna has never been one to live life by the rules. Whether she is moving to a farm in Switzerland to learn to make cheese (Yes, CHEESE), jumping off a mountain to paraglide over Cinderella castles, or taking her baby all over the world with nothing but a backpack on their backs, LeAnna designs and defines her OWN life. LeAnna, her husband Andy, and kiddo, "Lil B" love to live a minimal lifestyle, not only for the "thrill" of pinching pennies but in order to save for traveling the world. Considering over 40 countries and 90+ cities have been explored, we'd say they are doing something right!
Latest posts by LeAnna Brown (see all)