If You've Ever Wanted to Travel to Europe, NOW Is the time!!!
If you've traveled to the UK in the last decade or so, your wallet was sure to take a hit.  With the British Pound reaching at times upwards of double the dollar, a pint of beer alone could set you back $15!! For this reason alone, many Americans doing budget travel have tried to steer clear of visiting places in Great Britain.
For many travelers, the lure of things like Big Ben, Stonehenge and Nessy herself  just wasn't powerful enough to choke down the costs of seeing those sites.  Even the Best Tips for Penny Pinching in London didn't save you from the expensive British Pound.
But that all could be changing RIGHT NOW.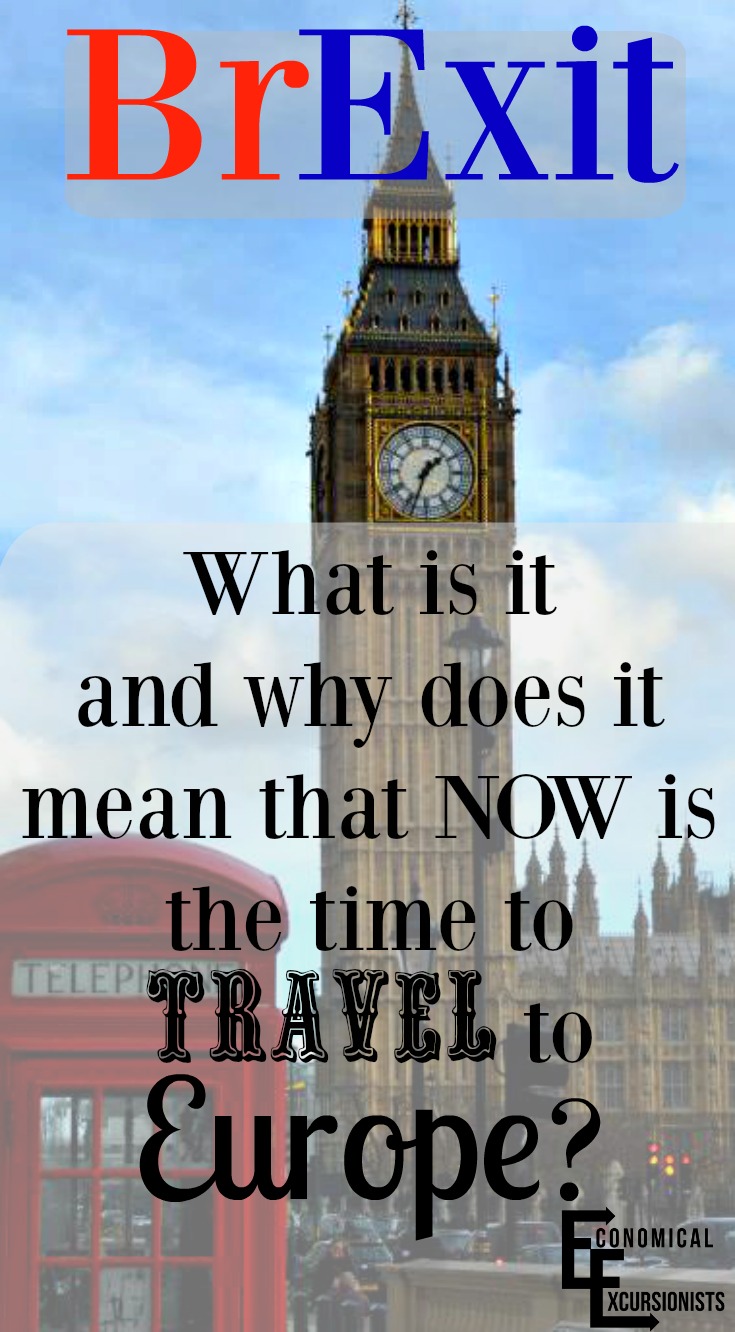 (Ready to take advantage of the effects of Brexit and travel? Pin it for later!)
On June 23rd, the UK voted and with just the narrowest of wins, decided they've had enough….they are ready for a Brexit.
Now, with the UK officially ready to leave the European Union, this just may be the best time in recent history for travelers to not only visit places like Britain, Scotland and Wales, but actually all of Europe.
What is Brexit
Brexit is not the newest name for a celebrity couple's name mashed up.
Brexit, in the most simplified terms, is that the UK has voted, as of June 23rd to leave the European Union.
Europe has changed drastically in the years since 1993 when the European Union started.  Economics have become a roller coaster ride, with countries such as Great Britain and Germany taking the brunt of bailing all their neighbors out and the most recent issues of immigration control are a heated discussion.
In short, Britain is ready to take back their sovereignty and wants to take care of themselves, and only themselves.
Brexit and Travel: How does it effect you?
Again, simply put? TRAVEL NOW!
The biggest reason if you've ever thought about putting on a kilt and not feeling out of place, drinking a spot of tea next to the Queen, sipping a scotch straight from its homeland or even playing thespian with Shakespeare is because the cost of travel to the UK is now cheaper than ever.
As Great Britain (and the world) is figuring out what to do with itself now that they've voted to leave the EU, the British Pound is plummeting.  The vote is wreaking havoc on the stock exchange, but for travelers abroad, they are seeing the British Pound at its lowest point in the past 30 years, meaning travel within the UK is more affordable than ever!
↓
Travel To the Rest of Europe
The British Pound isn't the only currency losing value.  The Euro is declining, with a suspected continued down-slide as well.  For Americans, this means they are seeing prices much more favorable to the dollar all across Europe, not just within the UK.
Long Term Travel Effects
Nobody knows exactly what will happen in the future to the EU.  Many suspect that the UK has set the stage for other disgruntled EU members to finally make a break for it as well.  While financially speaking for (non EU) travelers, this may continue to be a good thing, there are strong possibilities that not everything is going to be so great in Travel Land in the future.
Cheap Airfare No More?
One of the beauties that came out of the EU was budget airlines!  There was a removal of the previous bi-lateral restrictions on air service agreements and therefore stronger competition for routes and airliners took place.  Currently, members of the EU are free to fly anywhere within the EU.  However, with Brexit, air services and bi-lateral agreements will need to be re-looked at.  It is uncertain if this will have an effect on our favorite cheap airliners such as RyanAir and Easyjet.
Customs and Border Control
In The UK: If you've ever traveled in and out of London Heathrow, you know that as the biggest airport in the world, it is one busy and crowded place.  Take those 200,000 plus passengers A DAY, put them into customs lines and let the headaches begin.  Currently, all EU members can quickly go through the customs and immigration stations in the UK, but if Great Britain leaves the EU, this means that all those passengers, minus UK citizens, will need to go through customs.  Get ready for lines that will take you HOURS to wind through!
Border Control Throughout Europe: Pretending that the UK is not going to be the only country to leave the EU in coming years, there is a good possibility that we will see a reinstatement of border control.  Currently, you can pass through most European countries with no issues or passport stops.  Often times, you don't even know you've crossed a border until you see a new language on a street sign!
Especially with the current Schengen Agreement, people come and go within EU countries freely, but if countries start pulling out of the agreement and the EU, long border lines, passport control and possibly even Visa requirements may be seen.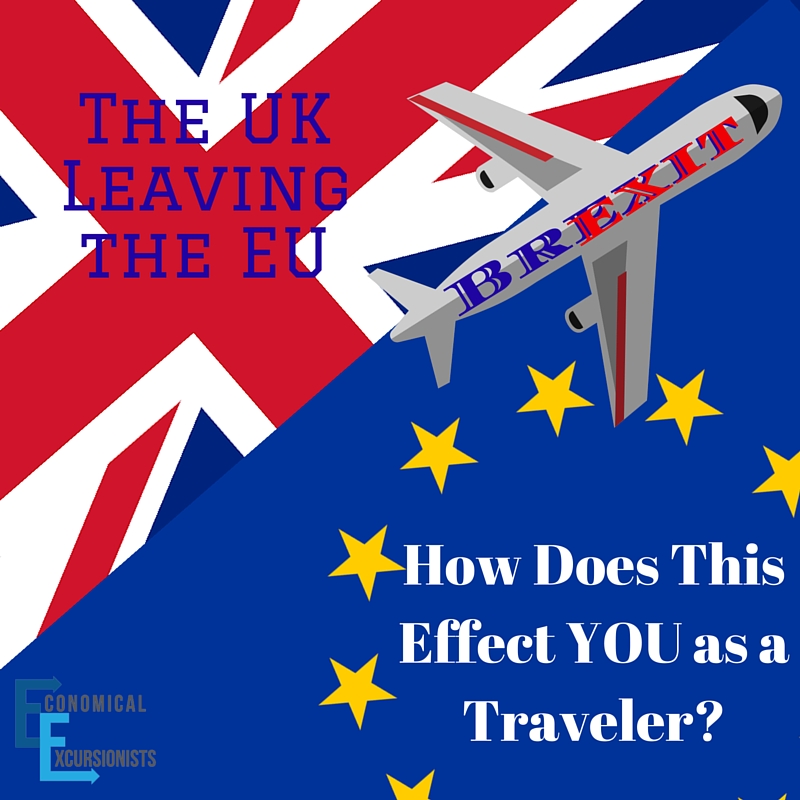 The Takeaway for Travelers
We simply aren't sure what effects Brexit is going to have for Europe, and the world, in the coming years.
While RIGHT NOW is the best time to travel due to the exchange rates all throughout Europe, experts suspect that it will take a while for the economies and currencies to recover.  Therefore, even by next summer (2017), you should still expect for great exchange rates for the dollar and limited long-term effects (border control, budget airlines, etc) to have already been put into place.
So, pack your bags and get travelin'!!!
If you've ever wanted to affordably travel Europe, it looks like this may just be the best time to hop the pond and start site-seeing!
Want more tips on How to Save for a Vacation?
Want to learn how to Save Money While Traveling?
Planning a Trip to Europe?  Here are the Insider Tips the Guidebooks Haven't Told You
~Is the cost efficiency of traveling within Europe intriguing but not sure how to pay for a flight to/from??
Learn how to fly to Europe for less than the cost of a fancy dinner out on the town via Travel Hacking and be on your way to Europe next summer for just a few bucks!
Where will you be heading to Europe now that it is more affordable than ever?
The following two tabs change content below.
Author and Creator
at
Economical Excursionists
Former teacher turned blogger turned mom turned full time travel addict, LeAnna has never been one to live life by the rules. Whether she is moving to a farm in Switzerland to learn to make cheese (Yes, CHEESE), jumping off a mountain to paraglide over Cinderella castles, or taking her baby all over the world with nothing but a backpack on their backs, LeAnna designs and defines her OWN life. LeAnna, her husband Andy, and kiddo, "Lil B" love to live a minimal lifestyle, not only for the "thrill" of pinching pennies but in order to save for traveling the world. Considering over 40 countries and 90+ cities have been explored, we'd say they are doing something right!
Latest posts by LeAnna Brown (see all)