5 Unsuspecting Ways to Use FlyerMiler to Up Your Travel Hacking Skills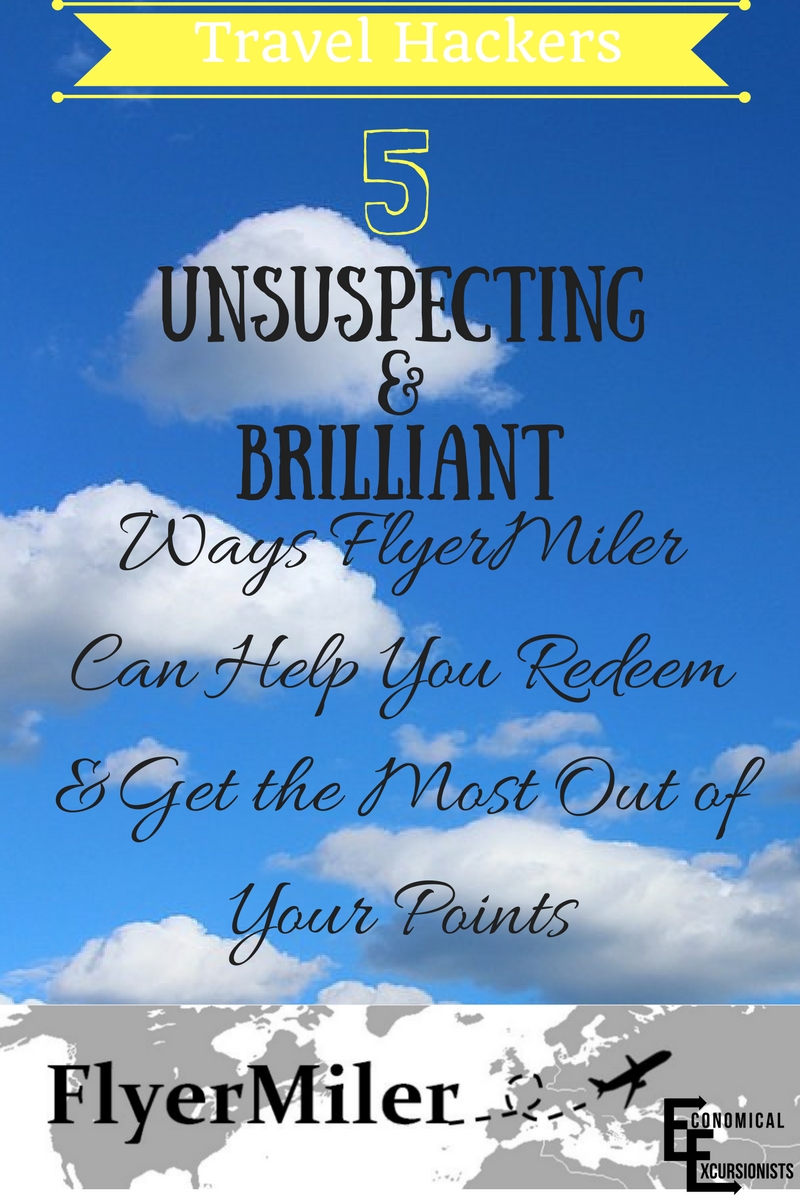 C'Mon, you know you want to Pin This to be able to use for later when you are booking for free trips on points!
Today is shameless plug day.  What? You've never heard about this day? Yeah, it's probably because I just made it up.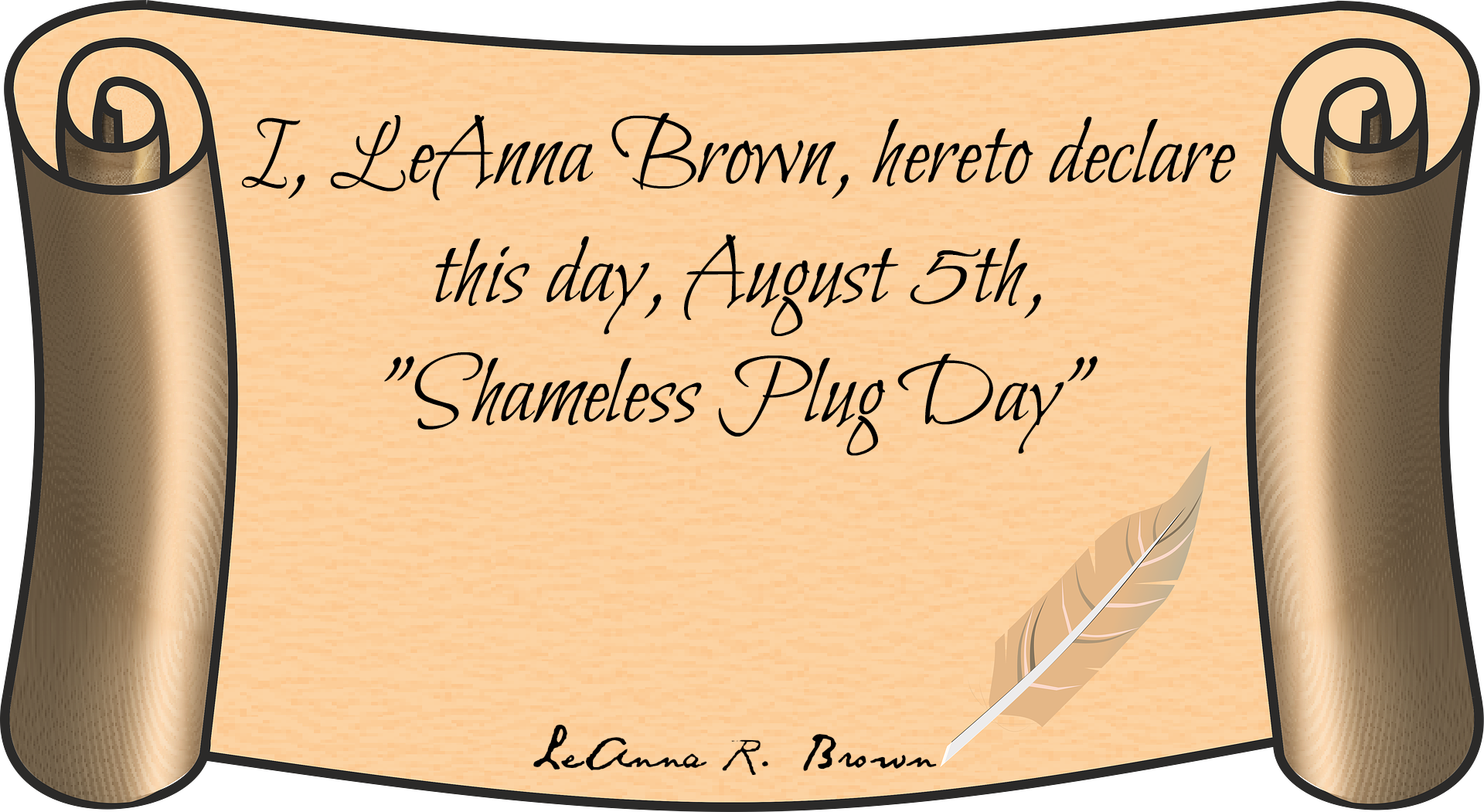 Ok, so moving right along….
In other news, have you guys seen the "7 Days of I Love My Spouse"  "Challenge" going around on Facebook? For seven days, you post a picture that highlights a reason why you love your spouse.  I've actually been "nominated" to do this but 1) Mr. Economical Excursionist basically hates FB and therefore is never on it & 2) We actually have a board in our apartment that every day we write "Today's reason why I love you…" Therefore, I don't feel like I need to tout it on Facebook.
Are you officially saying to yourself "LeAnna, what are you rambling on about!?"
Ok, so what does shameless plugging and random Facebook "challenges" have to do with one another?  No, I'm not 3 glasses of wine in while writing this (although I wish!) but stick with me here for a bit longer….
FLYERMILER.
Ah, there it is! The Shameless Plug and the "Why I love my husband" all in one word! Cmon, guys, you've heard me brag and pitch about FlyerMiler in the past, but I want to share a little behind the scenes work with you as well as 5 Unsuspecting Ways To Use Flyermiler to help you know how to best use frequent flyer miles (If you want to skip over the behind the scenes and just get straight to the point, Click Here)
Andy is, for no better words, a computer genius.  Yeah, I know, I know, most people that create websites, Apps, etc claim this as well.  But seriously, this guy was actually teaching a college computer programming class….WHILE he was still in college!!!!! While I often struggle to get my printer to work, Andy consistently is the top performer for his job creating program after program that presents complex data to the users in an easy-to-use manner.  (Ok, there is my "My husband rocks" post that makes up for my laziness on Facebook, right?) The thing is, I couldn't tell you what a good programming code was even if you were threatening to pour my favorite glass of wine out right in front of my eyes.  And to boot, Andy is about as humble as pie and rarely boasts his abilities.  But his co-workers, who actually DO know a thing or two about 0s and 1s consistently say just how bad ass my hubby is.  And, if you've actually ever met a computer nerd programmer, you know that they aren't exactly social and talkative most the time, so for them to go through the effort to explain this to me when I'm hanging out at the office, you know it's the real deal.
So, when he started creating FlyerMiler so that we could personally plan out travel hacks more easily and figure out how to use frequent flyer miles that we already had and then people actually started to see it, then use it themselves and then come to the conclusion themselves that, "Wow, this is pretty badass!" I knew it'd be a breakthrough for travel hackers throughout the world.
Why did I just go through the effort of gushing on my husband for you all to see (besides to make up for my lack of Facebook pictures and bragging)? It's because, to be honest with you, there ARE other tools out there that search for points flights.  However, those in the industry both professionally and hobbyists alike have recognized that FlyerMiler isn't "just another tool."  Andy has created a powerful program and server that indexes a plethora of complex data, something that many other tools try to do, but just don't do as well!  Are there still areas to be improved upon? Of course! But, as a side project and hobby of ours, things like, oh you know…. taking care of our baby or traveling kinda takes precedence! With that being said, we are pretty stoked about some cool features and updates we are working on pushing out.

Now that you know WHY FlyerMiler really is the best travel hacking tool for figuring out how to use frequent flyer miles and since you've already read about the obvious ways that FlyerMiler should be your go to, number one travel hacking tool for frequent flyer miles, you now understand it's bad-assery.  You get that it's biggest, most valuable feature is that instead of having to scour award charts for hours, FlyerMiler tells you within seconds how many points it will take, and with who, to get from Point A to B (or even C,D and E!)
But today, I'm going to show and talk to you about 5 More Unsuspecting Ways to Use FlyerMiler to help teach you how to redeem your miles more efficiently and will basically will rock your socks off.
Partners and Alliances
This is one of my favorite parts of FlyerMiler.  Many frequent flyers don't realize that just because you have points with one loyalty program doesn't mean that you actually have to fly with them!
Even if you do know about Partners and Alliances, that is often only half the battle though.  Often times, not ALL the partners and alliances are listed on award websites.  And even if they were, it takes a lot of time to research that, find each program, look up their partners and then see if you can even make a route work.  We've got you covered though.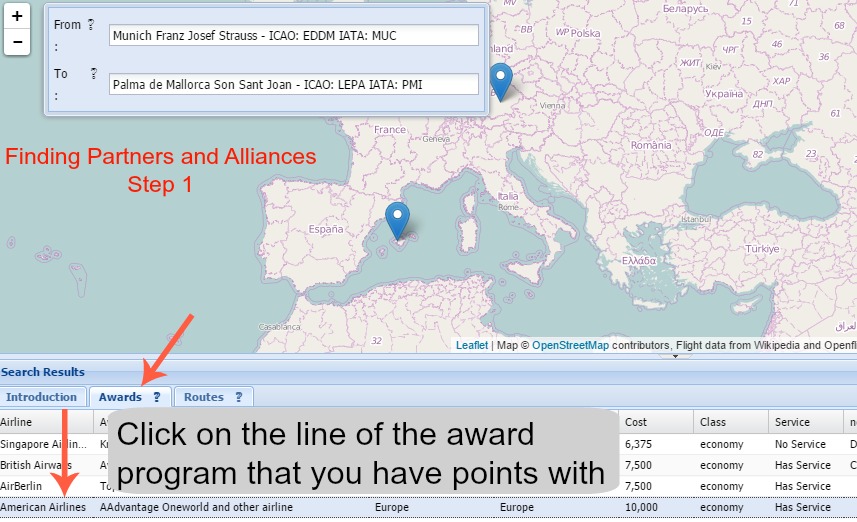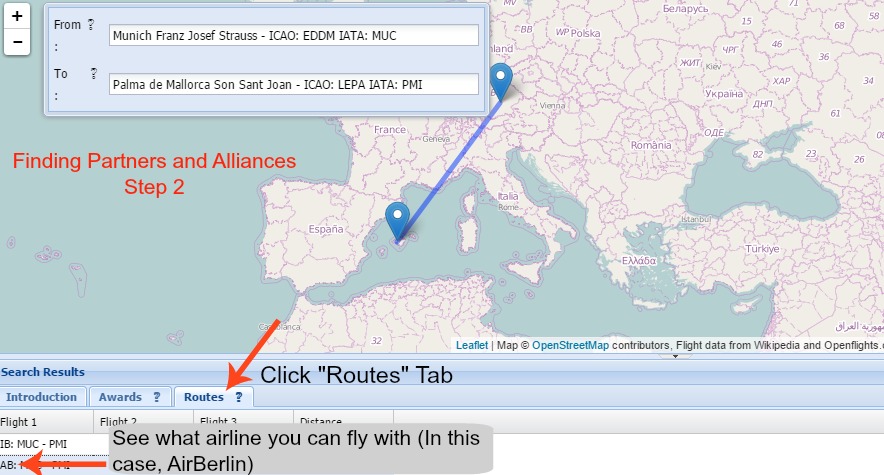 Finding Unsuspecting Routing
Going off of the above "Partners and Alliances" point, you can take it a step further and use FlyerMiler to find unsuspecting routes that will cost you less miles! Anne, at TravelTheGlobe4Less gave an example of wanting to go from Manchester to Beijing and concluded , using FlyerMiler, that for her situation and her prior knowledge of companion passes, that using a British Avios Companion Pass was the best deal for her personally.  However, I don't have these companion passes, so instead, I can make a decision based specifically on my miles and travel goals by sorting through the information that pertains to me, making it a completely customizable and personalized tool for YOU.
So, using the same origin and destination, I could search and see that instead of having to fly on British Airways, but still using Avios points (which I do have), I could actually take a route through Helsinki by booking Finnair! I'd still be using British Avios points, I'd still be leaving Manchester and going to Beijing, but this time, I'd be using less points and through a different, possibly more unknown route option!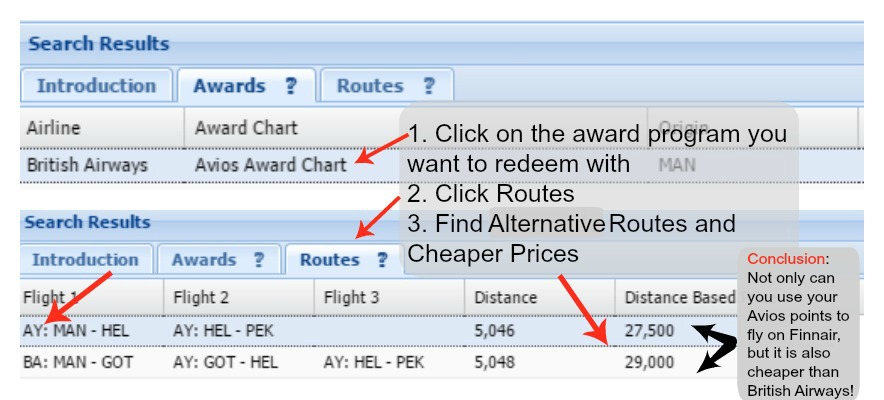 Working Around Availability
Sometimes, you just simply need to find a route that has availability! In the above Manchester to Beijing scenario, maybe you didn't mind that it would cost some more points to just fly on British Airways.  However, when you go to look for availability, there is none! This happens all too often, especially if you are booking for numerous people or last minute.  Using FlyerMiler, you just have to find a different route and/or airline and then look for availability.  So, just like in the above situation, maybe the Finnair flights have better availability, meaning you can actually book and use your points instead of thinking there was nothing available.
Where to Find Availability
Sadly, you can't use FlyerMiler to search directly for availability.  While that would be an amazing feature, most airlines keep this kind of data under lock and key! But that doesn't mean that finding availability needs to be a time consuming matter.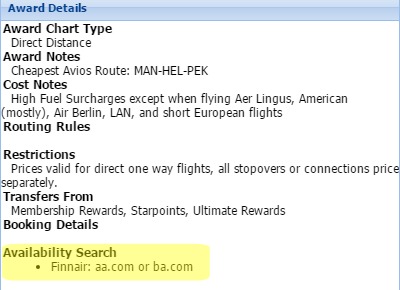 Let's say you are going to use those British Avios miles to book a Finnair ticket.  Some people think, "Ok, I'm going to be flying with Finnair, so that is who I need to book my ticket with." However, when using points, you always book with whosoever points you are using, not who you are actually flying with! Sound easy enough, right? Well, for a multitude of reasons, the airlines like to make searching for availability with partners and alliances a wee bit complicated sometimes.  For example, did you know that when you use American Airlines miles, it's actually often best to use the British Airways website for finding availability!?  But how would you know this???
Just look in the notes section of your search! Too simple!!!
Here is another example.  Flying Hong Kong to Sydney, using United Miles, you can fly part of the trip on Singapore Airlines. Instead of searching for award availability on either United OR Singapore, FlyerMiler actually tells you to search on Aeroplan.com! That can save you TONS of time!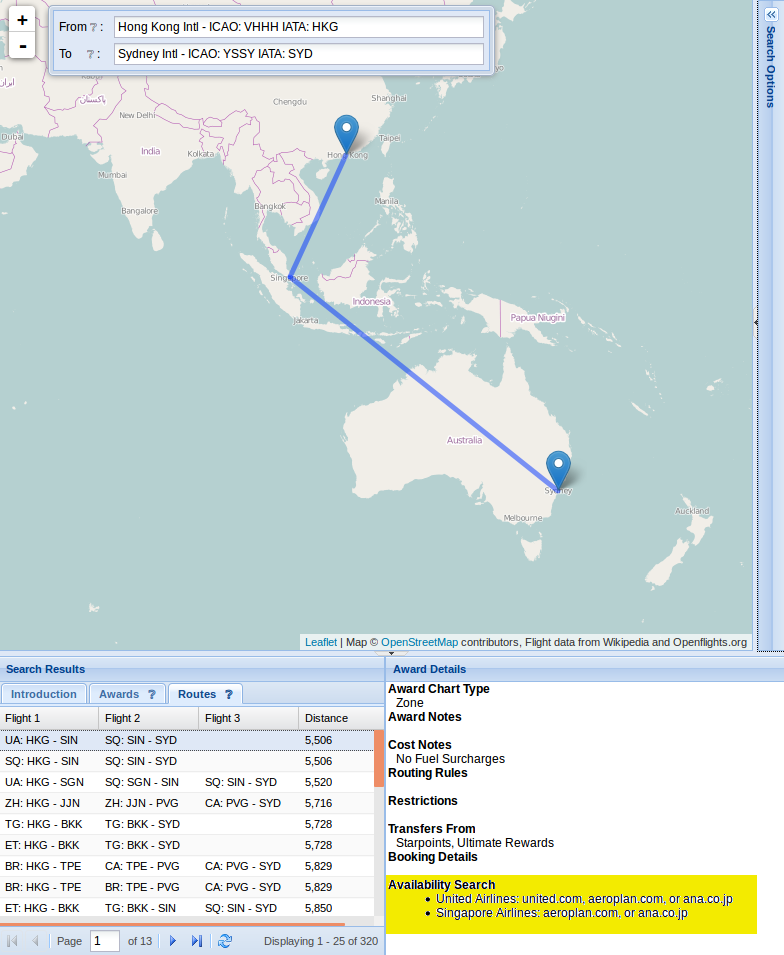 Comparison Of Airfare Classes
We are budget travelers who travel hack.  Which means that for the most part, we are going to stretch out and use frequent flyer miles as much as we can for more and more trips.  We often choose Economy vs Business class just simply because we'd rather save those points for another, future flight.  However, there are simply times when it barely costs more to go with Business or First Class instead of economy! But, to find these special circumstances could take hours to compare each airfare class and each award program.  But using the search options, you can filter these requirements giving you super fast snapshots of your options!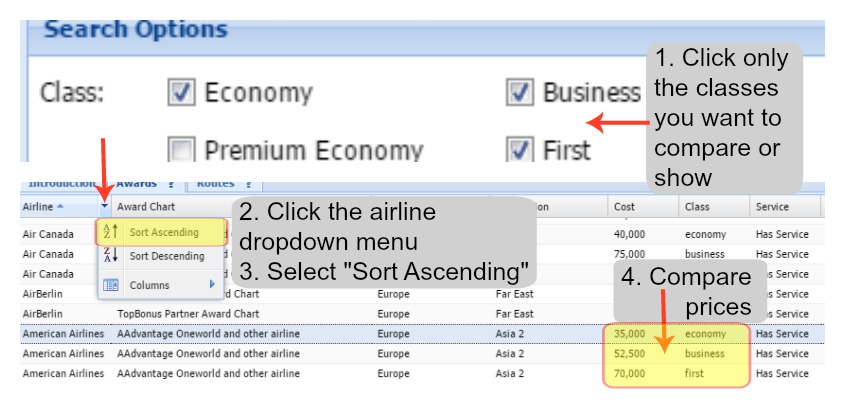 So, there you have it.  You already knew that you loved FlyerMiler to figure out the best ways to use frequent flyer miles, but now that love got even stronger!
Did you know that we are always looking for ways to improve the tool? What feature(s) would you love to see integrated into FlyerMiler? Let us know in the comments
The following two tabs change content below.
Author and Creator
at
Economical Excursionists
Former teacher turned blogger turned mom turned full time travel addict, LeAnna has never been one to live life by the rules. Whether she is moving to a farm in Switzerland to learn to make cheese (Yes, CHEESE), jumping off a mountain to paraglide over Cinderella castles, or taking her baby all over the world with nothing but a backpack on their backs, LeAnna designs and defines her OWN life. LeAnna, her husband Andy, and kiddo, "Lil B" love to live a minimal lifestyle, not only for the "thrill" of pinching pennies but in order to save for traveling the world. Considering over 40 countries and 90+ cities have been explored, we'd say they are doing something right!
Latest posts by LeAnna Brown (see all)