Planning our 3 day Kruger Safari from Johannesburg was exhausting, exhilarating, frustrating, long, and a once in a lifetime opportunity! We spent months learning how to plan the perfect safari, including narrowing down exactly what country and park to go to.  We booked business class flights "for free" using points and miles, and we figured out what to pack for an African safari. 
Now, it was finally time!!!
The Omaha Henry Doorly Zoo is one of the top in the WORLD.  I have been blessed since a child to see amazing animals and creatures up close and often in a "natural habitat" enclosure in my own hometown.  As a kid (ok, even as an adult!) you could spend all day at the zoo watching the lions romp around, the gazelles leap and have peacocks chase you down the street.  However, no world-renowned zoo, no matter how "natural" their habitats are can prepare you for seeing wild lions, hippos and elephants in their natural surroundings.
Staying in Johannesburg
The day before heading out into the African Bush, we met up with our loyal travel companions, Erin and Kyle in Johannesburg.  Since we travel hack, we were able to score an awesome "Points Break" deal at the Intercontinental.
We had planned on doing at least SOMETHING in Joburg, but it ended up due to flight times that we actually didn't have time.  However, if you have alotted for some extra time in town, here is what I had on my list:
Apartheid Museum:  I had REALLY wanted to go to this museum based on all the reviews.  Unfortunately, it was closed the only day we had available in town.
Gandhi's House
The Wondercaves: About an hour from our hotel were some really well-reviewed caves that, again, with more time, I would have loved to have explored!
Transportation To The Reserve
Bright and early the next morning, we got picked up and started our seven hour drive into the Kruger National Park.  After MUCH research, we finally decided to just do an "add on" with our Safari Lodge for return pick pick up.  The cheapest option was for a group van that was collecting guests from other hotels and going to various reserves and lodges all near a certain vicinity of one another.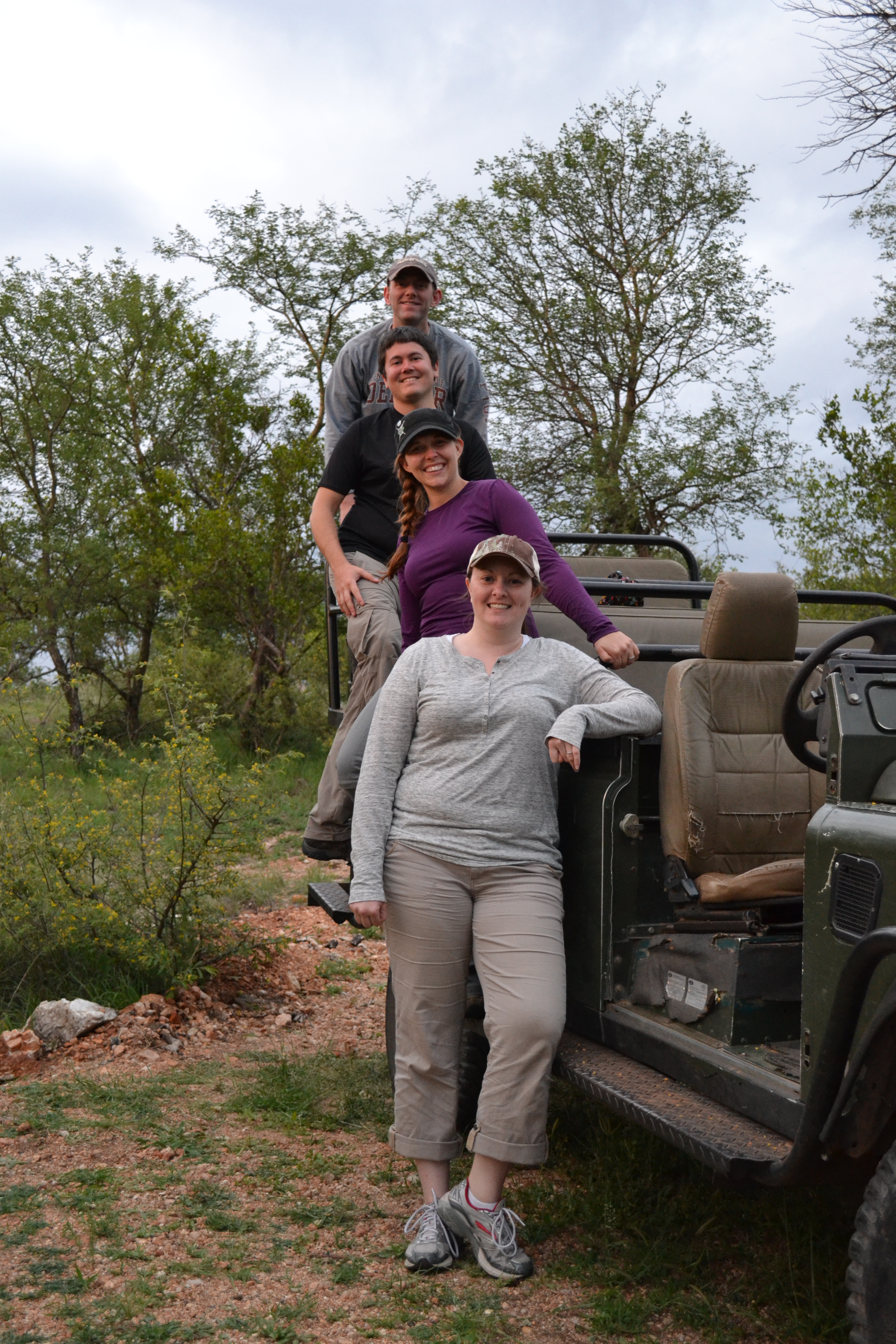 Our safari lodge was the furthest one that the group transportation was taking that day, which made for an extremely long car-ride.  When Grant, our guide and ranger picked us up, we still had another hour and half to still get to the lodge.  We spent that time in the range rover bumping over holes in the dirt road and stopping to gaze at monkeys, zebra (As Grant pointed out, "Here are some zehbra, or as you Americans like to call them, zeebra!")  and Cape Buffalo, absolutely giddy that we were actually in Africa and on a safari!  Before we were even technically on a game drive, we had already seen some amazing animals, birds, and scenery….just on the drive in!  We couldn't wait for the ACTUAL safari drives!
Tip: Going on a Safari with Kids?  Here are some awesome safari tips for those of you with little ones in tow!
Our Safari Lodge
I'm sad to say that it looks like the lodge that we chose to stay with (Elephant Drifts) is no longer in business.  Which is a shame, because I actually could not have recommended it enough!
We each got our own "cabin."  It was nothing extremely fancy but very comfortable and had hot, running water, a bathroom, one of the most comfortable beds other than my own and a screen door keeping out mosquitos (and anything else roaming around).  We were able to get a drink, unpack and explore our small lodging facilities before heading out for our first game drive.
Day I:
Since Andy and I pretty much always bring rainy or cold weather no matter where we go, it was no surprise that even in AFRICA, it was still chilly enough the whole trip to need pants, long shirts and even coats (even though this was their summer and SHOULD have been scalding hot! Go figure!)  But, despite the cooler than average temperatures, it was surreal trying to still grasp the idea that we were actually in AFRICA!
On our first drive within the first hour alone, we had already seen:  Giraffe, Zebra, Springbok, Cape Buffalo, Elephants and all sorts of little critters and beautiful birds.  As we took our sundowner break, we looked around the African Bush asking Grant all sorts of questions about life as a guide.  Suddenly, we hear the most amazing sound off in the distance:  ROOOAR!
Grant yells to "GET IN!" and sees us glance down at our still full wine glasses and tells us to dump it or drink it and go.
He listens one more time before cranking the engine and heading in the direction of the sounds.  It was stunning to watch him listen and know exactly where to take the Range Rover just based on what he heard.  To me, I couldn't place the call in any particular direction, but he knew the land so well that he was able to drive just on instinct.
After several minutes, we were afraid we lost them.  The dark was enveloping us, so we sat quietly as light drops of rain started to come down.  We were just about to call it a night when we heard it once more.  Grant fired the truck up, turned on a floodlight and went straight off the dirt path into the overgrown bush.  As we crackled over branches and plants the anticipation grew.
At the next turn of the car, we were within feet of two beautiful lionesses.  They sat relaxed in the grass hollering out to a nearby male, who was calling back.  They weren't too fond of our bright light, so instead, as we sat in complete darkness listening to the powerful sound of wild lions, I couldn't help but sit in wonder and amazement thinking "THIS IS AFRICA."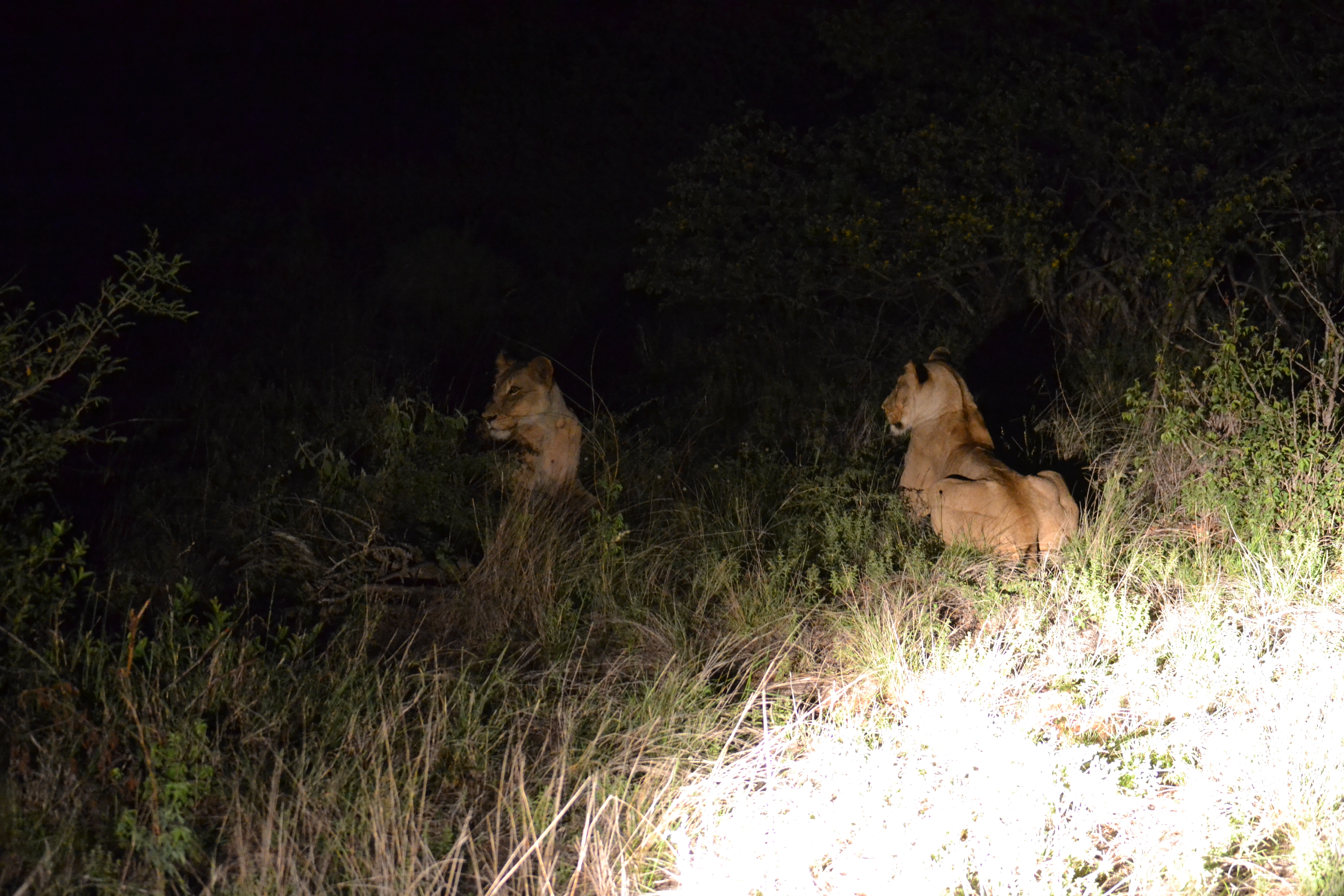 Day II:
You can go to a zoo at any time of day and see plenty of animals, but to see them in the wild, you need to be on THEIR schedule.  So, at 4:45am, Grant came around knocking on our cabins.  We drank down a quick cup of coffee and ate some scones (hint: you need to dip them in the coffee or they will break your teeth; stupid americans!), put on our bug spray and sunscreen and hopped in the Land Rover.
We were told the night before over dinner that our first game drive was particularly amazing, so we were prepared for a less exciting drive.  Grant wore many hats during our drives: ranger, driver, conservationist and comedian.  If you had a question, he had an answer.  He did a magnificent job sharing small tidbits about birds, insects and more when there weren't big game to be seen.  However, it usually wasn't long before we did see something big, powerful and wonderful.
As Grant glimpsed a bit of grey, he veered off to the side and followed.  We were rewarded with a giant mama elephant having breakfast with her baby.  As soon as she knew we were present, she went into protection mode.  Her baby went right up under her feet and she let us know that we better not even think about doing anything silly.  Her ears went up and she started shaking her giant head.  Just that alone is a site to behold, but when she started stomping her feet and trumpeting, I couldn't think of one species that would mess with that.  Luckily, I had read about different behaviors of animals on our way into the reserve, so I recalled that at this moment, mama was just doing a show for us and wasn't actually ready to battle.  So, as I sat there entranced and content, Kyle inched closer and closer to the middle.  When mama took a powerful step towards us, I gladly took pictures as the others yelped.  Grant finally told us what I had already suspected, that she didn't really want to be aggressive but wanted to scare us off and so we waited for mama and baby to head off before turning on our engine again.  Regardless of the species, there is nothing more powerful and humbling than seeing a mother ready to fight for her precious baby.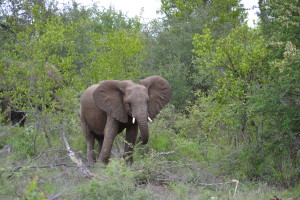 Not long after the thrilling elephant encounter, we took our morning break.  Since I am more graceful than the majestic antelopes, when I jumped (yes, completely jumped) out of the truck, my one foot landed on a rock just big enough to roll, which in turn, rolled my ankle.  As Kyle fought back laughter, he tried to help me up.  Andy on the other hand, didn't even attempt to hide the hilarity of the scene.  For a brief moment, I thought "Oh please do not be broken!!!"  Luckily, my body has taken enough falls and tumbles in life to know that I had just sprained my ankle pretty bad.  While it provided for a great pun for everyone else, I was left wobbling the rest of the trip.  I wish I had a better story of how I rolled it, like I was being chased by a lion or something, but no, I am just clumsy.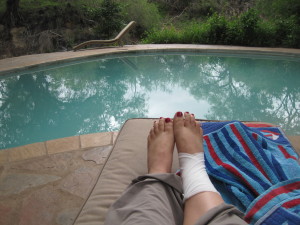 Back at the lodge, it was so peaceful and serene.  There was no internet, there was no social media and the only distractions were the birds chirping and bugs buzzing and the temptation of an an afternoon nap.  I could get used to easy days like this!  However, after several hours of relaxing, we were ready for our next drive.
Day III:
The beauty about being out in the wilderness is that you never know what you are going to see or encounter.  On this particular morning, it was absolutely nothing.  It was rainy and cold and so just like what we wanted to do, most animals had found warm shelter and were sleeping the morning away peacefully.  One may think that this would be disappointing, but we had had some amazing drives already and this just went to prove that this wasn't some commercialized spot that the reserve makes sure you have a successful drive each and every time.  No, this was real, wild and raw nature.
After another lazy afternoon we geared up for our night drive, which would easily make up for the slow-paced morning.
The night drive started to become like our other drives.  We saw plenty of elephants, giraffe and springbok.  However, the amazing thing is that each time you see the animals, even if you just saw one, these are a different one.  You are in THEIR habitat so you never know what they will be doing, how they will react or what they will think of you.  Some of the animals were scared, others nonchalant.  Some would threaten us with loud calls, others continue eating their dinners.  No two interactions were ever the same, which made every turn of the truck full of anticipation.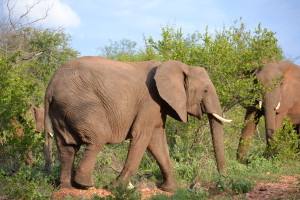 During our sundowner break, watching the sun fall over the Olifant River, a watering hole and the bush, I wondered if our trip could get any better.  As we got back into the Range Rover and night began to fall, Grant seemed to be on a particular mission.  Of course, we had absolutely no clue where we were in relation to the reserve, but just assumed we were heading back for the night.
As grant rounded a curve, small glowing balls came into view.  At first, we thought we were at camp (although this didn't seem recognizable) and then realized we were still in the middle of the bush.
Hailey, Grants partner and the hospitality side of the lodge had set up the most entrancing Bush dinner complete with lanterns, bonfire, wine and dinner.  We all actually just sat in the truck for a few moments taking in the sheer beauty of the scene; speechless.  When we were all gathered around the fire, it was often quiet as you could tell everyone was appreciating this majestic moment out in the wild African Bush.  Just knowing that all around us, there were wild animals and nature at it's best was exhilarating and out of this world.  As we had the best conversation and wonderful dinner to go along with it, it was easy to forget the world outside of the bush.  It was surreal, quiet, peaceful, powerful and awe-inspiring all at once being out in the bush.  The only downside was that moments and nights like this all must eventually come to an end.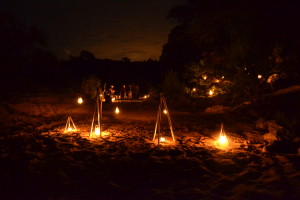 Final Safari Day
On our final morning drive, we wondered if there was any way to beat the previous days' drives.  We had already seen 4 of the big 5 and so much more.  However, the bush had more in store for us than we knew.
What started out as a "normal elephant sighting" turned into something else.  Grant saw one elephant and decided to get closer.  As we cut the engine, enjoying watching this one elephant graze, another slowly came into view…then another….then another.  It was clear that what at first seemed like a lone, estranged elephant, was actually just one of many in a herd.  This was actually nothing unusual.  However, through the elephants' behaviors, Grant informed us that 1) this herd was not used to cars and people  2) Something (besides us) had them on edge.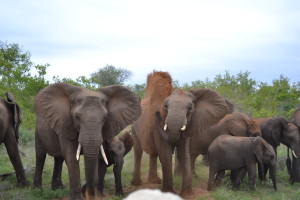 As each elephant came nearer and realized they weren't the only ones there, they all went into "Show-off" mode.  Just like mama elephant on our first day, these ones wanted to show us they were bigger and more powerful than us (as if we ever doubted that).  The problem with this situation was that they just kept coming!  Grant had told us previously that you never drive away from animals such as these because they will think we are retreating and will actually chase you down.  None of us preferred that to the alternative of just hanging out for awhile.  About thirty minutes into the ordeal, Grant counted over 50 elephants had now joined our gang.  You know that when your guide who has been doing this for years is taking pictures, that this is a pretty cool situation.  On the other hand, when your guide who has been doing this for years very slowly puts down the camera and whispers "Ok everyone, be as still and quiet as possible," you slightly fear for your life.  At this moment, we realized we were completely encircled by this herd of elephants.  We could have stuck out our hands and touched a few of them they were so close.
But, just as quickly as it had all happened, they all instantaneously ran off in the other direction, prompting Grant to wonder, "Hmm, that was odd."  I wanted to say, "No, Grant, that wasn't odd…..that was simply amazing!"
As if being threatened by 50 elephants wasn't enough for the day, we still weren't finished with our exploring.  Since our first night, we knew that there was a male lion in the vicinity.  We had seen his tracks, we had heard his calls, we just had not SEEN him.  Each drive, we all sent out positive energy and thinking that we would see him, but now that we were in our last hour, were starting to lose hope.  Grant had made it clear that the conditions that day would make it near impossible to find him, but as we cruised into an open field (the LAST place Grant thought he'd be), a fellow truck rider just simply questioned, "Lion?"  He could tell that Grant did not believe him and so quickly said, "Eh, maybe it is just a big rock." (Which, in his defense, is actually the EXACT color of a lion's coats).  You could tell that Grant decided to pursue this rock/lion only out of obligation that we were paying customers.  However, as we got closer, the rock moved.  Then, we saw the rock's mane.  Ok, it wasn't a rock.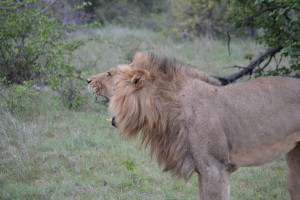 Grant said that he had never seen this lion before, so it must not be from around here, although with how close we were able to get and the lions impassive reaction to us, he must have been used to cars.  Within 15 feet of the king of the jungle, we were able to see his wounded eye from a previous battle, his mangy coat and when he yawned, his massive teeth.  The reality is, as he just lied on the ground grooming himself, it was actually no different from what you would see at a zoo.  However, just the fact that this creature was wild and unpredictable with nothing but a topless car between us made the moment so much more intense and hypnotic than any zoo experience ever could.
With that, we headed back to pack up our belongings, say goodbye to the African Bush and forever be entranced by the beauty, power and awesomeness of nature at it's finest.
The following two tabs change content below.
The Economical Excursionist
LeAnna and Andy have been travelling the world for almost three years straight. Currently living in Germany, the couple spends as much time seeing new parts of the world as possible. However, travel can be an expensive endeavor...unless you know how to TRAVEL HACK. Join us in our adventures around the world as well as to learn a few trips on how to travel hack your own trips.
Latest posts by The Economical Excursionist (see all)