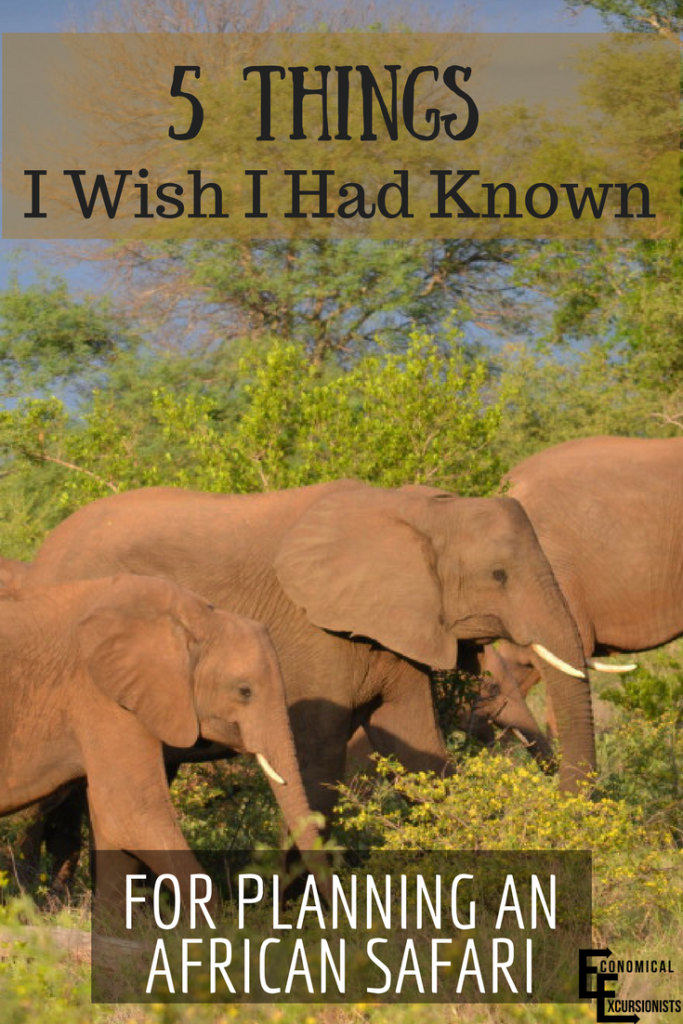 Are you planning a safari? Don't forget to "Pin It" for later!
How To Plan Your Safari Trip
Step 1:  Buy a guidebook, like Fodor's The Complete Guide to African Safari's.  Then, hop on the internet and type "African Safari's"
Step 2: Go buy a bottle of wine.  Scratch that, grab several and go into information overload.
That's about it, my friends.  The End.
No? That's not good enough?  Yeah, I suppose you are right.  Even the best bottle of wine is only going to get you so far in your African Safari planning.
Planning our African trip was one of the most overwhelming trip planning processes I have gone through.  Ok, yes, I probably should have started with something smaller than an entire continent for my search purposes, but I had no idea what was in which country, which reserves or national parks had better game viewings or even the reality of transportation in some of the locations.
I personally spent MONTHS making list after list of each individual country and each time I did, I got more and more confused, overwhelmed and stressed with all the options.  I finally called in the troops (AKA, my husband and our friends we were going with), sat them down and said we needed to hash out some details before I google "Best Safari Experience in Africa" one more freaking time.
It was terribly hard sifting through the mountains of trip information and so now, after the fact, I'd like to make it easier for you.  So, here are my 5 detailed tips on how to plan an African Safari.
1) Start About a Year in Advance
You will want to start planning an African safari early for several reasons.
 First, you will be surprised with just how much you are going to have to sort through just in information alone.  Like I mentioned above, "Africa" is kinda a big place.  Googling "African Safari" doesn't really narrow anything down in the slightest.
Second

, people often find the best deals (price, lodging, etc) when planning in advance.
2) Determine What EXACT African Safari Budget
I could not believe the wide array of safari options.  It ranged from top-notch luxury to DIY.  Before even picking a location, I needed to know what kind of money we were all willing to spend overall.
How much is a safari trip to Africa?
Luxury Safaris
Some of the luxury resorts cost you just a mere $2000.  Oh, you thought that was for the trip?  No.  PER. NIGHT.
Many have personal plunge pools, butlers and giant jacuzzis which are prepped and steaming for you as you come in from a drive.  However, if you have that kind of money, you might as well just go through an agency and have them plan the whole trip for you to save you the time and hassle….and the wine.
You would be surprised with how many people want pampering on their wildlife adventure.  The reality is, for most people, this is a once in a life-time trip so they are going to do it up right!  Many people don't include other stops, cities or sites and just do a safari so they are willing to spend more on the actual safari itself. #YOLO! (Is that still a saying??)
Middle Ground
Most middle ground safari's have everything that you NEED but maybe not a lot more.  These trips can still be pricey for some but if you do enough digging, you can find one that works well for you and is still completely reasonably priced for what you get.  Many of these types of lodges offer you selections on your package, which can make your trip cheaper as well.
Options might include:
Transportation to and from the lodge
In-house catering or self-catering
Number of day's nights
Flexibility on start and end days
Pool
Number of game drives per day
Knowing what you are willing to pay will make it much easier to quickly see the pros and cons of each option so that you can personally design the safari to meet your financial needs.
Do It Yourself Safaris
The DIY option has plenty of positives, one being that you can do an African safari on a budget.  In fact, almost all of our trips to the 40+ countries we have visited are basically all DIY and budget travel.  However, we personally found that this was probably suited more for people who had already been on a safari (or even had just been to Africa in general) rather than first-timers, like us.
If you have already done an African Safari, then you may not mind not hearing interesting tid-bits and facts about the animals you are seeing by a trained guide.  You may also be more aware of how to drive when around wild animals or know where to look for certain species compared to us Safari Virgins.
But we had no clue.  I've never driven when an elephant was staring me right in the eye.  I don't know how to safely "chase" a lion for a sighting (without getting eaten or harming other animals and wildlife!)
However, if you've done a safari, truly can not afford a guide or just REALLY want to do your own Safari, there are lots of ways to do a safari on a budget.
There are often camping sites or cabins right off the reserves to stay in and shops nearby for food, making the DIY option easy for people wanting to design their own adventure and keep costs down as well.
3) Narrow Down a Country
As stated before googling "Where to Go on an African Safari" is just going to send you down a dizzying rabbit hole of endless hours of research.  However, getting it narrowed down and searching for something like "Best safari near Johannesburg" is going to get you answers a lot faster.
But HOW do you decide which country to go on for a safari???
By Considering Flights
Now that you know your budget, this will also help you to narrow down a location or country.  Flying to places in Africa can be hard.
You can expect several layovers and stops just to get to your final destination.  If your budget is limitless, you may be more willing to pay for better routes to get you to your desired location.  However, if you are price shopping for the best flights or are like us, travel hacking and therefore flying on points to travel for "free," then the country you may choose may be entirely dependent upon which flights are easiest and cheapest.
(Tip: If travel hacking, flying into Capetown and/or Johannesburg proved to be the best locations for a travel hack safari, which is exactly why we decided that South Africa was the best option for us. )
Even if not travel hacking, do a quick check on google flights to a few different big cities in Africa (Nairobi, Capetown, etc) and see if some are much longer than others due to long layovers or if any seem to be lower priced in comparison.
Another reason why taking flights into consideration is just for infrastructure alone.  For example, as noted earlier, it's a lot easier to fly to places like Johannesburg or Nairobi (more frequent flights, better flight options, etc).  However, some could argue that places like Uganda, Botswana, Zimbabwe, and Namibia could have better safaris, but to fly into those countries might be more expensive, longer flights, more layovers, etc simply because of the local infrastructure.
By Learning About Different Areas
Just like figuring out what kind of safari you may want to go on, picking a country in Africa is difficult as well.  They all boast the best game viewing (which is why you are probably going in the first place).  A few things we learned in both the research process as well as in talking with locals while in Africa were:
Know Your African Seasons/ When Is The B
est Time to Travel to Africa for Safari
You don't want to be on your trip of a life-time and be stuck inside every day because of pouring rain.  On the other hand, some people prefer not to be in the blazing, sweltering sun.  Therefore, know when rainy season, summer, high tourist seasons etc are so that you can choose a different country if need be.
Remember, Africa is a HUGE continent, so these seasons will vary.  One way to help narrow down your country is if you have specific dates already in mind, then you can start to cross off a few countries that the local season wouldn't be ideal for safaris.
Game Viewing
Unless you are going specifically for something like The Great Migration, you can get a lot of the same game viewing in most places.  Sure, some may have more lions than elephants, but chances are good that you may see them both regardless.
My point being that I got REALLY caught up on this step, and I wish I would have just accepted the fact that we would have a fantastic time in most places.  If you are heading to a reserve or national park, it's not like you won't see anything, so don't let this be a huge time sucker for your when deciding where to go.
Know Your Types of Reserves
Private: Some reserves are private so they are able to fence in animals.  So, what seems like "wild and natural" is actually just a really, really giant enclosure.  This often gives visitors more of a "zoo-like" feel when animals are so used to being around humans rather than unexpectedly encountering them.  The plus side to this is that chances are good that you won't have a drive where you see close to nothing.
Game Reserves: These are more like a "national park" of sorts.  Popular game reserves are Kruger, Serengheti, Masai Mara and plenty more.  There are typically both DIY and organized safaris and depending on the actual reserve itself, their rules and regulations will depend on how the animals will (or won't) interact with you (aka: are they so used to seeing vehicles that it's not that much different than a drive by zoo?), how many others are around you and more.
Free For Alls: Other reserves are basically a free for all.  It's not a coordinated effort, so, expect every single guide out in the bush to radio to the next when they see a lion.  Seeing a lion in nature is bad ass no matter what.  However, if you would rather it just be you (or maybe one other car) for an intimate encounter, you may need to consider a different reserve or park.
By Determining Other Trip Destinations
Finally, figure out if you want to do something else on your Africa trip besides just a Safari.  If you want to go get washed down in Victoria Falls, drink wine near Capetown or climb Kilimanjaro, then those specific places may determine what country you end up with.
4) Find a Safari Lodge
Once you know your budget and the country you want to go to, it is SO MUCH easier to dwindle down the still-long list of lodges.  You already know the different types of lodging and their cost ranges (luxry-DIY), so you can easily search on Tripadvisor with your budget range or just simply google search something like "Kenya Budget Safari" or "Kruger All Inclusive Safari."
There are plenty of places that claim to be the one of the best African safari companies. Since you have already determined from earlier exactly what you need or want on the safari, you can quickly cross off ones that don't meet your requirements (such as food and transportation options).  You still may need to research which reserve or national park to end up in, but even that doesn't seem all that intimidating now.
5) Get Excited
You are about to go on a trip of a lifetime! Get an extra-large camera card, like this one, for all the BAJILLION pictures you are about to take, buy some sunscreen and get excited to do something you have always dreamed of!!!
Many people ask me exactly how I planned MY personal African Adventure.  So, using my own advice from this article, here is exactly what WE personally did to plan our safari.
 Not sure what to pack for your safari?  Here is a full list of everything you'll need.
What other questions do you have for planning your safari?  Let me know and I'll see what I can do to help you out!
The following two tabs change content below.
The Economical Excursionist
LeAnna and Andy have been travelling the world for almost three years straight. Currently living in Germany, the couple spends as much time seeing new parts of the world as possible. However, travel can be an expensive endeavor...unless you know how to TRAVEL HACK. Join us in our adventures around the world as well as to learn a few trips on how to travel hack your own trips.
Latest posts by The Economical Excursionist (see all)