Your One-Stop Safari Packing Checklist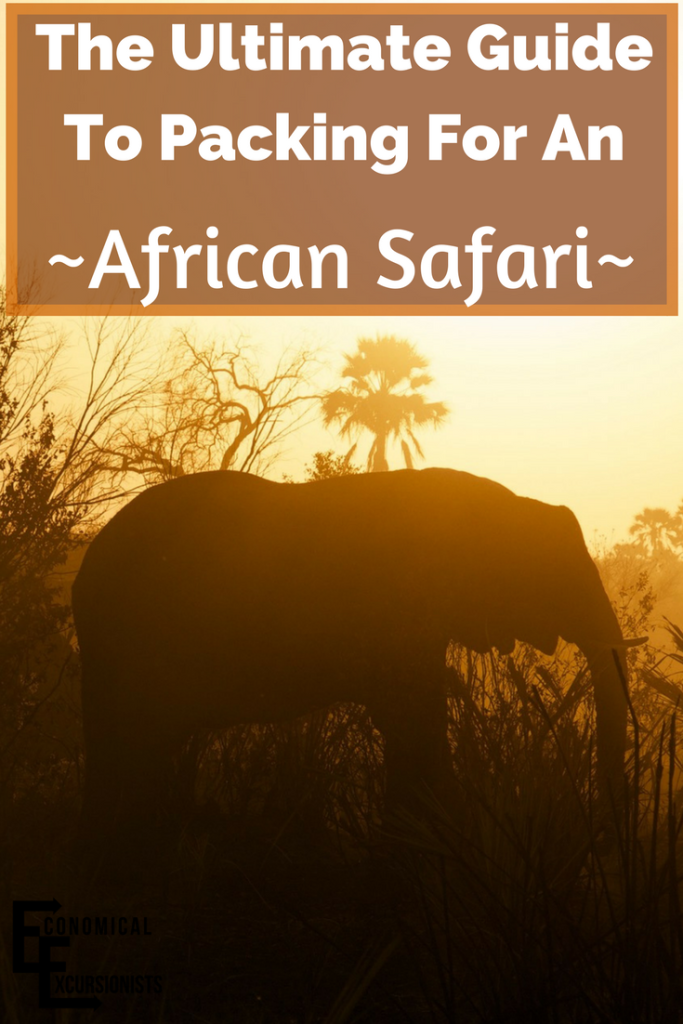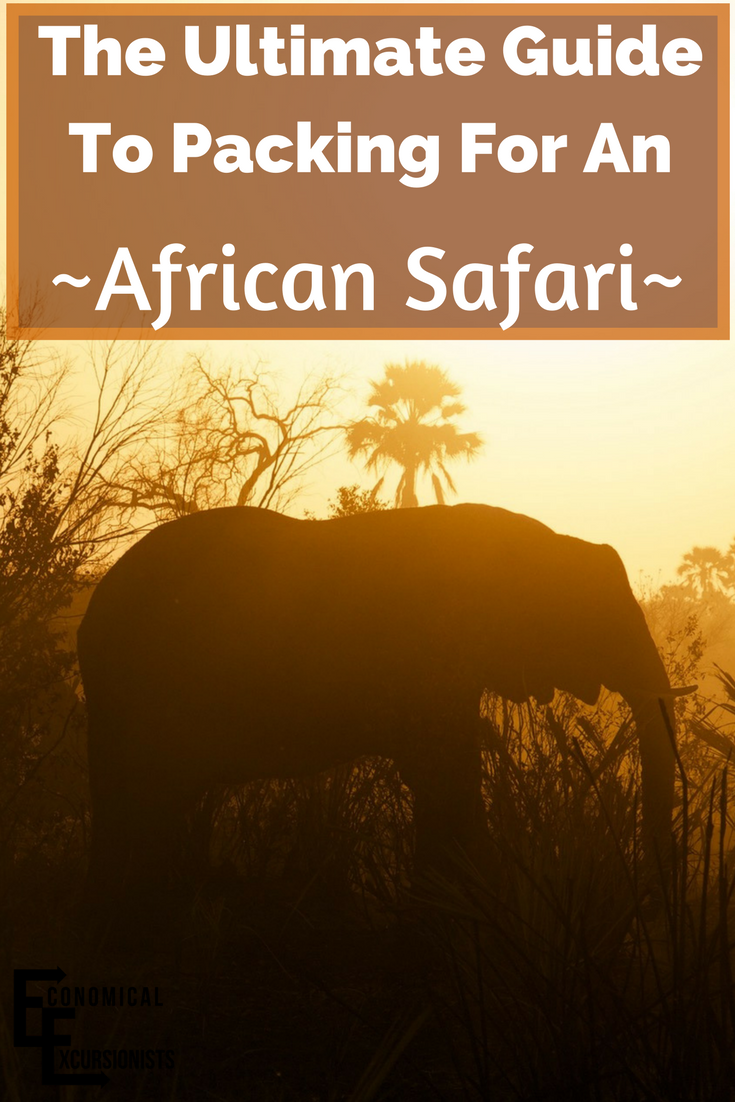 I used to be "that girl."  You know the one.  The girl who has her giant suitcase that she can barely roll down the hall in addition to a carry-on that is oversize AND a giant purse.  The funny thing is that I am not even fashionable, so it had nothing to do with needing two different outfits for each day.
No, I am just really indecisive.
Then, we started traveling. A lot.  I quickly found it to be more of a headache to deal with luggage so each trip, my packing list got shorter and shorter.  Eventually, I was able to use a carry-on for every trip we took.
Safari Packing List
Packing for our African safari was no different.  I wanted to pack light and bring just the essentials (and yet still have everything I could possibly need for our trip).  Making my African safari packing checklist was just about as detailed and hard as PLANNING an African safari!  So here our my top African safari clothing tips as well as the essential things to bring on a safari.
(Note: We traveled to Johannesburg, Capetown, Mauritius and did a Safari but the following list can be applied to any African Safari.)
Luggage
As with any trip, you basically have a few choices for luggage: Carry on or Suitcase.  We all know I am pretty obsessed with packing light and therefore only do a backpack.  We converted to Opsrey many years ago and haven't regretted it once.  Here is my favorite bag I take on every trip.
But there is actually one more reason for this trip to consider a backpack instead of a suitcase.  SAFETY.
You may or may not have read about places in South Africa, like Johannesburg, being unsafe.  Like any type of travel, I think that just about anywhere in the world (ok, minus a few obvious locations) are "safe" to go as long as you are a vigilant traveler.
Long story short, but the night before our safari, we actually saw a man get gun whipped, robbed and suitcase stolen right in front of our hotel.  
After talking to some locals, we found out that a common crime was for a taxi driver to alert his buddies when he was transporting someone who looked to be traveling with a lot of stuff and/or had very nice luggage (aka: Nice suitcase, nice expensive things inside!).  When they would arrive to the destination that the cab driver already informed his friends of and would rob the passengers (making the it look like the driver had nothing to do with it, only to later split the loot)
So what is the moral of the story? I don't think we were looked at TWICE when we rolled into town with our hiking pants and beat up and dirty backpack.  We clearly were NOT of the elite or high class looking clientelle that would be valuable to rob!
The other reason for packing light with something like a backpack over a traditional, large suitcase is that you will most likely be transported to the camp, often a several hour drive.  It's not uncommon to be put into a van or bus with others and you don't want to be "that person" that takes up so much space just for your "stuff!"
Clothing:
Tops
2 tank tops
2 t-shirts OR short sleeved shirts
1 long sleeved shirt for evening and early morning drives (preferbaly of light weight or quick dry material)
1 pullover jacket for cooler game drives/ plane rides
Pants
1 pair of shorts
1 pair of capris jeans
1 pair of convertible pants (mine zipped off from pants to capris)
General Clothing
1 comfortable outfit for plane rides (I like outfits like comfy leggings and one of the tops from above paired w/ the pullover jacket)
5-7 days worth of undergarments (you can always do laundry in the sink/shower!)
5 pairs of socks
Swimsuit (if safari has a pool)
Beach dress/ Pullover dress (if pool is available)
Hat or bandanna for game drives (very important to stay sun protected)
Bland Is Better (for a safari)
When on a safari, the experts recommend only wearing neutral colored clothing.  Finally! My poor fashion style finally has a place in the world and my boring, plain and solid colored outfits could look legit and normal!
But why should you forego your inner fashionista?
1) Neutral colored clothing doesn't attract certain bugs (ie MALARIA ridden mosquito!)
2) They do not retain heat (something you definitely DON'T want in a sub-Saharan terrain!)
3) You don't want to advertise yourself as an afternoon snack for the roaming animals.  Bright colors give you away, where neutral outfits help you to blend in
Layers Are Your Best Packing Tool When Packing Light!
No matter what you bring, think lightweight layering.  This is why I loved the convertible pants because it was cold at the start of a game drive but within a short period of time, it was heating up!
Same thing with top layers.  You'll want light weight jackets, pullovers or long sleeve shirts that you can peel off as the sun gets higher.
Foot Wear:
It is easy to want to pack all your cute shoes, at least a few pairs that will go with different outfits.  Lucky for you (and your light packing), since you are sticking to the (yes, ok, boring) neutral outfits for your safari, you should aim to have almost ALL of your outfits go with one good pair of shoes!  You'll want:
Sandals for quick access while walking around for meals at your camp or if there is a pool
Hiking or good, sturdy shoes for walking around in rough terrain.  These are the ones I use and the ones Mr. EE loves.
Personal Items:
Travel sized bottles of shampoo, conditioner, soap, etc
Toothbrush/ Paste (I personally love the mini ones for light packing travel)
Hair brush and other hair supplies: pony tail holders, gel, hairspary, etc
Deodorant
Medicines (including malaria pills if in a malaria zone)
Glasses/ Contacts (bring 1 extra set)
Small bag of makeup if you wish (just the essentials: foundation, mascara and liner)
Sunglasses
Electronics
Outlet converters.  I recommend a universal one, like this since even there are different voltages throughout Africa.
Go Pro (I suggest a newer version like the Hero+ that has an LCD screen to ensure you are getting the exact moment you want)
Tablet, Ipad or computer
Mp3 player
Book or Kindle
Camera with battery backups and extra memory cards just "in case".  (We personally love our Nikon, but any good DSLR camera is recommended)
Zoom Lens: I can't recommend a good zoom lens for something like a safari.  It makes those perfect action shots (like the one below) that much more impressive!
Tip: ALWAYS pack backup memory cards for big trips and vacations as well as backup batteries! Nothing is worse than seeing a lion, clicking your camera only to see it is dead!)
Mini windup flashlight (no need for batteries that die on you) for the camp in case you are outside at night
Portable battery pack: great for your travel days to keep your gear charged
Mini outlet strip if you have a lot of things you'll need to charge at night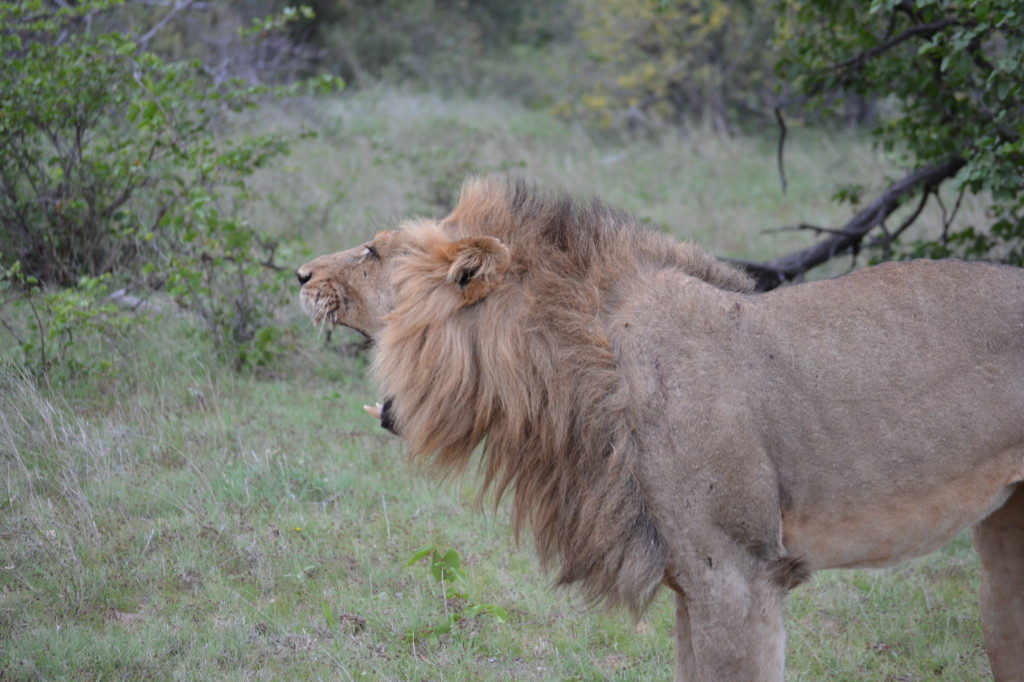 Misc:
Passport (plus a photo copy)
Any driving directions, addresses to hotels, etc
Lightweight beach towel (I always pack this one)
Travel laundry soap (for sink laundry, since you are packing light) and travel clothesline
Credit Card with no foreign transaction fees + backup card (Call ahead to let them know you will be traveling)
Binoculars: these are a MUST for a safari, however many companies provide these during your safari.  Considering how heavy these are, check with your safari company before packing this heavy item in your bag
Sunscreen and Bugspray: Due to carry-on policies, we ended up waiting to buy sunscreen and bug spray in Africa, but either way, these are both a must.  If you are checking a bag, include these items in your list
If traveling in a rainy season, consider a rain poncho and even some silica gel dry packs to put in your camera bag to keep them dry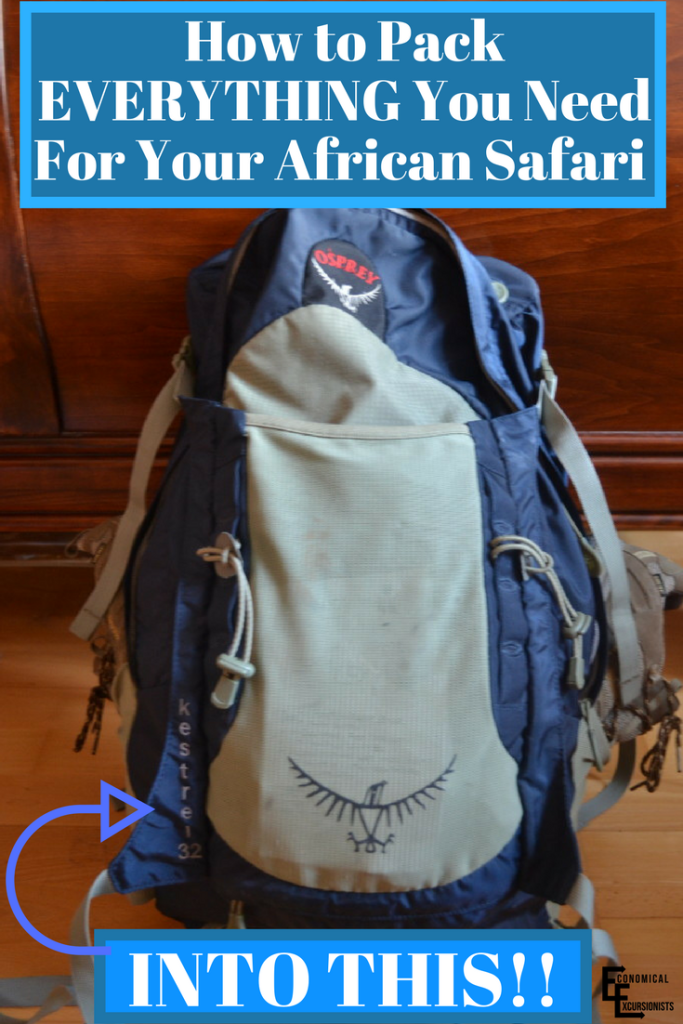 * We personally don't do many souvenirs (takes up too much space and costs money), so I did not plan for this… and that was a mistake!!!  I ended up wanting some beautiful mementos from our trip and didn't have any room so I had to scramble, go to a grocery store and get plastic bags!  I either recommend taking a larger bag, a clothes compression bag or an extra bag (for example, a reusable grocery bag that can be stuffed into a suitcase or used as a "carry on" for later)
And that's it! The key to packing light is to pack as few clothing items that can mix and match with one another as possible.  You can then always do some sink laundry to extend your clothing.  For example, try to pack no more than 5-7 days worth of clothing and remember that IT'S OK to wear the same pants twice.  Therefore, you can pretty much get away with only 2 tops and 2 pants for a whole weeks worth of clothing if you are good at switching them up!
Everything else is a matter of packing smart (ok, who are we kidding….I just SHOVE until no more can go!!!)
 What did I miss for what to pack for an African Safari? What are some packing essentials you take everywhere, no matter the location?
The following two tabs change content below.
The Economical Excursionist
LeAnna and Andy have been travelling the world for almost three years straight. Currently living in Germany, the couple spends as much time seeing new parts of the world as possible. However, travel can be an expensive endeavor...unless you know how to TRAVEL HACK. Join us in our adventures around the world as well as to learn a few trips on how to travel hack your own trips.
Latest posts by The Economical Excursionist (see all)