Tourists have suitcases. Travelers wear backpacks.
Part II
Since you have already read my post about WHY you need to Packing Light Part I, you may now be wondering how in the hell all of that is going to go into ONE small, carry-on backpack.  Just to clarify; when I say to "pack light" I actually mean "Pack Smart and Small" meaning, pack as much as you possibly can shove into that small bag!  Here are a few tips and tricks to get the best real estate value for your small bag with packing light tips.
1) Forget luggage.  Get a backpack.
This is probably the best tip on here, which is why it goes at the top.   I've said it before and I'll say it again, "Tourists have suitcases.  Travelers wear backpacks!"
Have kids?  Here is the best carry on luggage for kiddos!
2) Tie Shoes to the Outside
Shoes are one of the bulkiest, most awkward items to pack and get your clothes all dirty.  Using straps and/or the pockets of the backpack, loop the straps of your tennis or hiking shoes through the laces so they aren't popping out and save valuable packing space inside.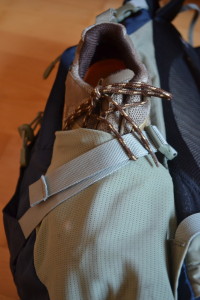 Bonus Shoe Tip:  If you must pack a pair of shoes inside your bag, use a cheap shower cap to keep them together and not get dirt and grime on your clothes.
3) Pack INSIDE the Shoes
Utilizing every nook and cranny will help you pack more items into your small space.  Here are just a few ideas of what to pack inside your shoes:  Socks (duh), fragile items, toiletries baggy, jewelry tucked into the toe….really anything that will fit!
4) Roll, don't fold
Rolling your clothing will not only take up less space but will also decrease wrinkles and lines in your clothing.
5) Vacuum Sealed Bags
If weight is not a concern (some airlines have a poundage/kilo maximum even for the carry-ons, despite how much you can cram into those bad boys) then use a vacuum sealed bag to pack even more.  Even without a vacuum (for example at the end of your trip), rolling the air out of the vacuum bag will give you way more space (since it always seems that you come back with more than what you left with).
6) Invest in quality Luggage/Backpacks
Just because you can fit everything for your trip into one backpack, doesn't mean that you only packed a few items.  If you get a quality backpack that can take a beating, you can give any clown car a run for it's money.   If you have to call for backup and have it be a two-man job just to get it zipped, you know you were doing it right! There are many quality backpacks and doing your homework on the pros and cons of them will help determine which one is best for your needs.  I personally love my Osprey bags.  Yes, they easily go over our typical "budget traveler" spending, but like good shoes, spending more once can save you in the long-run.   They don't mind being man-handled and IF something were to bust, there is a life-time guarantee on replacements, so I have no fear of shoving "just one more shirt" in.
I also love SMART backpacks, like our Osprey Daylite Backpack
that actually can attach as a small day bag  to the large one so your actually only lugging around one for the space of two.  One reason this is great is because you can pack even more stuff, attach it to your bigger pack and have that only count as one carry-on.  Which means that you also get a "personal item" like another small bag or purse (for even more stuff!) Can you say "Hello extra dress?"
6) Mix and Match Outfits
This one is a given from my packing list, but is so important to mention yet again.  Don't worry about being fashion forward.  Instead, worry about which is more important: those baggage fees for having to check a bigger bag (aka: more clothes) or saving that money for more gelato (uuh, no brainer right there!).  Bring only a few items of clothing that can be versatile and have many different combos with the same clothing because you can always….
7) Do laundry along the Way
Ready for a shocker?  You can actually wear clothes more than once!  I know, hard to believe, but the "only 5 outfits" you packed now just became 10 days worth of clothing.  Do some laundry in a shower and/or sink and you now have infinite days of duds.
Take along some dry detergent or get a traveling pouch of gel and don't mind the fact that the maid is going to see your grannie panties.
8) Attach Heavy Items to the Outside
Jackets and coats are another big, heavy and bulky item that simply take up too much space.  If you have more straps, attach these to the outside or go all sorts of MacGyver on it with some string.  Either way, you just saved yourself a TON of room inside your bag.
9) Think Light Layers
Packing light weight (which are often quick-dry) clothing not only helps with packing fewer things, but you can still be toasty even in the coldest of climates.  Long underwear paired with another thin layer and hiking pants will keep you warm enough as well as a long underwear top with a few long-sleeved shirts and good coat (that was attached to the outside) and you can ditch the bulky sweaters and heavy jeans, meaning more space in your backpack.
10) Pack Heaviest Items on Bottom
Since I only recommend backpacking it, you will be carrying this on your back (wait…did I really need to just explain how backpacks work?).  Therefore, unless you want to take a faceplant into the ground due to poor weight distribution, pack anything heavy towards the bottom.  When on your back, the bottom of the pack will be close to your center of gravity so you can avoid any face to ground contact.
11) ) Keep Gadgets Limited and Small
We used to pack our laptop into our backpacks, which, in addition to the cords , was simply too space consuming (and heavy)!  We finally gave in and bought tablets which can now be everything we need in one: Books to read, internet/computer, GPS, guidebooks and MP3 player giving me just enough space to maybe cram in one more pair of shoes.
12) Bonus Tip: Enjoy the freedom of not worrying about lugging luggage around and looking like a true traveler.
The following two tabs change content below.
The Economical Excursionist
LeAnna and Andy have been travelling the world for almost three years straight. Currently living in Germany, the couple spends as much time seeing new parts of the world as possible. However, travel can be an expensive endeavor...unless you know how to TRAVEL HACK. Join us in our adventures around the world as well as to learn a few trips on how to travel hack your own trips.
Latest posts by The Economical Excursionist (see all)