Capetown Township Tour
I have said it before and will continue to say that one of the most powerful parts about going to different locations of the world is seeing other people's way of daily life.  We were fortunate enough to be in Capetown during Nelson Mandela's funeral.  Therefore, everywhere we went, it wasn't hard to see how far this country has come in the short amount of time since the end of Apartheid.  We were constantly reminded of the power that people have to make a huge, positive difference in the world as well as the visibility that the world as a whole still has a long way to go.
To really see the lasting effects of apartheid, we found a local guide who takes people through the neighborhood he grew up in and still has community ties with.  Doing a Capetown Township tour on our own was not recommended.  After all, these neighborhoods are people's lives.  However being with a local who knew the fellow people and encouraged visitors to see his own and bring awareness to very real issues was much more safe and would prove to be quite the enlightening day.
It was a huge eye opening experience to see what people even today are living with in Africa.  Seeing the poverty of the people, but hearing the frustration in the guide's voice of how people often will not TRY to get out of the cycle and won't choose to better themselves like he had done was truly heartbreaking.  We walked by shipping containers that had stolen electricity and was shared by TWO families (most who traditionally have many children) to serve as their home.  We saw an elderly lady preparing traditional S. African "smileys" (sheep heads), we sipped on "beer" from the locals and talked to a traditional medicine man.  What had a serious conversation about sexual abuse in low-poverty areas and in contrary, visited a community center where people could go to learn a trade in order to better themselves as well as give back to their community in a positive, helpful way
Going through Capetown as a tourist, you can see the "shanty towns" and Townships and how absolutely filthy, cramped, dirty and poor these communities are but you are still just that; a tourist.  Actually walking through one of the neighborhoods and interacting with the local people gave me a whole new perspective on the system.  My heart went out for them and it will forever serve as a constant reminder of the discrepancies in our world and how some of us need to step back and be reminded of our luxuries in life and be thankful for all we have.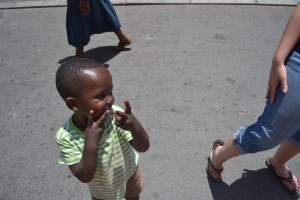 Cape of Good Hope: The most South/Western point of Africa
In so many places we travel, we rely on public transportation to get us around, even when it isn't the most convenient.  However, we opted for a car due to the large distances we wanted to cover near Capetown and I have to admit that having the flexibility of going on our own time made our drive down to the Cape of Good Hope so light-hearted and easy.  It also helped that with the windows rolled down, music cranked up  and sun beating in through the windows, it felt just like a peaceful summer drive.
There were many stops along our peninsula drive down to the Cape.  South Africa is home to the "Jackass Penguin," named so because it's call sounds exactly like a donkey.  Now, imagine hearing THOUSANDS of donkey calls all at once and you've got yourself a beach full of penguins!  It was amazing seeing the beach completely lined and packed with the cute, waddling birds!
Next was getting into the actual Cape of Good Hope Nature Reserve.  This beautiful area had stunning views out over cliffs and the Cape, but also was home to all sorts of wildlife; ostrich, tortoise, springbok and even zebra can all be found just while driving around.  It was simply extraordinary that one second you can be enjoying the views of waves crashing into the rocks and then the next see an ostrich poke his head out of the ground only a few hundred feet from you!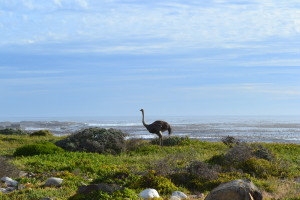 We went to several spots in the nature reserve that gave us stunning views as well as going to the actual Cape of Good Hope, which is the farthest South-Western tip of Africa!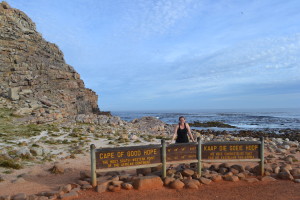 Driving back into Capetown, we enjoyed a miraculous sunset as we drove along the coast.  If you could bottle up perfectly beautiful, fun and flawless days, this would be the one to pick.
The following two tabs change content below.
The Economical Excursionist
LeAnna and Andy have been travelling the world for almost three years straight. Currently living in Germany, the couple spends as much time seeing new parts of the world as possible. However, travel can be an expensive endeavor...unless you know how to TRAVEL HACK. Join us in our adventures around the world as well as to learn a few trips on how to travel hack your own trips.
Latest posts by The Economical Excursionist (see all)