Things To Do In Gimmelwald Switzerland
"If Heaven isn't what it's cracked up to be, send me back to Gimmelwald."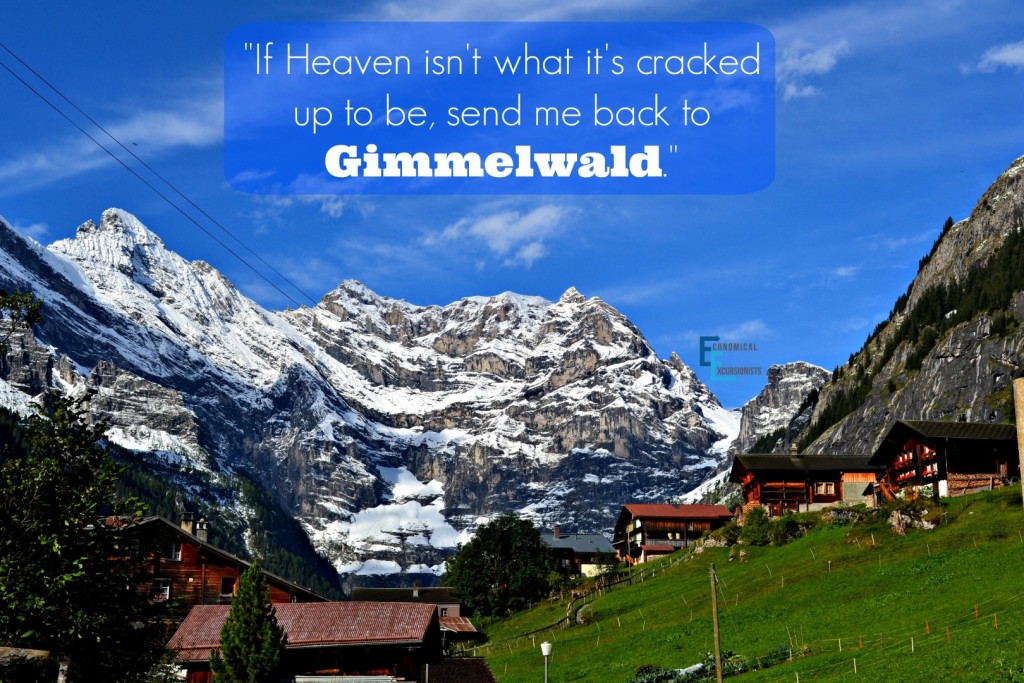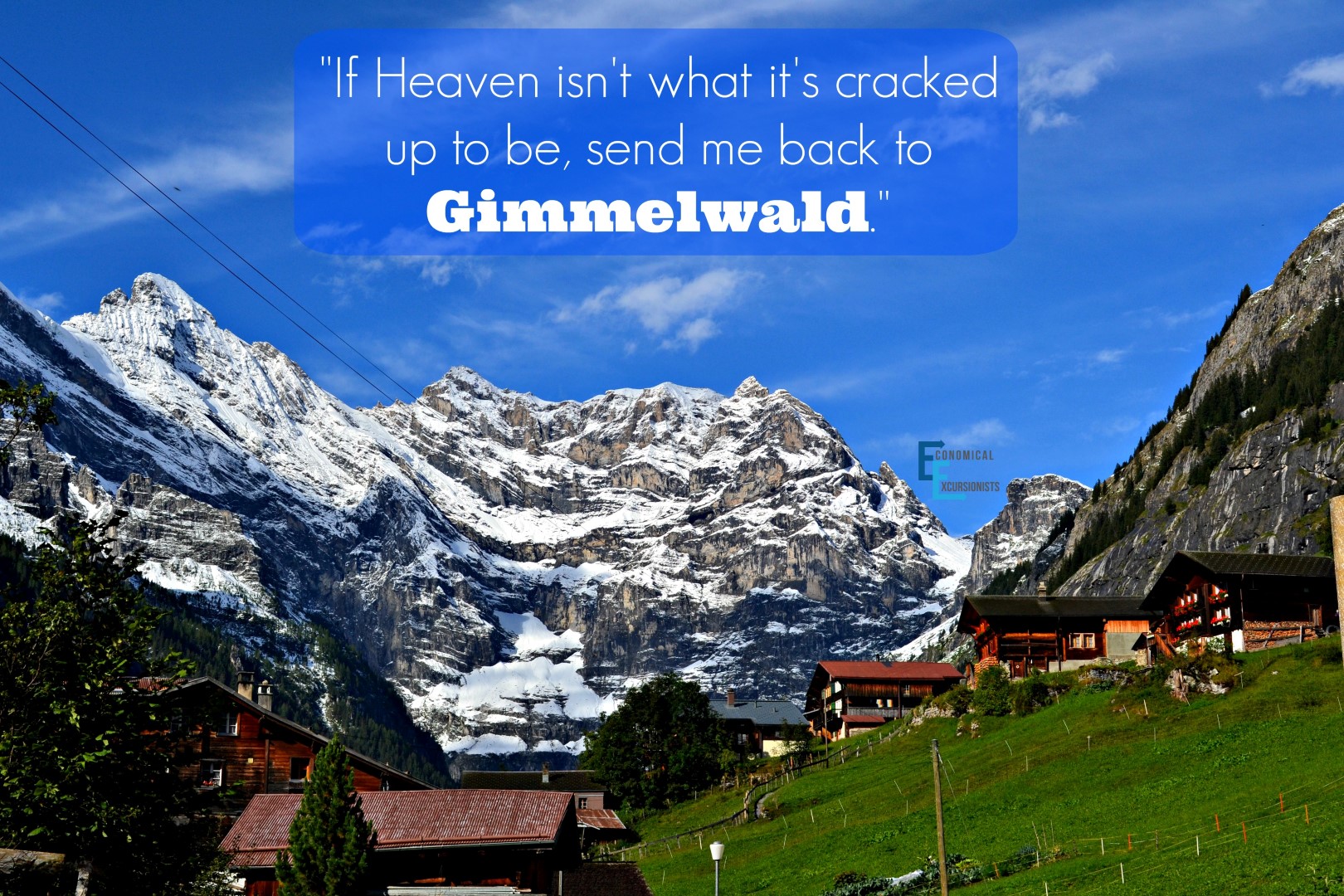 It's an old folk saying, but whoever said it first just might be onto something.
It is easy to see why so many people consider Gimmelwald and the surrounding Lauterbrunnen areas heaven on Earth.  If you are heading to the area, makre sure you've also read my articles on the nearby towns and alternatives to Gimmelwald:
Now, if you don't know this about me, I'm from Nebraska.  Don't worry, the only thing you need to know about that state is that it's relatively flat.
So for me, going to the Lauterbrunnen area of the Swiss Alps is simply breathtaking…literally and figuratively.
Sometimes, while hiking I use the excuses of
"Oh, I'm just going to stop here and take a few pictures" or
"Can we just sit here and enjoy this scenery?"  
When actually that is code for
"Holy crap, I am exhausted from just climbing up that mountain, can I please just sit on this rock for five minutes!?"  
But in all seriousness, I really could just sit and look out at the jagged, snow-covered peaks all day and not get tired of that view.
Gimmelwald vs Grindelwald:

Which Side of the Valley To Go To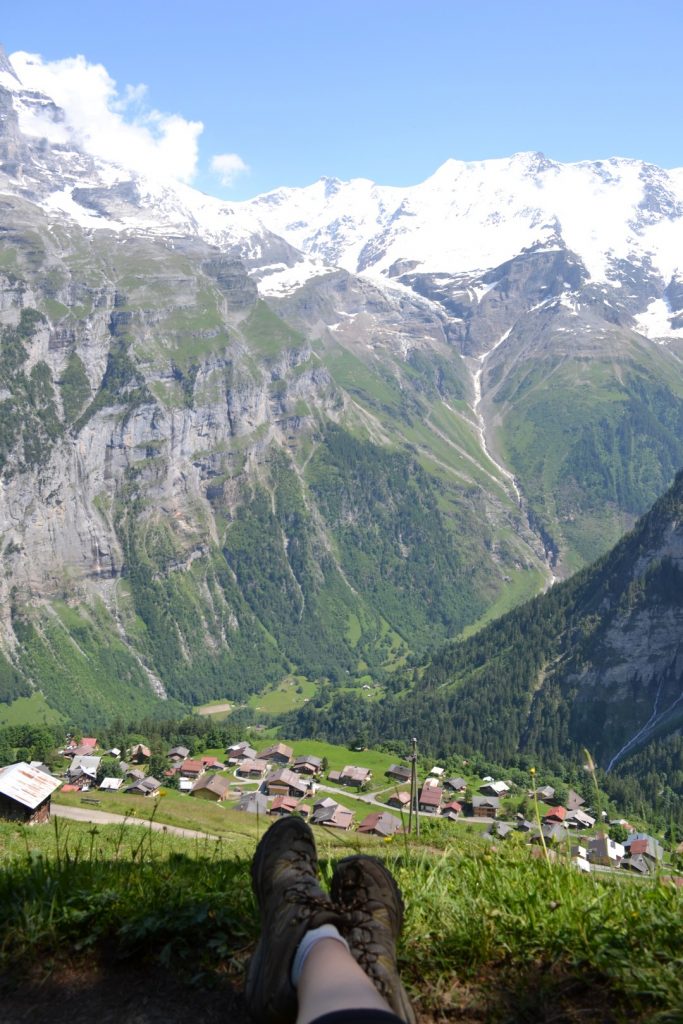 I go into immense detail on Grindelwald or Gimmelwald over on my Things To Do in Grindelwald article and why I personally enjoy Gimmelwald better.
We went to the Lauterbrunnen valley several years ago and I fell in love.  Essentially, there is a flat valley and on either side are your picture perfect Swiss Alps. Both sides are great, beautiful and breathtaking.  However, I absolutely LOVE the Gimmelwald side.  Regardless, whichever one you go to, you won't be disappointed.
Getting To Gimmelwald
Gimmelwald and Murren (the next little hamlet over from Gimmelwald) is on the Western side of the Lauterbrunnen valley.  You can only access the villages via cable car or by hiking.  Personally, I love to take the cable car up, saving my energy for the spectacular views, hikes and walks higher up in the mountains!
From this side of the valley, you can peer out over the steep canyon and upon the Eiger, Monch and Jungfrau mountains, three of the most iconic and stunning peaks of the Swiss Alps.  This is one of the reasons why I like being on the Gimmelwald side.  While hiking ON those mountains is great (and beautiful) there is just something about being able to gaze upon them with every step of your walk or hike that really puts you in awe.
By Car:  
If you have a car, this is the easiest way of getting to the Lauterbrunnen valley.  You will then go to the Stechelberg Gondola (just type in Stechelberg into your GPS, the town is so tiny that once you get there, just follow the signs to the cable car)
Note: You do have to pay for parking at the cable car.  Parking in the lot is significantly cheaper than the garage and plenty safe
2nd Note: To drive in Switzerland, you will need the year-long Vignette.  This is quite pricey coming in at around $40! This is good for a calendar year (not a year from when you purchase).  You can purchase it at any gas station as you enter the country.
Pubic Transport: 
1) You'll most likely be getting in by the Interlaken Ost-Lauterbrunnen Train:  This train is a two- parter, so be extremely careful to get on the first half to Lauterbrunnen (the other half would take you to the other side of the Valley- Grindelwald).  However, they are marked well, so just be mindful of which car to hop on.
2) Take the bus from Lauterbrunnen to Stechelberg: Right off to your right, you'll find a small bus stop.  There is only one bus that runs there and Stechelberg is the last stop, so it's super easy and drops you off right at the station
3) Take the Cable Car Up to Gimmelwald
Gondola Ride:
The cable car rides aren't exactly cheap.  This is why we personally like to take the gondola only up (half price) and then hike it back down.  It is a very relatively easy hike down (only a little over an hour from the station) and, again, beautiful the whole way!  For current pricing, time-tables, etc. check out the official site HERE
Depending on your travels, consider and look into the Swiss Pass as it gets you a discount on several mountain railways and cable cars.  This is especially good if traveling with a family and not wanting to hike as much but still want to get up into the Alpines and peaks for the spectacular views.  If there are residents at the location, the journey should be covered by the pass.  Therefore, Stechelberg to Gimmelwald would be covered on the Swiss Pass, but not all the way up to the Schiltorn.
Getting To Murren
People often like to go to Murren when on this side of the valley.  Your two main options are to
Hike to Murren from Gimmewald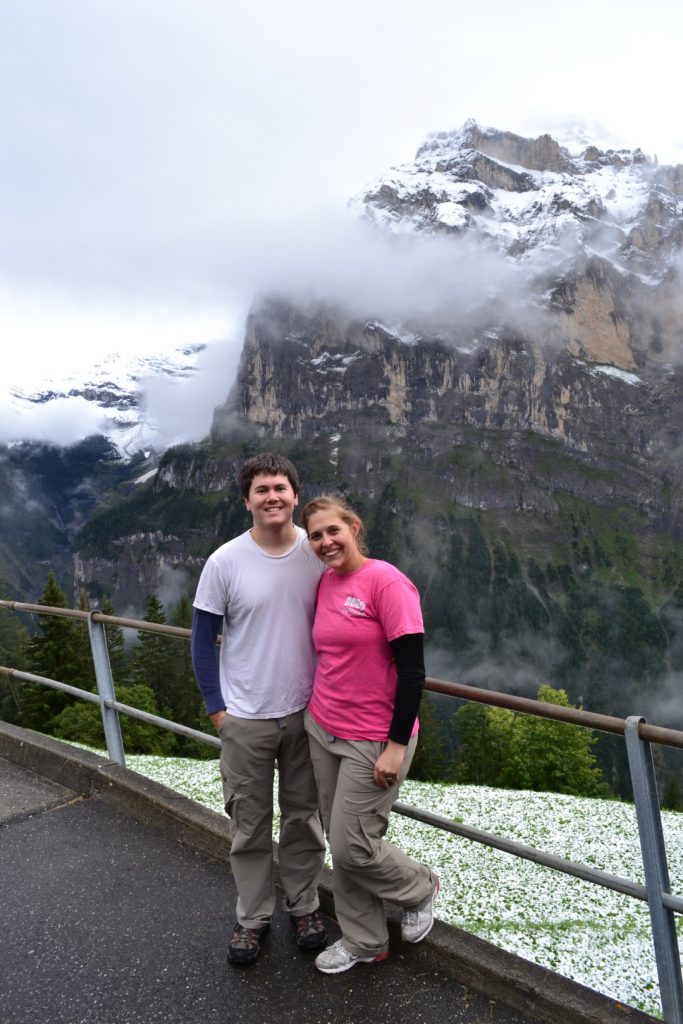 I go into more detail on this below, but ultimately, it is a really easy walk (45 minutes-ish) that is all mostly paved and well marked.
Tip: Some people like to hike from Murren to Gimmelwald instead since it is mostly downhill in that direction, but either way, it is not a difficult walk.
Take a Cable Car to Murren
At the Lauterbrunnen train station, go across from the train station to the Grütschalp cable car.  At Grütschalp, you'll get off and then get on the railway car that will take you directly to Murren.
Tip: The best views on the railway car to Murren are on the left side of the train!
Hikes (and walks) To Take Near Gimmelwald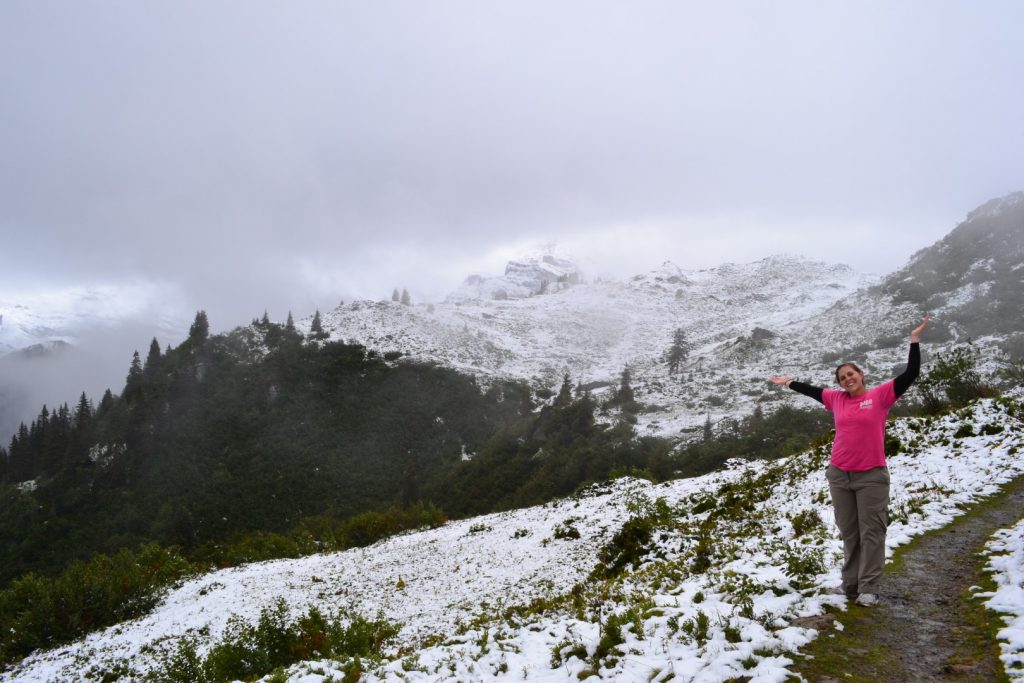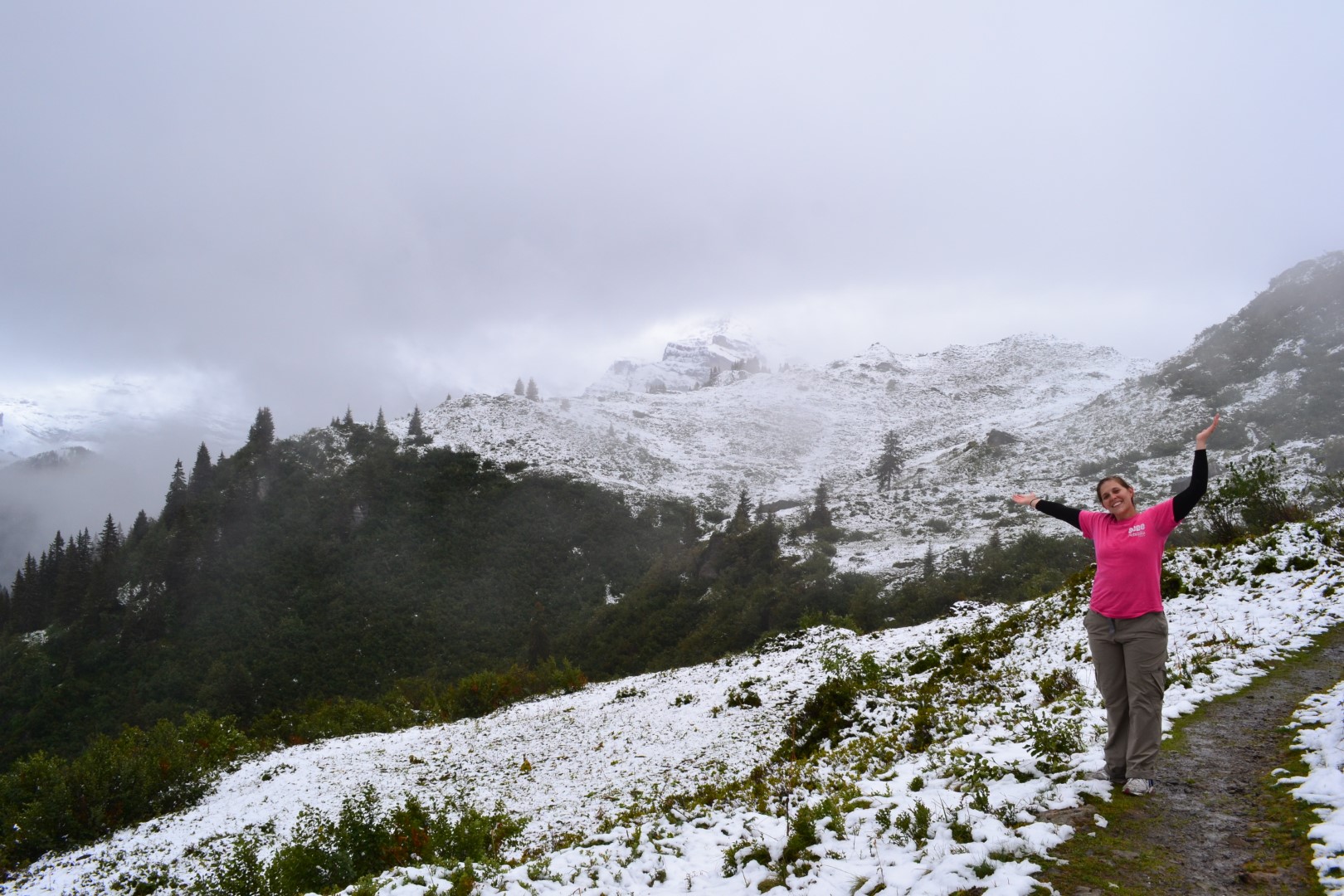 There are countless hikes and walks you can take from Gimmelwald or Murren.  When you are at the cable car station, ask for any hiking maps they might have.  Alternatively, you can stop in to just about any hotel or the hostel in Gimmelwald and ask for one as well.  You can mix and match walks and hikes to meet your ability level and time constraints.  Despite being high in the Swiss Alps, you have the ability to choose from a variety of ability levels.
Everything is EXTREMELY well marked.  Not only are the trails well maintained, but there are frequent signs stating where paths veer off to, how much time it takes, etc.  So, even for the map-impaired people like me, it is still easy to make your way around.  Alternatively, there are often stones and trees marked letting you know you are on the right path.
Gimmelwald to Murren (or Vice Versa)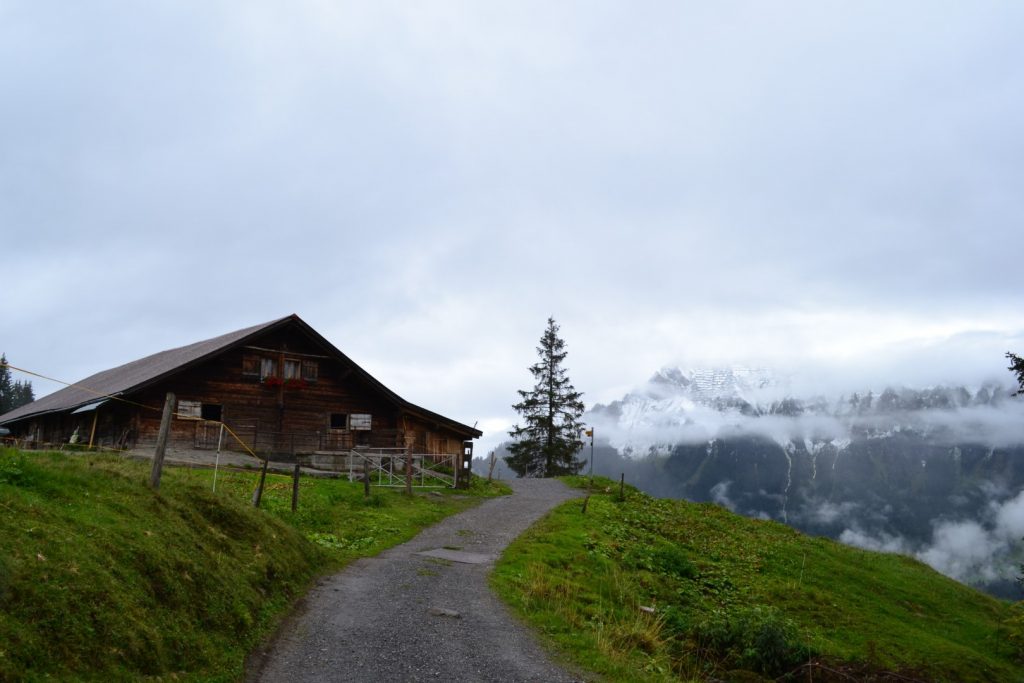 Gimmelwald to Murren is about 2km and since it is all paved and relatively flat, it is an easy 40 minute walk.  Even with youngins' the walk from Gimmelwald and Murren is STUNNING and easy to do.  It's a great first walk to just kind of orient yourself and start taking in the scenery slowly and easily.
One of the reasons why I love this walk so much is that for the difficulty level (incredibly easy) you still get AMAZING views.  Sometimes when you go hiking in the mountains, you've got to get to harder or higher paths for a great payout, but not here!  No matter where you turn, you'll be rewarded with the amazing Alps.
Mürren via Ferrata
So this is less of a hike and more of an extreme sport.  This is for people with climbing experience, not your average hikers.  You'll literally scale the cliffs, walk a tight rope and more…and you will be highly rewarded.  The adrenaline junky in me gets tingles just looking at it. Here is more info from EartTrekkers on this insane, but awesome, adventure.
Gimmelwald to Schilthorn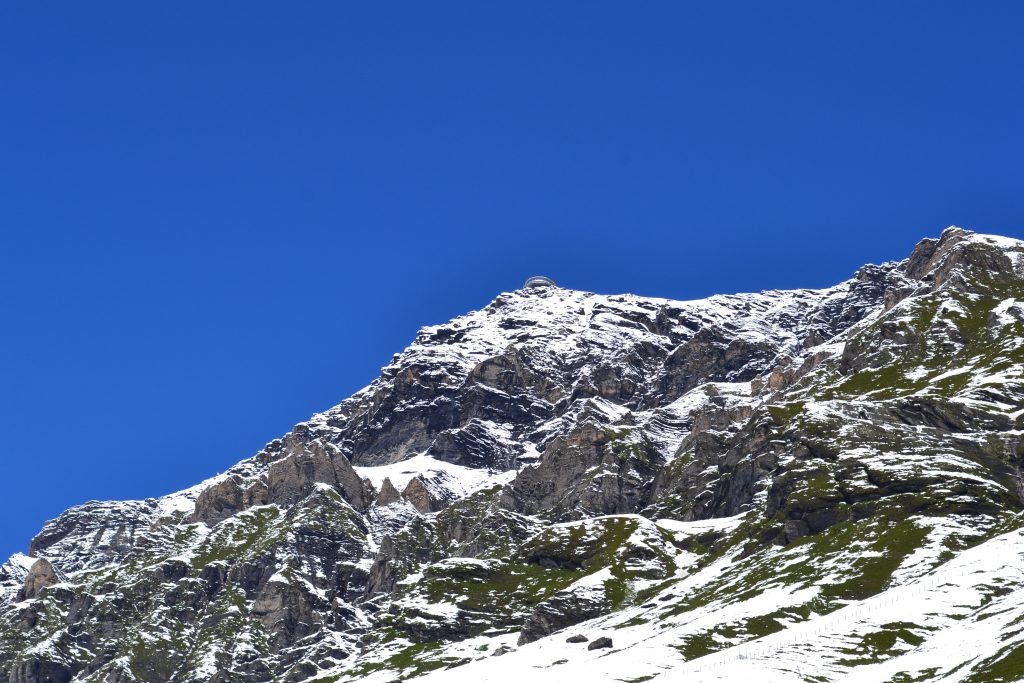 While everyone is clamoring to get up to the Jungfraujoch from Grindelwald, the Schilthorn is just one more reason why I LOVE the Gimmelwald side instead.  I'm not saying that there aren't tourists, but in comparison to Grindelwald and Wengen, it's a lot quieter and still with an amazing Alpine peak: the Schilthorn
By Cable Car
Some people choose to take the cable cars all the way to the Schilthorn (one of the highest mountains in Switzerland) and yes….the set for one of the James Bond movies. For more information on the Schiltorn, the cable car times and more, check out their official site .
All cable cars to the Schilthorn depart from Murren.  Therefore, many people choose to use the Grütschalp gondola (mentioned above) to get to Murren and then go on from there.  While others like to go from Stechelberg to Gimmelwald via gondola and then walk to Murren (mentioned above).  A great way to see more of the area is to go up Stechelberg, walk to Murren, take the cable car to/from Schilthorn and then taking the Grütschalp gondola from Murren back down to Lauterbrunnen
Hiking To The Schilthorn
Others choose to hike because this path is absolutely breathtaking (both for the sites and for the strenuous hiking!) One of the hardest parts about this hike is the length.  It just takes a looong time (it is about 8 miles after all).  It's a great workout, but just go at your own pace, take it slow when you need to and just enjoy the serenity of the world around you!
However, as you get higher, it will become more difficult.  Unfortunately for us, on our first trip with no real hiking gear or experience (yup…I just had tennis shoes, what was I thinking!), we didn't realize that year-round there would still be snow on the last leg.  Therefore we ALMOST made it to the top but had to stop at the snowline instead. (See that round thing in the photo above at the top of the peak?  Yeah, that's the 007 at the top of the Schilthorn!!! Soooo close!)  Maybe it's for the best, as that last final stretch would have been a tough climb.
Regardless, it was one of our best and most beautiful days of hiking we've ever had.
Time: It could take easily take up to 5 hours just to reach the top (and then the same for the return).  You can take the cable car back down for the crazy high price of almost $50 per person or walk back. Therefore, plan your time accordingly and have plenty of food, water, and good clothing.
Do you have a hiker in your life?  I LOVED these 100 gifts to give any hiker.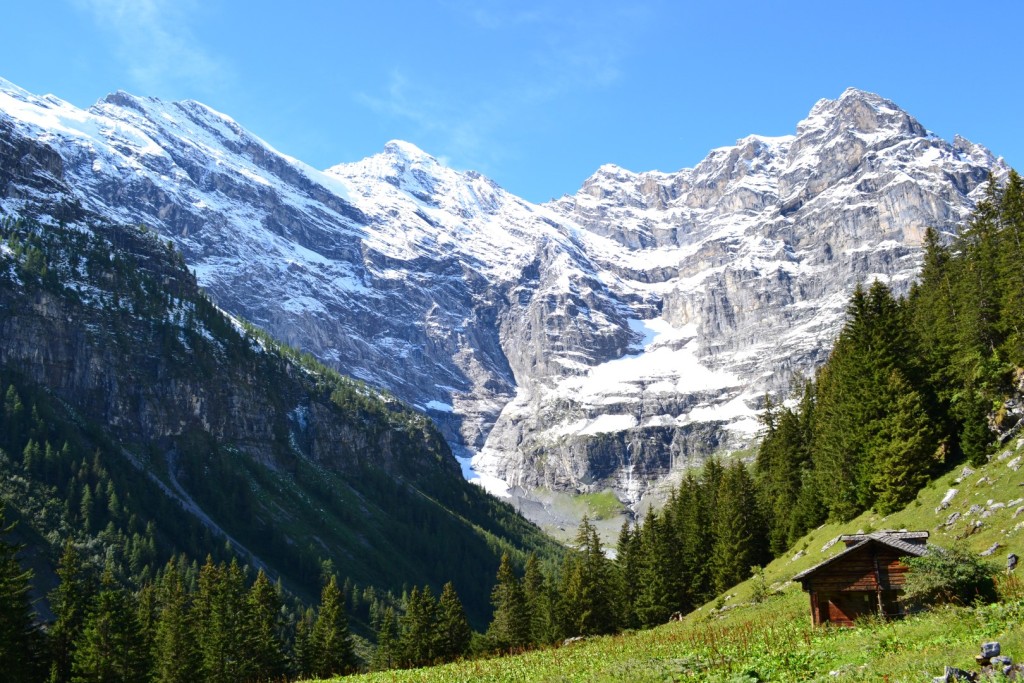 At the Schilthorn
Once you make it up to one of the highest peaks in the Swiss Alps, you can enjoy a meal in the revolving restaurant Piz Gloria where you'll get to see only a mere 200 or so peaks in all its 360 glory.
You can walk the 007 Walk of Fame where there is information from the James Bond movie that was filmed here.
And obviously you are going to want to hang out at the viewing platform for amazing panoramas of the area.
Birg To Schilthorn
If the idea of a 13 km hike with a 1700 elevation climb doesn't sound appealing, you can take the cable car from Murren to Birg and then hike the rest of the way to Schilthorn.  This is a much more manageable trek than the full hike to Schilthorn.
Birg Thrill Walk
It is definitely worth a stop at Birg either via the cable car on the way back to Mürren (it is the stop between Mürren and the Schilthorn) or to do the above hike from Birg.  While you are there, you'll want to do the Birg Thrill Walk.
This is just another reason why I love this side of the valley vs Grindelwald.  Many people go to Grindelwald First, which has a similar cliff walk.  However, the Birg Thrill Walk, complete with a safe and easy walk on the sheer side of a cliff and glass walkways, is less crowded than First.
Gimmelwald to Oberhornsee
This is an extremely difficult hike, especially from the start.  So, I wouldn't recommend this one unless you are more in shape and have hiking experience.  For a good 1.5 hours at the beginning, you can expect an incredibly steep climb but then eventually levels off. However, your hard work is rewarded with views that could have come straight from a postcard!  You might even be able to glimpse a steinbock! And because of the difficult nature of this particular hike, you won't have to share the path with a ton of other people!
Time: This hike could easily take 7 hours (round trip) so again, plan accordingly.
Gimmelwald to Allmendhubel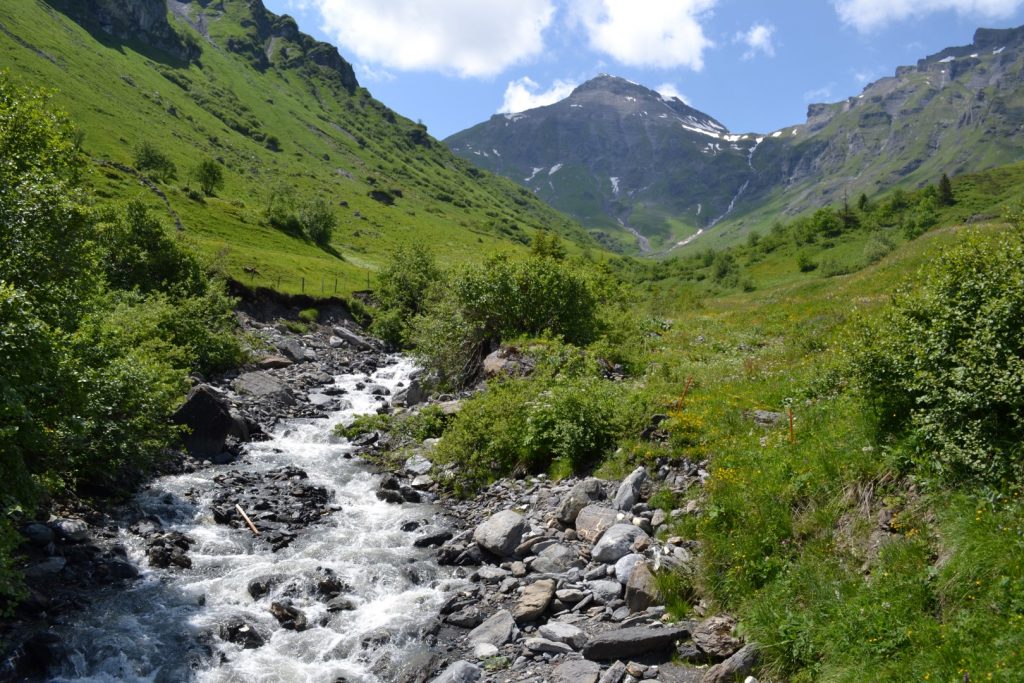 Don't want to "hike"?  This walk is the perfect alternative and is great for families.  You don't get much higher than the tree line, so it is still pretty easy, but with fields and views to impress everyone in your clan.  Continue onto Winteregg to extend the walk a bit more, where you can grab a bite to eat, a refreshing drink to sip on and views that could keep you there all day!
Take Bits and Pieces of the Above Hikes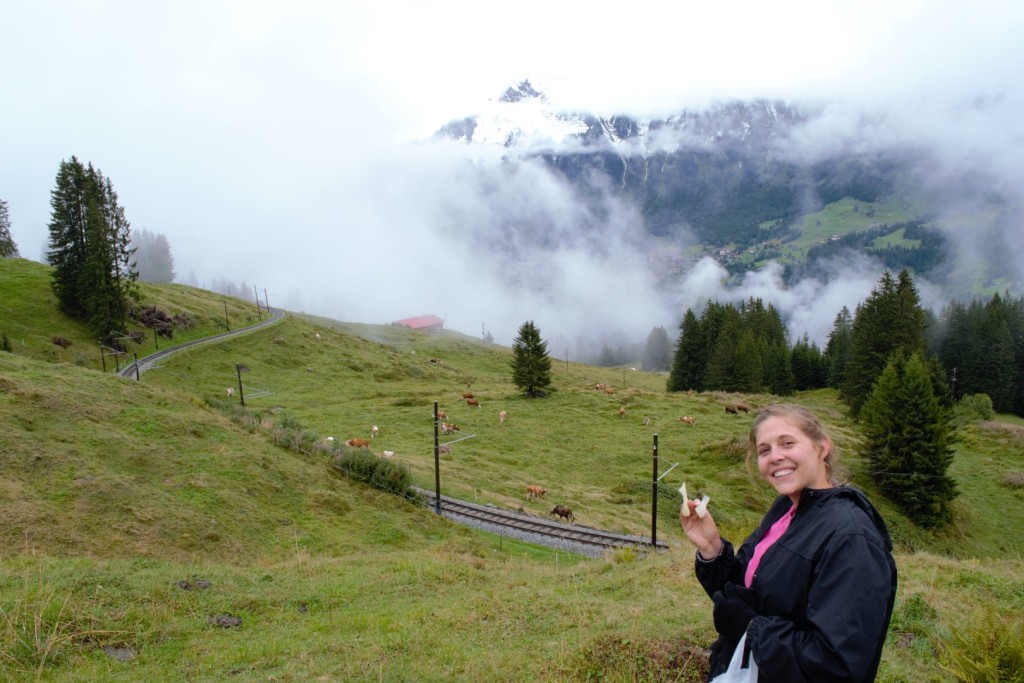 Most of the hikes start out really simple.  So you don't want to do a 10 hour hike?  Most people don't! But don't skip out on the beautiful views because of the time suggestion on the map.  Instead, just go for as long as you want and turn around when you are ready to head back or when it gets too difficult.  Even on the same paths, you somehow see the same things but from an amazingly different view!
For more hikes and walks for all ability levels, check out this great site with in-depth descriptions of hikes on where to go and what to see from Gimmelwald.  Some are as short as an hour and extremely walk-able and easy and others can last all day and be quite strenuous.
How To Get From Gimmelwald to Grindelwald
Many people like to visit both sides of the Lauterbrunnen Valley while they are in the area.  How you get from Gimmelwald to Grindelwald might depend on what kind of transportation you have.  But basically, from Gimmelwald, you'll take the cable car down to Stechlberg.
From Stechlberg, you can catch a bus that takes you to Lauterbrunnen or if you have a car, you can drive.  From Lauterbrunnen, follow the steps for how to get from Lauterbrunnen to Grindelwald in my Grindelwald post.  There are several options including driving and the beautiful train journey.
Where To Stay
Personally, if I am going to spend the money to take the cable car up, I am going to try to stay a few days and make the most of it!
If heading to Gimmelwald, there are only a few lodging options, but the cheapest is the Mountain Hostel.  For just the two of us, this has been a great option.  The owners are extremely friendly and helpful and the crowd not rowdy and loud!  This can book up fast as they have limited rooms, so plan accordingly.  There are only a few other hotels to choose from: Your other options are limited with 
These hotels come with a higher price tag, but if you are with a family, it might be your better option.
Click Here To See Current Pricing and Availability of Gimmelwald Hotels
You can grab grub to eat at most of these places as well.
If you are in Murren, you have a lot more choices of where to stay as well a grocery store option.  Here are a few of the top rated hotels in Murren:
And if you'd rather stay in Apartments, you can't beat
Click Here To See All Available Murren Hotels and Apartments
Stay In Lauterbrunnen
Another option is to stay down in the Valley.  While I personally believe you should spend at least a few days up in the Gimmelwald and Murren area, I do understand people wanting to see both sides of the Valley.  So, it's not uncommon to spend the night in Lauterbrunnen and go up to Grindelwald one day and Gimmelwald the next.
We've personally loved camping in Lauterbrunnen.  The Lauterbrunnen Valley is gorgeous, so it was the perfect way to connect with nature.
However, there are still plenty of great hotels to choose from as well.
Click Here To See Current Prices and Availability for Hotels in Lauterbrunnen
And Can We Just Talk About All Of The Waterfalls!?
One of my favorite reasons for going to the Gimmelwald side of the valley is ALL of the waterfalls.  I mean, they are on every turn!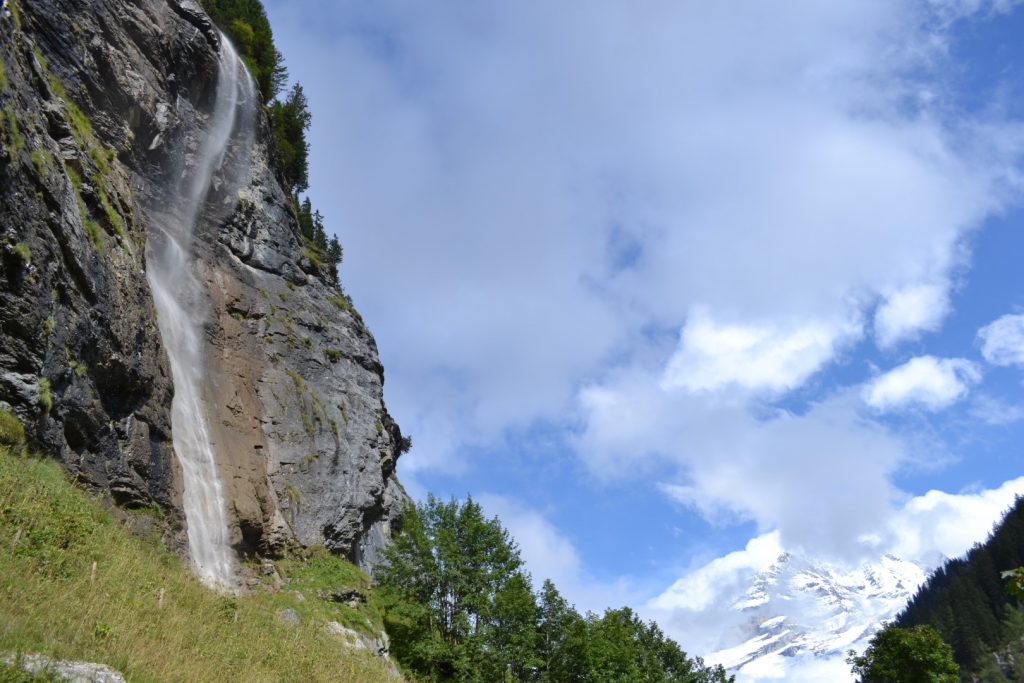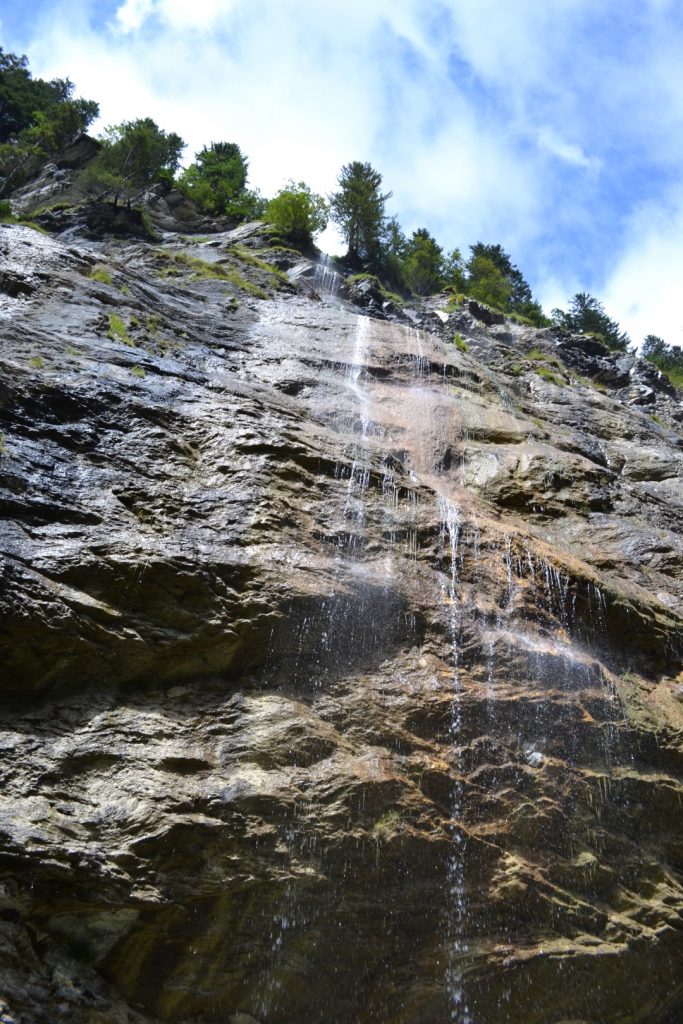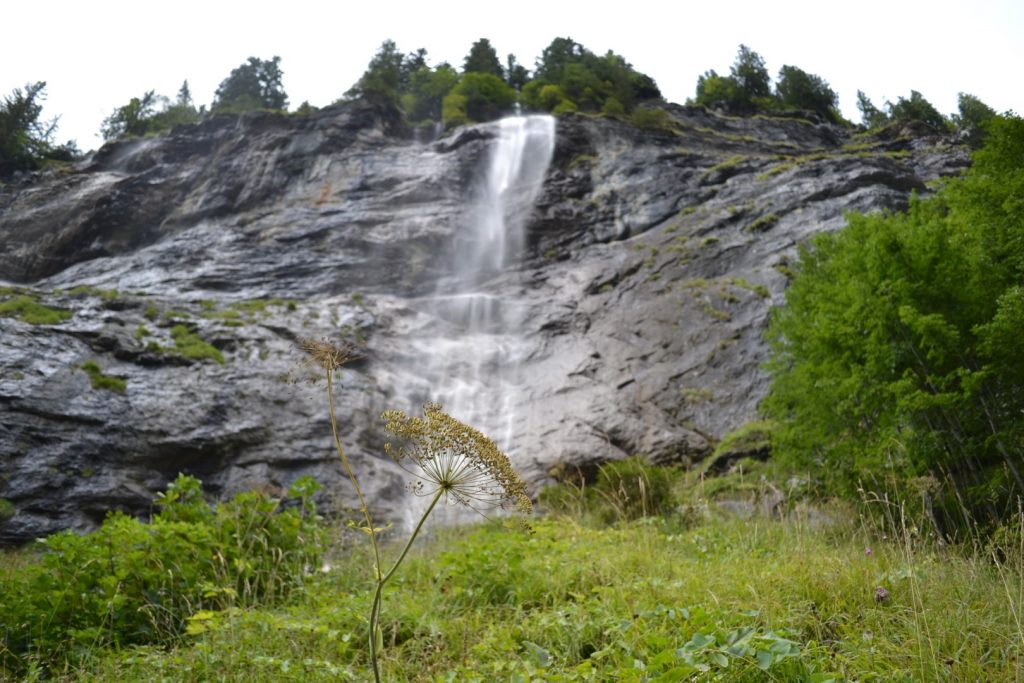 Since living in Europe, we've been back to the Gimmelwald and Murren area multiple times; something I typically don't do as a traveler, as there are always more places to explore in the world!
However, there is just something about the tranquility, peacefulness, and allure that this area has.  We've hiked in many mountainous areas since, but nothing can compare.  From hearing the clanging of cowbells in the distance (and nibbling on fresh Alp Cheese!) to the views that you can't get anywhere else in the world,
I agree with whoever said that "If Heaven isn't all it's cracked up to be, take me to Gimmelwald"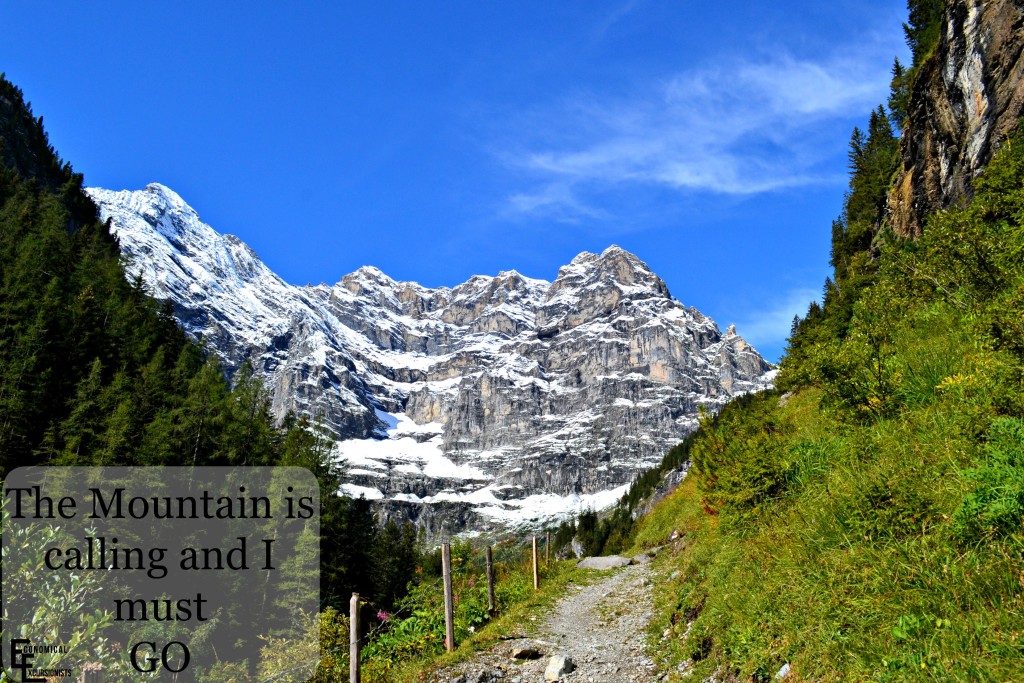 The following two tabs change content below.
Author and Creator
at
Economical Excursionists
Former teacher turned blogger turned mom turned full time travel addict, LeAnna has never been one to live life by the rules. Whether she is moving to a farm in Switzerland to learn to make cheese (Yes, CHEESE), jumping off a mountain to paraglide over Cinderella castles, or taking her baby all over the world with nothing but a backpack on their backs, LeAnna designs and defines her OWN life. LeAnna, her husband Andy, and kiddo, "Lil B" love to live a minimal lifestyle, not only for the "thrill" of pinching pennies but in order to save for traveling the world. Considering over 40 countries and 90+ cities have been explored, we'd say they are doing something right!
Latest posts by LeAnna Brown (see all)