[This post contains affiliate links which earn a small commission at no extra cost to you. Please read my Disclosure and Privacy pages for more info.]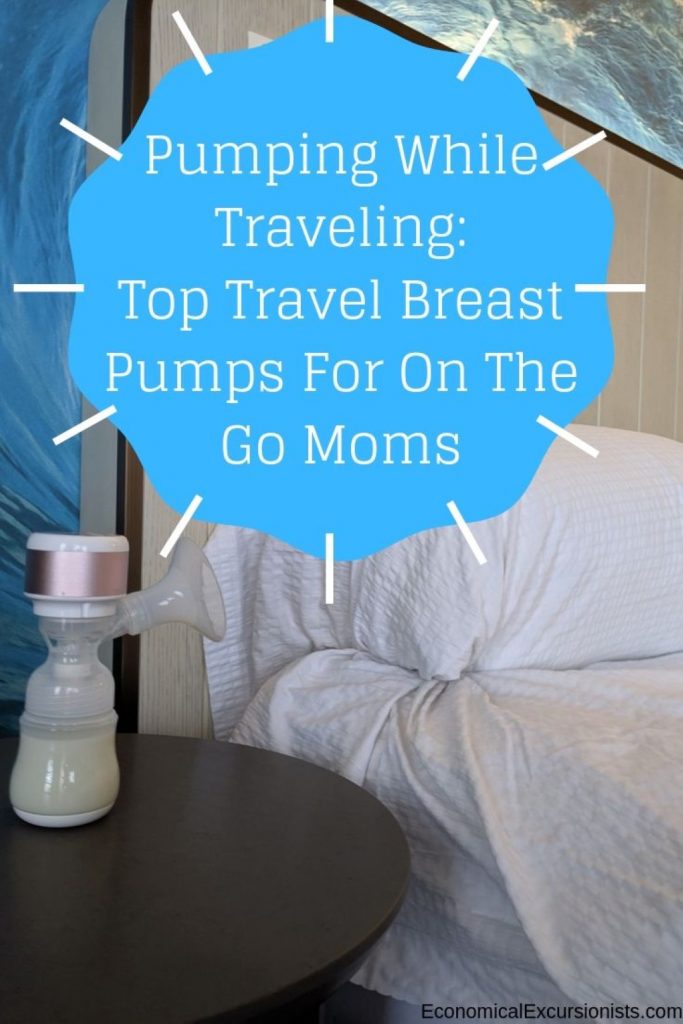 ^Save It For Later! Pin It^
As a pro- breastfeeding Mama, who also is a travel addict, when I was considering my first Baby-Free Vacation with my husband, instead of "Should I order a Margarita or a Pina Colada when I get to Puerto Vallarta" my first thought was "Oh my gosh, what about my milk supply while I'm gone!!!"
I was terrified that after all that hard work of exclusively breastfeeding that it would all go out the (airplane) window with a selfish vacation.
(Spoiler Alert: It Didn't! And I learned How to Have a Guilt-Free Vacay Without My Kids!)
Whether you are an exclusive pumper (Uuuhm, seriously Mama- you win ALL the prizes! Pumping is HARD. WORK!) or you are also just going to be on a trip (be that for work or leisure), I found that having the best travel breast pump can make a huge difference.
If you are in a rush and just want my quick answer, my top pick for the best portable Breast Pump for Travel would be this amazing Portable Electric Breastpump.  However, it's not the ONLY great choice out there.  If you want to see all my other favorites and why, stick around 🙂
Why Get a Portable Breast Pump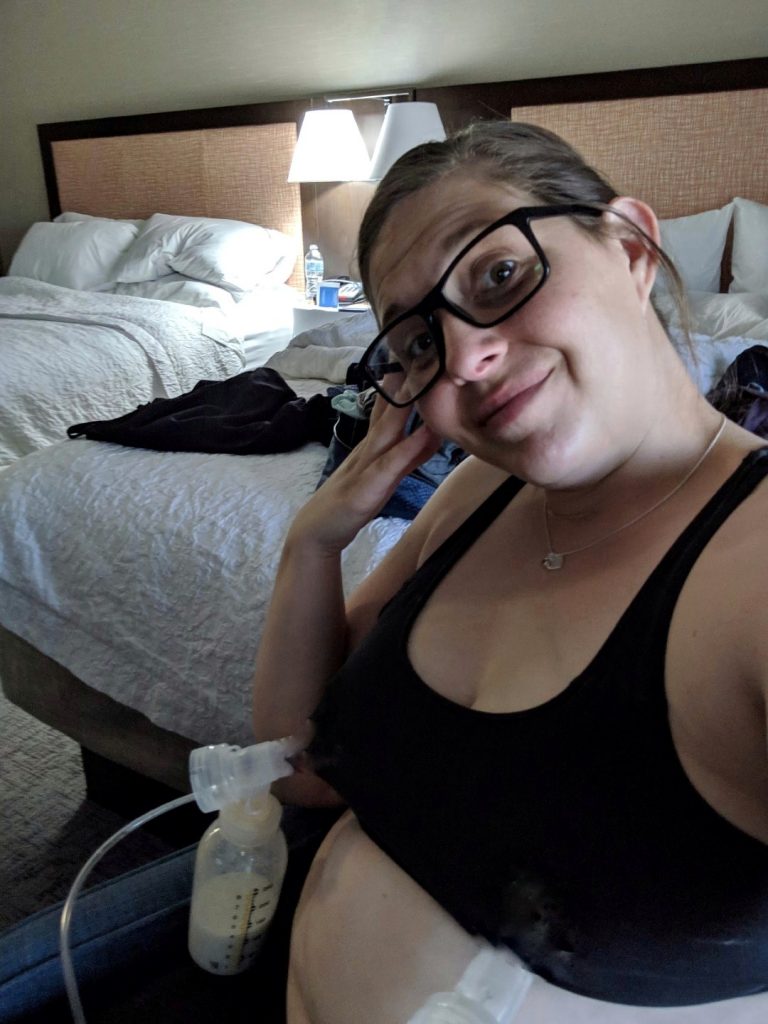 You might not think that having a travel breast pump is a necessity. I didn't either. But when I finally did get one, my pumping while traveling mentality totally changed!
In the picture above, I was on one of my trips without my breastfed baby and felt like I was slave to my pump.  I had to stop everything I was doing on my trip to go pump in my room or a secluded spot (often a bathroom when out and about).  By the end of the trip, I hated even looking at my pump!
In the picture below though, I had discovered the beauty of a travel pump!  FREEDOM!!!!!

Breast Pump Comparison: What's The Best Travel Pump
Best Portable Breast Pumps For Travel
Portable Breast Pump
Image
Weight And Power Method
What I Love
Get It Now
USB Portable Electric Breast Pump
1.7 Pounds
USB Rechargeable
EVERYTHING! Lightweight, great suction, compact, easy to clean, powerful
Add It To Your Amazon Cart
Medela In Style Backpack Pump
7.07 Pounds
Electric
Easy travel and carry on breast pump, high quality, double breasted
See It Here
Avent Manual Breast Pump
10.4 Ounces
Manual/ Hand Held
Straightforward to use, no risk of batteries/ power going on, great as a backup
Add It As Your Backup Pump Now
Portable Ameda Double Breast Pump
.16 Ounces
Electric/ Inbuilt Rechargeable Battery
Hospital grade, lightweight, super compact, comfortable, powerful
Read More Reviews Here
Freemie Hands Free Breast Pump
8 Ounces
Rechargeable Battery
Completely hands free, discreet, can wear out in public
See It Here
Now, two breastfed babies later and 3 separate trips without the tots, I learned a lot about pumping and maintaining supply while away from breastfed baby as well as the easiest ways to transport milk home and how to keep everything sanitized in icky airports and hotel rooms. You can read all about that HERE.
If you are an expecting Mama (CONGRATS!) I highly recommend using an Amazon Baby Registry (get yours here) and putting your pump as one of the wish list items.
Types and Styles Of The Best Breast Pump For Travel
Travel Electric Breast Pump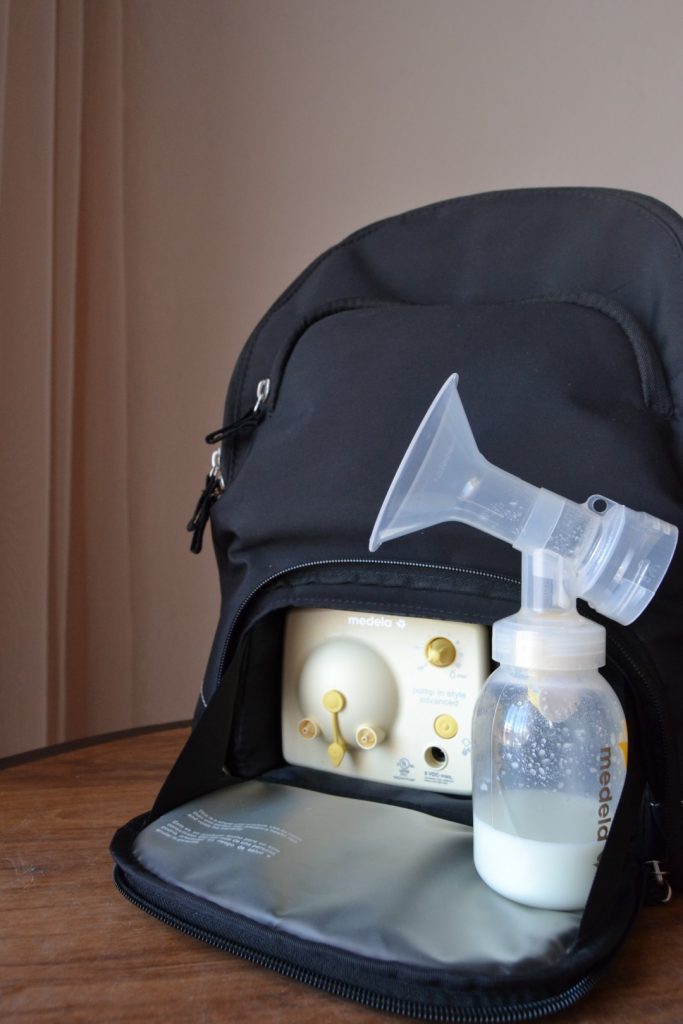 An electric breast pump uses just that (electricity) to power the pump itself. They are plugged into a wall outlet and the motorized pump then creates a suction with the breast shield that then extracts milk. These types of pumps are bigger than a typical travel pump, but they are also most likely more efficient and powerful. They will most likely have several parts to them (tubes, shields, membranes, etc) but can also do various speeds and suctions. The nice thing about electric pumps is they are often more durable and long-lasting and potentially have a better output as well as a smaller travel pump. These pumps are great for working moms who travel frequently and need a quality pump that will last. There are also several on the market that come in convenient totes or even a breastpump backpack style, which is convenient for traveling, like this Medela In Style Backpack Pump.
However, they are usually bigger and heavier than other travel pump options. That means that they can be bulkier and harder to travel with easily. The other negative about using a full sized electric pump is that since you need electricity, you will, quite literally, be tied down to a wall and outlet. Also, depending on if you do international travel, you'll then need to deal with converters or even transformers.
My two favorites for the Best Portable Electric Breast Pump are the above mentioned Medela or the Spectra Hospital Grade Rechargeable and Portable Pump
Hospital Grade Breast Pump
Hopsital grade pumps are great for exclusively pumping moms at home, like the Symphony Medela hospital grade pump. They have even stronger suctions than even the best electric breast pump and are typically more efficient as well. However, they are quite expensive and some are extremely loud and quite honestly, probably aren't the best on the go breast pump choice. Like a normal electrical breast pump, there are a lot of pieces and you'll need electricity no matter where you go in order to use.
If you need a really powerful pump while you travel, I think that the Best Hospital Grade Electric Breast Pump For Travel is the lightweight, affordable Rechargeable Spectra
Battery Operated Breast Pump
If we are talking the best portable pump, I think that a battery powered pump should be waaay at the top of the list! There are a lot of different types of battery breast pumps. For example, my everyday pump for at home (Medela Instyle) can be powered by either electricity OR batteries. This is pretty handy for travel.
But, in my own opinion, where battery powered breast pumps for travel shine, is in the small, hand held breast pumps. The downside of these is that they aren't always as powerful as the full on electric pumps (but still have a surprising amount of gumption!). The other downside of a hand held travel breast pump is that they are typically single breast pumps. Therefore, instead of knocking out the job all at once, it takes a bit longer because you are only pumping one breast at a time. However, the convenience of size and portability far outweigh the time it takes, in my opinion.
Depending on the battery style or pack though, a big downside can be needing to pack a gajillion batteries.  Those can take up a lot of space and weight in your luggage.
USB Rechargeable Breast Pumps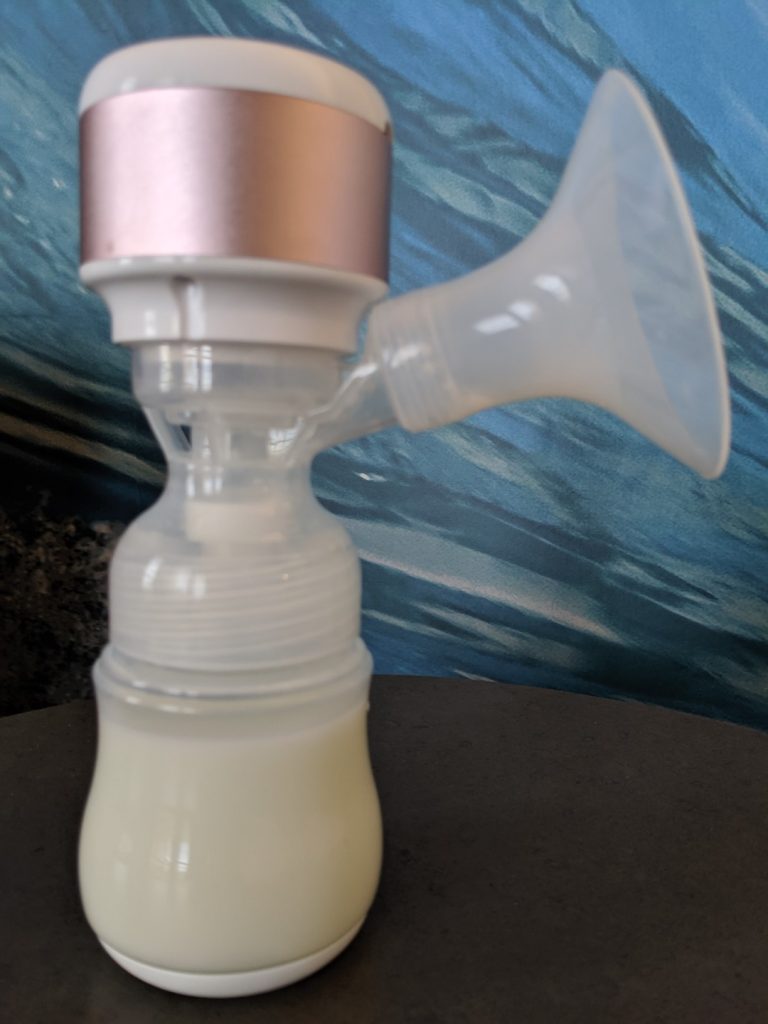 I'm totally loving these newer style travel breast pumps. Basically the same idea as the battery operated, but the batteries in these are rechareable and even can be charged with a USB cord! On my most recent trip that I had to pump while away, this was SO convenient to not have to pack a ton of extra batteries!!
The biggest complaints with these are the same as anything rechargeable: I wouldn't rely on this kind of pump as an everyday use pump. They are great for intermittent use or occasional travel, but I wouldn't push the rechargeable battery more than that. (I did use my Rechargeable Travel Pump for 9 days straight, 5 times a day while camping in Kauai and it handled it all great! I didn't see a decline in power at all)
They are also pretty quiet and inconspicuous if you try hard enough. On that long haul flight to Hawaii, I actually draped a blanket over me and pumped while watching a Friends episode and nobody was the wiser!!! And it definitely beats having to sit in the disgusting airplane bathroom for 20 minutes staring at the wall just to pump!
Click here For the Best Battery Operated Breast Pump For Travel
Manual Breast Pump
Another decent option for portable breast pumps for traveling moms is a good old fashioned manual breast pump. What makes these nice for travel is there is very little room for error. No need to worry about batteries crapping out on you or a motor stopping halfway through your trip, leaving you pump-less!
They are incredibly cheap compared to other electric pumps and are small and lightweight as well. The biggest downside is pretty obvious: you've got to do all the work. Instead of a motor creating the suction, a hand breast pump typically has a lever or similar device that you squeeze that will manually express your milk.
I personally don't like relying on a hand held breast pump as my sole pump (some Mom's do, though!) However, when traveling, for the price, I think it is great to have one tucked away in your bag as a great backup to a more efficient pump.
Click Here For My Recommendation Of the Best Manual Breast Pump For Travel: The Avent Manual Hand Pump
Suction Breast Pump
Another option while you are away from baby is to consider a suction breast pump, like the Haaka.
Technically these aren't even pumps, but they are pretty awesome for collecting milk easily! Now, I wouldn't use this AS your main pump, as it doesn't actually pump out milk. However, depending on where you are at in your breastfeeding journey, these amazing little milk collectors are fantastic for engorgement. You just suction it onto your breast and it will suction any milk from a letdown. That way, you don't have to worry about over pumping and accidentally increasing supply from over pumping.
It can also be handy if you are using a single breast pump. Just suction one of these onto your other breast while you do the first. That way, you'll have to spend less time on the second breast!
Click Here For The Best Suction Breast Pump: The Haaka
What To Look For In a Travel Breast Pump
When you are considering what is the best breast pump for travel, there are a few things you should decide first.
Usage
I think one of the most important things to decide when looking for a pump is just how much you are planning on using this particular pump, as this may actually determine a lot of the following choices as well. (IE: I'm not going to pay big bucks for the best breast pump for everyday use if I just want something convenient to get me through a quick weekend getaway). If you are wanting one pump to do it all though, then finding a portable breast pump that is also good for contentious use is worth looking into (like the Spectra)
Cost
I'm not called the Economical Excursionist for nothing! I am frugal and take the costs of travel gear very seriously.
When looking for a travel breast pump, I didn't want to shell out a ton of money, but I also could not bear the thought of having a cheap breast pump die halfway through a trip and risk losing my hard-earned supply! Luckily, there are a lot of very affordable and good breast pumps that are within even a budget traveler's price range. Again, I used this travel pump which was a great, cheap electric breast pump perfect for traveling.
Power Method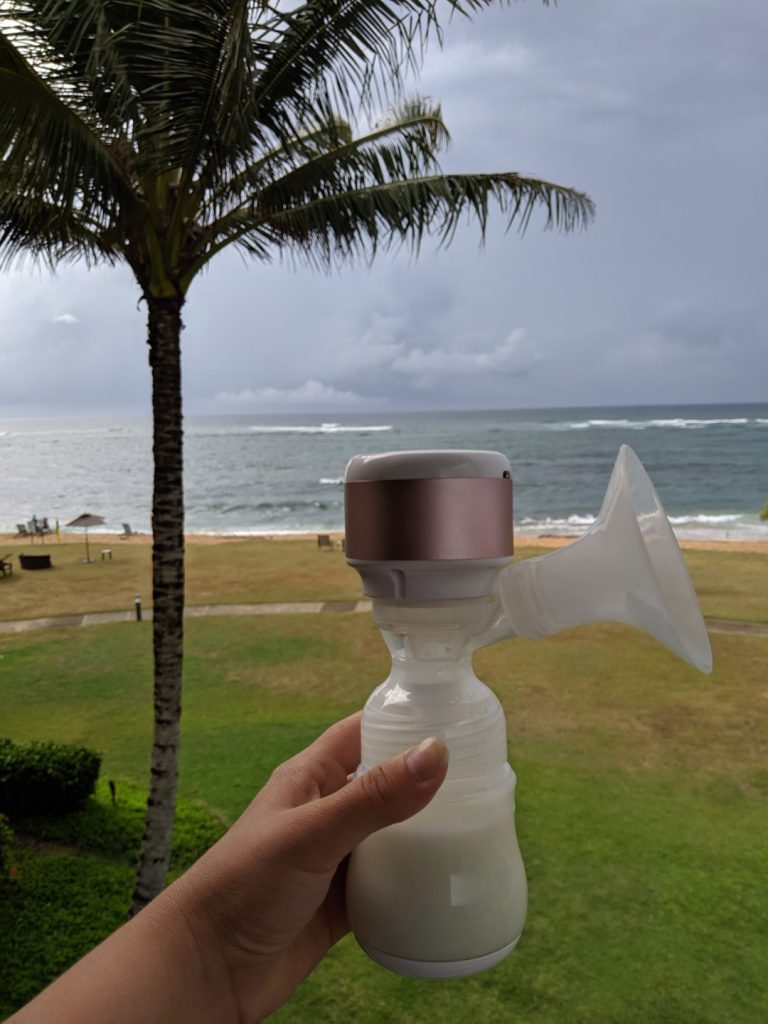 What kind of portable breast pump do you want? Are you ok with needing to be attached to an outlet, or do you want something more portable, like a cordless breast pump, such as a battery powered pump? If you want to go the battery route, are you ok bringing a a ton of batteries in your luggage or would a USB powered pump be more practical?
Breast Pump Accessories
One of the things that I don't like about my Medela Pump In Style, is that even though it can become a portable electric breast pump (with battery usage) is that there are just a lot of accessories to it. It's a double breast pump, which means that there are two of everything: two cords, two membranes, two valves, two bottles….you get the point. While this is great for getting the job done faster, it's just more stuff that I have to worry about losing while traveling or keeping sanitized. (Yes, I have been known to knock that freshly washed bottle into the hotel toilet.  Talk about frustrating….and gross.)
Size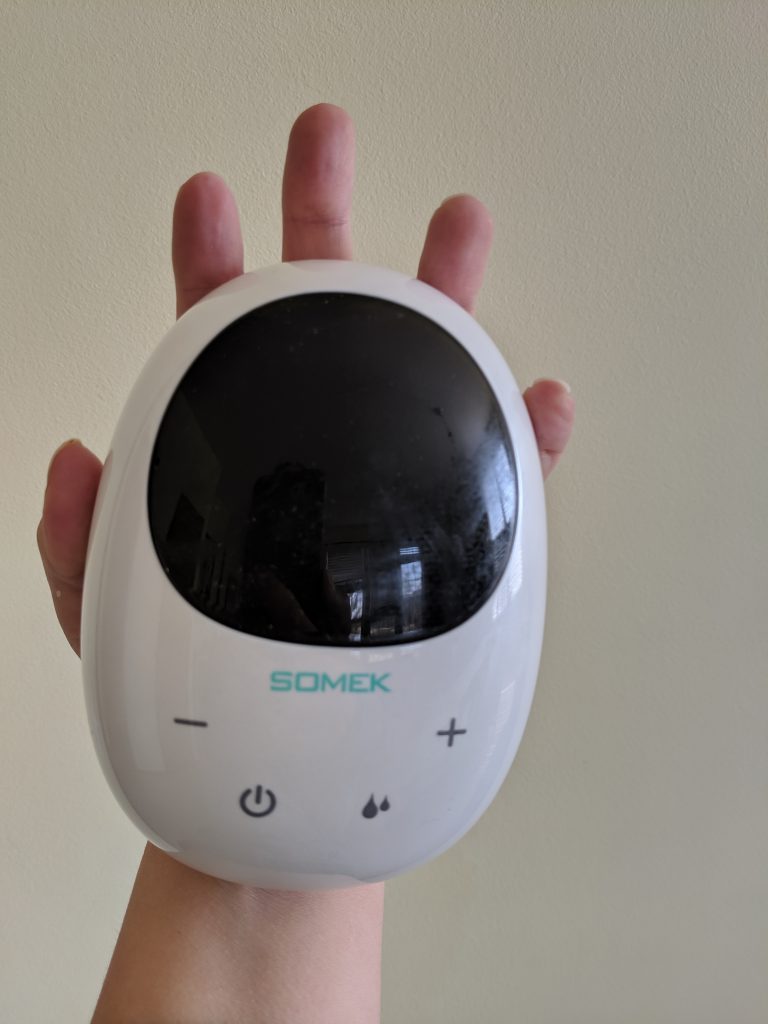 Breast pumps (like breasts themselves) come in all shapes and sizes. Again, I liked my Medela electric breast pump the first few times of travel, because of it's easy to carry bag. However, I began to realize that I wanted something even smaller, more compact, and easier to pack and carry around. That's when I found that a good handheld breast pump was great for travel.
Noise
Where do you plan on pumping while traveling? I was in a work conference in April, where I had to pump in the back of the room. If I had had a hospital grade pump, I would have had all eyes (creepily) on me!!! Alternatively, when my hubby and I just took our 10 year anniversary trip, I still had to pump in the middle of the night. Maybe a loud pump would have given him a taste of his own medicine for his loud snoring, but that still wouldn't have been very considerate of me.
However, you can also find a really good, quiet breast pump that isn't obnoxiously loud.
Discretion
Depending on just how much you have to pump, nothing pumps a damper on a great trip like having to stop everything to go pump 4 times a day. Alternatively, if you are on a work trip, you may not simply have the time to be able to pause everything! A hands-free pump, like the Freemie, is a really great option to not have to be plugged into anything or even need to hold your pump! Just keep on, keepin' on with your busy life, Mama!!!
Some Moms will actually put these on under their clothes and are able to be up and moving around, talking to others and just going about their day!
Click Here To See The Handfree Portable Pump
Efficiency
When you are on the go, you don't want to be wasting any more of your precious vacay time on pumping than you have to. A pump that is quick and efficient is a necessity, in my opinion, when considering the best travel breast pump.
Travel Breast Pump Reviews
Below you'll find the travel pumps that I have personally used and recommend but also some of the top rated breast pumps on the market today that are ideal for travel and on the go moms.
Yihunion Portable Electric Breast Pump
Dual Use Battery Baby Milk Pump Rechargeable Single Breastfeeding Pump
Click Here To See This USB Pump
Guys….this pump changed pumping while traveling for me!!! I would argue that it is the best single electric breast pump; both for it's functionality but also because it's the best affordable breast pump for travel (What good is a low price on a piece of junk product, after all!)
I chose this pump because of the price point, compact-ability, and the fantastic reviews and was NOT disappointed!
I loved that I could recharge the USB operated breast pump easily and that I didn't need to lug around a ton of spare batteries (what can I say, I am obsessed with packing light!). Not only did I not have to pack spare parts or gear with this pump, but it was so tiny…PERFECT for travel!!! The motor itself just attaches to the bottle and is insanely perfect for packing light!
After being used to feeling tethered down to a 2 foot cord on my home pump, it was so freeing to be able to move around and pump literally wherever I wanted, without needing an electrical outlet. I took my pump with me as we went out for day excursions and never worried about the battery dying on me, as it lasted multiple pump sessions (I never tested just how many pump sessions it could take, but I was at 6 one day and there was still battery left!)
But how did it actually pump?
Fantastic! I was shocked at how efficient and quickly I could pump, despite the small, compact size. But even more shocking was that the shield was actually more comfortable than my expensive medela pump!
Some other user complaints is that after several months of continual use that it started to not be as efficient though. Therefore, I would only use this pump if you are just planning on intermittent travels and not for daily, continual use. (I used it for 9 days straight, pumping 4-5 times a day with no issue at all). While I wouldn't say that this is a power workhorse pump that is going to last day in and day out, I would argue that it is the best affordable breast pump for travel purposes.
Click Here To See Current Price For This USB Charging Breast Pump
Medela Single Mini Breast Pump
Click Here To See This Medela Travel Pump
My next favorite portable breast pump is the Medela Single Mini (battery powered) breast pump. I borrowed this medela mini electric breast pump from my best friend when traveling in Germany and I needed to pump for a sitter a few times. I was blown away with how fast and efficiently such a teeny tiny pump could be! I guess that's why Medela is considered a best breast pump brand! They weren't messing around with this tiny, but mighty pump!
Similar to the above USB pump, this one's motor is smaller than the palm of your hand and just attaches right to the flange that attaches to the bottle, making it so small and easy to throw in a day bag or purse while out exploring.
It does take batteries, which can drain pretty quickly, which is probably the biggest downside to this otherwise really fantastic travel pump.  However, unlike the bigger pumps, it only takes 2 AA batteries, which are easy enough to travel with.
Click Here To See This Medela Travel Pump
Ameda Breast Pump: Portable Hospital Grade Pump
See
See The Ameda Breast Pump Here
This small, but extremely powerful pump is a great option if you need something more substantial, reliable, and yet still tiny and portable!  It fits into the palm of your hand and uses a rechargeable battery that supposedly can last up to ten hours of pumping time (however, users say they get closer to 3-4 pumping sessions in, which is still fantastic for on the go pumps!)
The quality of this pump should not be underestimated for it's size.  It gives amazing suction and output comparable to even the bigger, hospital grade pumps.  Really, there aren't a ton of complaints with this one, so if you want the best double breast for travel, this should be at the top of your list.
Read More Ameda Breast Pump Reviews Here
Phillips Avent Manual Breastpump
Click Here To See This Hand Pump
I've already mentioned that I think that having the best hand pump as a backup is one of the best (and most affordable) ideas when pumping while traveling. Again, what would you do if your pump broke, you lost a part, or you ran out of batteries!? I can't even fathom losing my milk supply due to poor planning!
But some moms find that a hand pump can actually work even better than their electrical ones! So, it all comes down to preference. The Avent breast pump is the perfect manual hand pump to toss into the bottom of your bag. It is small, lightweight, incredibly easy to use and is actually quite comfortable and surprisingly powerful and gives amazing output. As a manual breastpump, it is extremely efficient, as you can choose the amount of suction you need based on how tightly you squeeze the lever and is quite easy to clean.
The biggest downsides to this particular manual pump is that since it is a hand pump, you'll have to do the squeezing, as opposed to a motor from an electrical pump. Also, you'll have to play around with just how much squeezing you can take. Too much and it will feel painful, too little and you'll be pumping for ages! However, once you find the sweet spot, you'll be surprised with how well this Avent breast pump for travel works.
Click Here To See the Avent Best Manual Pump
Medela In Style
I have personally used this particular Medela breast pump on numerous trips and I do think that as far as double breast pumps go, this is a great option for travel because of all of it's portability features. I specifically put this pump on my Amazon Baby Registry for all of its travel potential.
One of the things that stood out to me from the beginning was that it was the best breast pump bag for travel. I am a sucker for backpacks when traveling. They are just easier to use and carry, in my opinion, so I loved that it came with a breast pump backpack option.
I've had this pump for over three years now and it is still going strong. I am not an exclusive pumper though and can tell that it may not last through another baby, but 3 years of intermittent pumping and several trips isn't too shabby!
I don't think that the shields are the most comfortable compared to other breast pumps, but I do appreciate that I can set it to variable speeds and that I can switch from "suckling" to "let down" (as I have a quick let down).
Some other features that make this pump extremely travel-friendly are:
You can choose EITHER electric power or battery operated (just know that the battery operated requires 8 batteries….that's a lot of batteries (and backups) to be lugging around)- but it is nice to have the battery option on one of the best double breast pumps.
It has 110v-220v power supply, which is great for international travels
It comes with a really handy cooler bag that includes a frozen gel pack and 2 spare bottles. This is fantastic when you need to buy yourself a few hours until you can get your milk into a fridge (like at an airport!)
Click Here To See Other Reviews On the In Style Backpack Pump
Best Hands Free Breast Pump: Freemie
Click Here To See It On Amazon
If you want to revolutionize your pumping experience, then you need to consider a hands free, portable pump! I've been eyeing these guys since the first time I was stuck to a wall pumping. The luxury of not only not having to be tethered to the wall with my pump cord, but to ALSO be able to be hands free, walking around!? It's like a pumping mom's dream!!!
There are many different styles of hands free pumps available, some wildly expensive. The Freemie Liberty pump isn't as discreet as some of the more expensive models, but is still a great hands free pump to consider. In the winter, with enough layers on, you just might be able to get away with being able to walk around without anybody taking too much notice that you are secretly pumping! In fact, it is so quiet, that there would have to be next to zero other noise for someone to hear this powerful pump doing its work! However, with thin layers, these aren't exactly unnoticeable. You can see the cups if just wearing a thin shirt and there is the motor that you have to walk around with (but that easily attaches to your pants or other article of clothing- still making it extremely portable!) However, when you are traveling, you can easily pump while in the car and while getting ready in the hotel room.
There are complaints that this particular model is great to begin with but over time, it doesn't hold a battery charge. I can't attest to this, but sometimes that happens with pumps that are used daily instead of intermittently for travel. Also, some moms experience difficulty getting a good suction. I know a lot of moms (me included) order their pumps well before baby arrives and then if the pump isn't working the way they wanted it to once they actually need it, they are out of the warranty window. My biggest recommendation is to try it out as soon as you get the pump (even if you are still pregnant) to ensure that the suction is working properly. If not, immediately send back and request a new one, within the warranty.
Click Here To Read Other Freemie Breast Pump Reviews
Spectra Double Breast Pump
Click Here To See the Spectra On Amazon
The S1 Spectra hosptital grade breast pump is another fan favorite among pumping moms. Similar to the Medela In Style as far as size goes, the Spectra pump isn't necessarily designed FOR travel, but that doesn't mean that it isn't a decent portable, power work horse of a pump!
Some of the things that does make this particular pump a bit more travel friendly is that there is a rechargeable battery. (Note: The rechargeable battery is only in the S1 model, not the Spectra S2 or 3) It's only 3.3 pounds, so it is still light enough to carry around in a bag comfortably, although the shape does make it slightly bulky when packing.
The Spectra Breast Pump reviews from real moms using this pump are absolutely glowing. This is an incredibly powerful, yet portable pump. It really is hospital grade and yet very comfortable. If you are looking for just one pump, then this is one to highly consider.
Other Tips For Pumping While Traveling
Keeping Your Pump Parts Clean
I have an ENTIRE section on how to easily clean your pump parts while on the go and traveling in my post about keeping and maintaining your supply while traveling. Go check it out, but a few golden nuggets are:
Bring your own bowl that you KNOW is clean instead of using a hotel sink (which we HOPE is clean, but you never know!)
Bring a travel sized bottle of dishwasher soap with you
Milk Storage While Traveling
If you just went and read my other post, then you also saw that I have detailed several options for you to keep and store your milk while traveling. A lot of this will depend on where you are at, how long you are gone, and if you intend on bringing your milk home with you. If you plan on freezing your milk to bring home, I recommend asking the hotel if they have a deep freeze that you could store your milk in. I kept my milk in a sealed container that I filled with my milk bags each evening that the hotel let me store in their deep freeze, since a mini fridge is ok for a few days, but not ideal for a longer stay. Alternately, if you are just gone for a weekend or a short trip, I stored all my milk in a 64 oz insulated jug. It was SO much easier to transport that than 30 different milk bags!! (And TSA loved me for it!)
Look At Your Baby Pictures While Pumping
Want a better output? Look at pictures or videos of your baby while pumping!!! A lactation consultant gave me this tip when I noticed my supply starting to dip when I was away from my baby for almost a week. Looking at photos of your adorable baby is going to release oxytocin in your brain, which actually will allow you to produce more milk!
Keep Your Supply Up
Keeping your supply up while traveling can be difficult. A few ways to help this is to
Pump as often as your baby would have fed at home
STAY SUPER HYDRATED! This is a huge one and so easy to not do when traveling! However, stay as hydrated as possible to help your milk!
Boost supply with supplements like Mother's Milk Tea and Lactation Cookies.
So, what's the best breast pump for travel? This might depend on your pumping needs and travel style, but at the end of the day, I still have almost no complaints with this small, portable, rechargeable, USB powered travel breast pump.
Which Pump Did You Decide On?  Don't forget to put it on your Amazon Baby Registry.
Have you needed to pump while traveling?  What did you look for and appreciate in a travel pump?
The following two tabs change content below.
Author and Creator
at
Economical Excursionists
Former teacher turned blogger turned mom turned full time travel addict, LeAnna has never been one to live life by the rules. Whether she is moving to a farm in Switzerland to learn to make cheese (Yes, CHEESE), jumping off a mountain to paraglide over Cinderella castles, or taking her baby all over the world with nothing but a backpack on their backs, LeAnna designs and defines her OWN life. LeAnna, her husband Andy, and kiddo, "Lil B" love to live a minimal lifestyle, not only for the "thrill" of pinching pennies but in order to save for traveling the world. Considering over 40 countries and 90+ cities have been explored, we'd say they are doing something right!
Latest posts by LeAnna Brown (see all)