Not just little kids are entitled to Christmas Wish Lists!
To be honest, I am actually not a big gift person when it comes to the Holidays. Mr. EE and I came to an agreement long ago that instead of spending money on each other, we'd rather save the money for travel or other things in life.
In past years, I've even opted to give to charities in the name of family members instead of giving them purchased items.
However, this year, I find my wishlist much longer than normal…all because Lil' Baby B will be here soon!
While I know that travel is going to drastically change once Little One is here, I am hoping that with our passion for travel, in addition to being heavily armed with the best resources, tools and gear, that we'll continue to tackle Europe and the world, one cobble-stoned street at a time!
After tons of research on the best products, talking to countless other traveling mamas and reading hundreds of reviews, here are 10 items that I would argue are must-have travel gear for babies  for anyone who is an extensive traveler with their family.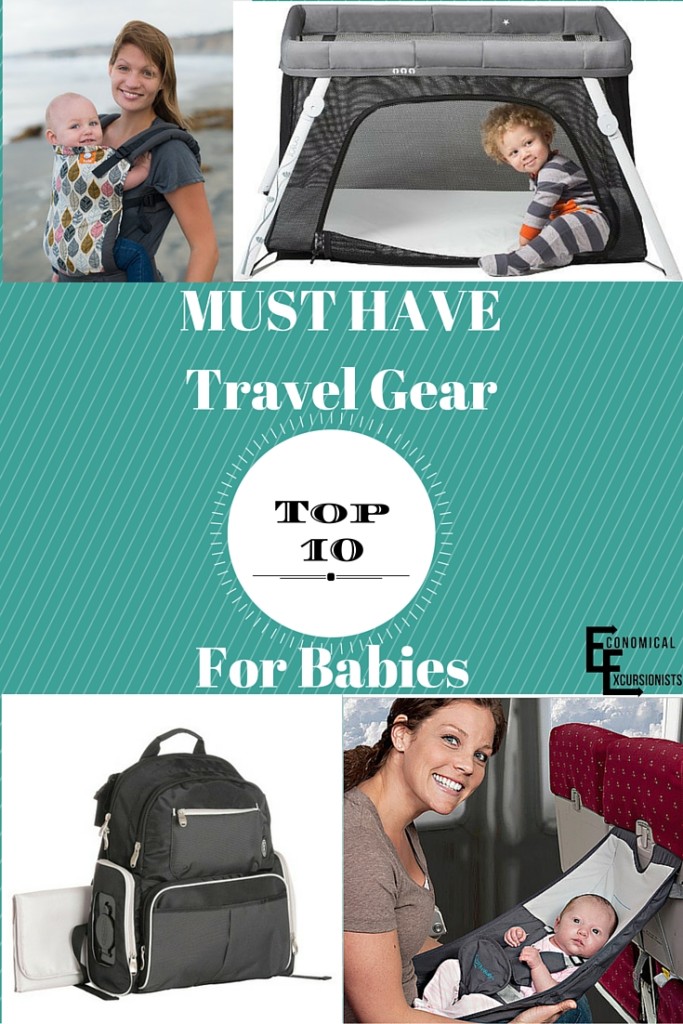 Baby Christmas Wishlist of Travel Items
1) Baby Carrier
I have not heard a single person speak negatively about their Tula
! They are ergonomically safe, comfy for all and can carry kids up until they are toddlers! While strollers are great for stashing items, I can see how baby-wearing is the way to do it while traveling, especially while on paths and cobble-stoned streets that aren't very stroller friendly!
2) Travel Stroller
While I want to baby-wear as much as possible, I also know the realities that sometimes, a stroller is just going to be the better route. However, in order to not have baby gear take up ALL our allotted baggage or hands while traveling, something small, light-weight and yet durable is a necessity, like this Quinny Yezz Travel Stroller
.  Why I love this particular one?  It should fit in an overhead bin (no more gate checks!) or even UNDER the seat.  When Little One isn't riding in it, it is so light-weight, you can throw it over your shoulder!
3) Light-Weight Travel Crib
While I normally wouldn't spend this amount of money on something, I LOVE the fact that the Lotus Travel Crib
is carry-on size and super light weight. To me, this means that I can take it just about anywhere, so Lil B can get used to ONE place for sleeping and "hopefully" (is that wishful dreaming?) he can go down more easily in an airport corner, at the hotel or wherever else we may be.
4) Flyebaby
This is one of those items that I wonder if it is just another item to pack or pure genius!? Small enough to easily stash in your carry on, I'm so willing to figure that out! We fly a lot and I can see how placing a sleeping baby in one of these Flyebaby
 swings would be so much more comfortable for everyone involved!
5) FAA Airline Approved Car Seat
While the Flybaby might be great for the littlest of ones, it is still highly recommended for the safety of the child to have a car seat when flying, according to the FAA .  Not to mention the fact that I'm not so sure I want to be holding a baby in my lap for 12+ hours on those long, international flights!  However, not all car seats are approved or will fit, so finding one that meets all the right requirements and yet is still light-weight and easy to use is pretty important!  For example, the Graco SnugRide 30
 is only 7.5 pounds and is approved for flights.
How do you know if your car seat is FAA approved?
Look for a sticker on the SIDE of the car seat that says something along the lines of " "This restraint is certified for use in motor vehicles and aircraft."  Here is a great article on more info for flying with car seats.
6) Car Seat Travel Trolley
If I'm going to be taking a car seat while traveling, then being smart about how to transport it is a given! Travel carts and trolleys like this Britax Travel Cart
 or the Go-Go Babyz Travelmate
are both perfect for handling your luggage and baby gear all at once, making going through a busy airport less intimidating!  And of course, don't forget about the actual car seat!  I loved this article on keeping your cool like flying with a cumbersome carseat!
7) Clip-On High Chair
For trips out and about for the day when I don't have to worry about packing light, I have heard raving reviews about these types of Traveling High Chairs
 that clip right onto most tables. Especially here in Europe, where high chairs are sometimes harder to come by, I could see the benefit to having a small, light-weight travel version!
8) Back Pack
While most people do diaper bags, I am all about functionality and packing light, which is why I fully plan on using a Back Pack as a Diaper Bag

instead of a traditional over the shoulder diaper bag. One with plenty of pockets and places that stashes both baby and adult items is essential. However, it also needs to be one that Mr. EE would be willing to wear easily as well when we are out and about.
9) Cloth Diaper Supplies
Once again, maybe completely on the dream-worthy end of the spectrum, but we hope to cloth diaper….even when traveling. Which means that we need to be prepared with all the cloth-diapering goods, including a Wet Bag
so we aren't smelling poopy diapers all day and easily packable Ultra-Absorbent Diapers
 so that we only pack what we need and nothing more!
10) Breast Pump
Every mom is going to do what works best for her and her baby.  Whether you formula feed or breastfeed, you'll need the right supplies while traveling.  For me, that is going to mean needing to take along a travel friendly, light-weight Breastpump
.  The best part about this?  US insurance is now required to cover at least a partial payment for your pump!

While this truly is a WISH LIST, I can see the benefit to having each and every one of these items depending on the type of trip and travel you plan on doing with your little one. Of course, there are the given items, like baggies, extra clothes, toys and more to also pack.
But, if you could put ANYTHING on your wishlist of travel gear for your baby, what would YOU want?
The following two tabs change content below.
Author and Creator
at
Economical Excursionists
Former teacher turned blogger turned mom turned full time travel addict, LeAnna has never been one to live life by the rules. Whether she is moving to a farm in Switzerland to learn to make cheese (Yes, CHEESE), jumping off a mountain to paraglide over Cinderella castles, or taking her baby all over the world with nothing but a backpack on their backs, LeAnna designs and defines her OWN life. LeAnna, her husband Andy, and kiddo, "Lil B" love to live a minimal lifestyle, not only for the "thrill" of pinching pennies but in order to save for traveling the world. Considering over 40 countries and 90+ cities have been explored, we'd say they are doing something right!
Latest posts by LeAnna Brown (see all)