Growing up, we did not live where the rest of our extended family lived.  That meant that each Holiday, we often packed up the car and headed to Grandma's house.
Looking back, I have no idea how my parents did it with four kids…but I often wonder how they did a lot of things!  However, no matter where we were, they were able to make Christmas special, magical and memorable.
Many families choose to travel over the Holidays.  You can actually find great deals and it is the perfect time to travel since most of your family has off from school and work.  Some go where family is, others where a nice, warm beach is calling their names.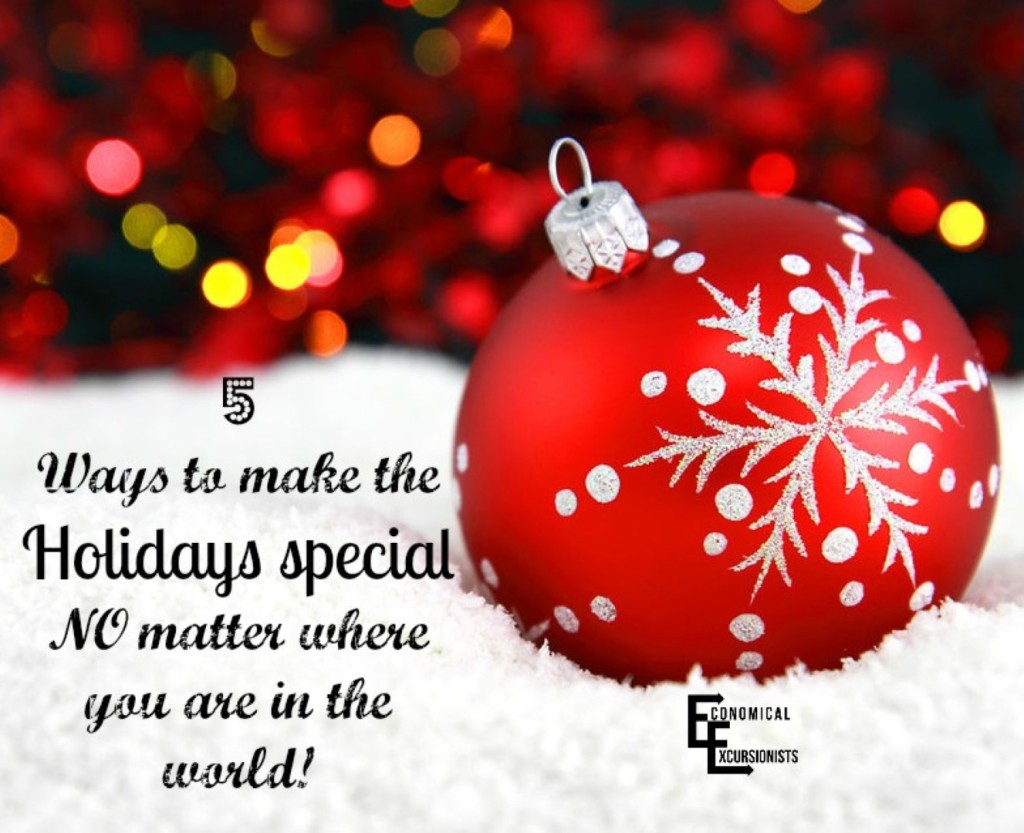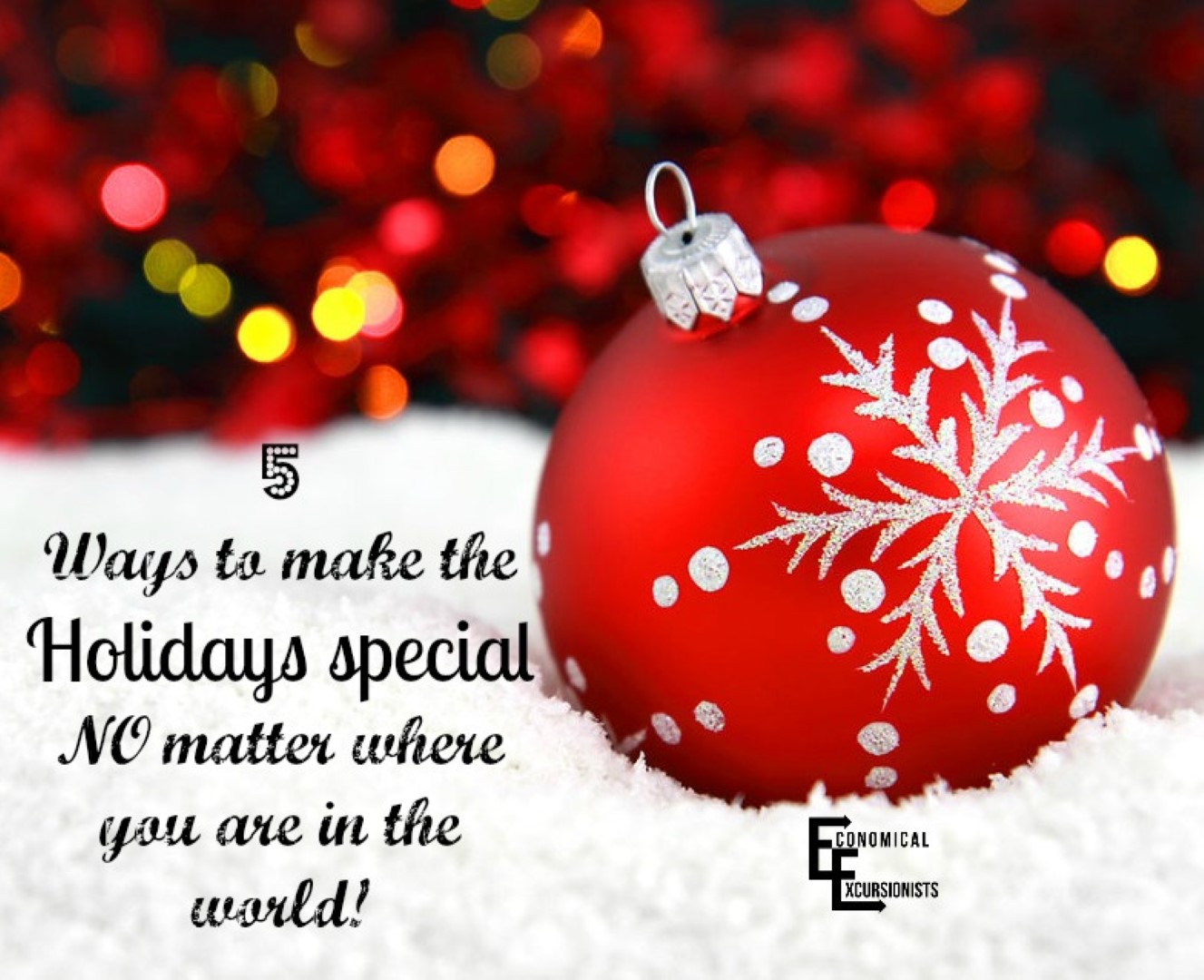 However, many people find that being gone over the Holidays just isn't the same as being home.
Today, we now live in Europe and, again, often find ourselves away from home on the Holidays.  Learning to Survive the Holiday Season was the first step to enjoying the Holidays.  Between my parents' wisdom and our personal experience, I've also learned the importance of making the Holidays Special, no matter where in the world we are.
Here are 5 tips on making your Holidays Special even while you explore the world or are just simply going to Grandma's.
1) Establish Traditions
One of the best things my family did growing up was establish traditions that we did every single year, regardless of where we were.  I remember all of us kids gathered around the dinner table.  We each had a children's version passage of the night Jesus was born.  We would go around reading the story and then lit our final Advent Wreath candle, finalizing the Christmas season.
My parents decided that even if we weren't home ON Christmas Eve, this would be our family's celebration.  Therefore, no matter what day we left, we would have our "Christmas Eve" celebration the night before.
Create a tradition that you can do at home every year.  No matter where or when you leave, create your own holiday, despite the actual calendar date.  Having a tradition that you do annually will make it feel more "special" and is something your whole family will not only look forward to, but will then be able to look fondly back on in future years.
2) Santa's Gifts
For many families, gift giving is a big part of the Holiday season.  What would Christmas morning be without packages to open from St. Nick?
If Santa comes to your house, it can be tricky to let him know where you will be staying over the Holidays.  After all, he has to figure out a way to bring the gifts to the kiddos when they are asleep.  Here a few ways to help him figure out the logistics:
Amazon/ Mail them: If you know the address of the hotel or accommodation you will be staying in, send gifts straight there (email the hotel to ask if this is ok).  Then you won't have to lug them around in luggage or hidden spaces of car trunks.
Let Santa Know Your Plans: Do the gifts at home prior to leaving, with the exception of one or two easy to travel gift items that can be opened the day of.  This eliminates having to somehow pack and travel with dozens of toys and items.  Maybe Santa got your letter that you will be traveling so he made a special early delivery early just for you!  Then, let your kids bring along one item of their choosing for their trip.  That way, they can still play with and enjoy their gifts as well as still enjoy the magic of Christmas morning with at least one more.
Stockings: Stockings are so easy to pack and bring along on just about any trip.  Hang them over hotel dressers and drawers.  Or, bring a clothes line and hang it from there!  If you stuff your stocking with candy, just buy this wherever you go so you don't have to bring it along for the journey.  If you stock your stuffing with items or toys, make them small and easy to pack.  This way, the kids still have something to open the day of the holiday.
3) Utilize Technology
Technology is a wonderful way to make life easier and more fun.  In addition to using the internet to mail your gifts straight to the location you will be staying in over the Holidays, there are even more ways to utilize today's technology.
Have Santa Call: Even if you are not at home, did you know that Santa can call you to personally let you know where he is on his route?  Have Santa call you from the Christmas Dialer or from a Personalized App (both free!)
Plan a Skype Date: Bring friends or family close to you by having a scheduled Skype, Facetime, etc session.  You can take this to any level of extreme as you want.  Maybe the kids open their one gift or stocking in front of Grandma or Grandpa or you even have a "Dinner" with some loved ones!
4) Embrace the Travel
Encourage your family to research where you will be visiting over the holidays.  Come up with ONE thing that is culturally unique, different or fun for that area and see if you can participate in or create your own version while traveling.  Not only will you broaden your horizons and learn something new, but you will have a fun time experiencing the Holidays in a new light.
5) Create New Traditions
In addition to keeping old traditions to maintain the holiday spirit, come up with something that you can do this year, as well as any year from anywhere in the world.
Maybe you decide to binge watch Christmas Movies all day long.  Is there a meal or treat that you can make that could become a yearly occurrence?  Find something simple that can be added to your usual traditions and maybe that new activity will become something you look forward to every year in the future!
No matter your reason for not being at home over the Holidays, you can still have the magic of the season.  It might take a little effort and creativity to bring it all together, but ensuring that the day does not pass just like any other ordinary day will bring happiness and joy to all involved.
Do you travel often over the holidays?  Tell us in the comments what you do to make Christmas special while away.
The following two tabs change content below.
Author and Creator
at
Economical Excursionists
Former teacher turned blogger turned mom turned full time travel addict, LeAnna has never been one to live life by the rules. Whether she is moving to a farm in Switzerland to learn to make cheese (Yes, CHEESE), jumping off a mountain to paraglide over Cinderella castles, or taking her baby all over the world with nothing but a backpack on their backs, LeAnna designs and defines her OWN life. LeAnna, her husband Andy, and kiddo, "Lil B" love to live a minimal lifestyle, not only for the "thrill" of pinching pennies but in order to save for traveling the world. Considering over 40 countries and 90+ cities have been explored, we'd say they are doing something right!
Latest posts by LeAnna Brown (see all)