Some people choose to travel somewhere new over the holidays to get away for a few weeks during the winter months.
Others live abroad and may not be able to afford a flight home or can't get away from work long enough for that trans-atlantic flight.
Regardless of which category you are in, Christmas away from home can be harder than expected.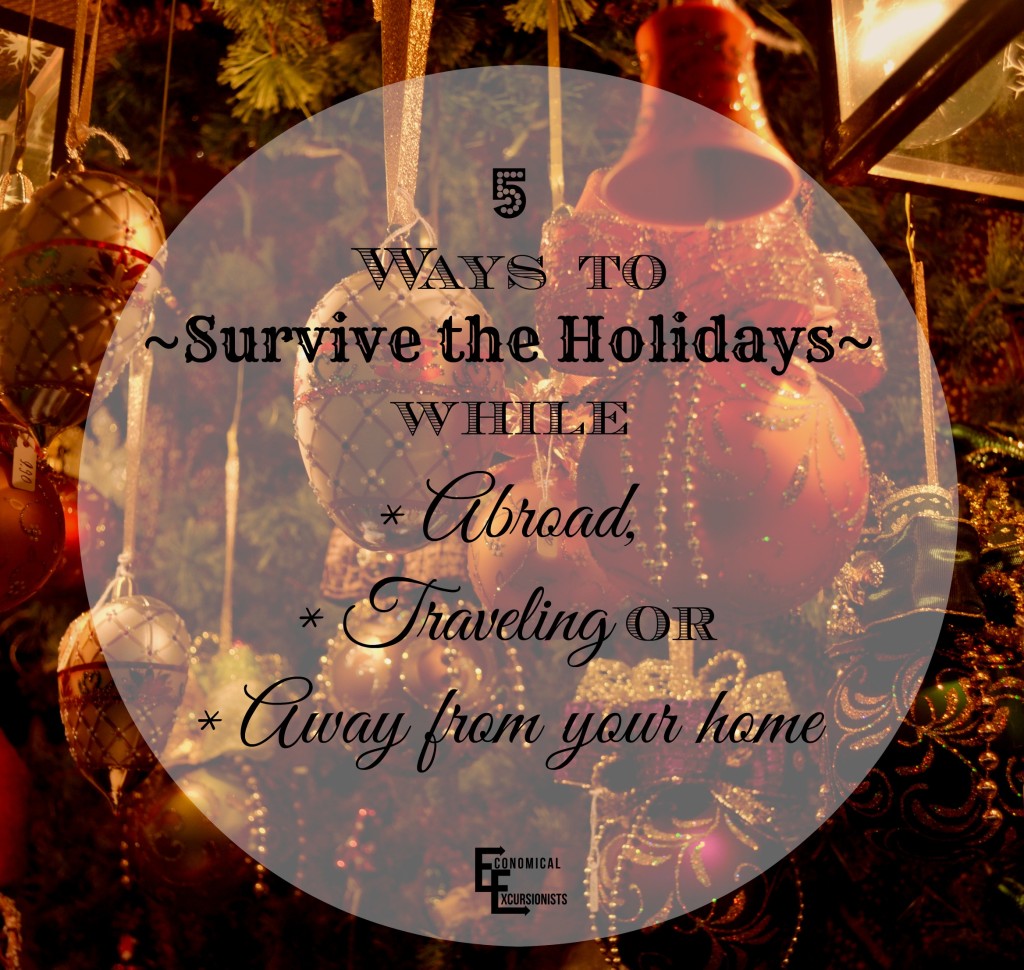 I remember my first Christmas in Germany.  This was not only the first year that I was living an ocean away from home but the first Christmas that I wouldn't be able to get home for the Holidays.  In order to bring a bit of home to me, I decided to make my Grandma's famous Krautstreudals (think delicious meat pie in a warm, doughy mixture!) that my mom still makes every Christmas.  I turned on the classic Manheim Steamroller playlist that could be heard on any given day at my mom's house during the holidays, lit my pine-scented candle and began thinking that if I couldn't be home for Christmas, I could bring Christmas at home to me!
WRONG.
Taking on a recipe that my mom is usually there to guide, help and assist me on by myself was a mistake in and of itself. After a full eight hours of cooking (by myself), two separate runs to the store (since I had not planned appropriately) and having to roll out dough with a wine bottle because I realized I didn't own a stupid roller, I was exhausted.
The Christmas music that was supposed to give me warm, fuzzy feelings only made the nostalgia sting more as the realization that my sisters would be making Krautstreudals together, laughing and chatting while the guys would laugh and hang out with home-brews in the next room….and I wouldn't be there for any of it.
By the time the Krautstreudals went into the oven and the first batch was burnt, I had about had it.  As I yelled to nobody in particular and let the emotions that I didn't even realize where there hit me, I threw one as hard as I could against the wall.
Who knew that trying to bring Christmas to me was making Christmas away too difficult.  While I knew that it wouldn't be the same not being home for the Holiday, I didn't realize HOW hard it would be to be so far away.
After that year, I learned a few things to help make the holidays a little "easier" despite not being home.
Here are Five Ways on How to Survive the Holidays While Traveling or Abroad
1) Start New Traditions
Christmas without loads of family didn't really feel like Christmas to me.  It felt like just any other ole day!  Where was the special, magical feeling!?  Andy and I decided we needed to start a few traditions of our own that we could continue in the future years and still have the day feel "different."
We decided that Christmas Eve, we would make a special meal and could share each other's gifts with one another.  Christmas morning, we'd make a yummy breakfast (we all know I'm a sucker for biscuits and gravy!), open the rest of our gifts from family and then have a veg-out day on the couch watching a marathon of Christmas movies!  A full day of egg-nog and Gluewein drinking and cookie eating pairs extremely well with the classics like Elf, A Christmas Story, It's a Wonderful Life and more!
These are things that we've never done back home, but decided to do on our own to help make the day feel more "special" and would be something we could recreate each year we couldn't make the trip home as our own Christmas Traditions.
2) Choose Traditions From Home Wisely
I didn't realize that by trying to do some of my family's traditions by myself would actually only amplify the fact that I WASN'T home and spending that time with family.  What was supposed to be a way to bring home closer to me, only made me more sad.  I quickly learned that some traditions only make it harder and therefore, should be left for the years that I could be home.
Now, I still can't imagine NOT having Krautstreudals for Christmas!  So, I still make them, but maybe without the music to accompany me.  Or, I've even made them well before the holiday season and well before those emotions start to creep in, frozen them and then had them on hand to enjoy closer to the holidays.  It seems small and silly, but it really helped with the sanity!
The point here is that some traditions were just too much of a trigger for me, so I had to readjust to meet my needs.
3) Embrace your Current Situation
Find something that the locals do where you currently live and dive in.  I now can't imagine future Christmas seasons WITHOUT a Christmas Market!  We try to go to as many as possible each season and fully partake in all the local fun and German traditions.
Find something that is unique to the culture and location of where you will be over the Holidays and try to incorporate that into your home and Holidays.
4) Unplug
No matter how busy I kept myself or how many Christmas Markets I attended, it is always Christmas Eve and Day that are the hardest for me.
For me, it had more to do with the fact that I would see all my friends on Facebook posting about heading to Grandma's or sharing a picture of them with their families.  All the while, I would get constant "dings" from my own family's WhatsApp showing all the small things they were doing together.  Each time I saw my nephews playing together, my brothers in the middle of an intense game of ping-pong, my sister holding my new niece in an adorable Christmas outfit or my mom baking something delicious in the kitchen, it was just another reminder that I wasn't there with them.
I finally learned to unplug from about the 23rd until the day after Christmas.  I didn't log into Facebook.  I turned off my WhatsApp messenger and stayed away from Pinterest.  I could still call and Skype home for a bit to wish everyone a Merry Christmas, but not CONSTANTLY getting those notifications and reminders on fb photo likes from social media really helped to keep my mind off of the fact that I wasn't with family and friends.
5) Find a Local "Family"
No family can replace your own.  However, we found that having an extremely close-knit group of friends that also were sticking around for the holidays helped.  We could share holiday dinners together and, even just for a few hours, take our minds off the distance of us and home.  Sure, someone may make a pie differently than your family would or maybe have a completely different kind of meal than you are used to, so it just may not "feel the same."   However, having others who are going through the same thing as you and having a support system to spend your day with can make all the difference in making your Holiday less painful.
Being away from home, for whatever reason, can be terribly difficult.  However, that doesn't mean you need to go into Scrooge-mode and be miserable!
What are some of the ways that you have been able to survive the Holidays while you have been away from home?
The following two tabs change content below.
Author and Creator
at
Economical Excursionists
Former teacher turned blogger turned mom turned full time travel addict, LeAnna has never been one to live life by the rules. Whether she is moving to a farm in Switzerland to learn to make cheese (Yes, CHEESE), jumping off a mountain to paraglide over Cinderella castles, or taking her baby all over the world with nothing but a backpack on their backs, LeAnna designs and defines her OWN life. LeAnna, her husband Andy, and kiddo, "Lil B" love to live a minimal lifestyle, not only for the "thrill" of pinching pennies but in order to save for traveling the world. Considering over 40 countries and 90+ cities have been explored, we'd say they are doing something right!
Latest posts by LeAnna Brown (see all)