Imagine you are locked in a dark room.  You only have one hour to escape.  You have no idea how to get out, but you know that if you don't, there will be consequences in 60 minutes.  You have entered one of the Escape Rooms!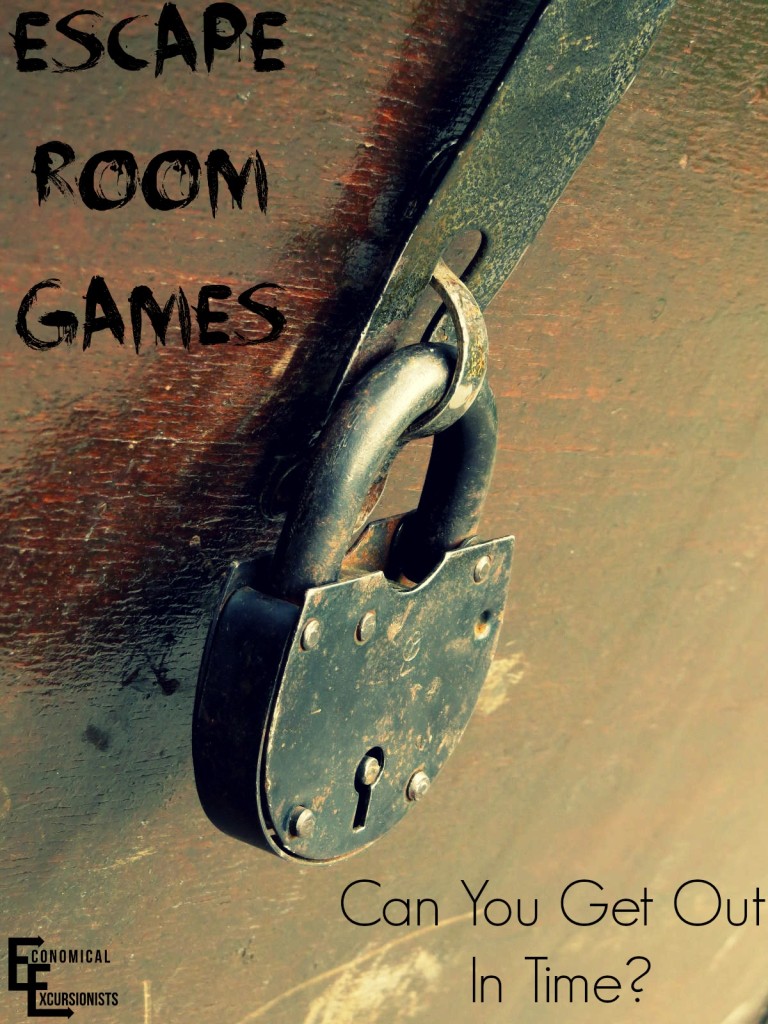 While this may sound like a horrible scene from the movie Hostel or Saw, this game is far from frightening or scary. In fact, it is quite the contrary.  It's  a fun, humorous hour with a few friends.
Escape Rooms
In a world where everything is technology based and everything we do is connected to a smartphone, tablet or computer, it seems like we are losing the ability to problem solve the good, old-fashioned way; with our own brains, not a computer.
This just may be why the "Escape Room" concept is starting to blow up around the world.  There are many different companies, all calling the game something different, but the concept is still the same; use clues to unlock the door in 60 minutes.  It's like you jumped into a board game, except, unlike the movie, Jumangi, there is no actual threat or danger to your life!
While on a recent trip to Prague, my in-laws and myself did a one hour Escape Rooms game with the company, Mind Maze.  We chose the room called Enigma.  In this particular game, they set the scene.
The "Scenario": Our team was a group of military members during WWII. We had been arrested and only have one hour until interrogation from the enemies begin!  We must find the blueprints to a submarine that will give us a code to unlock the door to freedom!!
The game started with all of us locked in a "jail."  We must first escape our jail cell in order to even begin looking for clues for our escape.  The timer begins as soon as the worker locks us in.  Immediately, we all start tipping benches, looking inside shoes on the ground and climbing the cell in search for the key.  It took a little longer for us to find the key than it did for us to start laughing and having fun.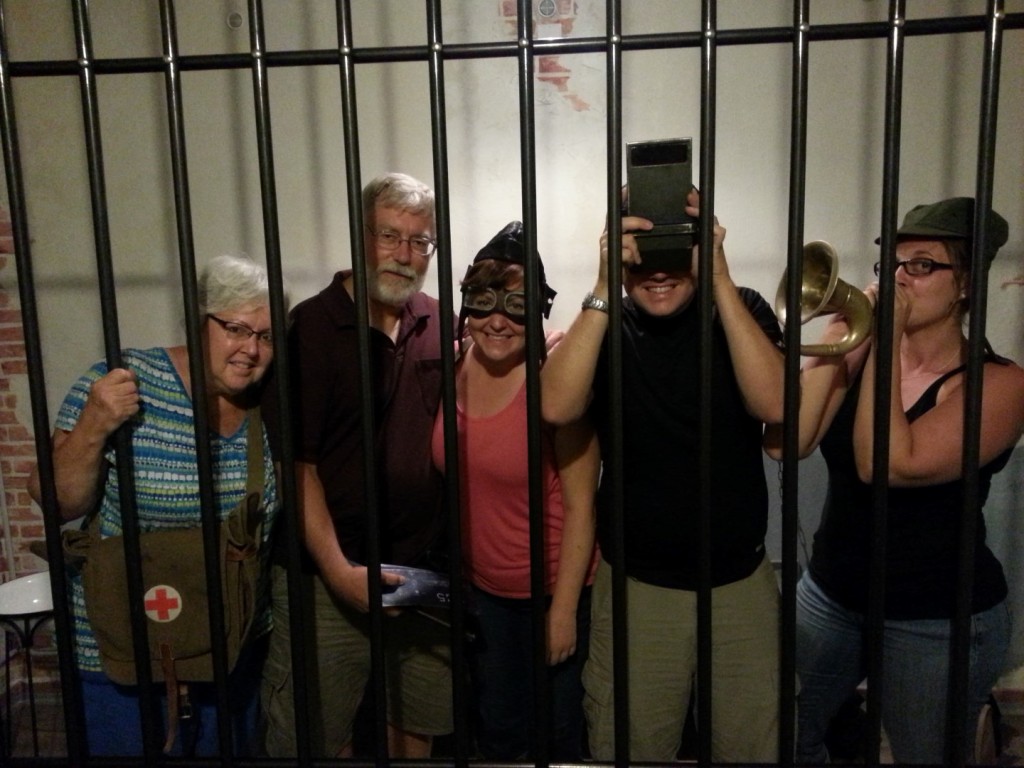 Working together, we were  able to escape the cell, but not the room.  Now, a series of codes and locks must be figured out; each leading to another clue which will eventually and hopefully give us the code to unlock the door.  However, it seemed that each clue sent us on another chase of another clue.
As stated previously, you only have one hour to "escape" but that didn't stop my sister-in-law and myself from taking a break from clue-hunting to really get into character.  I'm not sure if we were helping our hindering our fellow teammates.
It was so much fun to put our skills together though. I would discover something that I knew was part of a clue but then not know how to de-code or actually USE it.  However, someone else could use their previous knowledge, math skills or analyze it and break the code. (I am being very vague here so that I don't give away anything!)
Luckily, a worker is watching from cameras and at any given time, a hint may be requested to keep the game moving along.  I am proud to say we only needed a few tips and we were already on the right path before asking.  However, some clues are purposefully planted as decoys, so be careful not to get too wrapped up in ONE thing!
Every fifteen minutes, ominous music or air raid sirens would sound, letting us know the "guards" were on their way to "interrogate" us!  This helped keep the anticipation up and each time we heard a new sound, we all moved a little quicker.  With just TWO minutes left, the final code was cracked and we were able to escape!  Talk about getting it in the nick of time!
Why I loved this concept:
While I foresee this trend starting to catch like wild fire, right now, it is a relatively new concept.  It is fun, light-hearted and different from all of the computer, IPad and xbox games that we seem to be obsessed with today.
Who can play this game:
Anyone!!! I personally hate puzzles, soduku games, and anything similar. Give me something creative and I excel, but give me a puzzle that I have to work out and I flounder.  However, this game was a blast!  As stated previously, somehow a skill you have will be needed and used in conjunction with your teammates' abilities.
While young children may not find this as enjoyable as adults, kids and teens can play this game and help the adults with some of the simpler tasks, such as unlocking a lock, reading a clue, etc.
How many people can play:
To play the game, you must have between two and five people.  Unless you and a partner are geniuses, I think having more people is best and would be more fun.
Where are the locations?
There are many different franchises to the "Escape Room" concept and unfortunatetly, they are all called a little something different. Even just a search for "Escape Room" won't find all the different companies.
Claustrophilia is one of the first escape rooms and can be found in Budapest, Hungary. http://claustrophilia.hu/en/  Budapest seems to be a hot place for these games with several other companies popping up everywhere.  Find a list here https://intervirals.wordpress.com/europe/list-of-room-escapes-in-hungary/
MindMaze (the brand that we played with) has many locations in Europe, such as Prague http://www.mindmaze.cz/en/home-en and Ljubliana
In the US, there is not one dominating company but you can find escape rooms in most larger cities now.  Just Google "Name of City + Escape Room" and you'll be sure to find something
How much does it cost:
Yet again, this will depend on the location and company, but about $30 per person is the going rate. This seems pretty pricey (especially for us penny pinchers) but it is one of those activities that you do that you just keep looking back on, remembering and are so glad you did because of the uniqueness to it all and how much fun you had.
What kinds of rooms are there?
This also will depend on the company and the specific location.  Usually, there is some historical aspect to the theme and while playing in a themed room that may be interesting to you, the theme itself doesn't make or break the game; they are all fun!
Have you heard of the Escape Room trend? Have you done one? Surely, there was a funny moment you'll be laughing about with your friends for years to come…tell us about it in the comments below!
The following two tabs change content below.
Author and Creator
at
Economical Excursionists
Former teacher turned blogger turned mom turned full time travel addict, LeAnna has never been one to live life by the rules. Whether she is moving to a farm in Switzerland to learn to make cheese (Yes, CHEESE), jumping off a mountain to paraglide over Cinderella castles, or taking her baby all over the world with nothing but a backpack on their backs, LeAnna designs and defines her OWN life. LeAnna, her husband Andy, and kiddo, "Lil B" love to live a minimal lifestyle, not only for the "thrill" of pinching pennies but in order to save for traveling the world. Considering over 40 countries and 90+ cities have been explored, we'd say they are doing something right!
Latest posts by LeAnna Brown (see all)