Baden Baden Germany and The Thermal Baths
What is more relaxing than a spa weekend getaway!?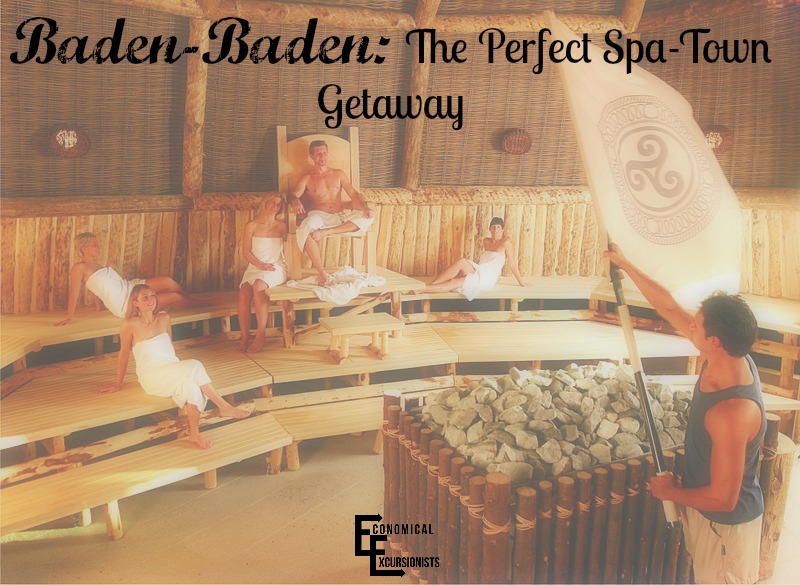 Whether it is a girl's weekend or a couples retreat, the perfect place to relax and rejuvenate is the Baden-Baden Spa (or actually the German Spa Town of Baden Baden, which includes some of the best spas in Germany).
My gal-pal, Nina, and I decided we needed a weekend to unwind, regroup and recharge.  No work. No husbands.  No children. No Stress.
Well, that was that.  The Baden Baden Caracalla Spa, the Friedrichbad Spa, and exploring the other things in Baden Baden was a must!
Where Is The Baden Baden Germany Spa Town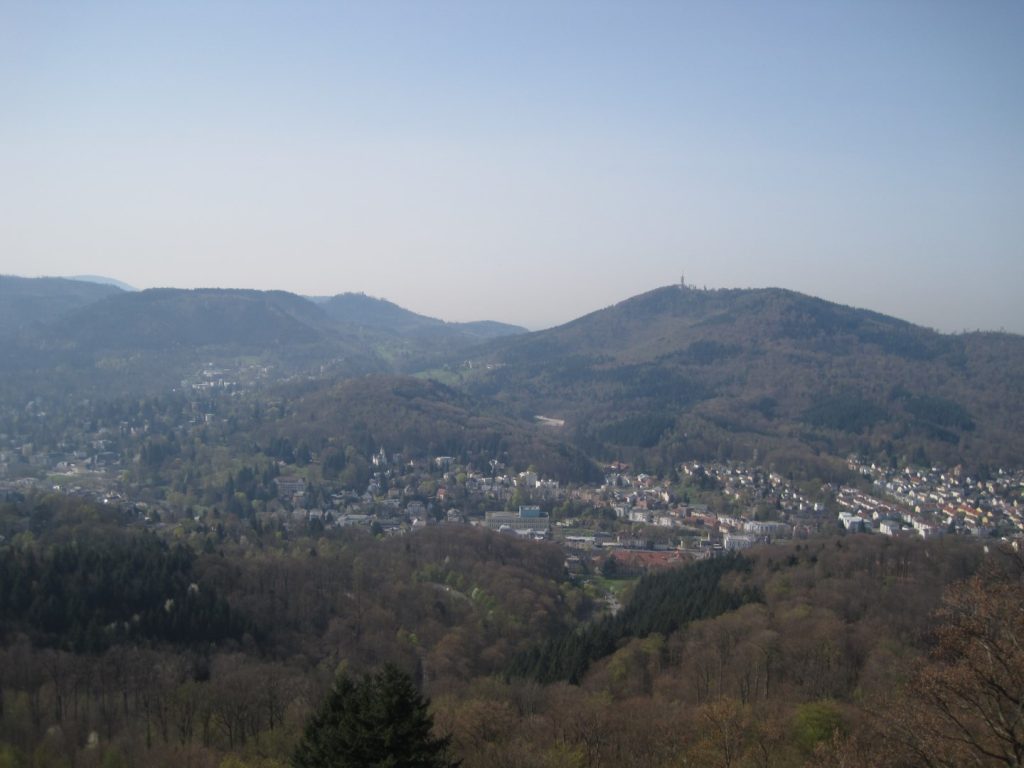 Germany is not lacking in amazingly beautiful areas, but this Black Forest Spa town, is set in a truly stunning region of Germany (but more on that below in the "Hiking In the Black Forest" section.)
The Baden Baden thermal baths and town itself is really accessible and easy to get to.  We personally drove the easy 4(ish) hour drive from Bavaria (near Hohenfels).  It's also pretty easy from other nearby cities as well:
Only about an hour from Strasbourg, France

1 Hour and 45 minutes East of Stuttgart
2.25 minutes from Frankfurt
Less than 2 hours from Ramstein Air Force Base
Baden Baden Train Station
If you are taking the incredibly easy to use Deutsche Bahn trains in Germany, Baden Baden is also easily accessible.  There are plenty of routes from other major and nearby towns.  Once you arrive at the Baden Baden Bahnhof, right from there, just grab the 201 Bus (runs about every 10 minutes) or any bus that takes you to "Leopoldsplatz" which will take you into the city center.
Getting Around Baden Baden
If you drove, then getting around Baden Baden is obviously pretty easy.  However, even without a car, the town is still extremely walkable and has a good bus system that you can use as well.
Getting Nude at the Baden Baden Spa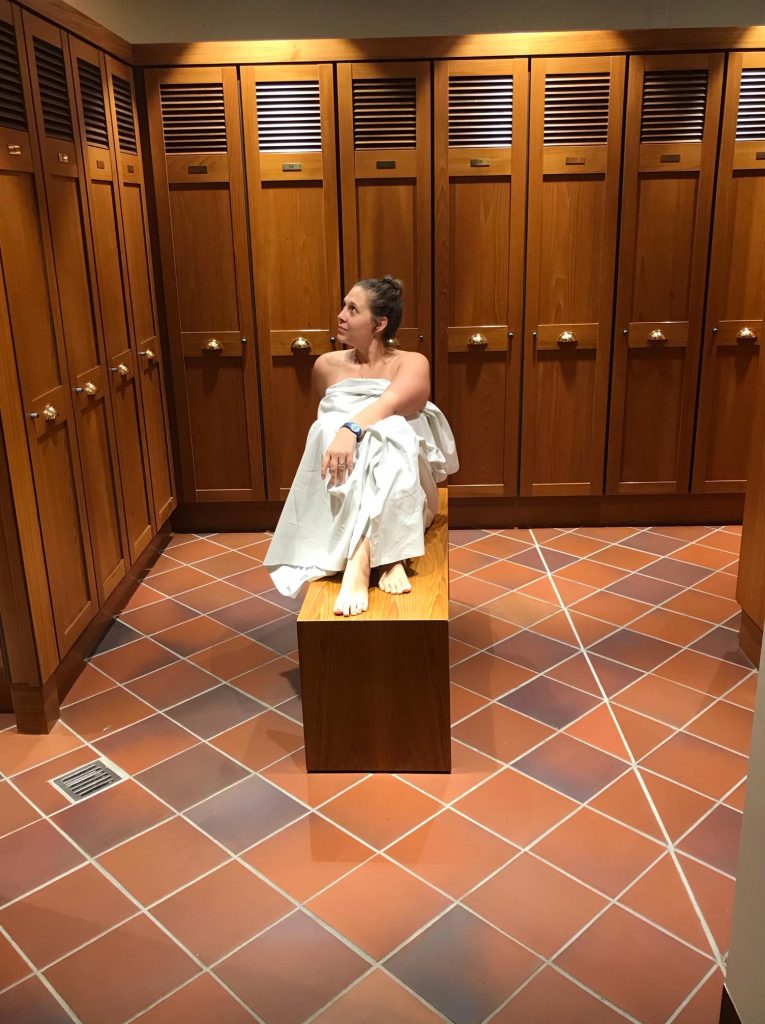 Getting my friend Nina on board for a girls weekend wasn't the difficult part.  However, she texted back that she'd heard about "Those European Spas" and absolutely DID NOT want to go nude.
I laughed and said, "Don't worry!" I had been to several spas or spa-like areas within Europe. Every single one that I had gone to allowed you to choose to stay suited up or to strip down. However, the truth is, when I kept on my bathing suit in those situations, I felt like I was the one getting more stares and looks than the people completely butt-naked!  I quickly realized I was normally in the minority by keeping it all on. Soo….when in Rome! (er…Germany….)
But, I reassured her, it was no big deal and she totally could choose what she wanted to do to meet her own comfort level.
Well…Woops.  I was wrong.
European Spa Culture
There is an adult-only section at the Caracalla Spa that is nude only and at the Friedrichsbad Spa, it is all nude.
But as soon as we walked into the spas, nobody gave a rat's ass if we were naked, fat, had moles in strange places or unruly hair in a variety of bodily locations.  Men and women alike roamed around from hot tub to hot tub, sauna to sauna like it was just another day at the park.
Before long, all the self-consciousness that American society forces upon us was quickly diminishing.  In fact, it was the exact opposite.
Not to sound creepy, but seeing so many different body types and people in there was hella liberating!!!
In fact, in hindsight, it is actually pretty sad how self-conscious and worried about things being taken in a sexual style we were.  That's American Media-Influence for you!
If you are still squeamish of nude spas: No matter how much someone on the internet tells you that the textile-free spas are no big deal, I get that some people are still going to be completely unsure, or even turned off by the idea.  If that's you, know that if you want to forego the pools (in the Sauna area) or plunge pools, you can wander from Sauna to Sauna or relaxation room with your towel tightly wrapped around your body the entire time.
—————————————————————————————————————————————–
Planning a Relaxing Weekend in Baden-Baden?
Don't forget to research other cheap things to do on TripAdvisor and book affordable Hotels at Booking.com
---
Know Before You Go
There are several things that I think are handy to know before heading to the Spas before you go, either for planning purposes or just so that you can walk in with confidence (since it IS a different experience than anything I'd ever done in the US!)
The Locker Rooms
Co-Ed
The locker rooms ARE co-ed.  However, that doesn't mean that you can have privacy if you don't want it.  When you enter either facility, you'll enter the locker rooms after paying.  At Caracalla, in order to get to the actual lockers, you'll walk through a line of dressing rooms.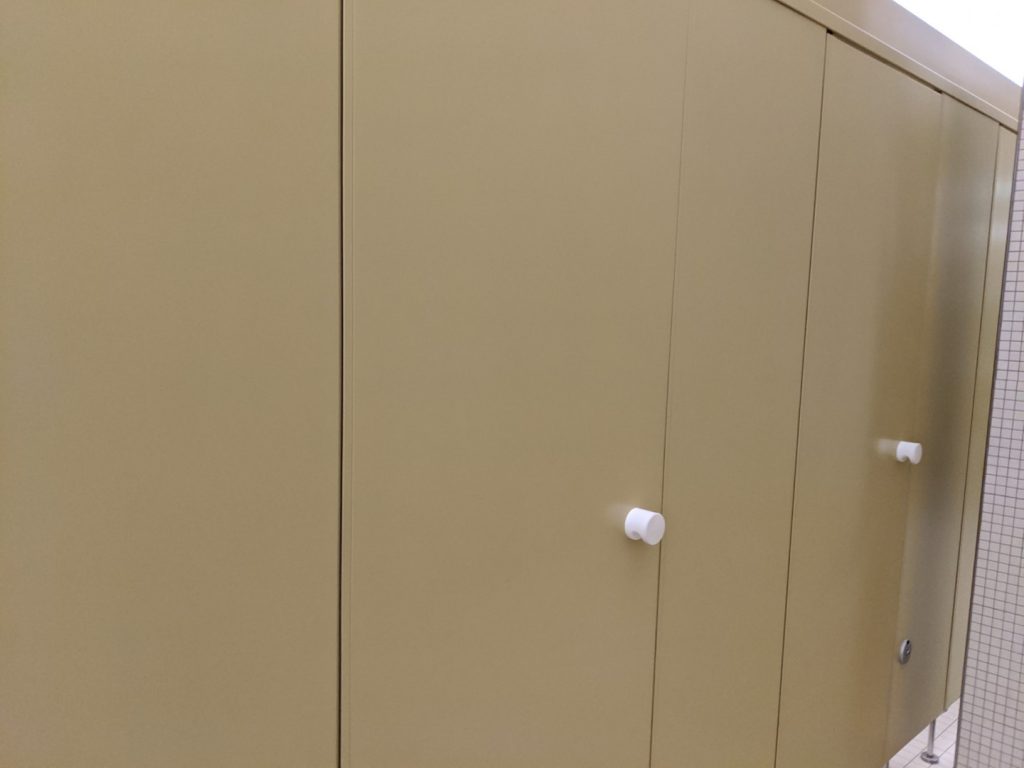 Expert Tip:  You'll lock the door at the BOTTOM with a little lever.  But be sure to check both doors, as sometimes you need to lock them individually! (Yeah, I learned that one the hard way!)
Restaurants
At the Caracalla Spa there are two restaurants open to everyone.  The first is before paying and in a general "lobby" area but has really good! The second serves the same food but is in the pool area.
There is a third snack bar in the Sauna area where there are some munchies (meat sticks, pretzels…you know, all those stereotypical German snacks!) and juices you can choose from.
Below I talk about your "bracelet" but you can pay for all of these things on your bracelet so that you don't have to carry around your wallet getting it all soppy and wet!
There is not a restaurant at the Roman Baths, but plenty of places just outside within a short walking distance to choose from.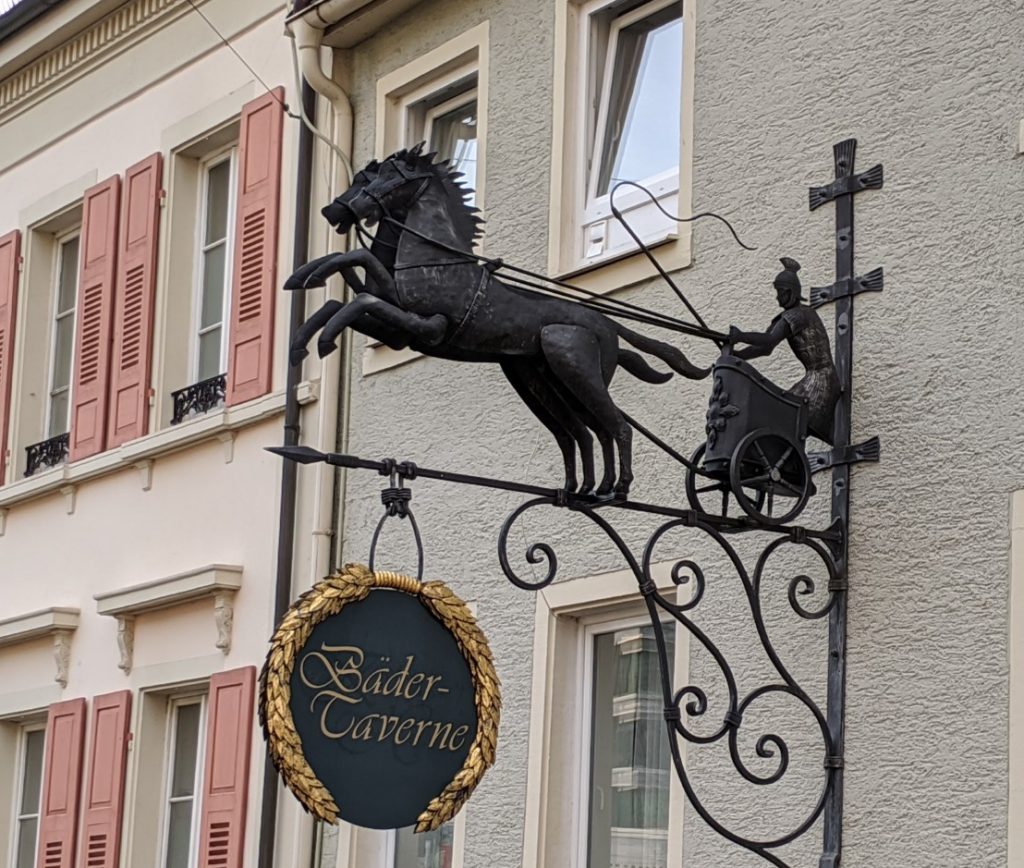 The Two
Baden Baden Baths
Many people think there is just one thermal spa in Baden Baden, but there are actually two main ones and they are each equally amazing and worth going to both, as each offers something a little different from the other.  They are operated by the same organization and are literally right next to each other.
Caracalla Spa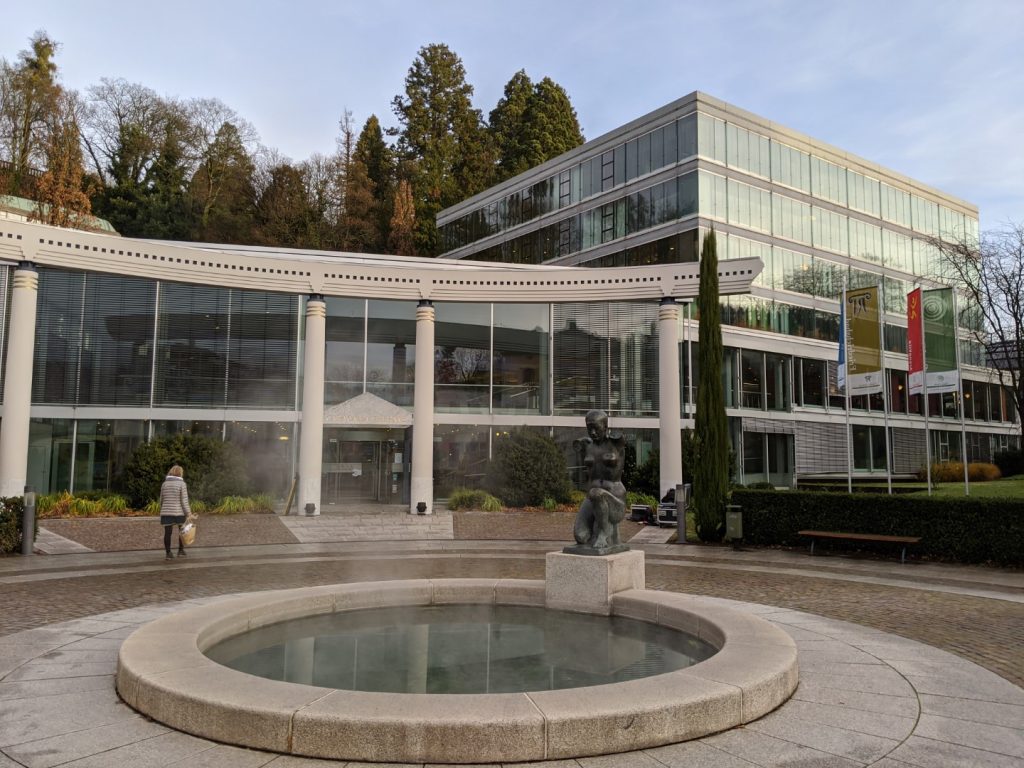 Caracalla is a massive facility that holds just about any pampering and pool you may want.  The gorgeous turquoise and blue water at every turn instantly puts you into a hydrotherapy mood.
There are many different passes available, but we went with the day pass, as the spa is open late until 10pm.  We knew this would give us plenty of time to soak and relax in the thermal spring waters.  You can choose to pay by the hour to use the fascilities, get a day pass, only visit the pools, do a combo, etc.  As you can see, it's quite variable.
When you enter, you can pay by cash or card and you'll get a handy-dandy wristlet.  This is not only the lock for your locker, but you can also charge food and drinks within the facility straight to your wristlet, so you don't have to worry about carrying around cash or be paranoid about your goods in the locker room!  (How has this not caught on in the States!?)
Just take your bracelet and place it on the lock and it will automatically lock and unlock it for you.  No need to carry around a key!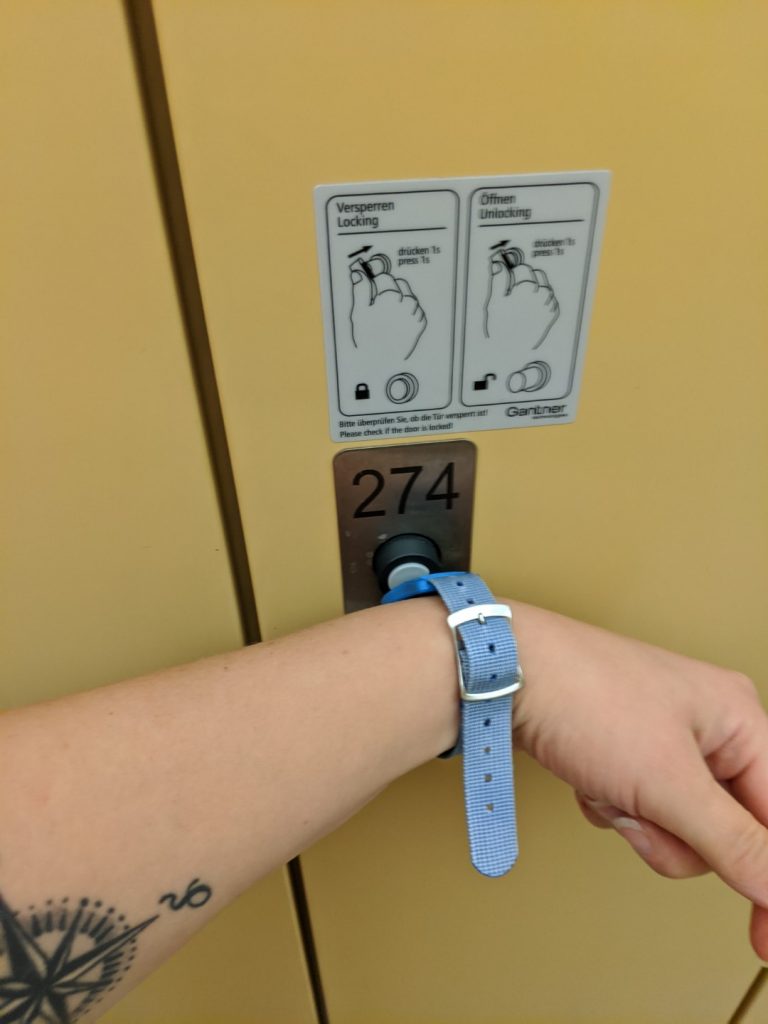 The Pools
The main pool area is a playground in and of itself!  Kids are allowed in this area, so if a kid free zone is what you want, you can either make your way upstairs or try to go during a weekday during the day when there will be less kiddos.
Do spend some time exploring down here though.  There are unique saunas, like a salt room or a lavender-infused sauna.  There are hotbeds where you can just lounge and read or you can pay for a few minutes in a tanning bed.  In addition to the huge pool inside, there are small plunge pools surrounding it, some that are quite atmospheric with fake little rocks and waterfalls.
The pool even goes outside and since it is heated, can be enjoyed year around.
At this point, we were both thinking "Gee, this is really nice, but it's pretty much a really kick ass pool, what's so special or "Spa-like?"
After a few more hours, we decided to do a little more exploring.
Somehow, we totally missed the stairs that led up to the adult-only spa section!!!
Caracalla
Baden Baden Sauna/ Adult Only Sauna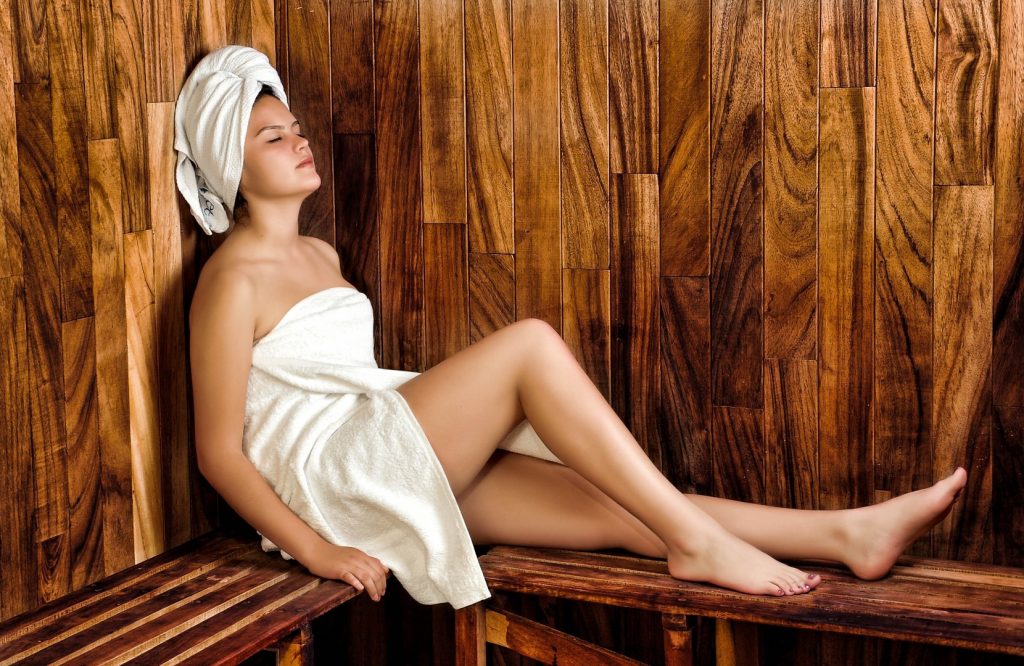 Buff-bathing, textile-free….whatever you want to call it, we're talking about the completely NAKED portion of the Baden Baden Spa.
You'll walk up a set of stairs and be faced with a sign that clearly states "No Bathing Suits" in all languages.
After a few moments of hesitation and deep thought from Nina, she looked at me and said, "Well…..we are here! No point in turning back now!"  Followed by a stern, "No judging!"  So, into our birthday suits we went!
You can go to a number of saunas, including a salt room to start as well as hot and cold plunge pools, foot massaging pools, a trippy neon lit room that makes you feel like you are in another world and more.
Plunge pools: there are freezing cold plunge pools all over the Sauna area.  I still don't fully understand the healing effects of going from sweltering hot to ridiculously cold….but supposedly there are some!
The Saunas:

The Spectaculum: a dry sauna that gets up to 90° C (yes, that is correct- 194 Degrees Farenheit!?)

The Vitality Sauna: another crazy hot, 194

° sauna 

The Fire Sauna: A beautiful little sauna out in the garden that somehow heats it up, even more, all the way to 95

°

 C
Forest Sauna: "Cool Down'" to only 85

°

C (185

° F) out in the garden

The Aroma Sauna: Also 85

°

C and has amazingly scented aromatherapy
Meditation Sauna: If melting your face off hot doesn't sound appealing, spend your time in here (65

°

C/ 149

°F) where nature sounds help you to kick back a bit.

Relaxation Rooms

Sanarium

:

This

 

trippy neon lit room makes you feel like you are in another world and uses humidity instead of steam
Blue Space: Blue walls, quiet, soft sounds and lounge chairs makes you feel super chill
Green Room: A solarium with amazing views into the Black Forest
You could easily spend the entire day in here alone!  Just get over the nude- part and you are sure to have a relaxing day.
Friedrichsbad Spa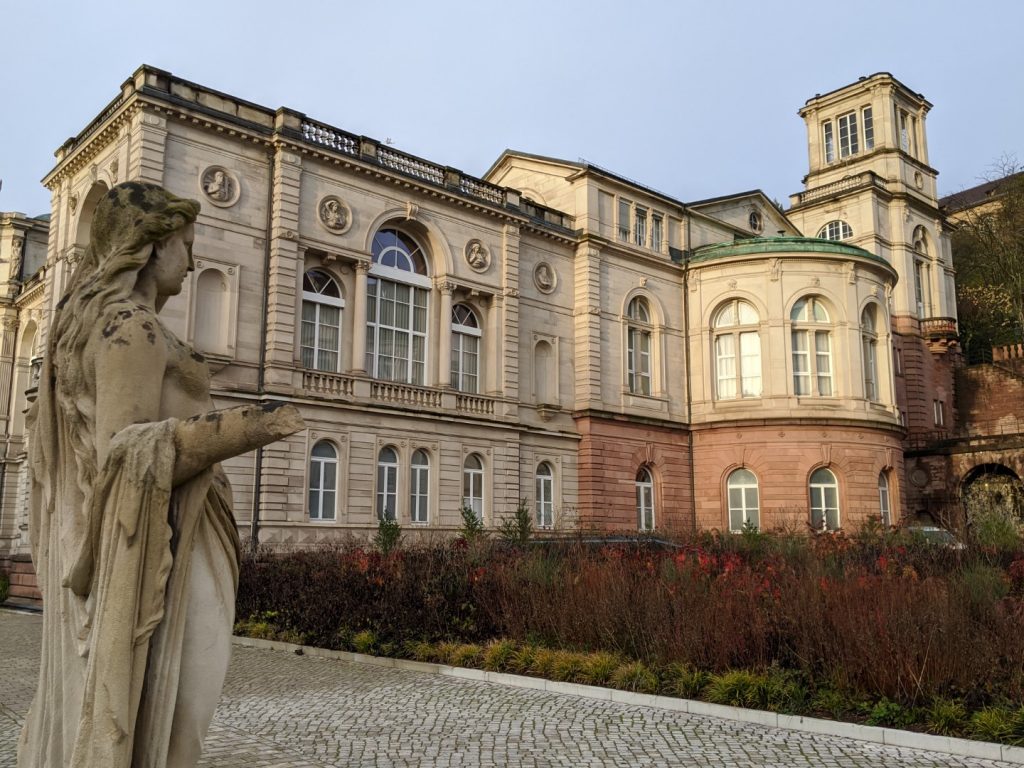 Friedbrichsbad is considered the Baden Baden Roman Baths since this was the location of a Roman bathhouse centuries ago that sat over the Baden Baden hot springs and the process today is similar as to what the Romans did for their bathing rituals way back when.
The Roman-Irish Baths (adult only) was unlike anything we'd experienced before.
After the previous day getting used to being in our birthday suits in public, it was no big thing to strip down and head confidently into the bathing area, just as everyone else was doing.
After all, instead of looking at each other, you'll be too busy staring at all the beautiful frescoes and architecture of the building.  The overall atmosphere and sheer beauty of the old building combined with the calming baths put us almost into a trance-like state of pure relaxation!!!
For the Roman Baths, there is a very intentional, 17 step sequence of pools to go to next and for how long.  Granted, you can come and go to each as you wish, but the purpose is actually based on ancient medicinal beliefs about the healing process of thermal waters.  You'll go through a sequence of saunas, showers, pools of varying temperatures, lie in a luxurious relaxation room and end in the reading room.
While all the steps are glorious, it was the relaxation room that was the most odd/ unique.  You'll enter a large room where you'll be shown a bed-like feature to lie on.  There, an attendant will basically bundle you up, cocoon style.  I mean, we are talking full blown, tuck you in, wrapping here.  It feels so strange having a grown adult tucking you in, but once you are fully immobilized in this tight cocoon, you'll feel miraculously calm and content! (No wonder babies love to be swaddled!!)
All I know is that I sure felt cured of any exhaustion (both mental and physical) by the time we were done with it all!!!
Overall, it takes about 3 hours to go through the whole process.
This is also a co-ed spa experience.  However, there are single-sex days, but again… after the initial hesitancies, we realized nobody cared, nobody was looking, and everyone was just there for one purpose: relaxation and that was all.
Baden Baden Things To Do (Other Than The Spas)
If you are wondering what to do in Baden Baden other than the spas, there are still several things to do and explore.
Roman Bath Ruins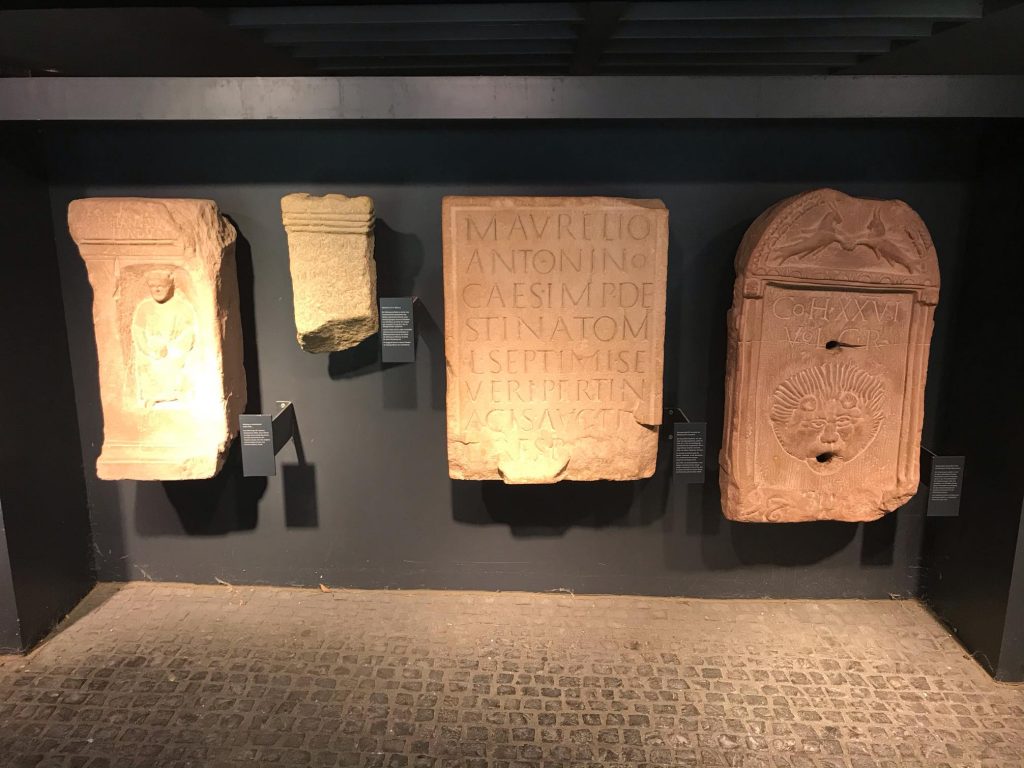 Underneath the Friedrichsbad Spa are actual excavation sites from the original, ancient Roman Baths.
Baden Baden Old Town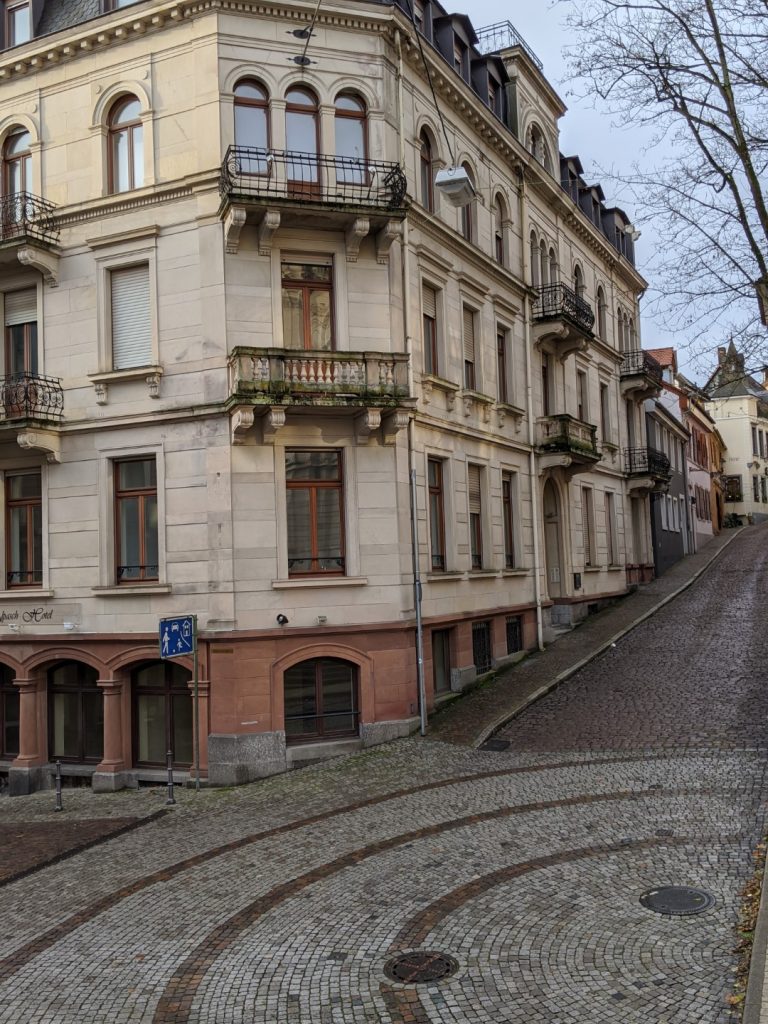 This charming Baroque styled town is perfect just for wandering around, taking in the picturesque buildings and doing some window shopping at all the little antique and jewelry shops.  Stop in at any of the numerous art galleries or pause at a cafés to enjoy your time.
Hiking In the Black Forest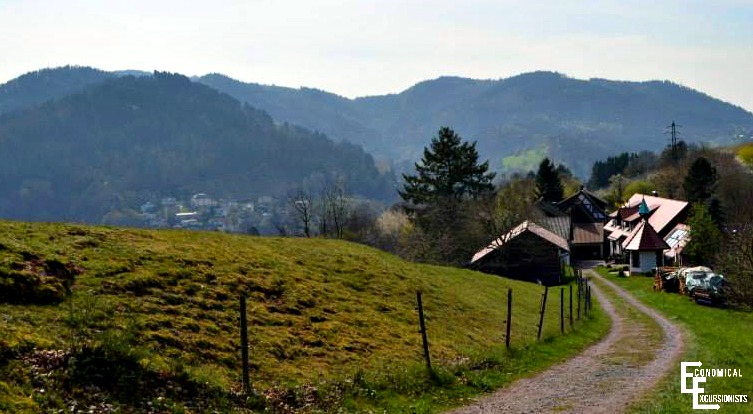 We put on our hiking shoes and went to the Merker BergBahn.  We actually didn't take the train car up, but instead followed the signs for the "Wanderweg" (hiking/ walking trails) and spent the morning exploring by foot.
While not hiking in a strenuous, mountainous location, it was absolutely beautiful and stunning to hike in the famous Black Forest.  It was so peaceful to be in the middle of nature, smell the pines and dirt paths and start our weekend focused on our own health and well-being, both physically and mentally.
Hohenbaden Castle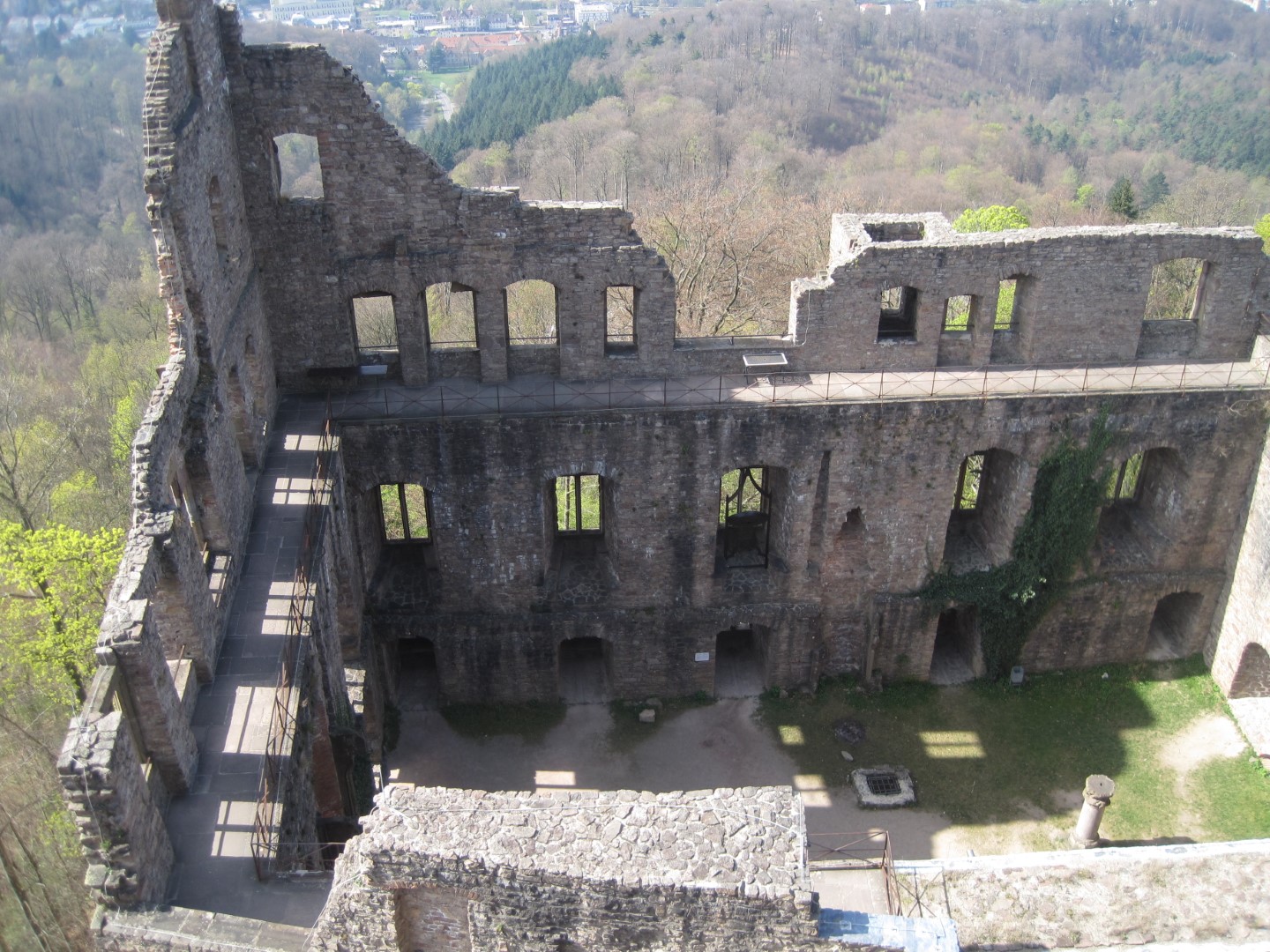 Despite having lived in Germany for several years already, one might think that I'd be castled out.  However, I have always had a weak spot for the beautiful, old, ruined castles that are intact just enough that I can still climb all over and then use my imagination to envision life as it was hundreds of years ago.
The Altes Schloss (old castle)/ Hohenbaden Castle is the perfect place to do just this as the castle is stable enough to walk around on, climb the towers and peer out over the simply stunning panoramic views of the Black Forest.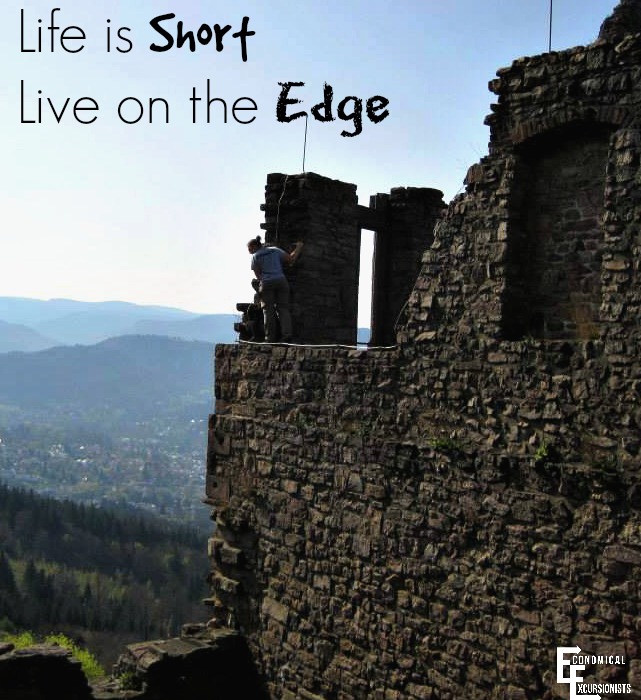 Casinos
Depending on your length of stay and interests, many people love to go to the Spielbank, Baden-Baden's famous casino.  Even if you are not into gambling, it is still worth a look inside to the beautiful building.
Frieder Burda Museum
If you love artwork, don't miss the classical modern and contemporary art museum.  With over 1,000 pieces of work, including that of Andy Warhol and Pablo Picasso, there is plenty to see and appreciate here.
Geroldsau Waterfall (Wasserfall)
About 15 minutes south of town is a beautiful little waterfall.  A short little walk from a pullout on the road will lead you down to the Grobbach Creek where you'll find the tranquil Geroldsauer waterfall (also known as the Geroldsau).
Trinkhalle
In town, there is the beautiful collonade, which was built in 1839 where original spa attendees would go and actually drink the mineral spring waters, which many people believe to have therapeutic effects.  Today, you can see beautiful mural paintings and stunning columns.
Next door is the Kurhaus, which was once the main spa building and today can still be seen amongst a beautiful garden.
See Other Top Places and Where To Eat In Baden Baden On Trip Advisor Here
Baden Baden Hotels and Where To Stay
There are plenty of hotels in Baden Baden, Germany all within a wide variety of budget options.  This is, by no means, and exhaustive list.  Check out TripAdvisor or Booking.com to see all the different hotels in Baden Baden.
Just an FYI, Baden Baden is one of the few towns in Germany to have an additional city tax of €3.50 per night.  Technically, it is called a "Kurtax" and is sometimes found in other spa towns as well.  Sometimes, it's not fully disclosed, but just don't be surprised when you see it on your final bill.
Luxury Baden Badden Spa Hotels
Brenners Park Hotel and Spa: If you are wanting to have the utmost of pampering during your Spa weekend, then the Brenner Park Hotel is a must and is considered one of the best hotels in Baden Baden.  This "Old-world," luxury hotel is top notch and will round out your decadent time in Baden Baden.  Click Here For Current Prices
Dorint Hotel Maison Messmer:  This is another posh hotel that actually has it's own spa, sauna, and steam room it the hotel itself. Click Here For Current Prices
Midrange Hotels
There are abundant mid-range budget Baden Baden accommodation options.  In fact, way too many to list here.  However, with a few filters on Trip Advisor or Booking, you'll be able to narrow down a few really great rated and affordable places.
Budget Hotels
Holiday Inn Express: Since we use points and miles to Travel Hack as much as possible, when there was a points deal at the Holiday Inn that would only cost me $15 a night, I booked it immediately!!  However, even without points deals, Holiday Inn is a really affordable place to stay in a spa town and this particular one was a REALLY nice hotel! Click Here For Current Prices
Again, there are TONS of great hotel and pension options in the budget range, so just have a gander and pick which one looks most appealing to you.
Hostels
Werner-Dietz Jugendherberge: This hostel is a steal of a deal for anyone looking to stay at a Baden Baden hostel.  There are mostly dorm style rooms and shared bathrooms, but for €22.50/night (which includes breakfast!) that isn't too shabby!
Click Here To Search Booking.Com For the Best Prices on the Best Hotels in Baden Baden Germany
Whether you choose to spend all day at the spas, take some time for nature or take your chances at the casino, you are bound to leave Baden-Baden relaxed and rejuvenated (that is, unless you lose big at Black Jack!).
The following two tabs change content below.
Author and Creator
at
Economical Excursionists
Former teacher turned blogger turned mom turned full time travel addict, LeAnna has never been one to live life by the rules. Whether she is moving to a farm in Switzerland to learn to make cheese (Yes, CHEESE), jumping off a mountain to paraglide over Cinderella castles, or taking her baby all over the world with nothing but a backpack on their backs, LeAnna designs and defines her OWN life. LeAnna, her husband Andy, and kiddo, "Lil B" love to live a minimal lifestyle, not only for the "thrill" of pinching pennies but in order to save for traveling the world. Considering over 40 countries and 90+ cities have been explored, we'd say they are doing something right!
Latest posts by LeAnna Brown (see all)