If you've ever thought to yourself, "Oh what I would give to travel to Europe!!!" Immediately followed by a grimace just thinking of the costs, I don't blame you.  We all know that I swear by Travel Hacking and that when combined with budget travel, we almost always travel for as cheap as possible, but if that method of free flights and hotels doesn't work for you, for whatever reason, there just might be hope upon the horizon for cheap airfare to Europe after all.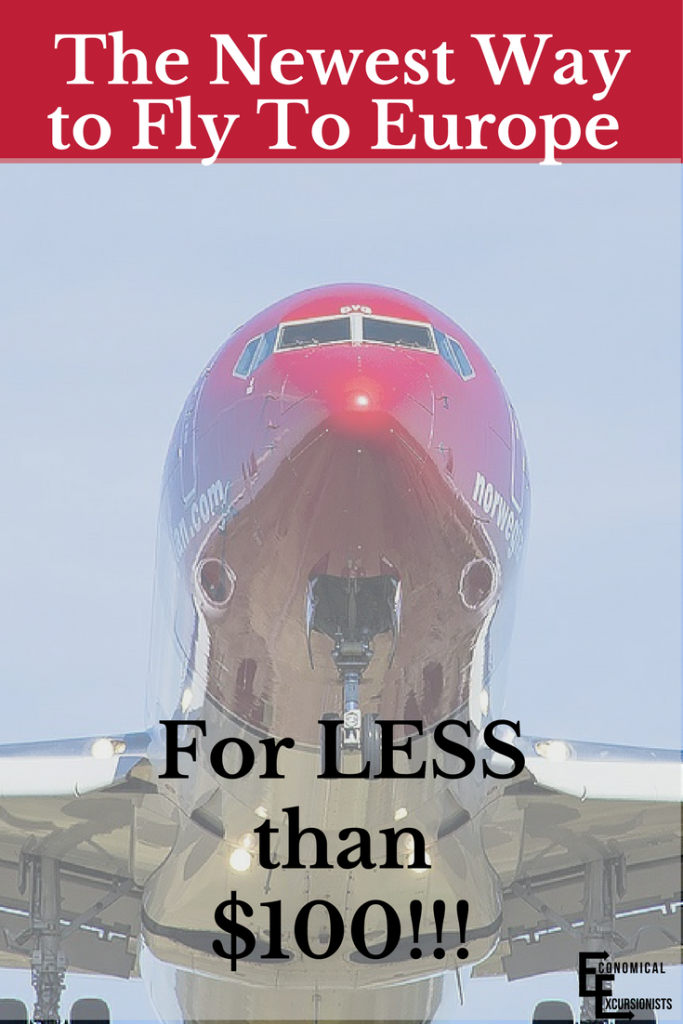 Just one of the many things that I loved about living in Europe were the budget airlines.  People would always joke with me when I'd say (and mean it) that I don't buy clothes over ten dollars, I cut Andy's hair myself and do other things just to pinch a few pennies here and there, all for the sake of travel.  But let's be serious, that $12 men's haircut?  That could literally be a RyanAir flight!!!  So, yeah! I take my penny pinching seriously!
But sadly, the US is seriously lacking in budget airliners.  Even Southwest, which used to be "budget," isn't always cheap anymore (more affordable, yes…cheap? No.)
Norwegian Air $65 Flights- One Way
So when Norwegian Air announced that they officially are opening up routes to Europe for only $65,  I quickly did some bad math in my head about what  I could not spend in order to "afford" a $65 flight all the way from the US to Europe.
I still haven't gotten a cell phone since moving back to the US several months ago.  Just one month's cell phone bill alone would get me to Europe with Norwegian Air!
I've been gym shopping around and for Andy, Me and drop in child-watch fees for Lil B, one month's membership is over $90! Who needs to be in shape anyway? I'll just head to Europe instead.
I was actually going to do a "Treat Yo Self" day this weekend and go out to breakfast (easily $10+) and then get a massage ($55+tip).  Hmmm, I think I'd actually be less stressed if I was just in Europe, don't you think?
Really, the possibilities are endless on how to save a measly 70 bucks and you don't even need to get creative, either!
 ——————————————————————————————
Planning a Trip To Europe?
Research and book affordable activities on TripAdvisor and Hotels at Booking.com
——————————————————————————————
The Catch(es)
If you've ever flown a budget airline, then really these come to absolutely no surprise at all to you.  But when talking budget airlines, you can forego any notions of luxury what so ever.
No In-Flight Entertainment.  But is this REALLY that big of a deal anymore?  Doesn't everyone own a device that they can load some shows or music on before taking off?  Or, God forbid, just read an actual book.
Taxes and Fees.  I've never actually flown Norwegian surprisingly, but most budget airlines get you with the taxes and fees.  Read every fine print detail; don't pay for bags, don't splurge for a reserved seat, have your boarding pass printed out before arriving at the airport, know the carry on baggage weight limit, etc.  I'm assuming that it will be similar to RyanAir, so you can check out our RyanAir FAQ Complete Guide to help you know what to look for when booking your Norwegian ticket.
Select Routes and Locations.  Norwegian Air's cheap flights may not come and go from all airports.  If you aren't at any of the specified airports, then you can find the cheapest flight using GoogleFlights.Com, then get the Norwegian Air tickets from there, you could still be saving HUNDREDS of dollars compared to the thousands of dollars that it can often cost in high season to get to Europe.  You can obviously choose to go to Norway itself and stay in amazing places, like Bergen, or you can choose other routes that get you around Europe.
If there are no destinations that you were wanting that they are flying to, use that as a connection and then find another cheap flight to get you to your intended destination (since budget airlines are WAY easier to find options for once in Europe).
Two of the easiest examples of routes for the $65 Fares are:
New York —> Dublin or Edinburgh
Boston —> Dublin
If Ireland isn't on your list of places to visit (it should be! Here's a week's road trip itinerary in Ireland to get you inspired just in case), buy another super cheap ticket (again, use GoogleFlights to see what is the cheapest for your dates/locations) to where you want to go within Europe.
BYOF.  Bring Your Own Food if you want to eat (or you can pay for their in flight meals, but who seriously wants to pay $15 for a crummy airplane sandwich?)
Limited Time Deal.  They have not announced when the $65 fares will expire, as it is the new, "introductory price," but the good news is that they still have $100 flights!! So, really, that isn't too much of a catch, considering you typically can't fly across the US for less than $100, let alone to Europe!
The following two tabs change content below.
Author and Creator
at
Economical Excursionists
Former teacher turned blogger turned mom turned full time travel addict, LeAnna has never been one to live life by the rules. Whether she is moving to a farm in Switzerland to learn to make cheese (Yes, CHEESE), jumping off a mountain to paraglide over Cinderella castles, or taking her baby all over the world with nothing but a backpack on their backs, LeAnna designs and defines her OWN life. LeAnna, her husband Andy, and kiddo, "Lil B" love to live a minimal lifestyle, not only for the "thrill" of pinching pennies but in order to save for traveling the world. Considering over 40 countries and 90+ cities have been explored, we'd say they are doing something right!
Latest posts by LeAnna Brown (see all)