Go ahead.  Give yourself a pat on the back.  Yeah…YOU!  That Mom or Dad that finally decided that it was ok to travel without your kiddos.  I know, you normally only do Family Travel nowadays, but you finally decided it was time for just YOU.
Good for you! You decided that you deserved to have some kid-free time and take an adult-only vacay!  You got over the guilt about leaving your children so that you could go focus on you and recharge your batteries!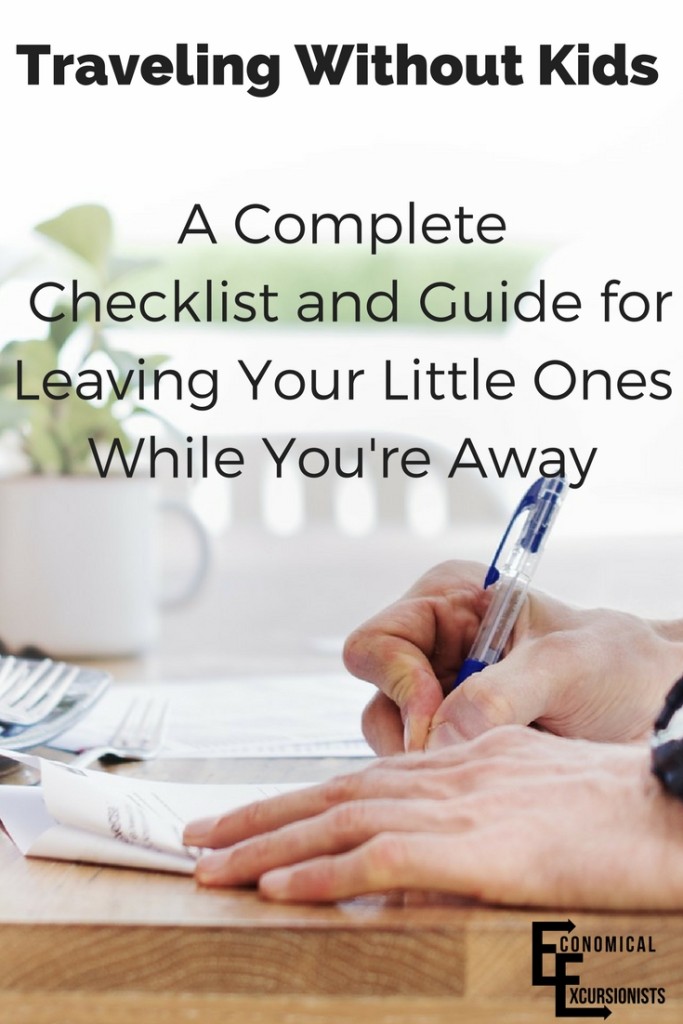 But before you go full-blown spring break mode, you need your parent hat on for a little while longer to get yourself, the caretakers of your kiddos and the children themselves ready for your departure.
Detailed Instructions
Leave as little or as much information to the people watching your kids as you all feel comfortable with.  If you feel better leaving a bajillion pages of notes, then do it! If the people watching your munchkins know your kids well, are capable parents themselves or know your routine already, it's ok to leave just the essentials (see below).  Do what YOU are ok with.
Letter of Consent/ Medical Authorization Form
Whether or not you leave a lot or a little information, absolutely do not forget to leave a Letter of Consent of Medical Attention for your caregivers.  You can find free templates online so that you know you have the required information.  Of course you are assuming it won't be needed, but even if Little Johnny has something like an ear infection, you will want Grandma or Aunty Joan to be able to get them treated easily without a million roadblocks.
Essential Information
In addition to your letter of consent, don't forget to leave the essentials that you would leave for ANY babysitter:
Doctor's name, address and contact information
Emergency phone numbers such as fire, police, poison control, etc
Emergency contacts.  This could be a relative or neighbor
You can print and fill out this easy form from BabyCenter that has it all in one, handy place
Insurance Cards
Again, all are hoping this won't be needed, but still need to be left none the less.
Your Travel Information
Flights: Include all flights, flight numbers and times
Hotel: Include phone numbers of the hotel itself in case you can't personally be reached
Itinerary: Let your caregiver know if there are any times that you may not be able to be reached
Car Seat Info
There are some things that I don't budge on and carseat safety is one of them.  I don't care if the people watching your kid has had 10 kids of their own.  Review how to properly use and install YOUR car seat.
Extra Keys
Whether everyone is staying at your house or elsewhere, it is nice to have a spare set of house keys for the caretakers so that if you accidentally forgot that "essential" item that your child swears he can't live without or they need in in an emergency, they are covered.
Other Things to Consider Leaving
Membership cards (such as library, museum and zoo cards)
Extra Cash: For activities, extra food or just anything that might "pop up" that requires money
Food: If everyone is staying at your home or if you have particular requests for food, have it prepared and ready so that the caregiver does not feel responsible for it.  If your are nursing, leave detailed instructions on how you prepare the milk.  If you bottle feed, leave more than enough formula.
Wifi Password: If everyone is staying at your home, be sure to leave that oh so valuable wifi password!
Do You Have  a Will?
Ok, so a will isn't exactly what you want to think about when gearing up for an exciting and relaxing getaway.  However, in the event that something does happen, you need all your bases covered.   Wills can be REALLY complicated stuff, especially once children are involved.  While you don't want to have to think about it, you should have the peace of mind that if, God forbid, something did happen that your intentions are spelled out in detail!  That way, there is NO question or room for "interpretation" on what should happen with your most precious assets (your children!) as well as any other assets you hold to your name.
For Your Children While Your Away
Leave Momentos, letters or photos
If your child is old enough, consider leaving little notes for each day that they can read and know that they are still in your heart and mind, even if not together.  Leave a few pictures of you, you together with your children etc so that the caretaker and your kiddo can look at them each day and talk about how much Mommy and Daddy love them.
If they are older, a letter a day can help keep the blues away.  If you think that your child would do well with it, leave a note every day that they can read to remind them you are still thinking about them.
Other Articles That You Might Find Helpful While Traveling Without Kids
Have you ever taken a trip without your little ones?  What advice do you have for other parents ready for their own guilt-free getaway?
The following two tabs change content below.
Author and Creator
at
Economical Excursionists
Former teacher turned blogger turned mom turned full time travel addict, LeAnna has never been one to live life by the rules. Whether she is moving to a farm in Switzerland to learn to make cheese (Yes, CHEESE), jumping off a mountain to paraglide over Cinderella castles, or taking her baby all over the world with nothing but a backpack on their backs, LeAnna designs and defines her OWN life. LeAnna, her husband Andy, and kiddo, "Lil B" love to live a minimal lifestyle, not only for the "thrill" of pinching pennies but in order to save for traveling the world. Considering over 40 countries and 90+ cities have been explored, we'd say they are doing something right!
Latest posts by LeAnna Brown (see all)